The 7 Least Competitive Races of 2014
If the election was held today, these candidates would win (or lose) by more than 30 points.
by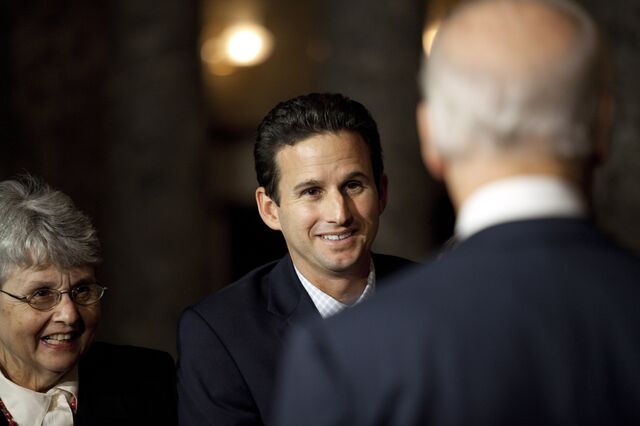 There are a handful of close electoral races this fall that will determine which party controls the Senate and the size of the House's Republican majority, setting the tone for the final two years of President Obama's term. These are not those races.
Across the country there are seven congressional candidates, all running for Senate, who are leading by at least 30 points in the polls (including Senator Jeff Sessions of Alabama, who's unopposed). Their long-shot challengers like these – struggling to raise campaign funds and attract attention – are either the unsung heroes of democracy, keeping incumbents and the rival party accountable, or borderline delusional.
Either way, they've withstood weeks of unpromising poll results, all in hopes of pulling off a huge upset. "Anything can happen in this election cycle, as Eric Cantor found out," Nels Mitchell, the trailing candidate in Idaho, told Bloomberg Politics. Here's the rundown on the longest long-shot races of the 2014 midterm election:
Wyoming Senate, 47-point spread
Mike Enzi, a Republican, has been a senator since 1997, and that isn't likely to change any time soon. After Liz Cheney ended her primary challenge in January (he was leading by about 12 points) it's been smooth sailing for Enzi — he's raised more than $3 million, and is taking two-thirds of the vote in most polls.  (Our figures are based off the most recent data from Real Clear Politics' poll averages through October 2, unless otherwise noted.)
Of the three candidates running against him, Democrat and former Catholic priest Charles Hardy is a distant second, with 22 percent of the vote and $53,057 in campaign funds as of June 30 (of which he spent $51,010). Hardy, along with the race's independent and libertarian candidates, aren't taking any money from super PACs. Enzi received about 52 percent of his funds from PACs. 
What the Hardy campaign lacks in funding, it makes up for with a great YouTube page. Here's David Rovics, an indie musician who specializes in left-leaning "songs of social significance," performing "We Need $15" at a Hardy event:
And here's Hardy in a Western-style ad, showing off his yo-yo skills (he's a yo-yo champ):
"I like to joke," he says at the end, "but what's been going on in Washington is no laughing matter." 
Hawaii Senate, 41 points
Businessman Cam Cavasso is a conservative Republican running in one of the country's most Democratic states, making his third attempt to win the late Senator Daniel Inouye's seat. This time around he is running against Senator Brian Schatz, who was appointed by Governor Neil Abercrombie to fill the seat opened by Inouye's death. Though Schatz faced a close Democratic primary against Representative Colleen Hanabusa — Inouye's choice for his successor — he's expected to breeze in November. According to the latest CBS/NYT/YouGov poll, Schatz has 71 percent support.
Last month Denby Fawcett at Honolulu City Beat asked Cavasso the same question many of these candidates are facing: Why stay in a race when you're 40 points down in the polls, running against a incumbent in a state that isn't receptive to your political views? Cavasso told Fawcett that he continues to run against the "far left progressive liberal" Schatz because "I have been called to run for the Senate by my family, my state and by my God."
Cavasso noted that several Democrats are upset that Abercrombie picked Schatz over of Hanabusa. "I am getting calls from Hanabusa's supporters saying, 'Cam, we want you to win. What can we do to help you?'" he told City Beat. They could start by donating to his campaign — as of July 20, Cavasso had raised $158,797, compared to Schatz's $4.9 million.
Rhode Island Senate, 38.5 points
Mark Zaccaria is a small businessman and former chair of the state's Republican party who will almost certainly lose to three-term Democratic incumbent Senator Jack Reed, something he'd likely admit. "You and I both know this is a huge undertaking and our chances are long," Zaccaria's campaign site biography reads. But "allowing [Reed] to go unchallenged would hurt the Republicans both locally and nationally. If Reed has no opponent, he raises money for the Democrat National Senatorial Committee to keep the Senate under Harry Reid's rule."
In June, Zaccaria said he would only ask for money from the Republican National Committee if he thought he was "within striking distance" of Reed in the fall, according to the Providence Journal. Between the CBS/NYT/YouGov polls from September 2 and October 1, Reed's lead has more than doubled. As of August 20, Zaccaria had raised $10,300 to Reed's $2.8 million.
Oklahoma Senate, 32.7 points
State Senator Connie Johnson and Representative James Lankford are competing in a special election to fill out the term of Senator Tom Coburn, who is retiring after a recurrence of prostate cancer. Lankford has been and continues to be the favorite, and has raised $2.6 million (as of June 30) to Johnson's $74,300 (as of August 6).
Johnson's campaign in part focuses on support for marijuana legalization. Johnson has introduced nine bills in the state Senate to legalize recreational marijuana for people older than 21. "As taxpayers, we're spending over $30 million each year policing, jailing and incarcerating our citizens on marijuana-related offenses," the Democrat said in January, according to the local Fox News affiliate. "Yet marijuana is almost universally available. It's time for a smarter approach."
But Oklahoma is probably not ready for legalized marijuana, as the Tulsa World editorial board wrote in its endorsement of Lankford. Even if it were, the board argued that would be the job of the state government, not a U.S. senator.
Over the last two weeks, most of Johnson's social media presence has been devoted to encouraging people to vote, not the Senate race. 
 Oklahoma Senate, 32.3 points
Even with a small budget, Democrat Matt Silverstein has managed to go negative against Republican incumbent James Inhofe on Twitter on climate change and Inhofe's attendance record. He also managed to produce a sleek ad in which he promises to never vote for a raise, supports term limits and points out Inhofe's 50 years in politics (he's been in Congress since 1987). 
Inhofe is probably aware that the best thing he can do for his opponent is raise his name recognition, and doesn't mention him much. Instead he's asking Oklahoma conservatives to "stand with" him, or go after Obama.
Idaho Senate, 31.0 points 
According to the most recent poll data, lawyer Briane Nelson "Nels" Mitchell is trailing incumbent Republican James Risch by about 30 points.  Mitchell argues that the number of undecided voters, and his campaign's poll data, suggest that the race is much more competitive. 
"I'm targeting the various people who have not been represented by my opponent," Mitchell told Bloomberg Politics during a phone interview. That includes women, college students, veterans and seniors. Based on a poll conducted by the left-leaning Public Policy Polling between August 25 and 28, Risch has 45 percent of the vote to Mitchell's 27 percent (a CBS/NYT/YouGov poll conducted between September 20 and October 1 put Risch at 64 percent and Mitchell at 27 percent). According to PPP, Risch's support was down eight percent from February at the time. Another 28 percent of voters were undecided.  
The national party hasn't been impressed. Mitchell said that in the long run it will hurt the Democratic party "when they simply write off places like Idaho ... a little bit of help could make a crucial difference." 
Alabama Senate (forfeit)
Incumbent Senator Jeff Sessions of Alabama is technically an honorable mention on this list: he's running unopposed, and ran unopposed during the Republican primary. Both Democrats and the Tea Party realized it wasn't worth the effort of trying to launch a campaign against him —  Democrats thought their money would be better spent elsewhere, and conservatives approved of Sessions' policies, especially his opposition to immigration reform. He's extremely well liked. "Jeff Sessions is probably held in higher esteem than the Alabama football coach and the Auburn football coach put together," Rep. Mo Brooks told the Associated Press last month.
The only damper on Sessions' victory parade is the fact that, according to an October CBS/NYT/YouGov poll, 26 percent of Alabama voters aren't sure if they'd support Sessions over an unnamed, mystery candidate. Sessions would capture 61 percent of the vote, while 13 percent would go to "other." 
Before it's here, it's on the Bloomberg Terminal.
LEARN MORE