Technology & Ideas
How the Jury Should View Elizabeth Holmes
The public may have its own views about the charges against Theranos's founder, but those sitting in judgment of her in court are obligated to see her as innocent.
By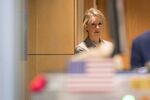 As the trial of Elizabeth Holmes opens, it's important to remember one thing: She's innocent.
I'm not saying the founder of Theranos didn't commit fraud in marketing the company's quick and easy blood test. Maybe she did. Certainly I've expressed skepticism about aspects of her defense strategy. But whatever opinions you or I might form outside the courtroom, inside she's presumed innocent unless proven guilty beyond a reasonable doubt. That's why the trial is necessary.