Economics
The Most Realistic Economic Forecast Is Awful
Predictions of a second-half rebound are based on dubious assumptions.
By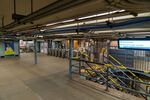 Many forecasters are predicting that there will be a strong economic recovery in the second half of this year after the worst of the coronavirus outbreak has passed. But to have such an economic rebound in the third and fourth quarters, one of five events must have occurred. The first four of these are positive but don't seem sufficiently likely to serve as the basis of an economic forecast:
-- First, scientists discover an effective treatment or vaccine. That would be great, but neither seems likely to happen in the next three to six months.