Business
Volkswagen's Boss Deserves a "Worst Sense of Timing" Award
Herbert Diess cut short his gardening leave when he jumped from BMW to Volkswagen in 2015. He'd have been better off staying home a little longer.
By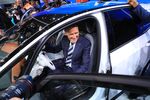 If there was an award for a "corporate executive with absolute worst sense of timing" my nominee would be Volkswagen AG's chief executive Herbert Diess.
The German carmaker poached Diess from BMW AG to take over as head of its struggling mass market VW brand in December 2014 after he was disappointed to have been passed over for the top job at BMW. The initial plan was that Diess would start work at VW's Wolfsburg headquarters on Oct. 1 2015. However, Diess and BMW agreed he could shorten his gardening leave and take up his new job on July 1 instead.