view
Why California Needs Thirsty Alfalfa
It's because that's what the state's millions of cows eat.
By
Why California Needs Thirsty Alfalfa
It's because that's what the state's millions of cows eat.
By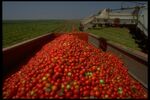 In the early 1860s Henry Miller and Charles Lux, a pair of German immigrants 1 who had established themselves as butchers in San Francisco, began buying land along the San Joaquin River in the Central Valley 2 about 100 miles (as the crow flies) southeast of the city. They assembled large herds of cattle on the property, and from time to time vaqueros drove the creatures out of the Central Valley and over Pacheco Pass to a ranch near the town of Gilroy, where they could be loaded onto the train to San Francisco when needed.
Miller, who ran things in the field while Lux stayed in the city, also began digging irrigation canals to drain swamps and divert river water to pasture for grazing and fields of alfalfa for hay. As University of California-Irvine historian David Igler tells the story in his book "Industrial Cowboys," the Miller & Lux partnership grew into one of the nation's 200 largest businesses, with 100,000 cattle grazing on 1.25 million acres of land in California, Nevada and Oregon and control of meat sales along the Pacific coast.
A few things have changed since then. Pacheco Pass is now clogged every weekday morning and evening with Silicon Valley workers making what Forbes a couple of years ago deemed America's second-worst commute. Gilroy has become the Garlic Capital of the World. The Miller & Lux empire, meanwhile, began to crumble after Chicago's giant meat-packing firms moved west in the first decades of the 20th century.
There are still lots of cows in California, though (5.2 million as of January), and lots of big, unsentimentally efficient agricultural enterprises. The land Miller & Lux assembled along the San Joaquin River has yet to succumb to exurban sprawl and still has excellent access to irrigation water, thanks to water rights established in the 1870s and a great deal negotiated with the federal government just before it dammed the San Joaquin in 1942. And while most of it has passed out of family hands, there's still Bowles Farming Co., a 10,500-acre operation just off Henry Miller Avenue 3 northeast of the farm-town/bedroom-community of Los Banos. It was run until recently by Miller's great-great grandson, Philip Bowles, and is now under the charge of his nephew and Miller's great-great-great grandson, Cannon Michael. Miller's heirs no longer raise cattle there, but they are still feeding other people's cattle by growing alfalfa. 
That's not all they grow. The biggest, most-profitable crop these days at Bowles Farming, which I visited last month, is tomatoes to be diced and canned or smashed into paste. This year there's also extra-long-staple cotton, a special breed of corn destined for Kraft's Corn Nuts, melons, fresh-market tomatoes, a few acres of wheat that have mostly been abandoned and about 2,500 acres lying fallow because of the drought.
The crops that California farmers choose to grow and the water these crops consume have been getting a ton of attention this year (witness the New York Times' epic spread last week on "Your Contribution to the California Drought"). That's appropriate -- water is scarce, and California's farms use about four times as much as its cities and industries do. But this has also led to a lot of weird hostility to California farming, to the extent that Governor Jerry Brown felt compelled to speak out last month in opposition to the idea that the state should curtail growing of certain crops. "That's a 'Big Brother' move," he said. He's right, and it would be far better to rely mostly on economic forces -- in the form of improved water markets -- to resolve the state's conflicts over water. Since the days of Henry Miller California farming has been, even more than in other places, a business. So it's important to consider the business reasons why California farmers grow (or grew) thirsty crops. I've already devoted a whole column to rice; here, with some help from Henry Miller's descendants, is a look at some of the other biggies.
Cows and hay. Industrial-scale California agriculture started with cattle, and they are still a very big deal. Milk is the state's No. 1 agricultural commodity, ahead of almonds and grapes, with $7.6 billion in receipts in 2013; cattle and calves are No. 4, at $3 billion; hay, which is mostly alfalfa, comes in at No. 8, with $1.6 billion in receipts. Growing hay and other forage and irrigating pasture for livestock (mainly cattle) takes at least 10 million acre-feet of water in an average year, or more than 20 percent of the water used in California.
Every state has a dairy industry, 4 as milk is perishable and thus good to produce close to consumers. As the most populous state it makes sense that California has the biggest dairy industry, and most of what California dairies produce is consumed in-state. Still, California has 12 percent of the nation's people and 19 percent of its milk cows, so it exports a lot too -- $2.4 billion in dairy products sold to other states and countries in 2013. Being able to keep dairy cows outside all year instead of cooping them up in barns in the winter lends a competitive advantage. Meanwhile, the overwhelming majority of the beef produced in California is consumed in state. It isn't a big export commodity.
Yet California farmers get lots of criticism for growing alfalfa -- a key foodstuff for those cattle. That's mainly because (a) alfalfa is one of the thirstiest crops grown in the state, coming in just behind rice in the amount of water needed to grow an acre; (b) it long covered more acres than any other single crop in the state, although almonds have now passed it and grapes are pretty much tied; (c) it doesn't bring in much money per acre; and (d) a lot of Southern California alfalfa now gets exported to China.

So what is to like about alfalfa? "In terms of protein per acre there's not a crop that produces more than alfalfa," Bowles told me. That's because it's a legume, like peas and beans, which also means that instead of needing nitrogen as a fertilizer it actually puts nitrogen in the ground for other crops. It's harvested four to eight times a year and is easy to store and transport, which makes it a low-risk crop -- you're unlikely to lose much to spoilage or bad weather. It's also "the most wildlife-friendly crop we grow," Bowles said. It tends to be full of tasty bugs for birds to eat and can be grown without much in the way of insecticides.
California's alfalfa fields yield more than twice as many tons per acre as the national average, in large part because they can be cultivated year-round. It is still a relatively low-value crop, bringing in about $1,500 per harvested acre in revenue in California in recent years compared with more than $5,000 an acre for almonds. But while the drought is clearly putting pressure on alfalfa acreage, it's hard to see it going away in California as long as the cows stick around.
King Cotton. Raising cattle was the first big agricultural business in California. Wheat came next, with 3 million acres planted in the state by the late 1880s, most of it in the Central Valley (Frank Norris's classic muckraking novel "The Octopus" is about San Joaquin Valley wheat farmers). Wheat acreage began to plummet in the early 1900s, but barley then had a heyday and was as best I can tell the state's biggest crop by acreage as late as the 1960s, with an all-time peak of 1.9 million acres harvested in 1954. Wheat acreage in California is now down to about 230,000 acres; barley a mere 20,000. Wheat is among the least thirsty crops in California on a per-acre basis, and California wheat fields are twice as productive as the national average. But even California's very productive wheat fields bring in a good deal less than $1,000 per acre. There are much better cash crops to grow. 
In the smaller agricultural regions near California's coasts it was crops such as citrus, avocados, strawberries and lettuce that became the big money-makers. For much of the 20th century in the San Joaquin Valley, though, the main cash crop was cotton. Farmers started planting it early in the century, and from the 1920s through the 1950s acreage exploded. In 1951 it brought in $351 million in revenue, second only to cattle and calves among California agricultural products. Cotton acreage and production peaked in the 1970s, but it remained one of the state's biggest crops by any measure through the early 1990s.

Then, as you can see from the chart, California farmers stopped planting it. It wasn't bringing in much revenue per acre (just under $1,000 in the 1990s), water prices were rising as federal subsidies were reduced and new environmental rules crimped supplies, and the word all over the Central Valley was that it was time to move to higher-value crops.  It used to be that the cotton grown in the San Joaquin Valley was of the same upland varieties grown in the Deep South. In 1989, though, farmers began to plant extra-long-staple cotton that was harder to grow but fetched much higher prices. "Our cotton goes into shirts that Brioni sells for $700," said Bowles. As a result, while statewide cotton acreage is now about a quarter of what it was in 1989, revenue is about the same.
King Almond. Another high-value crop in California has long been grapes, especially wine grapes. Wine is probably the state's most valuable agricultural product, in fact, although much of that value is created and captured in the wineries rather than in the fields and thus doesn't show up in government agricultural statistics. But while grape acreage has increased, from 600,000 in the 1970s to more than 900,000 now, most of the San Joaquin Valley farmers seeking an alternative to cotton looked elsewhere. They looked mainly to almonds, which in the San Joaquin Valley have clearly supplanted cotton as king. Just check out the chart:

The attraction is that, as noted above, almonds can bring in as much as $5,000 an acre. Thanks in part to the marketing efforts of the Almond Board of California, Roll Global (Wonderful pistachios and almonds) and Diamond Foods (Emerald Nuts and Diamond Nuts) rising supply so far hasn't resulted in lower prices. It also hasn't hurt that almond husks have turned out to be a good food source for California's dairy cows.
The downside is that almond trees use a lot of water per acre -- less than rice or alfalfa, but more than just about everything else -- even with the drip-irrigation systems installed in almost every new orchard. Also, once you plant them you have to keep watering them. "It hardens demand," said Lester Snow, a former state secretary for Natural Resources who now runs the California Water Foundation. The rush of new almond plantings in the face of the drought, some of them backed by hedge funds, also feels like an unsustainable investment frenzy, especially since most of them are being irrigated with water pumped from deep underground. California's new groundwater laws, enacted last year, should eventually rein in such behavior, but it's going to take a while.
Still, the nut boom has mostly been a rational reaction to changing economic circumstances. For years San Joaquin Valley farmers "were criticized for growing low-value crops," Bowles Farming's Cannon Michael said. "They took a huge risk on almonds, and now that's what's wrong."
Farmonomics. Not that Michael is growing any almonds. The reason is somewhat amusing: his ground is too wet. "We have a high-perched water table -- anywhere from three to eight feet below the surface of the ground," he e-mailed when I asked him about it last week. "This makes our area unsuitable for almonds -- they need deeper drained soil."
Apricot trees do grow well in the neighborhood, and bring in a respectable $3,000 an acre. But, as Bowles put it when I visited, "we don't know a thing about them." That's the thing about farming, or any industry for that matter. You can try to respond to changing market conditions, but you usually can't just change what you do overnight. Which helps explain why Bowles Farming has bet on tomatoes.
Growing tomatoes for paste and canning is something California farmers have been doing for more than a century. Processing-tomato acreage in the state first topped 100,000 in 1942, and Bowles Farming had devoted land to it long ago. Over the past few years, though, it has become a much more attractive business. Among the reasons, Bowles told me, are new, more-robust tomato varieties with lower water content, and global positioning systems that make it possible to drive a tractor through a field of buried drip-irrigation tubes without crushing them. "The simple act of being able to go back to exactly where you were again and again is completely transformative," Bowles said. Also a big help are the two hyperefficient tomato-processing plants -- one for paste and the other for slicing and dicing -- now located within a few miles of the farm. They're both owned by Morning Star, a company so innovative that management guru Gary Hamel wrote a 5,000-word article about it in the Harvard Business Review a few years ago. Have I mentioned that California farming is a business?
Put it all together and you've got a pretty great crop for modern California circumstances. It doesn't take much water or labor (tomatoes are harvested by machine), it brings in well more than $3,000 an acre (my calculation, not theirs) and it isn't a permanent crop that you have to keep watering even when you're out of water. Drip-irrigating does use electricity, but Michael is putting in solar panels to cut the cost of that. Still, Bowles said, "we wouldn't want to grow only tomatoes." Keep growing them on the same fields for more than a couple of years and you start getting soil diseases. Then it's time to plant something else. Maybe alfalfa.
To contact the editor responsible for this story:
James Greiff at jgreiff@bloomberg.net