economics
William Shatner's California Pipe Dream
Sending Washington's water to California is DOA.
By
William Shatner's California Pipe Dream
Sending Washington's water to California is DOA.
By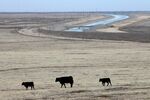 William Shatner made an interesting suggestion last week for saving California from drying up and withering away. It isn't an original suggestion. It also isn't plausible. But it's fun to think about.
Speaking to Yahoo's David Pogue, the former Captain Kirk said:
So I'm starting a Kickstarter campaign. I want $30 billion … to build a pipeline like the Alaska pipeline. Say, from Seattle — a place where there's a lot of water. There's too much water. How bad would it be to get a large, 4-foot pipeline, keep it aboveground — because if it leaks, you're irrigating! 
After a few expressions of astonishment from Pogue, Shatner went on:
If I don't make $30 billion I'll give the money to a politician who says, "I'll build it."
Now that's more like it. Especially since there's no way it would only cost $30 billion. The Alyeska pipeline, completed in 1977, cost $8 billion to build. If you plug that into an inflation calculator (I wonder if that's what Shatner did) it actually does come out right to about $30 billion. But the cost of large infrastructure projects has gone up a lot faster during the past few decades than the rate of inflation.
After driving along the California Aqueduct on the west side of California's San Joaquin Valley on Sunday, I was also a little skeptical that a four-foot pipeline could carry nearly as much as a 30-foot-wide canal. But if I've done my barrels-to-acre-feet calculations correctly, the Alyeska pipeline's maximum throughput isn't markedly different from the actual flow through the California Aqueduct -- the aqueduct, powered mostly by gravity, doesn't flow nearly as fast.
Then there's the little complication of economics. At the current West Texas Intermediate price of almost $57 a barrel, oil costs $442,000 per acre-foot. Agricultural water prices in California have been skyrocketing during the drought, but we're still talking in the range of $1,000 to $2,000 per acre-foot.
As for Shatner, he actually owns the right to extract water from the south fork of the Kaweah River here on the east side of the San Joaquin Valley (I'm writing this in a hotel room in the city of Visalia). In an interesting report in the Sacramento Bee over the weekend, Shatner was revealed to have one of the 14,000 statements of diversion on file with the California Department of Water Resources for water rights that are either riparian (you live along the stream) or predated the advent of the state water-permitting process in 1914.
During 2011, Shatner reported diverting 560,000 gallons 1 to irrigate 15 acres, water 10 cows and five horses, and meet the water needs of two houses, 40 fruit trees, gardens and a sequoia grove, according to his 2012 statement of diversion, the most recent available on the water board's website.
The existence of those water rights means Shatner probably paid a significant premium for the property, so I'm not complaining about a giveaway here -- just that he would probably be less enthusiastic about keeping his ranch going if he had to pay the kind of water prices needed to justify a pipeline from Seattle.
Back in the 1960s, the U.S. Interior Department considered diverting water south from the state of Washington and paying for it with power from a couple of hydroelectric dams on either end of the Grand Canyon. The idea, as the late Marc Reisner told it in his western water history, "Cadillac Desert," was to divert 10 percent of the flow of the Columbia River over a couple of mountain ranges and eventually into the Colorado River, from which it could be pumped to cities and farms in California, Arizona and Nevada.
By Reisner's estimate this would have cost $10 billion in 1965 ($75 billion in 2015 dollars), and the hydropower projections were delusional. But things never got very far because U.S. Senator Henry "Scoop" Jackson of Washington slipped a rider into a fish and wildlife bill in 1965 that prohibited Interior's Bureau of Reclamation from undertaking feasibility studies without advance approval from Congress. "The effect of the maneuver," Reisner wrote, "was the same as if Jackson had strung a six-hundred foot electrified fence along the entire south bank of the Columbia River."
States with water had thus been given virtual veto power over federal projects to move their water elsewhere. When Kenneth Hahn -- a long-time Los Angeles county supervisor whose son, James, was LA's mayor from 2001 to 2005 -- brought up the Columbia River diversion idea again in 1990, the Los Angeles Times called up spokesmen for Washington's and Oregon's governors who more or less laughed at the idea.
Attitudes are sometimes different in Alaska, where former Governor Walter J. Hickel actually proposed an Alaska-California Sub-Oceanic Fresh Water Transportation System in the early 1990s that would ship water from the Copper River east of Anchorage to Lake Shasta in northern California. But that would have been pretty pricey -- $150 billion, not including project financing or operations and maintenance, according to University of Arizona law professor Robert Glennon's book "Unquenchable."
California has its very own wet region along its northwest coast, complete with several free-flowing rivers. The biggest one is the Klamath River, and Reisner reported that there were tentative plans to dam it in the early 1950s and move its water through a 60-mile, 37-foot-wide tunnel to the Sacramento River, from which it could be transported to Southern California. The estimated cost: $3.3 billion ($30 billion in 2015 dollars, although it would surely cost multiples of that). Then a Bureau of Reclamation engineer made the mistake of publishing an article about the Klamath diversion in Civil Engineering magazine. "Northern California's 35 years of passionate opposition to southern California's diversion plans can be traced directly to that article," Reisner wrote in 1986.
Glennon's book does tell of a 2002 proposal to take water from two other northern California coastal rivers, the Gualala and the Albion, load it into 13-million gallon polyfiber bags, and use tugboats to pull the bags to San Diego, but I don't think anybody took that seriously. Same goes for the occasional proposals to haul icebergs south. 
Farmers in the Central Valley seem to have given up long ago on Shatner-style salvation from the far north. They are pinning their hopes instead on something that is technically much more feasible, but perhaps just as impossible politically -- reducing the amount of water that is required to flow through the Sacramento-San Joaquin Delta and into the San Francisco Bay to support fish and wildlife and keep the Delta from being overrun by salt water.
To contact the author on this story:
Justin Fox at justinfox@bloomberg.net
To contact the editor on this story:
James Greiff at jgreiff@bloomberg.net