view
Housing Market Blows Hot and Cold
Snow, ice and cold weather slow the housing market temporarily all the time. Why can't everyone just accept that?
By
Housing Market Blows Hot and Cold
Snow, ice and cold weather slow the housing market temporarily all the time. Why can't everyone just accept that?
By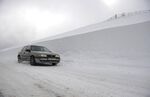 The northern third of the U.S. is locked in a straitjacket of snow, ice and bleak weather better suited to staying at home than going out and hunting for a new one. I can almost hear it now: Remember how awful last year's polar vortex was for the fledgling housing-market recovery? Looks like we're in for more of the same this year. 
Except that this construct reflects a significant misunderstanding about the practical nature of housing sales. Homebuyers who decide not to view property during a bout of cold weather don't drop out of the market. They just delay their search until the weather becomes more agreeable, usually in a few weeks or months at most.
Consider the chart below, which uses the average temperature of the 48 contiguous states from the National Oceanic and Atmospheric Administration and the number of non-seasonally adjusted existing home sales from the National Association of Realtors. Notice anything? The seasonal trends are remarkably in sync: Housing sales rise in warm weather and fall in cold weather no matter the availability of credit, what direction interest rates are moving or the extent of wage and job growth.

The reality is that housing sales are seasonal -- always have been, always will be. 
Here's where things can get confusing, though.
Most national housing studies, such as those by the NAR, emphasize a month-over-month analysis of seasonally adjusted numbers. Throw in a federal housing-stimulus plan or a change in housing tax policy and those seasonal adjustments distort the market trends.
Other reports, such those by S&P/Case Shiller and CoreLogic, are based on a methodology that essentially strips away seasonal trends. That's a key reason those reports feel out of step with actual market patterns.  
Over the years I've had conversations with a number of well-respected economists about the virtues of their seasonal-adjustment methodologies. Yet consumers and real-estate brokers have a very different perspective and see the housing market as a series of "waves." That probably is a more accurate representation of what's going on.
And that's pretty cool. 
To contact the author on this story:
Jonathan J Miller at jmiller@millersamuel.com
To contact the editor on this story:
James Greiff at jgreiff@bloomberg.net