view
Russia's Project Moldova
By
Russia's Project Moldova
By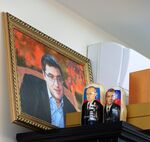 Is Renato Usatii a Russian plot?
The 36-year-old Moldovan, who made enough money in Russia to need a Rolls Royce Silver Wraith, came home in April to set up a political party, and has been running a glittering campaign for the parliamentary vote this coming Sunday.  He's now drawing support from 18 percent of the electorate, according to the latest unpublished poll by the U.S. National Democratic Institute, upending Moldova's electoral arithmetic.
Vlad Filat, the leader of the pro-European Liberal Democratic Party, says Usatii is a front for Russian secret services and criminal gangs -- part of a multi-pronged Russian plan to get control over Ukraine's westward neighbor. Russia's aim, Filat says, is to get Moldova to renege on the trade and association agreement it has signed with the European Union and join Russia's Eurasian Union instead.
In other words, it's the same strategy Russian President Vladimir Putin has followed in Ukraine, but with a political "green man" instead of soldiers and tanks.
"We aren't just voting for a new government, we're voting to keep our country," Filat told me over a table groaning with Romanian delicacies at his parents' village home, 60 kilometers from the capital, Chisinau.  The minister for health joined us. Both had spent the day campaigning in the area, and seemed worried.
So I later went to see Usatii in Chisinau, to ask if he was indeed a Russian plot. He stopped pacing his office long enough to crush his cigarette in the glass ashtray in front of me, tipping it up so I could see Filat's picture looking up from beneath the ashes. Filat, he said, is a "gangster" and will be jailed with other members of the current government for their "crimes."
Usatii is running a populist campaign against corruption and the political establishment, enlivened with concerts by some of Russia's biggest pop stars, such Iosif Kobzon, who have come to support him. (At a concert in eastern Ukraine, Kobzon also recently sang a duet with the pro-Russian separatist leader.) More substantively, Usatii wants to investigate and reverse previous privatizations, and keep Moldova from joining either the EU or the Eurasian Union -- at least for now.
The campaign has become very dirty. A Russian businessman, German Gorbuntsov, has accused Usatii of ordering an assassination attempt on him in London, in which he was shot six times. If that's true, it would make Usatii the gangster. He says it isn't, that Filat is behind the accusation, and that, on the contrary, Gorbuntsov once tried to have him killed.
If he's such a gangster, Usatii asked, "Why Renato Usatii didn't have any criminal cases against him, in the U.S., Russia, Moldova?" He speaks in English and has a disconcerting way of referring to himself in the third person.
The two politicians make a lot of criminal accusations against each other, and I don't know if any of them are accurate. Though their styles differ, both are charismatic men who became wealthy in corrupt systems. On the other hand, Usatii's claim to be agnostic about whether the country looks East or West rings false.
For one thing, he calls EU integration a Trojan horse (indeed, a U.S. plot) aimed at reuniting Moldova with Romania, of which it was once a part. "I am absolutely against this," Usatii says. So when he promises that, two years after taking power, he would hold a referendum on whether Moldova should join the EU or the Eurasian Union, it seems evident which side he'd want to win.
The reason to hide that preference becomes clear if you look at what Filat calls the second prong of Russia's Moldovan project: the Socialist Party, which President Vladimir Putin has openly endorsed. All over Chisinau, billboards show the party's leader meeting with Putin in Moscow, above the slogan: "Together with Russia." Yet the Socialists are struggling to cross the 6 percent threshold to enter parliament: Moldovans have become more skeptical of Russia since the Ukraine crisis.
Nevertheless, if Usatii gets 18 percent of the vote and the unpredictable Communist Party gets the 23 percent it's currently polling, they could force a hung parliament and instability -- or even form a government, should the Socialists make it to the legislature.
Usatii's Russian business interests are something else to consider. He became rich by cornering the market in sales of specialist cutting equipment to Russian Railways, which is run by Vladimir Yakunin, currently subject to U.S. sanctions because of his close personal and financial relationship with Putin. Usatii told me how he borrowed and struggled to create his $30 million-a-year business, VPT-NN, and I don't doubt it. But in Russia, hard work and risk-taking aren't enough; lucrative contracts with large state companies also require strong personal connections.  Indeed, Usatii claims Filat once hired him to help him meet the right people in Moscow.
Usatii's politics are suggestive, too. He likes President Alexander Lukashenko's Belarus -- except for the dictatorship part: "I don't want to be a dictator, I want a dictatorship of the law," he says. But he admires the way Belarussians "love" Lukashenko because he secures their basic food and energy needs. Still, Belarus is an odd model for anyone campaigning against corruption. Moldova ranks 102nd on Transparency International's corruption index; Belarus is 123rd. Belarus is, however, a Eurasian Union member.
The ultimate question for Moldovans -- as it was for the protesters in Kiev earlier this year -- is whether they think the EU path is their only chance to produce cleaner, more open government and the investment and economic growth that tends to follow. The difference in Moldova's election is that the parties now in power are pro-EU, but they have -- fairly or not -- been found wanting.
That means Usatii, rather than Filat and other pro-Europeans, will get the anti-corruption protest vote on Sunday. And if that's a Russian conspiracy, it's a clever one.  
To contact the author on this story:
Marc Champion at mchampion7@bloomberg.net
To contact the editor on this story:
Mary Duenwald at mduenwald@bloomberg.net