The Big Take: A Sit-Down With Nicolas Maduro in Caracas
Updated on June 22, 8:53 AM EDT
What You Need To Know
In an 85-minute interview with Bloomberg Television, Venezuela's president Nicolas Maduro says the country has broken free of "cruel" U.S. oppression— and if the world has a bad image of Venezuela, it's because of a well-funded campaign to demonize its socialist government.
The bombast is predictable. But in between his denunciations of imperialism, Maduro offers a new public message and aims it directly at Joe Biden: the country is looking for capital.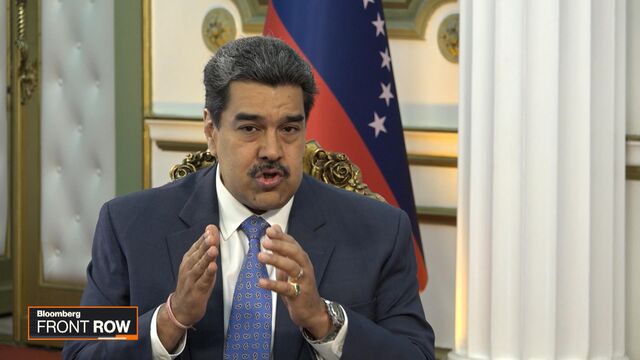 Venezuela, home to the world's largest oil reserves, is starved for investment and eager to regain access to global markets after four years of crippling sanctions and two decades of anti-capitalist transformation. The country is bankrupt, its infrastructure crumbling and life for millions a struggle for survival.
"If Venezuela can't produce oil and sell it, can't produce and sell its gold, can't produce and sell its bauxite, can't produce iron, etcetera, and can't earn revenue in the international market, how is it supposed to pay the holders of Venezuelan bonds?" Maduro says. "This world has to change. This situation has to change."
In reaction to the interview, President Joe Biden's administration rejected Maduro's call for relief from U.S. sanctions, saying the Venezuelan leader needs to do more toward restoring democracy before penalties would be lifted.
By The Numbers
5.4 million

Venezuelans who have fled the country since 2013, according to estimates from UNHCR

79%

Drop in oil production over the last ten years, according to OPEC data

2,266%

Current annual inflation rate per Bloomberg's Cafe Con Leche Index
Why It Matters
The Latin American country has been in decline for decades, with an authoritarian government isolated from Washington and international financial markets, a divided opposition and an economy that's suffered the deepest depression in modern history.
More than 5 million Venezuelans have left the country, creating what's considered the Western Hemisphere's worst humanitarian crisis.
Read our "Life in Caracas" series
Once the richest country in South America, Venezuela is now among the poorest. Inflation is running at about 25% a month. By some estimates, the economy has shrunk by 80% in nine years -- the deepest depression in modern history.
Throughout the country, blackouts are daily occurrences. In Caracas, the subway barely works and gangs rule the barrios. Some 5.4 million Venezuelans, a fifth of the population, have fled abroad, causing strains across the continent. The border with Colombia is a lawless no-man's land. Cuba, of all places, has provided humanitarian aid.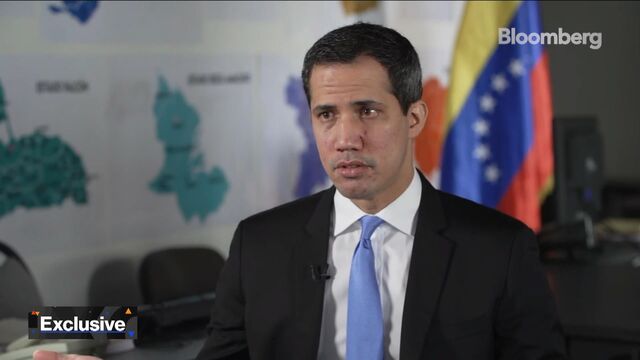 Meanwhile, to tighten his grip on power, Maduro banned opposition leaders Juan Guaido and Henrique Capriles -- and a dozen others -- from participating in any election for more than a decade.
In separate interviews, Guaido and Capriles discussed the acute dilemma in which their movement finds itself: whether and how to take part in upcoming local elections and negotiations with the government.
Bloomberg
The country's economy was in free fall before the U.S. imposed sanctions several years ago.
Timeline

---