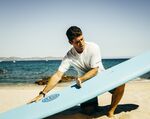 The 10 Steps to Achieve Surfing Nirvana
A training system created in Australia is catching on in luxury resorts worldwide. Can you go from "Kook to Kelly"?
"Catch any waves?" I haven't even boarded the plane for Mexico, but my buddy Christopher is already hassling me. Like thousands of other Americans, my girlfriend, Anna, and I are spending New Year's Eve in San José del Cabo at the southern tip of the Baja California Peninsula. Afterward, we plan to drive up the Pacific coast looking for adventures.
She doesn't know it, but a ring has been stuffed in the bottom of my luggage for almost two weeks. I've even survived the holidays among my family without my curious nephews finding it. My plan is to get to a little strip of solitary beach up the coast, and there I'll ask her to marry me.
I've told Christopher about my plans beforehand to hold myself accountable in case I'm tempted to bail on my plan, and he's suggested we come up with a coded way of checking on my progress—I can't risk Anna accidentally seeing a revealing message from him. In this scenario, our secret code—"Catch any waves?"—isn't so much a question as a reminder that, no, I have not.
It's a plausible ruse. My other mission on our trip to Cabo is to learn to surf. I always try new things on vacations, whether it's riding a motorcycle in Capri, rigging a mainsail off the coast of Plymouth, Mass., or playing the steel drum parts of Jump in the Line on St. Barts. I wasn't very good at any of these the first time I tried them. But I've found there's a strange freedom in failing in front of strangers; it gives you the courage to go bigger and fall harder than you would in everyday life.In the days leading up to the trip, I arranged to take a lesson with Mike Pinneo, a surfing instructor at the One & Only Palmilla resort in Los Cabos, through a partnership with the Australia-based tourism operator Tropicsurf. I asked him if, after a day of training, it's possible for a person of normal-to-strong athletic ability to catch a wave.
"I've played almost every sport," he said. "Surfing is by far the hardest I've ever done, and it's got the steepest learning curve."

That sounded like a no. But Baja is great for beginners, he said. Although Cabo doesn't have the quality of waves found in Australia, California, or Hawaii, it features consistent swells year-round. In the summer, they come into the East Cape from the Sea of Cortez; in winter, the Pacific side is more reliable. Meanwhile, I'm escaping a weather event in New York City called the "bomb cyclone." Is it possible to find my forever and an endless summer at the same time?
On New Year's Day after lunch, we drive through Cabo San Lucas, and downtown still has a dazed, day-after-Mardi Gras feel. Locals call it Cabo San "Locos" because of the rowdy nightlife, but some 2.4 million international tourists flew to Los Cabos International Airport last year, a 23 percent increase from 2016. That makes the area the fastest-growing destination in Mexico, and not all of those people were coming for the tequila shots.

Almost $1 billion was invested in hotels on the tip of the peninsula in 2017, and much of that fell squarely in the luxury category. A Luxury Collection resort will open its doors by summer, followed by a Ritz-Carlton Reserve and a Nobu hotel after that. Four Seasons at Costa Palmas will begin business before the end of the year on the quiet East Cape, almost an hour's drive from party central.
At the fancy One & Only Palmilla, a 250-acre resort about 20 miles east of downtown Cabo San Lucas, Pinneo's unofficial title is "surfing sensei." The complex, which has six restaurants and a 27-hole golf course designed by Jack Nicklaus, began working with Tropicsurf in 2013 to offer its guests lessons (or road-trip "surfaris") along the coast.
These kinds of customized, private sessions are becoming more common: They are spurring growth in an industry that generated an estimated $7 billion in 2017. For $395, Pinneo will spend a day speeding your way toward, if not mastering, learning the sport well enough not to embarrass yourself.
He's agreed to meet us at Cerritos, a secluded beach break on the Pacific, 50 miles north of Cabo San Lucas. It's a half-mile down a dirt road near the laid-back town of Todos Santos, where real estate advertisements tout "barefoot luxury" two-bedroom villas for $189,000.
Every couple has their own system for traveling, and the one that works best for Anna and me is that I drive and she navigates. The Jeep we've rented gives directions only in French, oddly enough, but she finds the way to Highway 19, a new, four-lane road that runs up the west side of the peninsula.
A larger-than-usual crowd has gathered on this balmy day in January—the cactus-dotted beach is the only place on the cape that has any waves worth riding now. When we pull up, the makeshift lot is full of hulking Econoline Tioga RVs and Isuzu Troopers with license plates from British Columbia. I put my phone away, but not before another message flashes across the screen. "Catch any waves?"
From out on the water, a roar greets the first big swell of the morning. A half-dozen local teens paddle furiously on their boards to the crest and, one after the other, nose-dive over its front. "See there," Pinneo says, scanning the crowd for a spot to begin our lesson. "They got used to these smaller waves, and then a big one comes along, and their timing is off."
For a sport with a lot of unwritten rules about how to behave, surfing doesn't have many written ones. But Pinneo teaches from an actual curriculum, which Tropicsurf calls "Kook to Kelly." It's in use at 16 of the most luxurious resorts around the world, including Fiji's Laucala, Nihiwatu Sumba in Indonesia, and Mukul in Nicaragua. Think of it as the surfing equivalent of ascending to a black belt from a white one in karate. Its 10 levels range from the hardest, "Kelly," referring to Kelly Slater, the unofficial greatest surfer ever, to "Kook"—surferese for a beginning, not-very-good surfer. A try-hard, a gremmie, a grom. In other words, me.

Pinneo is my Mr. Miyagi of the sea—if Miyagi had been 6 feet 1 inches with the toned abs of a 30-year-old who'd been surfing since he was 15. He grew up 2,500 miles up the coast surfing in the cold water of Nanaimo on Vancouver Island in Canada. His father is Canadian and his mother Australian, which genetically makes him the chillest dude on the planet.
After college, Pinneo moved to Australia's Gold Coast and began training to be a surfing instructor. Eventually, he made his way to Tropicsurf, a company founded by Ross Phillips in Noosa, near Brisbane. For the past 20 years, Phillips, a former schoolteacher, has been developing and refining one of the sport's only written, comprehensive, and standardized systems of teaching—the Eton of surfing schools.
Pinneo doesn't even let us in the water at first. "Everyone thinks surfing is about standing up," he says, holding the waves out in the distance like a reward, "but we stand up about 20 percent of the time. The other 80 percent is spent paddling." He arranges three soft boards—extra-floatable beginner ones called "foamies"—and we all get on our stomachs, cup our hands above the sand, and dig our way through pretend water.
Satisfied with our stroke, Pinneo breaks down the levels: We're obviously Level 1. Level 3 surfers are starting to ride small waves on their own. At Level 5, you're finding your own style and refining your bottom turn. By Level 7, you're pretty good and can ride the barrel—that quintessential picture of surfing, in which you catch the inside part of the wave as it crashes over you, forming a tunnel. If you're Level 10, your name may be Kelly Slater.
But you have to learn to stand before you can shred, so my next skill to master is the pop-up, a technique for getting on your feet in the water. It's similar to a burpee: Start on your chest, palms flat on the board. Bring your right heel to the inside of your left knee, jump to your feet, and keep your head level, eyes forward.
This is harder than it sounds, though Anna evidently is a natural. Even when I pop up correctly, I stand like a classic kook: knees bent, shoulders hunched. Later, I learn surfers call this stance the "poo-man." (What surfing lingo lacks in technical precision it makes up for in color.) I teeter, step off the board, and tumble to one knee in the sand.
Finally, Pinneo suggests we paddle out, and it's here that his real value becomes clear. The hardest part of learning how to surf is getting enough chances to practice on a wave. When one starts to break, you have seconds to get in the right position, paddle hard, then burpee to your feet.

But waves are moving, fickle things. They may break quickly or slowly, or 10 feet to the side, without warning. "Unless you're in a wave pool, you're never 100 percent sure what one will do," Pinneo says. "A wave is always changing. It's alive." Maybe that's why so many wedding officiants use them as illustrations of human relationships.
My surfing sensei is as close to a master of judging waves as anyone can be. He sees when they're mere ripples in the distance and then matches when they're breaking with where, putting me in position to get as many chances as possible. "OK, this is a good one coming," he says. I start paddling, and then, like a dad sending a child on training wheels, Pinneo gives the board a push. I try to remember the tips from onshore, but I grab the edges of the board as I attempt to stand and flip head-first over the side into the foam. No one around me seems to care; they're too busy having fun—or flailing—on their own.
I paddle back into deeper water and try to turn Pinneo's advice into mnemonic devices—"palms flat, you won't go splat." Anna gets a turn after me and is already on her feet, coasting like a pro; Pinneo seems genuinely impressed. After a few smooth runs, she heads to the beach for a break while Pinneo walks me through a helpful positioning drill called the sit-and-spin. "Kick your legs like egg beaters," he says, during a rare lull in the action. When I do, the surfboard turns 360 degrees as if it has a steering wheel.
Pinneo is realistic about how much he can accomplish in such a limited time. Few people spend the hours in the water that are necessary to ascend surfing's learning curve with any speed. Also, it's exhausting, and I've got noodle arms after a couple of hours. "The best exercise for surfing is more surfing," Pinneo says. If I had a week, I could learn to accelerate and brake, maybe even graduate to a hard, shorter board. I'd cut across the face of a wave while giving the sign of shaka to Anna on the beach, instead of seeing her take pictures of me falling, starfishlike, into the water.
There's a scene in the 1994 surf movie The Endless Summer II when Pat O'Connell, the shortboard star, is asked what his favorite wave is. "The next one," he says. I keep that as my mantra and, about 15 next waves later, I stand and ride the board into the whitewash. I still look like the poo-man, but for once on this day, I feel the euphoria that drives hundreds of other kooks to keep trying. And the next day, I take Anna to that solitary strip of beach and catch the real wave I came here for.