Britain's White-Collar Cops Are Getting Too Good at Their Job
In the era of Brexit, not everyone wants the Serious Fraud Office to chase rich wrongdoers out of the country.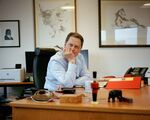 Britain's top white-collar crime enforcer left his London office one damp evening late last year, hailed a black cab to Canary Wharf, and took a seat in the front row of a wood-paneled auditorium. David Green, the director of the Serious Fraud Office, had come to hear former Prime Minister David Cameron give a speech on corruption and the spread of dirty money. Early in the Q&A portion, Green signaled for a microphone and asked a deceptively straightforward question: What did Cameron think of the anticorruption work of the SFO—an agency set up precisely to investigate and prosecute high-level corporate crime?
Cameron, a genteel Etonian with more than his share of the erudition required for high office in the U.K., was somehow tongue-tied. "The SFO, yes, I do support its work," he stammered, pausing for several seconds. But there seemed to be a but, and Cameron began to hedge. "As prime minister, you do feel a responsibility for wanting British business to get out there and win orders and succeed," he said, adding, "so sometimes there are frustrations and worries and concerns."
To anyone unversed in the folkways of official Britain, the Green-Cameron exchange would seem strange. It's hard to imagine a U.S. president, Donald Trump aside, being asked if he supported the FBI—let alone responding that it ought to think about the commercial damage when it goes after suspected criminals.

But the moment highlighted a fundamental tension: For a country whose leaders say all the right things about corruption and corporate crime, the U.K. can be remarkably relaxed about investigating and prosecuting it. The all-time count of major insider-trading convictions is in the low double digits, and London has a worthy reputation as a playground for plutocrats who would seriously hesitate to do business on U.S. soil. Among British companies, ties to unsavory jurisdictions are many, lucrative, and generally unmolested by law enforcement.
In part, that's because the U.K.'s corruption watchdog, the SFO, has for most of its 30-year history been relatively toothless. Derisively nicknamed the Serious Farce Office, it has been by turns incompetent, underfunded, and neutered by political pressure. Yet since taking over in 2012, Green has managed to turn the SFO, with a staff of just 400, into an effective law enforcement outfit. It's scored wins against top-drawer companies such as Rolls-Royce Plc (for bribery), convicted the ringleader of the effort to rig the Libor index, and initiated criminal proceedings against Barclays Plc and its former chief executive officer for actions in the 2008 financial crisis—the only time a major bank or its executives have been charged in relation to the crash in the U.K. or U.S. Going after real scalps for the first time, the SFO is suddenly, unthinkably, almost sexy. A fictionalized version of the agency was even the subject of a recent BBC drama, New Blood.
From the perspective of Britain's leaders, Green's success is—how shall one put this—inconvenient. Brexit talks aren't going well, and Prime Minister Theresa May is desperate to maintain the U.K.'s attractiveness to international capital after it finally leaves the European Union. The sudden emergence of an aggressive anticorruption agency is unhelpful to her pitch, which is aimed at such countries as China, Russia, and Saudi Arabia, not exactly models of financial probity.
At the SFO, those competing imperatives fuel existential concern. May and her allies have never been fond of the agency; even before the Brexit vote, she proposed it be shut down or folded into a less specialized body. Green's term ends in April, and choosing a replacement is up to May's attorney general. Along with determining the immediate direction of the SFO, the decision will signal how much the U.K. plans to lower standards for doing business once its alliance with Europe ends.
Green acknowledges the quandary. "You can detect a certain ambivalence about corporate crime," he says. "You can see people wondering, 'Why on Earth are you investigating blue chip, listed companies? Don't we need those?' But we're one of the richest countries in the world. We have a responsibility to do business ethically."
There's no British equivalent to aggressive, outspoken U.S. Attorneys, who seek out high-profile cases and routinely ascend to elected office. For the most part, being a U.K. prosecutor isn't even a career. Instead, barristers, as trial lawyers are known, both prosecute and defend clients, depending on the case. To put a crook behind bars, they must convince judges and juries, rather than simply threaten a terrifyingly long sentence. Plea bargains in the American sense don't exist, and jail terms for nonviolent offenses usually max out at about 10 years.
A native Londoner who rose from a drab suburb to university at Cambridge, Green, 63, spent almost three decades as a barrister in the capital, working both sides of criminal cases. His career paralleled London's transformation from a grim postwar city to today's dazzling crossroads of people and cash. In the 1990s he developed a specialty in prosecuting Kurdish drug smugglers, who took advantage of the U.K.'s new openness to import industrial quantities of heroin. In 2005, Green was asked to lead prosecutions for the Revenue & Customs service, which was failing to keep up with tax evasion by the international businesses pouring into the country. After a five-year stint that included breaking up a conspiracy to supply Iran with military equipment and a rebate scam that stole $190 million from the British government, he was appointed to lead the SFO in 2012.
It was an unenviable job. The SFO was created two years after the Big Bang, Margaret Thatcher's 1986 decision to open the financial sector to foreign capital. (In U.S. terms, the office was envisioned as roughly equivalent to the Fraud Section of the Department of Justice.) That deregulation came first, and enforcement second, said something about Thatcher's priorities, and the SFO soon acquired a desultory reputation. Housed in dusty offices and populated by ex-cops who hadn't been able to cash in with jobs at banks, the agency saw most of its major cases come to little.
Just before Green's appointment, the SFO botched the investigation of Vincent and Robert Tchenguiz—London-based tycoons accused of fraud over the collapse of an Icelandic bank. The case had everything: dawn raids in ritzy Mayfair and Chelsea, billionaires in handcuffs, the possibility of recovering cash for victims. Everything, that is, except admissible evidence. The effort collapsed almost as soon as it reached a courtroom, when it turned out the SFO's search warrants were unlawful. The judge called the agency's work "sheer incompetence."

Green arrived determined to do better. At the time, that meant going after Libor. The press was buzzing with revelations that the London Interbank Offered Rate, a benchmark used to price trillions of dollars in securities, was rigged. But as Green tried to assemble evidence, prosecutors in Washington called the SFO to alert it of plans to charge the key trader, a Brit named Tom Hayes.
The Americans could be forgiven for assuming the case was theirs: Previously the SFO had shown little interest, or ability, in pursuing major bank frauds. Green had different ideas. Without saying a word to its American counterparts, the SFO arrested Hayes. (He was convicted of conspiracy to defraud and is serving an 11-year prison term.) Emboldened SFO investigators began inquiries into globe-spanning wrongdoing at Tesco, Rolls-Royce, and ICBC Standard Bank, which have led to $900 million in fines. Many more are ongoing.
Morale inside the agency may be up, but the general public is more conflicted. Even Green's 93-year-old father sometimes asks if he really wants to spend his time making life difficult for companies that employ thousands of Brits.
The SFO hasn't completely shed its legacy of failure; what looked like an open-and-shut case against a metals magnate collapsed in 2013 when a key witness recanted, and charges over a scandal at Olympus Corp. were blocked in court. But it's undeniable that the new-look SFO has changed the previously favorable calculus for white-collar crooks. "The SFO is now far more respected," says Edward Garnier, a former solicitor general. For perhaps the first time, he says, it "is not to be trifled with."
The SFO's most important test is still ongoing. In June it charged Barclays, its ex-CEO John Varley, and three other former executives with fraud in connection with a deal that epitomized the global connectivity of London finance. In October 2008, Barclays was saved from collapse thanks to a $12 billion investment led by Qatar's government. As part of the transaction, Barclays paid Qatar a secret $452 million fee for "advisory services" and loaned the country an additional $3 billion. To the SFO, the fee looked like a bribe and the loan an attempt by Barclays to illegally fund a purchase of its own shares. (The executives and the bank deny wrongdoing.)
Rather than cheer Green's boldness, much of the British establishment was scandalized. The main U.K. banking regulator tried to stop his investigation, proposing to close the Barclays case with a $70 million fine. The Times, the newspaper that's the voice of mainstream politics, called the side deals a "small detail" and the SFO's strategy a "high-risk ploy." Politicians have so far held their tongues, wary of being seen allying with an unsympathetic group of bankers. But as defense lawyers prepare for a 2019 trial, they are whispering an argument they hope will reach those in power: that criminal convictions for the bank's actions would harm the U.K.'s economic interests.
In 2015, George Osborne, then chancellor of the exchequer—the U.K.'s equivalent of Treasury secretary—delivered a speech that gave a hint of his attitudes toward white-collar crime. Bankers who manipulate markets ought to be charged, he said, but "simply ratcheting up ever-larger fines that just penalize shareholders, erode capital reserves, and diminish the lending potential of the economy is not, in the end, a long-term answer."
Osborne's remarks illustrated a hard truth that every head of the SFO has had to confront: In the U.K., investigations of the powerful don't always proceed without fear or favor. In the mid-2000s the agency began looking into allegations that BAE Systems Plc, a British arms manufacturer, had bribed the Saudi royal family. The details were embarrassing. Among other payoffs, BAE was accused of buying one prince an Airbus A340, painted silver and blue in homage to the Dallas Cowboys, his favorite National Football League team.
For then-Prime Minister Tony Blair, upsetting an important military ally and business partner was simply not on. His attorney general leaned heavily on the SFO to back off—and was alarmed to learn that the agency had already shared its files with Washington. The DOJ forced BAE to admit paying bribes and extracted a $400 million fine. The humiliating message: The only place a British company would be held to account for corruption was in a U.S. courtroom.
The U.K. has since made small steps toward making it likelier that bad behavior is punished. After lobbying by the SFO, the government in 2014 introduced deferred prosecution agreements, which allow a company to escape criminal liability in exchange for cooperating with investigators and paying a fine. In the U.S., DPAs have become something of a cop-out: Such deals were a subject of The Chickenshit Club, a best-selling book by journalist Jesse Eisinger that excoriated the DOJ for failing to charge bosses who break the law. But in the U.K., where the alternative is often no prosecution at all, they were a major development and have underpinned several SFO successes. Since 2011 there's also been legislation on the books comparable to the U.S. Foreign Corrupt Practices Act, theoretically criminalizing bribery by British companies anywhere in the world.

Among those trying to step up British efforts, there's a lively debate about how much convergence toward the U.S. model—with its all-powerful prosecutors who rarely take cases to trial—is desirable. Even Green, who's arguably done more than anyone else to import FBI-style investigative practices, makes a show of disdaining the theatrics of American justice. In private, he does a mocking impression of a drawling G-man perp-walking a defendant before the cameras. Green hasn't asked for the power to compensate whistleblowers, as U.S. law allows; he argues that moral responsibility alone should motivate witnesses. Paying them, he says, "just isn't British." By contrast, he's pushing to make it easier to prosecute companies for the conduct of lower-level employees. Whereas in the U.S. a corporation can be prosecuted for the actions of anyone on the payroll, in Britain that's true only if senior managers endorsed the wrongdoing.
Whatever the legal tools, there's no question the U.K.'s ability to fight corporate crime would be reduced without the SFO. Pundits generally agree that May is, nonetheless, still interested in eliminating the agency to bring investigations under firmer government control—a prospect that alarms U.K. allies. Last year, the Organization for Economic Cooperation and Development urged London to maintain the SFO's independence and increase its funding. May would prefer to fold it into the National Crime Agency. It's not a proposal that inspires confidence. Billed as a British answer to the FBI, the NCA when mentioned to detectives tends to prompt another sobriquet: the Never Catch 'em Agency. Under its ambit, white-collar cases would vie for limited resources with investigations into everything from cigarette smuggling to prison breaks. (The prime minister's and attorney general's offices did not respond to interview requests.)
Merger plans have been officially shelved for now, but May is persistent. She's tried to eliminate the SFO three times: in 2011 and 2014, as a senior member of Cameron's cabinet, and again as prime minister last year. "The regime is going to be very vulnerable to Brexit," Eisinger says. "Credible threats from financial institutions that they're going to up and leave the U.K. and resettle in Paris or Munich," he says, will lower the tolerance level for tough prosecutions.

Last spring, May and the head of the London Stock Exchange flew to Riyadh. At the top of their agenda: selling Crown Prince Mohammed bin Salman on choosing London for the initial public offering of Saudi Aramco, the world's largest—and most secretive—oil producer. As a sweetener, British regulators proposed to relax the usual listing rules.
With banks planning to shift thousands of staff out of London, the U.K. is looking hard for alternative investment. Brexit backers have urged May to use the split as an opportunity for "simplifying regulation and cutting taxes wherever we can," as Foreign Secretary Boris Johnson has put it. Taken to its logical conclusion, it's an attitude that could lead to the U.K. operating as something like the Star Wars cantina of international capitalism—neutral ground where the wealthiest citizens of any country can transact with ease, comfort, and few pesky investigators.
Green says most investors want "a level playing field, the rule of law"—in other words, no contradiction exists between a robust regulatory order and wooing the wealthy. "I don't think corruption attracts inbound investment," he says. "Ask the Russians."
His comments speak to a central paradox of modern Britain. The integrity of the U.K.'s institutions—courts, universities, the stock exchange—is at the heart of its appeal to global capital. Yet those same institutions frequently look the other way. The examples are legion, from the London School of Economics granting Muammar Qaddafi's son a doctorate for an allegedly plagiarized thesis to the recent IPO of Russia's EN+ Group Ltd., a commodities company controlled by an oligarch with close Kremlin ties. EN+ plans to use the funds raised from British markets to pay loans from Russian banks that are under U.S. sanctions.
And for all the progress of anticorruption enforcers, they're building from a low base. Take it from an expert: Conrad Black, the news magnate and House of Lords peer who spent time in U.S. prison for obstruction of justice and fraud. Black says he'd rather not comment on the specifics of transatlantic attitudes toward white-collar enforcement. But on the whole, he says, compared with what he experienced in the U.S., "the U.K. system is a dream come true."