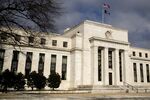 Inside the Fed's January Meeting: The Annotated Minutes
Are monetary policymakers finally confident that inflation is taking hold?
In January, the Federal Reserve emphasized that monetary policy continuity would endure even as Chair Janet Yellen's term came to a close. The Fed unanimously voted to keep the rate target unchanged at a range of 125 to 150 basis points and signaled that "further gradual increases" would likely be warranted.
With the release of the minutes from that meeting on Wednesday afternoon, we'll get more clues on why Fed officials added that much-discussed word—"further"—to the statement.
New York Fed President William Dudley indicated that "further" reflects "more confidence in the strength of the economy," while others see the diction as merely reinforcing that new Fed Chair Jerome Powell intends to follow in his predecessor's footsteps.
"I think 'further' is intended to say continuing the current path that we're on," Minneapolis Fed President Neel Kashkari said in an interview.
The Fed has been hiking rates for more than two years despite below-target inflation in the hope that it would pick up. Policymakers had been predicting inflation would rise but still remain below their target in the near term—a phrase that was dropped in the most recent statement. In January, the Federal Open Market Committee upgraded its assessment, saying it expects the annual clip of price increases to move up this year while noting that market-based measures of inflation compensation had risen.
Inflation and wage growth data released since that decision have been higher than expected, so today's communique will also offer a glimpse at whether imminent improvements had been anticipated by those within the Eccles Building.
"Given the market's obsession with inflation, we think the odds that the minutes are interpreted as reinforcing this narrative of a firming inflationary backdrop are high," wrote Tom Porcelli, chief U.S. economist at RBC Capital Markets. The U.S. central bank's January tweak to its language on inflation "is yet another step away from what has been an underlying dovish thread within the committee."
Hotter-than-expected price data—along with the successful passage of tax cuts—has prompted a growing number of Wall Street economists to predict four interest rate increases in 2018, one more than the median forecast on the U.S. central bank's "dot plot" implies. The minutes may also feature a discussion of how much this fiscal stimulus courtesy of congressional Republicans might change the calculus for the Federal Reserve's rate path.
Follow along as we annotate the minutes.