Boeing Is Killing It by Squeezing Its Suppliers
Under CEO Dennis Muilenburg, the industrial giant has turned unapologetically hard-nosed.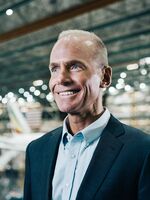 Photographer: Benjamin Rasmussen for Bloomberg Businessweek
So much goes into the development of a commercial aircraft—billions of dollars, millions of work hours, rivers of sweat—that when a new model is finished, the designers like to throw a party. At Boeing Co.'s rollout of the 777 in April 1994, an event orchestrated by Dick Clark Productions, music swelled while the slogan "Working Together" appeared on a 285-foot screen before thousands of employees gathered at the doors of a massive hangar in Everett, Wash. The phrase was the organizing principle of Boeing's engineering team and even the name of the first airplane, painted in cursive under the cockpit window. "Because we realized," a narrator intoned, "that only by working together as a team—with our customers, our suppliers, and each other—would we build a truly great airplane." Boeing extended its embrace of globalism with its next airplane, the 787 Dreamliner, introduced in 2011, relying on a far-flung network of suppliers that not only built but also designed many of the parts.
These days, the spirit of togetherness goes only so far. Under Dennis Muilenburg, who took over as chief executive officer in 2015, Boeing has turned unapologetically hard-nosed. Even amid the greatest sales boom in aviation history, he's insisting suppliers cut prices—while he angles to take over their most lucrative repair and maintenance work. This cost initiative is called Partnering for Success; some of its targets call it Pilfering from Suppliers.
Muilenburg drew yet more backlash by pressing a dumping claim last year against Bombardier Inc., a much smaller aircraft maker backed by the Canadian government. In January, the U.S. International Trade Commission unexpectedly rejected Boeing's claim, and that wasn't the only public rebuke. The case caused frictions with some customers, put $20 billion of fighter orders from Canada in jeopardy, and pushed Bombardier into a partnership with Airbus SE, whose CEO, Tom Enders, called Boeing a nationalist bully "ruthlessly surfing the America First wave."
Just about every constituency is upset except Boeing's shareholders. In this new alpha Boeing they see a plodding giant of American industry, already the largest U.S. exporter, reaching to become something more: a model of industrial profitability. The plane maker set company records for earnings, cash flow, and commercial deliveries in 2017, then pledged to do even better. Shares have doubled since the beginning of last year, the best return in the Dow Jones industrial average.
The engine of this new relentlessness is a company lifer who speaks in the measured language of a systems engineer. "While it has some tough edges," Muilenburg said in October, discussing Partnering for Success in his office in Boeing's Chicago headquarters, "it is making our supply chain better, and 90 percent of our supply chain sees that." In the wake of the rejection of Boeing's antidumping claim against Bombardier, he told analysts "you can count on" Boeing making similar challenges when it deems competitors are getting unfair state aid.
In Everett, an hour north of Seattle, Boeing's footprint extends on either side of the four-lane Boeing Freeway and includes a vast complex of buildings with its own credit union, dry cleaner, and fire department. The company spent $1 billion to erect one of the buildings, known as the 777X Composite Wing Center, in 2016. Here, a giant robotic arm strings rows of carbon fiber tape over what will become a 108-foot-long spar running the length of the wing of a 777 airliner. Each spar contains 400 miles of the half-inch-wide tape, and the workers wear white lab coats to keep clothing fuzz from contaminating it. Engineers monitor the factory floor from glass-walled offices above.

This new wing, which drastically reduces fuel consumption, is the centerpiece of the cost-saving technologies the company first developed for the 787 and is migrating to the newest versions of the 777 and other future airplanes. The 350- to 425-seat 777X, due in 2020 and ordered mainly by Emirates and other Middle Eastern carriers, will have a wingspan so wide that Boeing is adding motors to the wingtips to raise them so it can still squeeze into airport gates. (The tips will fold up while the plane taxis.) For an engineer, this is thrilling work, and the head of the 777X program, Eric Lindblad, flashes a smile when asked if his team is glad to keep it in-house. "Unequivocally yes," he says.
The first time Boeing developed a composite wing, for the 787, it hired Mitsubishi Heavy Industries Ltd. to do the engineering and manufacturing in Nagoya, Japan, part of an effort to spread the enormous development costs of the plane to multiple partners. Work on the fuselage went to Italy and the passenger doors to France. Boeing had never handed off responsibility to its suppliers on this scale—and it was a disaster. The first plane out of the Everett factory in 2007 was an empty shell, lacking plumbing, wiring, and electronics. Early models were built and rebuilt. An engine exploded, the carbon fiber frame had to be reinforced to support the wings, and an electrical blaze knocked out pilot control panels during one flight test. Battery fires grounded the global fleet soon after the plane was finally delivered, three years late.
The crisis eventually passed, and the Dreamliner became successful with airlines, but the company lost money on the first 500-plus it delivered. The experience was searing for Boeing managers. Partnering for Success was inaugurated in 2012 by then-CEO James McNerney, who demanded discounts of about 15 percent from suppliers—their margins, he groused, were often higher than Boeing's, sometimes double or triple. Companies that balked risked banishment to a "no-fly list" barring them from bidding on new programs. Among these was United Technologies Corp., which makes such components as engines, brakes, and landing gear. When UTC refused to give McNerney his discount, Boeing awarded the contract for the 777X landing gear to a small Canadian manufacturer, Héroux-Devtek Inc.

Suppliers say Muilenburg's own squeeze, which they call Partnering for Success 2.0, demands additional price cuts of about 10 percent. "Frankly, this feels like walking down the street and being mugged," Nigel Stein, then CEO of the U.K. aircraft parts maker GKN Plc, told analysts in October, by way of explaining that the company had missed profit forecasts in part because of pricing pressure, low productivity in North America and unexpected writedowns. (A spokesman for GKN said it "was not the case" that Stein was "criticizing Boeing.")
Muilenburg cut Boeing's workforce almost 7 percent in 2016 and an additional 6 percent last year, mostly through voluntary buyouts and attrition. He eliminated a significant source of uncertainty by signing an agreement with the engineers' union that will ensure labor peace through early 2022 and lower pension costs. And he's bored in on the question of profitability. One team spent a year studying the life cycle of its products and those of competitors. It discovered that Boeing was collecting only 7 percent of the money spent on the maintenance, repair, and upgrade of commercial aircraft and 9 percent of the spending on military products, says Chief Financial Officer Greg Smith, who led the study. Boeing made a lot of money delivering airplanes, but they last 30 years to 50 years, and most of the higher-margin aftermarket work was being done by suppliers and airlines.
In response, Muilenburg last year set up a unit called Boeing Global Services, which gathers together the company's various consulting, repair, and spare parts businesses. Although few of them were dominant in their fields, they collectively had annual sales of $14.6 billion. He instructed managers of the unit to boost revenue to $50 billion within 5 to 10 years. That will require them to hunt deep in the territory of suppliers and customers, some of whom have their own maintenance businesses. This, along with the ceaseless price squeezing (from Airbus as well as Boeing), has set off a wave of acquisitions as suppliers try to build leverage. Last April, Rockwell Collins Inc., which makes aircraft electronics, paid $8.6 billion for B/E Aerospace Inc., a supplier of cabin equipment including seats and lavatories. Just after the deal closed, Gregory Hayes, CEO of United Technologies, called his counterpart at Rockwell Collins, Kelly Ortberg, with a proposal. "I said, 'Kelly, we need to do something,' " Hayes recalls. " 'The forces of nature in the aerospace business are such that we need to figure out how we're going to reduce costs.' "
In September, UTC agreed to pay $23 billion for Rockwell Collins—weeks after Boeing set up a unit called Boeing Avionics to make its own cockpit equipment. In January, Boeing stepped up the pressure by forming a joint venture with Adient Plc to make aircraft seats. And there've been rumbles about a joint venture with Woodward Inc., which makes actuators—motors that move plane components like the 777X wingtips.

Muilenburg, 54, has always had some swagger. He joined Boeing straight out of Iowa State University, where his ambition, as he told the Ames Tribune, was to become "the world's best airplane designer." He has the squared-away look of NASA Mission Control, circa 1970: blond crew cut, steel-blue eyes. Since 2013 he's been chairman of Biblical Business Training, a St. Louis nonprofit whose mission is to "equip and empower God's people in the workplace." Conspicuously fit, he cycles 140 miles a week and likes to lead a peloton of Boeing workers on rides when he does site visits. Boeing was once derisively called "the Lazy B" for its lumbering bureaucracy; now employees joke about keeping up with the boss's energy. While heading the defense division in St. Louis, Muilenburg would end meetings in a ground-floor conference room by inviting managers to walk or run with him eight flights back upstairs.
In this industry, the repercussions of mistakes are revealed very, very slowly. Aircraft manufacturers invest billions before a single delivery and might not know they've misread the market or designed a plane no one wants until years later—when the mistake might ruin them. Former Boeing CEO Phil Condit says he often thinks of something Ed Wells, an engineer whose designs helped usher in the Jet Age, told him: "Be careful how long or how short you make the landing gear." Wells had overseen work on the 707 in the 1950s and was haunted by a decision to save weight on the landing gear. In 1965, Douglas Aircraft Co. introduced its "Super Sixties" DC-8s, which were longer than the 707. Boeing wanted to respond by stretching the 707. It couldn't, because the landing gear was too short—the tail would have hit the ground on takeoff. The underlying point, as Condit sees it: "Make sure there is room to incorporate the future."
When Condit got that advice in the 1980s, Boeing was the leader in a hotly competitive business including McDonnell Douglas Corp. (born of a 1967 merger between Douglas and McDonnell Aircraft), Lockheed Corp., and Airbus. Airbus, a consortium of European manufacturers supported by multiple governments, didn't make its first U.S. sale until 1978, when Eastern Air Lines acquired 23 twin-aisle A300s. It was, as the New York Times declared, "the biggest foreign penetration ever made in the American market for airliners."
That first Airbus sale may seem long past, but in the 136-page petition Boeing filed against Bombardier with the U.S. Department of Commerce in April, it's described as a fresh wound. Boeing, now the sole American manufacturer of big passenger jets, claims illegal government aid for Airbus has cost it more than $100 billion in profit—damage that remains unaddressed while a complaint the U.S. filed in 2004 at the World Trade Organization remains mired in appeals. (So far, WTO judges have found about $22 billion in illegal aid for Airbus and $3.3 billion for Boeing.)

Bombardier isn't exactly another Airbus. The company, based in Montreal, started in snowmobiles before branching into business jets and small commuter planes seating about 70 people. In 2005 it began developing the C Series, a 108- to 160-seat craft—just below the size of the most popular Boeing and Airbus models. The wings are made in Northern Ireland, fuselage sections in China, the cockpit in Quebec, and the brakes in the U.S. The plane is aimed at the sliver of market not controlled by Boeing and Airbus, which are forecast to take in $1.3 trillion of the $1.5 trillion in large commercial aircraft sales over the next decade. Developing the C Series almost bankrupted Bombardier, which stayed afloat with more than $1 billion in government equity infusions and loans. Sales were slow until April 2016, when Delta Air Lines Inc. ordered 75, worth $5.6 billion.
The ferocity of Muilenburg's response to that deal surprised much of the industry. "There are ways of handling this other than telling the world, 'We're so afraid of this jet, it's really that good,' " says Teal Group analyst Richard Aboulafia, who's followed the industry for 30 years. Carter Copeland, an analyst with Melius Research LLC, says the whole trade fracas might be plain unnecessary. "The 120- to 130-seat category historically is where a lot of other manufacturers go to die," he says.
Muilenburg has an enthusiastic backer in President Donald Trump, after an awkward start to their relationship. The then president-elect picked Boeing for one of his early calling-on-the-carpet rituals in December 2016, blasting the "out-of-control" costs on a 747 Air Force One contract. Within hours, according to a Boeing official familiar with the events, Muilenburg was on the phone, explaining Air Force One's specifications. He ultimately gave Trump a discounted deal to pull out of desert storage two Boeing jumbos ordered by a now-defunct airline and reconfigure them as presidential transports.
Since then, Trump has come to treat Boeing as a kind of corporate Bill Rancic—the Season 1 Apprentice winner he can't stop plugging. "Is Boeing here? Boeing?" the president called out at a meeting of business leaders in Tokyo in November, before gushing to the head of Boeing's Japan operations, "Oh, look at my guy. Stand up. Boy, have I made him. … Fantastic. Great job you're doing. And I do love the F-18 also." Indeed he does: At the White House a few months earlier, Trump surprised the president of Finland during a joint press conference with a declaration that the country had agreed to purchase some number of new F/A-18 Super Hornet fighter planes. President Sauli Niinisto later called the remark a "duck," Finnish for joke, and said the country hasn't made up its mind.
Muilenburg won't discuss his conversations with Trump, other than to note a "big change" from the Obama administration. "It's an open communication line, and it's iterative, it's frequent, it's consultative, and the president is willing to listen," he says. He bristles mildly at any suggestion that Trump isn't sophisticated in how he views a global trading system in which countries are both competitors and partners: "He does understand it, and I think he appreciates it."
What this Commerce Department especially understands, as it says in each press release announcing new sanctions, is that "enforcement of U.S. trade law is a prime focus of the Trump administration." In the year since Trump's inauguration, the department has initiated 84 cases alleging dumping or illegal subsidies, a 58 percent increase from the pace a year earlier under Obama. It's imposed duties on Canadian lumber, Chinese solar panels, and South Korean washing machines, among other goods. One effect has been to raise prices domestically; lumber, for example, was up 21 percent last year. The thinking is that over time the higher tariffs will force investment in the U.S., something Trump supporters say is already happening, pointing to such examples as Samsung Electronics Co.'s announcement in June that it would start making appliances at a plant in South Carolina, creating 954 jobs.

The Commerce Department responded to Boeing's complaint against Bombardier by proposing duties of almost 300 percent on the C Series. Pressing his advantage, Muilenburg also stepped up negotiations to buy the enemy of his enemy, Brazil's Embraer SA, a Bombardier rival. Bombardier, burning cash and fearing it would be shut out of the U.S. market, handed Airbus a majority stake in the C Series line for no cost. It also agreed to contribute $300 million toward expansion of the Airbus factory in Mobile, Ala., where the planes could be built to potentially sidestep duties.
Muilenburg's aggressive strategy backfired when the U.S. International Trade Commission ruled 4-0 that Boeing, which doesn't make a plane as small as the C Series model that Delta is buying, wasn't harmed by the Bombardier sale. Airbus tweeted a photo of its CEO and his counterpart at Bombardier, Alain Bellemare, raising Champagne glasses to toast the decision. In a research note, Bank of America Merrill Lynch analyst Ronald Epstein called the episode Boeing's "Canadian wild goose chase" and tallied the blowback—which included, by his reckoning, the $12.7 billion order for 100 Airbus jets that Delta placed in December.
The most surprising answer to the Bombardier affair, however, might have been that of the Canadian government. According to one person familiar with Boeing's thinking, the company anticipated that Prime Minister Justin Trudeau would retaliate for the challenge by canceling a $5.2 billion order for 18 F/A-18s. Trudeau went further by setting penalties for any bidders that harm Canada's "economic interests" in a contest for an additional 88 fighters worth as much as $15.2 billion. Over time, relationships might be repaired—but the subsidy wars aren't over. The WTO is due to rule this year on Airbus's final appeals to its findings of illegal aid. If Airbus loses, the Trump administration will have the right to levy retaliatory tariffs on a host of European exports—potentially setting off another protectionist tit-for-tat, with Boeing in the center.
The next test of Muilenburg's mighty Boeing will come with another consequential decision: whether, and how, to build the plane now on its drawing boards, its first brand-new model since the 787. Boeing calls it the NMA, or New Midmarket Airplane, and Muilenburg is telling analysts it may enter service as early as 2024. That's something like the day after tomorrow for airplanes, and to meet that target he'll have to give a go-ahead within the next year.
Development of the NMA might cost $10 billion, however, testing the commitment of investors. It will also require suppliers and customers who aren't alienated.
The U.S. market is no longer the only one that matters. The busiest air route in the world isn't London to New York; it's a one-hour hop from Seoul to the South Korean resort island of Jeju. In fact, 7 of the 10 most-traveled air routes in the world are in Asia, where 100 million people now make their first flight every year. Boeing's two versions of the NMA—a 225-seater that could cruise 5,000 nautical miles and a 275-seater with a range of 4,500 nautical miles—would seem to fit this niche nicely. They would also be a way to jam Airbus. Boeing envisions twin-aisle planes to speed boarding; Airbus is considering a lower-cost stretched version of its single-aisle A321neo. "You're in Row 80C or E, good luck getting off that airplane on time," Muilenburg says.
The author John Newhouse famously called the aircraft industry's combination of bare-knuckle tactics and white-knuckle risks "the sporty game," in a 1982 book by that name. It's still widely read among industry executives. One constant of the game is that apparent winners often become losers—choking on contracts they can't afford or chasing markets they don't need. And by that logic, it's too early to call Boeing's hard line on trade a failure. The shotgun wedding of Canada and Europe at the Alabama plant may falter in disputes over jobs and costs. It could distract Airbus while Boeing develops the next leap in jet travel with its NMA, already dubbed the 797 by analysts.
The ultimate state-sponsored behemoth, however, is still coming. Aerospace is a pillar of President Xi Jinping's Made in China 2025 plan, and the state-owned Commercial Aircraft Corp. of China, known as Comac, is developing its own airplane, the 168-seat C919. On its maiden flight, broadcast live last May on state TV, it never exceeded 10,000 feet. By all appearances it wasn't ready. But eventually, Comac will probably ascend. If it does, some can imagine Boeing and Airbus finally calling a truce and focusing on a common threat. You might even call that working together. —With Rick Clough, Benjamin D. Katz, and Frederic Tomesco