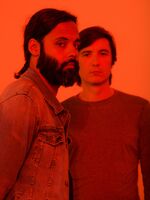 Photographer: Damien Maloney for Bloomberg Businessweek
Brokerage App Robinhood Thinks Bitcoin Belongs in Your Retirement Plan
The free trading platform has convinced millions of millennials to swap stocks. Can it get them to HODL?
Late one Monday morning last December, Baiju Bhatt and Vlad Tenev, co-chief executive officers of online stock brokerage Robinhood, called an emergency meeting in the company's cramped Palo Alto office. Behind them on a flatscreen TV an image of the Greek sun god, Helios, appeared over a hot pink background with the words "DON'T SLEEP" in giant, yellow type. On the bottom, right-hand corner of the image was a date: Jan. 31.
The meeting was short but to the point. Bhatt and Tenev told the 150 employees—some watching via video from Robinhood's Orlando office—that the company was in danger of missing out on Bitcoin, which, as they saw it, was the biggest thing to happen to the financial-services industry in decades. Workers would have to drop what they were doing and focus on giving clients access to it, or Robinhood might become irrelevant. "We haven't been taking this seriously," Bhatt recalls telling the staff.
The previous Thursday, with the price of the cryptocurrency soaring, Bitcoin exchange Coinbase briefly hit No. 1 in Apple's U.S. App Store—meaning it was being downloaded more than Facebook, Netflix, YouTube, and everyone else. The same day, according to data from market researcher App Annie, Robinhood, which had been ahead of Coinbase at times earlier in the year, was ranked 194th. By Dec. 11, when Bhatt and Tenev called the meeting, Bitcoin was trading at $17,000 per coin, up from $1,000 at the beginning of 2017.
Bhatt and Tenev had experimented with the currency years earlier, but as Bitcoin became mired in scandals, they decided to work within the conventional financial system instead. Unlike at traditional discount brokerages, which charge $5 or more to buy or sell stocks, at Robinhood trades are free and made using a minimalist smartphone app. To sweeten the deal, new users get a complimentary share of a random business—generally one with a price below $10—if a friend refers them to the service. The company has raised close to $200 million from venture capitalists, including Yuri Milner, Joshua Kushner, and Google's VC arm, who see in Robinhood a classic case of Silicon Valley disruption: Take a product that once cost a lot, put it online or on a smartphone, and make it as close to free as possible.
Robinhood doesn't operate retail stores, doesn't advertise on TV, and doesn't publish a customer service phone number on its website. In fact, until last November, the company's trading platform wasn't even available on the web; you could use it only on your phone. Once you've set up your account, which can be handled entirely on the app, you're able to search for any equity or exchange-traded fund (ETF) that's available on a major U.S. exchange. Tap a stock, choose the number of shares, then swipe, Tinder-style, to buy.
This convenience has made the app controversial—it's a little bit like putting a casino in an investor's pocket—but it's helped Robinhood grow quickly among millennials, a market the financial-services industry has found hard to crack. Since it was started four years ago, Robinhood has attracted 3 million accounts, roughly the same number as the big discount broker E-Trade. During its most recent investment round, the company was valued at $1.3 billion.
At one time, that might have sounded like a lot of money. But as Bhatt and Tenev watched Bitcoin's price tick up throughout 2017, eventually topping $19,000, they began to experience a sensation that speculators know well: crypto-FOMO. They'd planned on bringing Bitcoin trading to Robinhood eventually, but by December they were convinced they needed to accelerate their efforts. The Jan. 31 deadline meant the new functionality would have to be ready in just seven weeks, about half the normal product-development cycle.
The sprint would require some all-nighters. However, Bhatt and Tenev told the staff that "Don't Sleep," which they printed on posters pasted in bathrooms and throughout the office, had other meanings. First, cryptomarkets, unlike Wall Street, operate 24/7. Second, and more important, Bhatt and Tenev thought that if Robinhood continued ignoring Bitcoin's rise—sleeping on it, if you will—it risked getting disrupted itself. The entire equities market, they'd come to believe, faced a shift as dramatic as the one that confronted Netflix in 2011 when it decided to pivot away from mailing DVDs and toward streaming media. "This has the potential to remake the industry," Tenev says.
Of course, there's another possibility, which became clear as January wore on and Bitcoin's price fell more than 50 percent to about $8,000 in early February. Blockchain, the technology behind Bitcoin, has staying power, but Bitcoin itself may wind up being worthless. The question is whether Robinhood's founders—or any clients riding this wave—know what they're getting into.

"When we started Robinhood, there were a lot of naysayers," says Bhatt in an interview two weeks before his Jan. 31 deadline. The more outspoken of the duo, Bhatt had a frantic schedule that day, including a meeting to decide on the shade of green for the new section of the app—the plan was to give it a "retro-future" feel—as well as reviews of legal issues, marketing, and articles explaining Bitcoin that were planned for the app's help section. "I'm pretty excited about this," he says of the crypto push.
Bhatt, 33, has shoulder-length hair, an unkempt beard, and the bearing of someone more likely to be found on the edges of a Bernie Sanders rally than in the executive suite of a financial-services company. This is by design. Everything at Robinhood, including the grooming habits of Bhatt and Tenev, 30, who also wears his hair shaggy, and the puckish connotations of the company's name, is choreographed to show that this is not your dad's stockbroker.
Robinhood's customers are mostly inexperienced investors (median age: 28) who are capital-light. That's a bigger cohort than people realize, Bhatt says. According to the Federal Reserve's latest Survey of Consumer Finances, only 14 percent of Americans directly own stock in a company, while 52 percent own it through an investment fund or a retirement plan. Bhatt argues, citing French economist Thomas Piketty, that rising inequality would be ameliorated if more people owned stocks. "People who have capital reserves are generating pretty disproportionate returns," he says. "That's driving inequality."
The pitch may seem too simple, but it's effective given where it comes from. Bhatt and Tenev ran a hedge fund before they started trying to fix capitalism. In 2009, after leaving graduate school—Bhatt has a master's in math from Stanford, Tenev has one from UCLA—they moved to New York and formed their fund, Celeris, using the high-frequency trading strategies then gaining popularity. Two years later they launched a software company, Chronos Research, to cater to high-frequency traders.
Bhatt says the work reminded him of theoretical physics. Markets were a complex system that couldn't be modeled perfectly. Tenev calls high-frequency trading a "pure intellectual exercise," but one without meaning. Their sense of unease grew after they started following Occupy Wall Street protests, which began in late 2011 and targeted, among other things, the trading strategies that Bhatt and Tenev employed. "It was a little bit of a gut punch," Bhatt says. "We were part of the problem."
In early 2012, Tenev, who'd moved to the Bay Area, was at a party with a techie crowd and started explaining what he and Bhatt did for a living. Chronos ran high-performance servers that let customers trade a million times or more a day. After he finished, a friend asked how much the hedge funds paid per trade.
"They don't pay anything," Tenev said. Tenev's friend asked, "So why is my broker charging me $49.95 per trade?" Tenev told him he didn't think there was any technical reason why individual trades should cost more than institutional ones. After the party, he called Bhatt. It was well past midnight in New York, but Bhatt was still out. He spent the pre-dawn hours writing a business plan.
It took Bhatt and Tenev two years to broker their first trade, in part because the venture capitalists they pitched didn't like the idea of zero-fee stock transactions. Similar startups had failed because, though the trades themselves cost next to nothing, running a brokerage—a highly regulated business that requires any employee who touches customers' money to be licensed—is expensive. Revenue would have to come from somewhere, the VCs pointed out. Why couldn't Robinhood make trades 99¢ instead of free? "We were ideologically opposed," Bhatt says.
Seventy firms passed before Bhatt and Tenev got their first check at the end of 2013 from Jan Hammer of Index Ventures. Hammer, who invested in E-Trade in the '90s, reasoned that the shift from web-based brokerages to mobile ones would favor a newcomer. Moreover, though Robinhood would lose money on trading services, he thought that if it built up a big customer base, it could eventually offer them profitable financial products such as loans. "Today Robinhood is savers, but over time you might see them expanding to cater to borrowers," Hammer says. "They're going to be the Amazon of financial services."
In some ways, it's all gone according to plan. The company's no-commission strategy and populist messaging have helped turn market neophytes into small-scale investors. But Robinhood has had another, arguably more important, advantage that its founders acknowledge only reluctantly: The company was founded amid an historic bull market. From March 2014, when stocks began trading on the app, to late January, the S&P 500 index jumped more than 50 percent. Well-known tech stocks, which are popular with Robinhood's users, did especially well. That's likely made customers more willing to sign up, and it's made more dubious aspects of the company's pitch harder to spot.
At the moment, Robinhood has several revenue streams, including collecting interest on cash balances in user accounts. But the only significant one is a peculiar spin on margin lending. Rather than extending credit at a fixed interest rate, which is what most brokerages offer, Robinhood asks potential borrowers to sign up for a premium tier, Robinhood Gold. They pay a flat monthly fee that depends on the size of their credit line. For $50 a month, someone with a $12,000 balance can access up to $12,000 in additional capital. If you invest all the borrowed money, that works out to a 5 percent interest rate, which is a good deal. But if you choose to invest less, your effective interest rate goes up.
Robinhood argues that its pricing structure is easier to understand than traditional loans offered by other brokerages. The scheme, however, combined with no-cost trades, incentivizes risk-taking. "Historically, people that trade frequently don't do as well," says David Schawel, chief investment officer at advisory firm Family Management Corp. "This platform arguably encourages lots of trading."
Robinhood's marketing can assume a tone that wouldn't be out of step in Las Vegas. New users receive regular push notifications suggesting they get started by checking out the day's "top movers." It's enticing ad copy—and an invitation to invest in volatile stocks. In 2016 the company's Twitter account urged users to "Trade fast, die young." Robinhood says this was meant as a joke.
Even so, the app routinely promotes a strategy that seems somewhat reckless in light of the recent stock market pullback. When a Bloomberg Businessweek reporter in her mid-20s signed up for an account, the app asked questions about her age, goals, and trading experience, then spit out a "watch list." It named two dozen popular stocks including Apple, Twitter, GoPro, and Ford. More conservative suggestions, such as ETFs, widely seen as the safest choice for most investors, weren't on her list. Robinhood produced an identical list when the reporter's father tested the service.
Of course, there are less risky approaches. Betterment LLC and Wealthfront Inc., which have each raised hundreds of millions of dollars in venture capital, both target younger investors. But rather than offer a do-it-yourself trading platform, they use algorithms to suggest customized strategies that rely on index funds, periodically helping clients rebalance portfolios as investments grow and retirement nears. A Robinhood spokesman says the company intends to improve its platform to help investors find index funds more easily, and it's considering offering automated investing services.
These competing "robo-adviser" services aren't free—Betterment charges a quarter of a percent per year—but that's low compared with a traditional money manager. It's almost certainly a smarter strategy for most people than picking stocks, which Betterment doesn't even let customers do. It has no plans to offer Bitcoin. "Stockpicking and crypto speculating should only be a small percentage of your investable assets, if at all," says Betterment spokesman Joe Ziemer. Betterment, he notes, is a fiduciary adviser, so it's legally bound to act in its users' best interests. Robinhood, as a broker-dealer, is not.
Moreover, says Edward Wolff, a New York University economist and author of A Century of Wealth in America, it's unlikely that removing trading fees will do anything to address the inequality that Bhatt and Tenev say is core to their mission. The cause of inequality, Wolff says, isn't the low rate of stock ownership. It's that people don't make enough money to save. "Lowering investment fees is not going to bump up ownership," he says. "If you really want to do something about inequality, you have to do something about income."
When Robinhood announced trading of Bitcoin and Ethereum, another cryptocurrency, to the public on Jan. 25, it did so with its usual youthful exuberance. An email sent to users opened with "Don't Sleep" in neon green type. "We're seeing a dramatic increase in consumer demand for this," Bhatt said in a phone interview the day before the launch. "For many users, cryptocurrencies are going to be their first foray into investing, and we want to be there."
The pitch worked. Robinhood shot up 150 spots in Apple's App Store, resuming its position comfortably ahead of Coinbase, which had fallen since its big day in December. By the end of the week, more than 1 million people had signed up to trade cryptocurrencies in a trial program. (Although many were existing account holders, Robinhood says introducing Bitcoin will result in significant growth in new accounts.) Users chosen for the trial can start buying and selling coins as early as this month. Robinhood plans to open the service to its entire user base once it gets the green light from states, such as New York, that require companies that trade Bitcoin to have a special license.
In the phone interview, Bhatt explained that he and Tenev began plotting the move after concluding that Bitcoin could weather hype cycles without completely losing its value. "It has a resiliency to it," he said. "It has characteristics in common with the stock market. It has a way of bouncing back." In essence, he was espousing a sobered-up version of what you'd find on crypto message boards, where speculators shout encouragement at fellow believers. For example: "Buy the dip!" and "HODL," a deliberate misspelling of "hold" that has come to stand for "hold on for dear life."
What Bhatt didn't mention is that the 2017 price runup in cryptocurrencies was more dramatic than in any asset bubble in capitalism's history. And even if Bitcoin recovers from its crash at the end of January, the bull market in equities appears to be ending. One way or another, Robinhood users could very well lose money—no matter how careful they are.
Bhatt acknowledges this. But he argues the rewards outweigh the risks. "Investing is the biggest driver of wealth in our country," he says, doubling down on the populist rhetoric. "The best thing to do with our markets is to have more people participate." By adding Bitcoin to the mix, Bhatt thinks that Robinhood can help bring a currency that's been marked by volatility and, at times, criminality, further into the mainstream. "We're doing this because we believe in the financial system, and we want it to be a pillar of light," he says. Of course, Robinhood is also doing this because it wants more users and, ultimately, more margin traders.
In the meantime, interest in cryptocurrencies will keep the company growing. Robinhood plans to add 150 back-office and customer service employees to its Orlando operation, and hundreds more in Menlo Park, where Bhatt and Tenev are renovating a building that once housed Sunset magazine. The complex, designed by midcentury architect Cliff May, the father of the ranch house, is arranged around an interior quad with desert plants and low benches.
"This is the next best thing to being at Stanford," Bhatt says, walking through the courtyard. He muses about Robinhood's future, including the possibility of an initial public offering. "We're putting the gears in motion," he says.
On the other hand, he adds, by the time Robinhood goes public, IPOs may be history. Initial coin offerings, the cryptocurrency alternative to an IPO, raised more than $4 billion last year. "That," he says, "is a pretty fundamental structural shift."
(
Corrects location of company's new office in the 32nd paragraph.
)