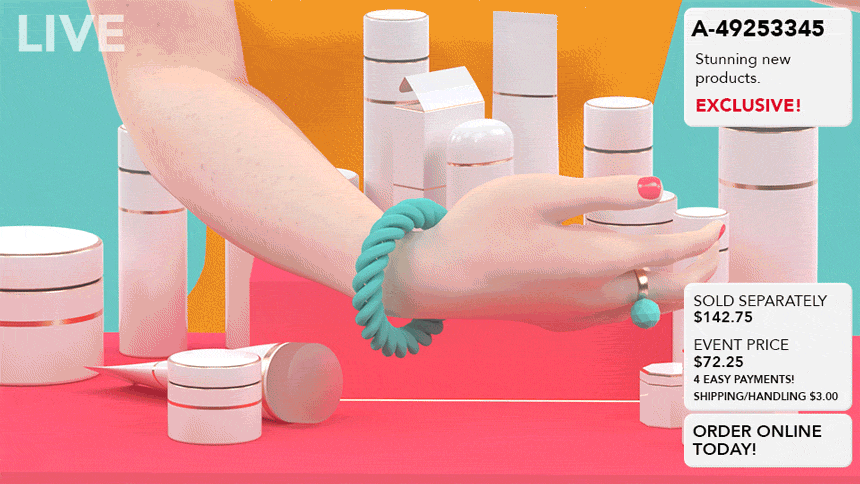 QVC's Plan to Survive Amazon Might Actually Be Working
An audience of mostly middle-aged women has put the shopping channel behind only Amazon and Walmart in online sales.
Amazon hadn't just invaded the home turf of the home-shopping channel QVC. As it has done with food delivery, travel and online payments, the Seattle giant had more or less recreated a rival's entire approach. In this case, the weapon was an online show, "Style Code Live," staffed with bubbly millennials promoting beauty and fashion products you could buy on Amazon.
"They tried to copy everything about our show," QVC Chief Executive Officer Mike George said in an interview.
Usually, this is the moment that foreshadows doom for a rival. But QVC didn't bend to Jeff Bezos's iron will. In May 2017, a little more than a year after introducing "Style Code Live," Amazon canceled the show. The retreat proved that QVC's formula—unscripted hosts demonstrating products to an audience of mostly women on live television—isn't as easy as it looks. (Amazon declined to comment.)
QVC hasn't been immune to the ongoing struggles in retail and television. It had four straight quarters of sales declines before posting an increase last quarter. Sales in some categories, such as hair care and jewelry, have continued to struggle. Like many other pay-TV networks, QVC's main channel has lost subscribers as more consumers drop their cable subscriptions.
But QVC isn't just another channel trying to adapt to the rise of cord-cutting or a retail brand looking for a toehold online. About half of QVC sales already happen online, and two-thirds of those purchases come from mobile devices. In January, after completing a $2.1 billion purchase of its rival, the Home Shopping Network, QVC Group became the third largest e-commerce retailer in North America, according to Internet Retailer. That means the combined cable channels trail only Amazon.com Inc. and Walmart Inc. among companies selling products in multiple categories.
Wall Street has noticed, with shares of QVC Group, which includes QVC and smaller retail brands, soaring 51 percent in the past year. The company is owned by John Malone's Liberty Interactive Corp., which lists the business as a separate tracking stock to reflect its value.
The executives running a channel whose name stands for Quality, Value, Convenience believe their business can survive because it does something that Amazon can't: "You're not going to be inspired by Amazon," said George, a 56-year-old former McKinsey & Co. partner who buys Keurig machines on QVC as birthday gifts. "Shopping should be joyful. It should be inspirational. That's what we can do."

Standing next to a clothing rack on a recent morning, QVC host Pat James-Dementri urged viewers not to wait to buy a blouse and tank-top set. Order now, she said using a familiar lure, and you can get 30 percent off. She translated the price into the channel's signature math: "Three easy pays of $16.66."
In a dark room perched above the studio, producer Kevin McGovern wore a headset and monitored two screens. One tracked call volume; the other showed the colors and sizes left. The wine-colored blouse was the hot item this morning, and that real-time dashboard helped create a sense of urgency with shoppers at home. McGovern whispered into the host's earpiece, and the information went out to QVC's 100 million homes in James-Dementri's bright voice: "The wine is flying out of here!" she told viewers.
While the format looks easy, a complex ballet takes place behind the scenes to make things go smoothly. There are no teleprompters or scripts. QVC hosts improvise, fielding calls and social media questions from viewers in real time. The channel features 770 products each week on the air in the U.S., and the average shopper spends more than $1,200 a year on the network's products.
QVC broadcasts every day, except on Christmas, from a 58,000-square-foot campus in West Chester, Pennsylvania, about 30 miles outside of Philadelphia. The main studio has more than 20 sets that resemble scenes torn from a Pottery Barn catalog, with plush couches and spotless kitchens. There's a 130-seat theater used for live segments with such celebrities as chef Rachel Ray or Catherine Zeta-Jones, who recently launched a home collection. A warehouse nicknamed Noah's Ark holds 300,000 items—at least two of everything that QVC features on TV each day. There are parallel broadcast operations in seven countries, including China.
In one room, a headless mannequin wore a bra as part of an upcoming segment on Breezies underwear, which was to be a featured item known as "Today's Special Value." On a brightly lit set nearby, Dennis Basso, a charismatic white-haired fashion designer, held up one of his dresses as the cameras rolled. "I'm telling you," Basso said, "this is sooooo special."
Seated in a conference room at QVC's headquarters, George talks about the marriage with Home Shopping Network as something that will do more than save costs or unite celebrity pitchwomen: Serena Williams and Nicki Minaj sell clothing and perfume on HSN, while Martha Stewart and Ellen DeGeneres pitch home décor, beauty products and other items on QVC. The combined channels, George argues, will have the resources to innovate.
HSN was the pioneer in shopping by remote control instead of requiring viewers to pick up the phone or visit a website. Following the merger, George said, QVC is in talks with Comcast Corp. to enable the cable giant's 22 million subscribers to order items on the channel from their remote controls.
But that strategy will pay off only if QVC viewers keep their cable TV subcriptions. "We expect QVC to have more difficulty acquiring new customers," Citi analyst Jason Bazinet wrote in a September note that downgraded its parent company's stock to sell.
And the shoppers that are sticking around aren't young. George describes the typical viewer as an upscale woman in her 50s. A recent summary of the stereotypical QVC fan in Philadelphia magazine evoked "silver-haired grannies ordering slow cookers and vibrating belly bands from landline phones." The public perception of a certain fustiness to the home-shopping demographic makes it challenging to attract millennials. 
QVC executives insist they're mostly protected from the pressures facing both TV networks and brick-and-mortar retailers. Cord-cutters are cost-conscious young men, they say, while QVC viewers are women of a certain age with enough disposable income to afford cable-TV subscriptions and discretionary purchases. QVC executives refer to their viewers, who are about 80 percent female, simply as "she" and "her."
Those celebrity deals also give the channel a measure of protection by ensuring those products aren't available on Amazon. Martha Stewart's chambray blouse and electric snowblower are exclusive to the channel, and her on-air appearances are also streamed live on her Facebook page, introducing many of Stewart's fans to the shopping channel.
To reach the younger generation, QVC introduced a TV channel, Beauty IQ, that is simulcast on Facebook Live and features beauty experts who have big followings on Instagram and YouTube. In 2015, two years before the deal for the Home Shopping Network, QVC also paid $2.4 billion for Zulily, a flash sales site aimed at millennial moms.

QVC's digital strategy has started to pay off. The channel added about 417,000 new customers last quarter, the second-biggest increase for that period in 15 years. Amazon is perpetually lurking, of course. It has started to broaden Twitch Interactive, a video-game streaming site it acquired in 2014, to allow artists, chefs and musicians to sell products to their viewers. And about three-quarters of QVC shoppers are also users of the almost inescapable e-commerce site.
But analysts increasingly see QVC's future as "the anti-Amazon," in the words of Barton Crockett at B. Riley FBR Inc. Amazon is about inexhaustible selection, he said, while a 24-hour shopping show is a matter of constant salesmanship.
"QVC is a retail format that appeals to a woman who loves to shop," Crockett said. "It would appear this woman is born every year."

Some viewers tune in to just see hosts like David Venable. A 53-year-old former TV news anchor in Altoona, Pennsylvania, Venable got his start at QVC in 1993 selling patio furniture during the overnight shift. Today, he hosts two live cooking shows each week, deploying a folksy manner that evokes his southern upbringing. His nonstop patter is filled with anecdotes about how his grandmother and mother taught him to cook.
"In the Kitchen With David" is one of QVC's most popular shows, drawing on average more than 2 million viewers. Wearing his apron, Venable answers questions on social media, makes new recipes and demonstrates cookware. He has sold almost 900,000 air fryers. Whenever Venable tastes a dish he really enjoys, he raises his hands and turns in a circle while saying "happy dance, happy dance" over and over. It's his signature move.
"We're establishing a relationship with viewers," Venable said in an interview. "If you go to other online retailers, it's a transaction. When you come to QVC, it's a social experience."
One of his most devoted fans is Cam Brockman, a 23-year-old retail sales associate in Charlotte, North Carolina. Brockman recently tweeted that she was "addicted" to QVC and was "the only 23-year-old wearing Denim and Co. and planning her life around David Venable."
Brockman got Venable to sign a copy of his cookbook. On Sundays, she and her boyfriend watch his show during halftime of NFL games. She has bought measuring cups and bakeware after seeing Venable use them.
"He seems so genuine," Brockman said. "His happy dance is so funny. The older women must love that."