Putin Is Grooming a New Generation to Preserve His Legacy
The Russian leader grooms young loyalists to ensure his policies live on.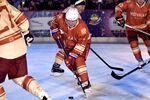 Just before Christmas, at a nighttime ice hockey game on a rink in Red Square, Vladimir Putin scored again and again. Not that his opponents tried too hard to stop him. The match included many of the president's inner circle, from political allies and ex-bodyguards promoted into government to old friends who've grown fabulously rich during his two-decade rule.
The Kremlin has ensured that Putin, 65, faces equally toothless opposition in March's presidential election as he seeks to extend his rule to 2024 with a fourth and likely final term. His biggest challenge will be to build a team and a system capable of sustaining Putinism after he's left office. "Putin's greatest fear is that everything will collapse as everyone starts to fight each other," says Olga Kryshtanovskaya, a sociologist who studies Russia's ruling elite at the State University of Administration in Moscow. "It's a huge risk."

Forming institutions that function without him is an unfamiliar task for the former KGB officer. Since coming to power in 2000, Putin has tamed oligarchs, tightened control over regional governors, and turned Parliament into an obedient echo chamber. With the economy booming amid soaring oil prices during his first two terms, many Russians, tired of the chaos following the Soviet Union's collapse, were happy to let him do as he pleased.
Now, Putin rules unchallenged at the apex of a highly personalized system of government. His approval ratings have remained consistently above 80 percent after the 2014 annexation of Crimea, even as public discontent about weak economic growth has grown following the longest recession this century. While factions jostle for advantage over succession, he's looking to establish a cadre of loyalists who can run Russia and guarantee his own security once he leaves office. "Putin is trying to move away from a very personal system of rule to a more collective one," says Alexei Mukhin, head of the Center for Political Information in Moscow.
The president recently installed a crop of younger officials as regional governors, road-testing their fitness for higher office while demonstrating that their futures depend on loyalty to him. That includes his former bodyguard, Alexei Dyumin, 45, who, as the opposition goalie at the Red Square hockey match, failed to stop Putin's scoring shots. Dyumin was put in charge of the western Tula region in 2016. The Kremlin has lavished support and publicity on the new breed, highlighting their zeal to reform local bureaucracies and repair potholed roads and dilapidated housing. Meanwhile, several of the previous generation of governors have wound up in prison on corruption charges.

Dozens of ambitious bureaucrats, mostly in their 40s, have been put through a leadership program that includes a series of bizarre physical challenges. State television broadcast footage in October of Putin loyalists jumping in wetsuits and helmets from a cliff into a waterfall. In another video a month later, trainees in military fatigues made parachute jumps, lay on the ground as an armored personnel carrier drove above them, and learned to shoot assault rifles and throw grenades.
To ensure an orderly handover, Putin seems to be taking cues from China, where President Xi Jinping has recently moved to establish greater personal dominance. The Chinese Communist Party never let go of power as it periodically refreshed the top leadership to avoid the gerontocracy that helped doom the Soviet Union. The Kremlin and the Chinese central committee are in regular dialogue on the issue, says Alexander Gabuev, a political analyst at the Carnegie Moscow Center who studies Russia-China ties. "The Chinese message is, 'Guys, we have inherited this system from you. We borrowed it from the Soviet Union. So now what you need to do is to take it back and adapt it,' " Gabuev says. "Russia is trying at least in theory to move to a more Soviet bureaucratic type of state, with different mechanisms for promotion, ongoing rotation, something more Chinese."
The need for a safe pair of hands to guarantee Putin's legacy and security is becoming more urgent as splits widen among rival factions inside the Kremlin. In December, former Economy Minister Alexei Ulyukayev became the highest-ranking official convicted of corruption in the Putin era when he was sentenced to eight years for seeking a bribe from Igor Sechin, the powerful and feared Putin associate who heads state-owned oil giant Rosneft PJSC. "Putin's top priority in his next term is to ensure an orderly handover of power," said Konstantin Kostin, a former senior presidential official who continues to advise the Kremlin.

People around Putin believe he'll choose as a successor someone young who owes his entire career to him, says one person close to the Russian leader. Hoping to thwart upstart contenders is Prime Minister Dmitry Medvedev, 52, who's likely to stay in his post after the election and has every chance to be Putin's pick, according to a former top Kremlin official. Many of Putin's inner circle have a personal investment in the outcome after installing their own children into plum posts in state companies, turning the running of Russia into something akin to an extended family business.
Even if he steps aside in 2024, Putin may hang on to key levers of power by changing the constitution to transfer command over the military and security forces to the State Council, currently a consultative body. He may also repeat his trick of 2008, when he continued to rule Russia after switching jobs with Medvedev to skirt a constitutional ban on more than two consecutive terms.
Even so, Putin's power is visibly waning in the eyes of the elite, who are planning for life after him, according to Gleb Pavlovsky, a Kremlin adviser during the president's first two terms. "There's no longer any role for him," Pavlovsky says.