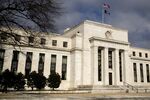 Inside the Fed's December Meeting: The Annotated Minutes
Are concerns about low inflation approaching a tipping point?
In December, the Federal Reserve delivered its third interest rate hike of 2017 and maintained plans to increase rates three times this year. However, two Fed regional bank presidents -- Neel Kashkari of Minneapolis and Chicago's Charles Evans -- dissented from the decision, each citing concerns about below-target inflation.
With today's release of the minutes of that meeting, we'll get a sense of whether worries among Fed officials about persistently sluggish price pressures have approached a tipping point.
Markets are pricing in more than two rate increases of a quarter percentage point from the U.S. central bank over the next 12 months. The December dot plot implies that there's a loose consensus among Fed officials that by 2020, rates will need to be raised to levels designed to restrain economic activity -- potentially risking a recession in the process.
In an essay explaining his dissent, Kashkari added that the signals emanating from the bond market -- the slimming spread between short- and longer-term yields -- suggested "the odds of a recession are increasing." Other monetary policymakers, including Dallas Fed chief Robert Kaplan, have since expressed unease about this flattening of the Treasury curve.
And who knows, maybe we'll even get a reference to cryptocurrencies in the minutes. Bitcoin rose more than 50 percent in the two weeks prior to the meeting.
Follow along as we annotate the discussion.