India Is Getting Fat. This Gym Chain Wants to Get Huge
But first, Talwalkars has to sell a nation on the Western model of working out.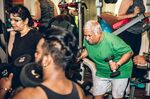 One Friday morning in Mumbai, Madhukar Talwalkar, the 84-year-old director of the largest gym chain in India, enters the 206th and newest branch of his empire and pauses in front of a metal idol. Every Talwalkars fitness center contains a depiction of Hanuman, a monkey-shaped deity who, according to legend, once lifted a mountain. "He is a highly respected god," Talwalkar says, admiring the figurine. "The god of strength." Traditional depictions of Hanuman are stout and brawny, but this one is nearly steroidal, with a bulging V-shaped torso and two melonlike biceps. Talwalkar's sculptor put Hanuman's head on the body of a winner of the Mr. Maharashtra bodybuilding competition.
In the gym's workout space, a dozen middle-aged Indians labor with trainers, as junior staff mop sweat from the floor. Three coaches wait impatiently for a group of panting women in saris to resume their situps, and a heavyset man in a polo shirt walks calmly on a late-model treadmill, which lets him escape Mumbai's smoggy chaos for a simulated path through crisp Munich.

Talwalkar, who is 5 feet 4 inches, rushes past the customers and into an office, where he leans back in a chair and details his own fitness regimen. He's one of 1,000 or so people in the world, he says, "who have never missed exercise." Talwalkar works out at least once every day—sometimes in the middle of the night or on the side of the road, usually dressed in nothing but a bodybuilding slip. "I call it prayer," he says. "If someone comes to visit me while I am doing exercise, my wife tells him, 'He is in prayer,' and nobody ever questions that."
Across the subcontinent, Talwalkar is known as the entrepreneurial godfather of Indian fitness—something like Joe Gold, the bodybuilding fanatic who launched Gold's Gym in California, but with the ebullience of TV fitness icon Jack LaLanne. While U.S. gym culture has thrived since the 1970s, India's fitness industry was almost nonexistent until recently, when it exploded. Since the mid-2000s, the so-called modern gym sector has grown almost 30 percent, and the Talwalkars brand is dominant even as Western companies enter the market. "Our name," Talwalkar says, "is synonymous with 'gym' in India."
More than anyone else, he's changed the meaning of the word. Once, gyms were associated with the working class, men, and even criminality, with some wrestlers having become well-known figures in the Indian underworld. Talwalkar and his family have rebranded them as aspirational spaces for cosmopolitans of both sexes.
Claiming more than 200,000 members, Talwalkars Better Value Fitness Ltd. has introduced the Western model of the fitness club to dozens of cities and towns across the country. Fewer than 1 percent of Indians, Talwalkar says, have a gym membership, compared with 17 percent of Americans, and just 2 percent participate in a sport or work out at home. "That means 97 percent of people do not take care," he says. Then, miming a lazy person, he curls into his chair, closes his eyes, and throws up his arms before bursting into mischievous laughter.
Talwalkar attributes his octogenarian energy to avoidance of all "maladies"—no coffee, tea, alcohol, or cigarettes—and eating four to five small meals per day. He's lived nearly a quarter longer than the average Indian male, whose life expectancy, at about 68 years, is ranked No. 125 in the world by the World Health Organization, worse than in North Korea.
In the 1970s, India was so concerned about malnutrition that it established daily caloric minimums. Now, three decades into an economic boom, large sections of the country have gotten fat. According to a 2014 study published in the Lancet, male obesity in India has increased almost 2,500 percent since 1975, and the country today has the world's third-largest population of obese women. The Indian Heart and Stroke Association reports that a quarter of all male heart attack patients are younger than 40. As much as 9 percent of the population has diabetes—119 million people.
For Talwalkar, India's economic transformation has created not only a population of customers—a middle class of hundreds of millions—but also one that profoundly needs his services. Meanwhile, social media and the Indian film industry have forged a new physical ideal. Even as the country gets flabbier, Bollywood stars have become buffer, making a Talwalkars membership—at prices from 3,000 to 11,000 rupees ($47 to $172) a month, depending on the location—a coveted status symbol.
In the next four years, Talwalkars plans to open hundreds of inexpensive outlets in small and midsize cities that have never had access to a Western-style gym. An introductory video for potential franchisees, which shows Madhukar executing a vigorous pullup, claims that India "is a vibrant society hungry for change" and that the company's goal is nothing less than to "Indianize fitness."

Eugen Sandow, a Prussian strongman and weightlifting advocate, arrived in Bombay in 1904. His trip was meant partly to show off the supposed superiority of the European physique, but Sandow soon undermined the mission. He told a journalist he was impressed by the size of Indian men and that Indians would "succeed more than any nation in the world, because they have perseverance." Thanks to Sandow, some nationalists came to see fitness as a vehicle to self-determination.
His fans included Vishnu Talwalkar, an aspiring wrestler who grew up in Ashta, near a stronghold of the Maratha warrior caste. In 1928 he traveled to Bombay, where he made money by performing feats of strength. Four years later, he opened a gym called the Ramakrishna Physical Culture Institution. Vishnu's son—Madhukar—was born soon after. He and the gym were like two equal members of the family. "The gym is my big sister," Talwalkar says.
The Ramakrishna Physical Culture Institution was a spare place, with simple weightlifting equipment and adjustable kettlebells that Vishnu designed himself, but it was far ahead of its time. According to Madhukar, the only similar institutions in India were traditional wrestling schools, or akharas, which were closed to the general public. Vishnu's gym attracted members of Mumbai's upper classes who'd heard of Sandow, as well as pro-independence fighters. Notably for the 1930s, the business drew a large number of female clients. "He was a big man, a handsome man," Talwalkar says of his father, "but he was also a gentle man, which is why women loved him." A poster from the time shows Vishnu, a perfectly proportioned hulk with a finely groomed mustache, performing a series of strength exercises in his workout slip.
As a boy, Madhukar wanted to become a textile engineer, but by the time he began working at a mill, his 95-pound physique was bothering him. "I had an inferiority complex," he says. "I was shy. I was thin." Talwalkar resolved to remake himself. "I began working out nonstop," he says. "I never thought of anything except exercise." He opened the family's second gym in 1962, and then more. Talwalkar gradually expanded the gyms' offerings with equipment he designed himself, including weight benches and arm pulleys he got manufactured at a small factory. By 1991 the company had seven gyms in Bombay (soon to be renamed Mumbai) and two in the nearby city of Pune. But it was hard to imagine building the nascent chain into a national empire. "The problem," Talwalkar says, "was awareness and money."

The concept of the modern gym is largely the product of postwar American prosperity. In the 1960s and '70s a small number of entrepreneurs channeled the spirit of the times—a passion for self-improvement, a need to compete on the new singles market, feminist empowerment—into a business model that promised customers health and sexual desirability. But in India these factors had yet to coalesce. With the exception of Talwalkars' handful of locations, the country's gyms tended to be urban, bare-bones weightlifting centers frequented by hard-core musclemen. Working out as a leisure or social activity essentially didn't exist. And India had invested little in physical education or competitive sports.
Many of the forms of free exercise common in the U.S. and Europe, such as jogging or soccer, were almost impossible in the hopelessly clogged streets and dense interiors of India's major cities. Despite being the second-most-populous country on Earth, India has won only nine gold medals at the Olympic Games, eight of them in men's field hockey.
The other impediment to gym culture was a lack of disposable income. Western economists once used the derisive term "Hindu rate of growth" to describe India's slow progress. With as much as a third of the country living in poverty, a monthly gym membership was a nonstarter to few but the Mumbai elite.
All of this began to change in 1991, when the government instituted a series of economic reforms. By the aughts, the country's gross domestic product had more than quadrupled, remaking Indian society. The IT sector became the linchpin of a skills-based economy and a vehicle for educated young Indians to enter the middle class. An influx of foreign money created masses of affluent businesspeople in smaller cities.
With the boom came a spiraling health crisis, as Indians spent more of their discretionary income on junk food, alcohol, cigarettes, and other harmful indulgences. Many members of the new middle class could afford servants to do their physical labor and chauffeurs to drive them around. The Indian practice of eating on the floor, in a position that constricts the stomach and discourages overeating, faded in favor of chair seating.
In 2003, Madhukar's nephew Prashant, who by then had taken over primary leadership of the company, concluded that it should expand strategically, in tandem with the nation's waistlines. Doctors across India were now ordering patients to exercise, and thanks to word-of-mouth among IT workers—who frequently traveled from city to city on business trips—the Talwalkars name became known far away from Mumbai. The tech community in India is revered as a driving force of the boom, and its internet-connected members were familiar with Western fitness ideals. For many, a Talwalkars membership represented a path toward Americanization.
"A seed had been planted," says Prashant Talwalkar, who's now the company's CEO. "From that day onward, there was no turning back."
Unbeknownst to the family, an essential assist was about to come from an obscure personal trainer in Mumbai. He would forever change the company's fortunes—and the midriffs of countless Indian men.

Prashant Sawant was working at a Talwalkars competitor when he obtained, by chance, a superstar client: Shah Rukh Khan, an actor known as the King of Bollywood, who needed help rehabbing a leg injury. Khan was slim, with a bulbous nose and piercing eyes, and had built a career largely on playing relatable love interests. In 2007, when he was 42, he told Sawant he'd decided to take a radical step. For his next movie, Om Shanti Om, a meta-romantic thriller set in the film industry, he "wanted to get ripped."
At the time, only one Bollywood superstar—a bodybuilder named Salman Khan, who specialized in macho roles—had a truly sculpted physique. Leading men tended to be either thin or overweight, their fame contingent on their ability to sing, dance, and act. With Om Shanti Om, Khan hoped to refashion himself in a sexier mold. He and Sawant worked out in the actor's home for months, doing high-intensity training and focused abdominal exercises, until he looked cut, hunky, and worthy of aspiration. When Om Shanti Om opened that November, one of its showstoppers was a gauzy dance sequence in which Khan shimmied around a water tank, his shirt unbuttoned to reveal glistening six-pack abs.

Bollywood sells 3.6 billion tickets annually—a billion more than the U.S. film industry—and its stars are even more potent cultural figures than American celebrities. Om Shanti Om became the highest-grossing film of 2007, and Khan's extraordinary visibility—he's been described as "more famous than the pope," and on holidays, the worshippers outside his seaside mansion can number in the thousands—turned his stomach into a cultural phenomenon.
A kind of abdominal arms race ensued, with Bollywood directors insisting that stars transform themselves for suddenly requisite shirtless scenes. Emraan Hashmi—known as a "kissing star" because of his willingness to smooch actresses on-screen—says he first encountered the demand two years later. "I was given an absurd time frame and told I had to drastically cut down my fat percentage," he says.
Sawant became India's best-known personal trainer. "I created the six-pack," he boasts. Today he owns two gyms, called Body Sculptor, and hopes to start a national chain. The exterior of his newest facility, above a Toyota dealership near Khan's home, is decorated with a large banner of the star's abs. (For a 2014 film, Sawant helped Khan shred his way to an eight-pack.) Inside, sitting atop a thronelike chair in his office—his deltoids warping the gray fabric of a top that reads "Sweat!"—Sawant explains that Bollywood was the vector by which flauntable fitness jumped to the Indian mainstream.
"Everyone knows who Shah Rukh Khan is," he says. "Even in the villages." Demand for gym memberships is now so great, he adds, that there aren't enough staff to go around. The biggest thing holding back the industry, he says, is the lack of qualified personal trainers.
A mile away, K11 Fitness Academy, the country's only brick-and-mortar vocational school for trainers, is working to change that. Co-founded in 2003 by Kaizzad Capadia, a bodybuilder whose office is decorated with photos of himself flexing his vein-crossed quadriceps, the company provides much of the Indian gym industry with its workforce. At 7 a.m. on a recent Friday, a few dozen students sit down for an introductory course. An instructor, a buff woman in her 30s with long curly hair, warns them about fitness frauds. "Those beverage ads that promise you that they will make you taller," she says, "are totally nonscientific."
K11 offers five-month training programs in English, Hindi, and the local language of Marathi. TVs in the lobby promise that a student can earn as much as $5,600 within a year of graduation, and at any given time, the school has more than a dozen students living in cramped dorm rooms on the second floor. Many are engineers looking for a more lucrative job. Dhriti Udeshi, one of the few female students at the academy, left a position at Morgan Stanley to join the program. There aren't many women here, she says, "because India is still very conservative about that." Some parents are worried about their daughters being alone with male clients.
Capadia says almost 100 percent of his graduates find work. "Now there are enough wealthy people in smaller cities in India," he says, "that are willing to lay down the money to join a gym. And they would literally die for anything that comes from Mumbai." Khan and his escalating number of abs notwithstanding, Capadia says, one person is responsible for the flourishing Indian gym industry. "Madhukar Talwalkar," he says, "is the one who started all of this."

As six-pack fever spread, Talwalkars opened more than 150 gyms from 2003 to 2013, including, last year, 20 in Bangalore on the same day. The growth was fueled partly by franchising, but the majority of locations are operated by the company.
The major population centers seem conquered, but I was curious how Talwalkars is faring in some of its more far-flung locations, so I went to Varanasi, a city of 1.2 million in the northeastern state of Uttar Pradesh. One of the oldest continuously inhabited places in the world, as well as one of Hinduism's holiest sites, the city draws pilgrims from across the country to bathe in the Ganges at waterside ghats, or stairs, and to incinerate their deceased relatives at its outdoor crematoria. One evening in June, groups of bored teens congregate by the riverside to flick through their Instagrams a few dozen feet from burning bodies.
Talwalkars opened in Varanasi in 2010. At first, executives worried that Uttar Pradesh was "too unaware" for a gym, says Shweta Bakshi, the branch's 31-year-old assistant manager. "Here, it was a completely new concept." She adds, "People didn't know what fitness was, so we had to do seminars to explain." The staff rented a hotel meeting room and corralled early joiners into bringing family members, so they could explain what cardio and weight training were.
In its first year, the gym signed up 600 members. Registration more than tripled the year after that, at which point competitors began opening in Varanasi—including Western chains such as Gold's Gym. "It took a while," Bakshi says, "but the idea is catching on."
Depending on the location, some Talwalkars are simpler than others. To enter the Varanasi gym, visitors cross a dusty road thick with motorcycles and rickshaws and climb a decrepit staircase decorated with inspirational slogans like "I don't sweat, I sparkle." A single L-shaped room contains treadmills, elliptical machines, weight equipment, and kettlebells.
On a Saturday afternoon, a stocky 27-year-old named Gaurav Singh awkwardly kicks up his legs to Nicki Minaj's Anaconda. His personal trainer, a muscular man in a red polo shirt, holds his hands above Singh's knees and tells him to go higher. Singh struggles, his dark-blue T-shirt drenched and his sweat-flecked glasses bouncing violently on his nose. He says he'd never exercised before a month ago.
Singh, an orthopedic surgeon, came to Talwalkars after noticing disturbing trends in his patients. "People were having heart problems in their early 20s, in their teens," he says. "I joined because of that."
Singh's trainer demonstrates a burpee: He slides down into a pushup position, then draws his feet forward and jumps into the air, telling Singh to follow suit. Singh drops to his stomach, but as he tries to straighten his arms and legs, his midsection droops to the floor and his rear moves in an erratic circle. After a few minutes, the trainer dispatches Singh to the treadmill.
"Most Indians," Prashant Talwalkar says, "prefer a gentler kind of exercise." Treadmills, he adds, are almost exclusively used for walking. High-intensity interval training, in the vein of CrossFit, would be too intense for most of his customers.
Instead, Talwalkars has invested in equipment for something called electrical muscle stimulation, or EMS. Participants are brought into a small room, strapped into an outfit studded with electrodes, and sprayed with water. Then they mime certain exercises, like a chest press, while a trainer zaps their muscles with low dosages of electricity. Prashant says it's been popular; the technology has previously been a hit in Germany and Spain.
Capitalizing on fitness trends is something of an art. Counterintuitively to outsiders, yoga's appeal in India has been limited until only recently, when its popularity in the U.S. led young Indians to embrace it. In 2015 the nationalist government of Narendra Modi introduced International Yoga Day, in an attempt to bolster pride in one of India's best-known exports. "We are more likely to pick something up from the West than from inside India," Prashant says. "I believe it's a legacy of colonialism." Nevertheless, last year the company bought 50 percent of a Chennai-based yoga chain called Zorba.
"We want to target all demographics in India," Prashant says. "The top, the middle, and the lower end." He's focused on the first group, developing the company's first high-end club in Pune, which will feature a swimming pool and tennis courts. Meanwhile, Madhukar is working on his pet project—Healthy India Fit India, or HiFi, a new line of gyms aimed at the cheaper tier of the market.
Madhukar supervised the design of HiFi's layouts, which range from a modest 1,500 to 2,500 square feet, and all of its equipment, which has a funky '80s-style red-and-white color scheme. He says the idea is to keep costs low enough that middle-class entrepreneurs in small towns can become franchisees, and his goal is 500 locations by 2021.
"It is our mission to make fitness accessible to everyone in India," Madhukar shouts in HiFi's promotional video. The video notes that a significant portion of households with high disposable income are located outside the country's biggest cities—an enormous untapped market. If he succeeds, he'll not only bring the Western-style gym to new swaths of the country, but he'll also cement Talwalkars' role as the leading company in Indian fitness.
Despite his age, Madhukar spends much of his time traveling the country, giving lectures about the virtues of fitness, which he sees as a patriotic duty. There's only so much, of course, that one company can do to solve India's health crisis, which will more likely require gargantuan-scale educational campaigns about healthy eating and the construction of public facilities that encourage movement. In Varanasi, as in other parts of the country, phys ed for children remains largely nonexistent, and many upwardly mobile Indians remain more concerned about making money than taking care of their health.
After doing 1 mile on the treadmill, Singh, the surgeon, is breathing heavily in a corner of the gym. Since joining Talwalkars, he's lost 22 pounds, and he can now jog as far as 3 miles in one go. His progress comes as a relief. "At first, exercising was a complete nightmare," he says. In college, he was so focused on getting good grades and becoming a success that he developed unhealthy eating habits and never even considered working out. "I hated that my trainer pushed me," he says, "but now I discovered that I like running."
Singh slings a towel over his shoulder and heads for the exit. Looking down at him, in the form of a wall-mounted bust, is Vishnu Talwalkar—his bulging forearms crossed, with an expression of stern approval.
(
Corrects the name of the bodybuilding competition in the first paragraph and Prashant Talwalkar's role at the company in 2003 in the 20th paragraph.
)