Can Mitchonomics Fix the Broken Business of Higher Ed?
The former governor of Indiana is applying his budget zeal at Purdue University.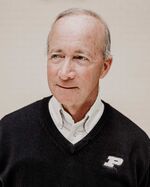 Photographer: Whitten Sabbatini for Bloomberg Businessweek
On a balmy Friday evening in West Lafayette, Ind., Purdue University President Mitch Daniels arrives at the school's Ross-Ade Stadium in a 2006 Toyota Avalon.
He's wearing cargo pants, sneakers, a white Purdue golf shirt, and a black baseball hat emblazoned with Degree in 3, a plug for the university's new plan to let students shave a year off undergrad. It's an hour before the Boilermakers' first home football game, and the 68-year-old former two-term Indiana governor strides toward a concession stand.
"Mitch!" says a man standing at a high-top table. Everyone at Purdue—students, parents, faculty, administrators, alumni, guys at high-top tables he's never met—calls Daniels by his first name. The man praises him for freezing tuition through 2019. Daniels responds that current Purdue students will be among the first in more than 30 years to graduate without an increase. "That's good, because we're paying for two!" the man says.
Soon there's a crowd: a middle-aged alum sporting a Purdue jacket and a handlebar mustache, who says he's back on campus for the first time in decades; two recent female grads with P's stenciled on their cheeks; a man who says his wife, a Democrat, wrote Daniels in for president in 2016. He poses for two dozen selfies before taking a lap around the field, greeting the opposing team's cheerleaders, chatting with Purdue's baton-twirling squad, fist-bumping, shirtless students covered in black and gold paint, and, finally, making his way to a suite above the 50-yard line. "It's been a tough few years for some of these fans," he says, referring to the team's run of losing seasons. "I needed to thank them for coming out."
Under Daniels, things have been generally cheery at Purdue. With return on investment increasingly important to students, given the price of attending and the corresponding debt, Purdue has something to sell: static costs and a good job if you graduate, especially in the science, technology, engineering, and math (STEM) fields. Since Daniels started in 2013, undergrad applications and enrollment have hit record levels, as have alumni donations, graduation rates, and the number of startups launched by researchers. Purdue has added 75 tenure-track positions in engineering and increased the number of students earning STEM degrees by 24 percent, with big gains among women (40 percent) and underrepresented minorities (65 percent). Daniels has rolled out initiatives that range from the audacious, such as interest-free financial aid in exchange for a percentage of future earnings, to the alcoholic: Boiler Gold, a craft beer that went on sale in West Lafayette this fall, is a collaboration among a local brewer, the university, and its food science department.
Daniels's moves are driven by necessity. Founded in 1869, Purdue was part of a wave of public universities established after the Civil War that helped expand the middle class and propel the research advances that fueled the manufacturing boom in the 20th century. Today, tighter public spending means more schools are getting less state funding. Some, including the University of California at Berkeley, UCLA, Michigan, North Carolina, Texas, and Virginia, have replaced that loss with a combination of jacked-up tuition, even-more-jacked-up out-of-state tuition, successful sports programs, and donations from exuberant—and wealthy—alumni. Other large public universities, especially in the Midwest, have struggled to replace state funding cuts, making it tough to keep faculty from seeking higher salaries and bigger research budgets elsewhere. Professors at Midwestern public universities make about 30 percent less than their Northeastern counterparts.

To combat the budget slashing, Purdue's competitors are raising tuition, room, and board, and enrolling more out-of-state and international students, who pay at least twice as much as in-state residents. The average cost of attending a Big Ten school is up 16 percent for in-state students since the 2010-11 school year, to more than $27,000 annually. Out-of-staters at the University of Minnesota are paying $36,383, about 33 percent more than they did in 2011. This hasn't hurt enrollment—satellites and second-tier schools are the ones suffering, for now—but Daniels is betting it will, which is why Purdue is bending the cost curve downward.
Still, it hasn't been a total love fest. In a controversial move, Purdue acquired Kaplan University, a predominantly online, for-profit institution that enrolls 33,000 students—60 percent of them older than 30. The venture, aimed at expanding Purdue's online reach and known provisionally as NewU, has unnerved the faculty. Critics say that by working with a company that's paid out millions in legal settlements for allegedly unscrupulous business practices, Daniels risks tarnishing Purdue's brand. When he announced the deal in April, he was met with "stunned, stony silence," says David Sanders, a biology professor and former chair of the University Senate. "If you mention the word 'Kaplan,' what you get is a head shake from virtually any faculty member on campus."
With technology changing how people are educated, Daniels says, the acquisition is the kind of move a traditional university needs to make to survive. "In a sector that's so slow to change, or even recognize the threats it's facing," he says, "you don't have to move very far to be seen as different."
A few major American universities are run by previously elected officials: Former Senator David Boren is president of the University of Oklahoma, and Janet Napolitano, once Arizona's governor and U.S. Department of Homeland Security secretary, is president of the University of California system. Purdue's board of trustees knew it wanted Daniels in June 2012, six months before the end of his second term as governor. "It wasn't at all what I had in mind," he says in his office on the second floor of Hovde Hall in the middle of campus.
A graduate of Princeton and Georgetown Law—and a senior adviser in the Reagan White House, director of the Office of Management and Budget for George W. Bush, and favorite for the GOP presidential nomination in 2012—Daniels is both modest and self-assured, someone who "no matter what your job is, can do it better," says aide Spencer Deery. Initially, Daniels rebuffed Purdue's overtures and was eyeing private equity opportunities. But, he says, "I asked myself, In what other job could I make more difference for the state I care about most, other than the job I was leaving? I couldn't name one."
Daniels made a dozen trips to West Lafayette, a 90-minute drive from Indianapolis, before formally moving into the president's office. "It allowed me to get here in third grade instead of kindergarten," he says. He requested a base salary of $420,000, $130,000 lower than his predecessor's, with a 30 percent performance-based bonus tied to fundraising, graduation rates, and maintaining affordability for students.
In a January 2013 letter to trustees outlining his goals, Daniels wrote that Purdue would "reexamine current practices and expenditures with a determination to keep … tuition and fees within the reach of every qualified student." After two months he announced that Purdue would freeze tuition and fees, for the first time in 36 years, at $9,992 in state and $28,804 out of state. The freeze has been extended five times, contributing to a 35 percent drop in per-student debt since 2012, from $5,700 to $3,707.
Daniels says that when he first broached the idea of a freeze, admissions officials warned him that doing so would suggest "we've lost confidence in our product." But he argued that the spiraling cost of higher education was unsustainable. "I told people, 'The market won't stand for this, and at some point the public is going to start demanding that universities lower costs. So let's not be last.' " Since 2013, undergrad applications are up 56 percent, and Daniels says the same admissions officers now say the tuition freeze gives them an advantage. Purdue has "fallen into the position that every marketer wants: differentiation," he says, invoking his experience as an executive at pharmaceutical giant Eli Lilly & Co. in the 1990s. "When anybody talks about us, somewhere up front they mention that we're the school that's held tuition constant."

To make up for reduced tuition revenue, Daniels—known as "the Blade" for his deficit-reduction zeal in the Bush White House—enlisted veterans of his gubernatorial administration to slash $8 million from the operating budget. "He's trying to set a standard for how a university can be successful by being managed more efficiently," says Robert Wynkoop, who worked under Daniels in the statehouse and serves as Purdue's managing director for service enterprises in the office of the treasurer. Among other things, the team contracted with a charter bus service, saving $3 million, and scrapped plans to build a $22 million facility for food storage, instead hiring a local, private vendor for $325,000 annually.
The Degree in 3 initiative helps students be more efficient, too. This fall the program let enrollees in 10 liberal arts majors have the option to earn a bachelor's degree in three years. Private institutions such as New York University and Wesleyan University have experimented with three-year degrees for students who enter college with Advanced Placement credits. But Purdue is the first large school to devise an early graduation plan for incoming students who don't have any.
Degree in 3 requires students to carry a heavier course load during the academic year and stay on campus for two summers. David Reingold, dean of Purdue's College of Liberal Arts, says he expects about 150 undergraduates to enter the program by the end of the academic year. He predicts the three-year option will attract applicants, expanding Purdue's student body and offsetting revenue losses from early graduates. "More kids will see the three-year option and say, 'We want to go to Purdue and take advantage of it,' " Reingold says. "This helps us grow the pie."
The university is expanding in other ways, too. Its Purdue Polytechnic Institute operates regional centers across the state that offer technical degrees. And Purdue started a technology-focused charter high school in Indianapolis to increase the number of low-income students qualified for admission.
The Kaplan merger has the biggest potential impact on enrollment. Daniels's decision to pursue the deal stemmed from dispiriting polling results. A joint annual survey by Purdue and Gallup asks college graduates across the country how the quality of their education contributed to their career development and overall happiness. The survey's initial results, in May 2014, showed that only 29 percent of respondents said their school prepared them well for life after graduation. More than 100 schools now participate in the survey.
Daniels laments the failure of America's elite universities to adjust to technological change and growing concern about the value of a four-year degree. E-learning companies such as Udacity Inc. and Coursera Inc. have valuations approaching $1 billion, and nonprofits such as Khan Academy reach tens of millions of students monthly. "We've got to pass the 'pajama test,' " he says. "There are a lot of people who think residential higher education is on borrowed time. There are a lot of smart people, backed by a lot of big money, using dazzling technologies, who are saying to prospective students, 'Why would you pick up and move somewhere and pay rent for four years when I can bring the best education available to you while you sit in your pajamas?' "
When speaking to campus audiences, Daniels cites Joseph Schumpeter, the Austrian economist who pioneered the concept of "creative destruction." The history of business, Daniels says, shows "it's impossible for the incumbent to adjust fast enough to ward off the disrupters, in part because what you're doing has worked for such a long period of time. So we're in a race."
The best way for Purdue to ward off the challenge posed by online universities, Daniels decided, was to buy one. In fall 2016 he caught word that Don Graham, chairman of Graham Holdings Co. and former publisher of the Washington Post, was considering selling Kaplan to a traditional nonprofit school. "The federal government was on a jihad against the for-profit sector, and Kaplan couldn't live in that neighborhood anymore," Daniels says. He'd wanted Purdue to get into online education but didn't think it could establish a revenue-generating presence of its own. A mutual friend set up a call. "I said, 'Before you marry someone else, we'd like to talk to you,' " Daniels recalls telling Graham. "We quickly got engaged and came to an answer that we're happy with."

Andy Rosen, Kaplan's chairman and chief executive officer, says the company had discussions with other universities, but "Purdue has done the best job of any university in the U.S. of striking the balance of becoming an elite institution with the mission of expanding access." Under the deal, Purdue paid $1 to take over Kaplan's business. Kaplan will provide administrative support, technical services, and marketing for NewU, in exchange for 12.5 percent of revenue once the entity makes enough money to cover operating costs.
By merging with a nonprofit university, Kaplan wants to avoid the regulatory scrutiny that hovers over for-profit colleges. This includes rules that deem a program failing if graduates have annual loan payments that exceed 30 percent of discretionary income and 12 percent of total income; programs with a failing rating in two of three consecutive years are ineligible for federal student aid. In January the U.S. Department of Education gave five programs that Kaplan operated a failing rating and warned the company about 16 others. In response, Kaplan shut down or curtailed more than a dozen underperforming programs.
Purdue officials stress that the university—and by extension, Indiana taxpayers—didn't spend its own capital to buy Kaplan. Still, it's assuming ownership of a business with revenue that declined precipitously in the last two years, from more than $1 billion in 2014 to $617 million in 2016, and has a "long history of troubling practices," including alleged false claims about job placement rates, according to a letter sent to Daniels by U.S. senators Dick Durbin (D-Ill.) and Sherrod Brown (D-Ohio).
To skeptics, the venture will undermine the university's reputation and alter Purdue's character by elevating the profit motive. The University Senate has refused to endorse the deal, and more than 300 faculty members signed a petition in November urging the Higher Learning Commission, Purdue's regional accreditor, to block it. "The faculty is overwhelmingly opposed to it," says Sanders, the former chair of Purdue's faculty senate. "The purpose of Purdue is learning, research, and engagement. The purpose of Kaplan is to make money."
Daniels acknowledges that "any novel idea will generate concerns and opposition," adding, "I wish people took a little time to understand it." He predicts that Purdue professors eventually could supplement their salary by teaching online courses for NewU. But he admits the benefits to traditional faculty members are theoretical, what he and his aides call "Wagners": wild-ass guesses not easily refuted.
He's adamant that the merger won't compromise Purdue's mission. Instead, he casts the deal as an extension of the school's original land-grant charter, laid out in the Morrill Act of 1862, "to promote the liberal and practical education of the industrial classes in the several pursuits and professions in life." Daniels says the growing number of adult learners seeking degrees online represents a democratization of higher education as consequential as the Morrill Act and the GI Bill. "This is the third, concentric ring in that process," he says, "and it's totally appropriate for us to be a part of it."
One morning a month, Daniels has breakfast with a dozen or so faculty members, chosen by lottery. "There are 2,700 people on the faculty. It isn't hard to find 14 of them to come," he jokes. The sessions start promptly at 7:30 a.m. in a dining room at Westwood, the bucolic, 17,000-square-foot estate that serves as the Purdue president's residence and event space. Over tomato juice, eggs, and fruit, Daniels tells his guests he has "zero agenda except for all of you to meet each other," then listens as they explain their areas of research: the applications of veterinary science to treat human illnesses, how climate change altered hunter-gatherer societies, the effect of radiation on the decay of metals used to build nuclear reactors.
One attendee says he's studying the impact of underemployment on Americans' mental health, a topic that animates Daniels. He mentions a book on his nightstand, Matthew Crawford's Shop Class as Soulcraft: An Inquiry Into the Value of Work, and raises one of the book's questions about the future of labor: "What kind of society will we become if larger and larger numbers of people no longer feel useful?" The creation of NewU, Daniels says, is a step toward providing answers: "You don't want people who didn't get enough education the first time around to age out of the opportunity to get ahead."
He spends four nights a week at Westwood, commuting to Indianapolis on weekends to be with his wife, Cheri. In 1993 the couple divorced after 15 years of marriage, with Daniels keeping custody of their four daughters. After Cheri divorced her second husband, a California physician, she and Daniels reconciled and remarried in 1997. The desire to avoid scrutiny of the episode is the biggest reason Daniels, despite leaving the Indiana statehouse with a 63 percent approval rating, didn't seek higher office. The chances he would mount a presidential bid appear slim, but he flirted with making another run for governor last fall when Mike Pence vacated his position to become Donald Trump's running mate.

Daniels works out in the student gym almost every day at lunch. He limits his travel and speaking commitments—a sign, perhaps, that he's keeping something in the tank should opportunities arise. When I ask him about reentering politics, he says, "My commitment here runs through 2020, so I'm not thinking beyond that." He adds, laughing, "I know my wife doesn't want me back in the house, so I'll need to find something to do."
Until then, reinventing Purdue continues. A few hours after his breakfast at Westwood, Daniels appears at a barbecue with several hundred football boosters to celebrate a new, $65 million practice facility. He calls the runaway costs of intercollegiate sports "breathtaking" and has instructed Purdue's athletic department to "pay for yourself. Don't ask us to raise tuition … so we can have a third set of uniforms." Yet he approved the bond issue for the facility, which private donors will finance. "I didn't exactly leap at the chance at spending $65 million," he tells the crowd. But he "came around" to the argument that to compete on the national stage, the football team, like the rest of Purdue, needed to change with the times. Daniels knows that winning football teams encourage alumni donations, lure applicants, and are great public relations. (The Boilermakers finished the regular season 6-6.)
As the football game begins, Daniels is the most focused fan in his suite, rocking with nervous energy during warmups and exulting when Purdue makes a big play. At the end of the first half, with the Boilermakers comfortably in the lead, he heads down to the stands to mingle with fans and appear in a "Where's Mitch?" spot on the Jumbotron, which he uses to plug Degree in 3. It takes almost an hour for him to return to the box, by which time the game is a blowout. "Man, that was fun," he says, cracking open a can of Boiler Gold. "There are a lot of happy people down there."