Relaxation Tanks Are Stressful Business
With corrosive salt water and spaced-out patrons, what could go wrong?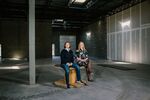 Jennie Herb and Tracy Pafel are not relaxed. Their new business, Blue Lotus Float Co., is more than 12 months behind schedule, slowed by a series of flummoxed landlords and contractors who don't understand what the heck a "float company" is.
Were their business up and running, however, the cure for their stress would be within easy reach. Floating is a kind of recreational physical therapy in which customers spend 90 minutes suspended in a tank of salt water heated to skin temperature, housed in a room with no lights and no noise—in other words, no stimulation.
Initially, Herb, 36, and Pafel, 42, thought opening their own tank center would be similar to starting any other small business. Herb rattles off the many complications they've faced since then: Customers must shower before and after floating (which is done in the nude), so they need a shower in every room. "There's the waterproofing and soundproofing—we're basically building rooms within a room," she says. "Plus all the salt-proofing, so we can't use normal wall or floor products. And we need higher ceilings," because no one wants to feel like they're floating in a coffin. Build-outs can cost as much as $320,000 for a three-tank facility—not including the tanks, which run $20,000 to $55,000 each.
Despite the challenges, floating is a growing industry. Informal tallies suggest there are more than 300 float centers in the U.S., up from 50 in 2010—with no industry-specific regulatory organization keeping track, it's tough to get an accurate count. A spate of recent studies have found floating helpful for ailments ranging from depression and post-traumatic stress disorder to chronic pain and Lyme disease.

In August, Herb and Pafel traveled from their home in the Baltimore area to join 300 other float entrepreneurs at the annual Float Conference in Portland, Ore., followed by a three-day apprenticeship class. They attended the course free of charge, thanks to a prize they'd won in a contest for best float center business plan. (Another prize was 2,200 pounds of Epsom salt.)
At the conference, Ashkahn Jahromi, one of the event's founders, led a group session on sanitation and operations. Surfaces should be white or speckled white, he said, to camouflage salt. Keep an extra set of pumps and parts, particularly the breakable ones. Collect money upfront, because post-float, people feel, um, floaty and tend to wander out. Realize that repairs should happen only when the center is closed. ("You run a sensory deprivation business. You can't be banging on walls.") Expect blame for all manner of health ailments. "Two days later, if someone gets a rash, they'll call you because the float tank was the weirdest thing they've done recently," he said.

Seven years ago, Jahromi and Float Conference co-founder Graham Talley, along with a third partner, opened their own center in Portland—Float On—which they thought would be the first in a nationwide chain. Once they realized how difficult it is to get just one up and running, however, they changed course. "Honestly," Talley says, "the amount of people that are getting into floating from the centers we helped open is much more than we could have introduced by expanding our own business." In addition to the Float Conference, they sell software designed to help entrepreneurs manage the unique demands of the business, and operate Float Tank Solutions, a consulting company that sells a $4,400, 180-page book of construction specifications and a $2,170 business plan for getting a float center off the ground.
Herb and Pafel left Portland calmed, bolstered by fresh research on the benefits of floating to athletes: The space they'd recently secured is near a Baltimore Ravens training center in Owings Mills, Md. The months since have brought more surprises, mostly positive. Their landlord directed them to another potential space a mile away with existing bathrooms, ceilings, and sprinklers, but after two months of drawing up plans, the landlord realized that converting their first space would be less expensive. "We just negotiated a lease proposal and are now waiting for the designer to finish the drawings," Pafel says. "But with all the months of work we did on the last space, it should be fairly easy to transfer all of our design details to the new space." They've occupied the downtime by working on their website, which was launched this month.
One of the last wrinkles is from Baltimore County's health department, which asked Blue Lotus to follow regulations geared toward pools and spas. "We'll be strategizing to try and educate officials in hopes of overcoming regulations we can't possibly comply with—like having continuous filtration," which would disturb the necessary sensory nothingness, Pafel says. "We aren't running a Jacuzzi business."