Here's How Everyone Is Attacking Big Tech
Critics are multiplying, from the left and right of the political spectrum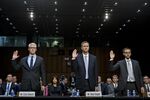 Shakespeare said "It is excellent to have a giant's strength, but it is tyrannous to use it like a giant." 
Google, Amazon, Facebook, Apple and other technology juggernauts are in the fight of their lives over accusations they failed to heed the Bard's warning. A backlash is building that threatens to tie the companies' hands in powerful ways. 
They stand accused of transgressions such as selling campaign ads to shadowy Russian groups that sought to sway the U.S. presidential election, underpaying corporate taxes, destroying jobs and condoning sexual harassment and gender disparity. The allegations come from the left and right of the political spectrum, antitrust lawyers, tax authorities, privacy specialists, national-security experts and diversity advocates. And this is on top of ongoing battles over privacy and cyber-security.
In little more than a decade, Apple Inc., Google parent Alphabet Inc., Facebook Inc. and Amazon.com Inc. have joined Microsoft Corp. at the pinnacle of capitalism: They make up the five largest U.S. companies by market value. The companies deny they've broken any laws and say any missteps are just growing pains. Facebook, after all, was only created in 2004, and now has more than 2 billion active monthly users. 
To less forgiving critics, the tech giants are the new robber barons, using their money and market muscle to bypass laws and social norms — and undermine democracy. Among the solutions being proposed:
Limit Their Growth
Critics ranging from Elizabeth Warren, the Democratic senator from Massachusetts, and Steve Bannon, President Donald Trump's former chief strategist, say Alphabet and Facebook should be regulated like public utilities and prevented from expanding further through acquisitions. 
The European Union fined Google 2.4 billion euros ($2.8 billion) in June for abusing its search-engine dominance by favoring its own shopping service over competitors' in search results. The U.S. Federal Trade Commission in 2013 declined to bring similar charges against Google, but on Nov. 13 Missouri's attorney general, Josh Hawley, a Republican seeking a U.S. Senate seat, said he was investigating whether Google violated commitments  it made to the FTC to preserve competition when the case was closed. 
Read more: Are Amazon, Facebook and Google the new monopolies?   
Some tech experts and academics would scale the tech companies back, just as AT&T Inc. was forced to sell many of its telephone operations and to license its proprietary technology last century. Others say antitrust enforcement should be strengthened or that competition laws should be updated so they could be used more effectively against the tech giants.
Between them, Google and Facebook dominate the U.S. digital advertising market, grabbing more than half of every ad dollar spent. Amazon and Apple reign supreme in e-books and high-end smartphones, respectively.
Regulate Their Content
The power of Google, Facebook and Twitter came into particular focus at hearings in October and November by three congressional committees over Russia's efforts to influence the 2016 U.S. presidential election. Intelligence agencies concluded that Russian groups sought to sway popular opinion through social media. Ads and posts released at the hearings showed these groups sought to sow divisions and suppress voter turnout. 

Facebook turned over to Congress more than 3,000 ads purchased by Russian parties that reached 10 million users during the presidential campaign. Some 80,000 Facebook posts by Russian groups reached the news feeds of another 126 million Americans. And 16 million more may have seen 120,000 pieces of Russian content on Facebook's Instagram service. Google says Russian agents uploaded more than 1,100 videos to its YouTube unit, and Twitter Inc. suspended more than 2,700 Russian-linked accounts. 
The companies testified that the numbers may seem big, but they represent only a tiny proportion of overall content — an argument that only served to annoy senators and underscore the vast influence of social media. The tech giants say they are committed to preventing future foreign meddling in U.S. elections, but they have stopped short of backing most forms of legislation. 
Read more: Can Facebook, Twitter crack down on deception? 
That's not stopping U.S. senators in both parties from pushing what they call the Honest Ads Act. It would require disclosure of online paid political ads from candidates and interest groups similar to how broadcast ads are regulated, so users know what they are seeing and who paid for it. The companies would also have to store copies of ads for the public to view. The U.S. Federal Election Commission separately is looking at requiring disclaimers saying who paid for digital political ads, most of which are now exempt from regulation, unlike print, radio and television ads.
Silicon Valley's giants say they can self-regulate. For months they opposed a separate effort to make them responsible for some of the content posted by users, the way traditional media companies are held accountable for false or libelous material and for blocking content such as child-trafficking ads. The industry's trade group, whose members include Google and Facebook, dropped its resistance to proposed federal legislation aimed at blocking sex trafficking on the internet in early November, just as the companies were undergoing tough congressional scrutiny. Facebook also said on Nov. 22 said it would show users the Russian propaganda pages or accounts they followed or liked on the social network.
The European Union is calling for the social-media companies to do more to block propaganda and hate speech, while British Prime Minister Theresa May has floated a similar idea under which the internet companies would be treated as news organizations, making them responsible for quickly removing terrorist material. 
The companies, and even some civil libertarians, worry that these efforts could morph into a push to impede free speech or give authoritarian regimes a pretext to stamp out dissent. U.S. Senator Ted Cruz of Texas is among Republicans fretting that the companies might use their power to stifle conservative content. Such cross-currents and threats have led the companies to push back through lobbying, public-relations campaigns and personal visits to lawmakers. 

Raise Their Taxes
The European Union in 2016 imposed a retroactive Irish tax bill of 13 billion euros ($15.3 billion) on Apple. A year later, it presented Amazon a 250 million-euro bill for underpayment of taxes. In both cases, the tax rates that had been negotiated with the countries were deemed illegal state aid. Amazon, the EU said, had worked out a sweetheart deal with Luxembourg that allowed it to avoid taxation on more than three-fourths of the profits it made from all Amazon sales in the EU for eight years. The EU said Ireland allowed Apple in 2011, for instance, to pay an effective tax rate of 0.05 percent. Both companies say the rulings are without merit. Apple is appealing the decision and Amazon is considering doing the same.    

To end some of the profit-shifting that has helped tech companies minimize their tax bills, EU leaders are considering a range of methods floated in late October by the European Commission, the EU's executive arm. They include taxing revenue rather than profits in the short term, or, in the longer term, taxing global profits. A more formal proposal is expected in early 2018, but Italy isn't waiting: Its senate budget committee in late November approved a tax on the sale of digital ads and other online services.  
Read more: Why Amazon is the latest U.S. giant in EU tax trouble
Read more: Can this tax proposal lure companies and cash home?
Read more: These are the biggest overseas tax hordes 
After Apple Chief Executive Officer Tim Cook visited French President Emmanuel Macron in Paris in October, French officials said in a carefully worded statement that the American executive "didn't push back" against the proposals. The statement fell short of saying Cook agreed with the French officials, though he has advocated changes to the global tax system that could expose his company to costs it avoided by parking profits in low-tax jurisdictions. Apple said it held 94 percent of its total holdings —  $252.3 billion in cash and marketable securities — overseas as of Sept. 30.

Protect Jobs
The fear of automation replacing labor is, for many, far more real a threat from artificial intelligence than what any "Terminator" movie can conjure up. A Pew Research Center survey found that 72 percent of Americans worry about the effect of automation on jobs, more than twice the number who said they were enthusiastic about a future in which computers and robots perform jobs humans now hold. Such negative views are adding to pressures on elected officials and policymakers to improve the social safety net with a guaranteed basic income, for example, or by tightening the regulation of technology.  
Read more: Is your job about to disappear?
Read more: How to Survive Wall Street's Robot Revolution
Read more: Sit Back, Human Drivers. Computers Will Take the Wheel
Uber Technologies Inc., the world's most valuable startup, has seen its ride-hailing service banned or its license revoked in German cities and in London, in part because of concern over the loss of taxi-driver jobs. In coming decades, such job losses may seem minuscule next to the disruption that driverless cars and trucks are expected to cause. 

End Discrimination 
The managers and directors of the tech titans are also wrestling with a welter of gender-diversity issues. Uber co-founder Travis Kalanick resigned in June after an investigation revealed that top executives ignored an atmosphere of harassment against women. Google is fending off a U.S. Department of Labor lawsuit alleging its compensation structure discriminates against women. 
Tech's male-dominated culture can be seen in the numbers: Women are underrepresented at almost every level. In a 2016 survey, women held about 21 percent of technical jobs, which includes hardware, software, information services and consulting, at 60 of the largest U.S. companies. That's up only slightly from a year earlier. 
Read more: Why so few women break through tech's bro culture
Read more: Where women have closed the gender pay gap
Women's share of U.S. engineering jobs inched up to 12 percent in 2015, from 11 percent in 2000. And on average, U.S. women are paid 89 cents for every dollar a man earns in top science, technology, engineering and mathematics (STEM) positions, Bloomberg calculations show. 

Stephanie Bodoni, Laura Colby, Viktoria Dendrinou, Steven Dennis, Samuel Dodge, Sarah Frier, David McLaughlin and Lorenzo Totaro contributed to this article.