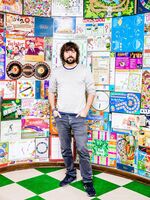 Photographer: David Williams/Bloomberg
This Guy Makes Money Off Your Cigarette Butts and Flip-Flops
TerraCycle founder Tom Szaky envisions a new world where recycling reigns.
In Tom Szaky's vision of the new economy, nothing is garbage. Not cigarette butts. Not dirty diapers. Not even used tampons.
Szaky, the founder of TerraCycle, a New Jersey-based garbage startup, has built a $24 million business around the belief that everything is recyclable. He's convinced some of the world's largest brands and retailers, including Procter & Gamble Co., Colgate-Palmolive Co. and Office Depot Inc., that there's value in spending to keep garbage out of landfills.
Now he's seeking millions to help fund a bigger mission: making trash the star of a circular economy, where re-use is the norm. Inspired by the glass milk-bottle porch deliveries of yesteryear, he's creating a durable consumer-recycling system. Think shampoo encased in gleaming stainless-steel capsules, ice cream packaged in thermos-like containers, coffee sealed in metal pods instead of plastic — all the packages to be carted off, sanitized, deconstructed and used again.

Szaky, 35, says major brand names have already signed on. He'll unveil them at the World Economic Forum, the annual gathering of the world's problem solvers every January — but in 2019, not 2018. First, he needs to appeal to the environmentally conscious mom-and-pop masses and raise as much as $25 million through a kind of pre-initial public offering in December.
For investors in the private company, one risk is Szaky's expectation to lose money on research-and-development at least until Davos, when TerraCycle plans to unveil the products for sale starting in New York and Paris. On top of that, the company has a complicated business model driven by one key executive: Szaky. He's a self-proclaimed "chronic overprojector" of revenue who survived an effort by senior staff to oust him before the company started earning a profit in 2011.
Plus, the money part of being green could be greener. Last year, of $19.4 million in revenue, about $500,000 was profit, according to Szaky. This year it's expecting $24 million in revenue, with just under $1 million profit. To boost those numbers, Szaky is looking toward acquisitions and Loop, his new durable packaging platform.
"We celebrate waste," TerraCycle states in a U.S. Securities and Exchange Commission filing, "and try to make it fun, exciting and even sexy."
In Szaky's favor, consumers and investors are demanding a smaller carbon footprint and corporations are spending more on sustainability. At the same time, shoppers want everything easy and fast.
"Why do we all use a disposable lifestyle? Because of convenience," he said. "It has to be as convenient or more convenient. Then it's got to play on the economics. And then everyone will love it because it's eco-friendly and solves waste in a profound way."
Take tampons, for example. About 20 billion end up in North American landfills every year. But what if they came in an attractive box that doubles as a seal-tight receptacle for the used product? When the box is full, TerraCycle would pick it up, sterilize, refill and leave another batch. Would customers pay for the product plus — remember those milk bottles — a returnable deposit?
TerraCycle was built on such imagination and optimism. Szaky, born in Hungary and raised in Canada, was majoring in economics at Princeton University when he dropped out to run the company he had dreamed up in 2001. Its first iteration packaged worm manure as plant fertilizer in cast-aside plastic soda bottles. Even as the little wigglers pooped their way to profit from sales to Home Depot Inc. and Wal-Mart Stores Inc., though, the bigger mission was profits built on zero waste, not worms.

In 1960, around the milkman's heyday, the plastic share of municipal solid waste was less than 1 percent in middle- and high-income countries. Then came the global shift to single-use containers, and by 2005, plastic's share was 10 percent. In 2015, 79 percent of plastic waste wound up in dumps or was littered, according to a study published in July by Science Advances, a journal of the American Association for the Advancement of Science.
To turn the trend, a growing number of companies are stepping up. Kraft Heinz Co. is investing $200 million on green initiatives. Unilever, the maker of Dove soaps and Lipton tea, in 2010 pledged to halve its environmental impact by 2020. Wal-Mart is making its private-label product packaging recyclable.
Szaky has his eye on the junk no one wants — chip bags, toothbrushes, flip-flops, candy wrappers — that are made of components which cost more to separate than to buy new. That's where retailers and consumer-product makers come in, paying TerraCycle to handle recovery and earning good corporate-citizen bragging rights. (TerraCycle recycles snack wrappers for Bloomberg LP, the parent of Bloomberg News.)
Schools, stores, municipalities and clean-up groups gather the cast-offs and ship them, postage-paid, to TerraCycle, collecting points that can become charitable donations. At TerraCycle warehouses, the stream is processed and channeled for re-use.

At this year's Davos, TerraCycle announced its partnership with P&G and French utility Suez SA to create the world's first shampoo container made from plastic washed up on beaches. Sales of the gray Head & Shoulders bottle began in France on June 8, World Oceans Day, and will expand to two other countries within the next month or so. By the end of next year, P&G's full hair-care line in Europe — which includes Pantene and Aussie — will be in recycled plastic, said Eduardo Atamoros, communications director for Head & Shoulders.
Though the new bottles cost P&G more to make than the iconic blue-and-white version, sales have increased, and the company expects prices to drop as the project becomes scalable.
"Other companies similar to ours have been inquiring for this type of plastic," Atamoros said. "We wanted to lead by example, and say we have a responsibility."
That's how Honest Tea juice pouches, with help from TerraCycle's design garage, get a second life as backpacks and messenger bags. Toothbrushes and floss containers from the likes of Colgate and Tom's of Maine, and packaging from Entenmann's, are processed into pellets by a TerraCycle subcontractor to become plastic lumber for park benches and shipping pallets.
Psychology also has a role. TerraCycle teamed with Office Depot to recycle three-ring binders, the bane of overstuffed filing cabinets. Customers simply pop in for a drop-off — or that's their intention, anyway, until they notice the deals on toner cartridges and printer paper.
"When you walk into an Office Depot or Staples, how many people are in that store? It's, like, two. It's a ghost town," Szaky says. "So they need the people. And the recycling drives the foot traffic."

Not that green capitalism is any simpler than the old-fashioned kind. A lawsuit by Scotts Miracle-Gro, the fertilizer company, ended with TerraCycle's changing its packaging design and dropping claims it was superior. Agreements to handle Capri Sun, Lunchables and Kraft's cheese packaging garnered good press, but the accounts went kaput amid corporate mergers, Szaky says.
In 2008, as Szaky pushed TerraCycle to expand its product line, growing losses led some board members and senior staff to try to oust the founder. It ended with majority shareholders' backing him. Szaky, in one of the books he wrote on his company and his mission, explains that he "cleaned house" and replaced high-level employees who wanted the company to remain focused on worm poop.
"My argument to an investor is a simple one: Would you rather have a passionate CEO that dreams big and sets ambitious goals, or one that is cautious and conservative?" Szaky said.
Another speed bump, disclosed in the SEC filing, was a material weakness flagged during an audit that identified some 2015 revenue booked before waste was processed. The financial statements were recalculated as a result of the audit, according to the filing. Javier Daly, TerraCycle's chief financial officer, said that revenue no longer is recorded that way.
After achieving profitability in 2011, TerraCycle began expanding globally, and some partners became investors. Progressive Waste Solutions Canada Inc. owns 20 percent of TerraCycle's Canadian operations, while Suez owns a third of its western European business. It also made its first acquisition, Chicago light-bulb recycler Air Cycle, that will boost its revenue next year by $7.5 million, Szaky said.
In July, it filed with the SEC for a Regulation A+ offering, which Szaky says is essentially "crowdfunding for equity." He said he wants to take the company public, but not until it reaches at least $80 million in revenue. "It's not that far off," he said.
Probably the best example of the company's ethos is its home base in Trenton, where manufacturing was once so big that the capital city's motto was "Trenton Makes, the World Takes." These days, government is its biggest business, and few private companies have the courage to set up in one of the state's poorest and most crime-ridden locales.
Inside TerraCycle, a conference-room table is made from bowling-alley lanes. Desks are vintage doors propped on stacked 5-gallon buckets, with vinyl music albums glued together as partitions.

In the center sits Szaky, bearded and bushy-haired in faded jeans, a long-sleeved T-shirt and worn sneakers. The only barrier between him and his employees is a curtain of plastic soda bottles. He has 65 employees in Trenton, a team of salaried scientists, designers and researchers and developers, all unabashed recycling addicts.
Tiffany Threadgould, the company's Chief Design Junkie — that's her real title — says there's zero waste at work and very little at her Philadelphia home. She brings her flexible packaging to the office and has a composting service pick up her kitchen scraps. One of her colleagues actually brings her food waste on the train.
The challenge is to make this lifestyle broad and reflexive. It starts with an evaluation of cost during a product's complete life cycle, said Kevin Lyons, a professor of supply-chain management at Rutgers Business School.
A consumer pays twice: to buy and to dispose. A manufacturer can reduce, or even eliminate that second spend, and reap its own savings with thoughtful early design.
"There are companies that are now seeing there is a value-add to doing what Tom is asking them to do," Lyons said.