Mobile Homes Are So Expensive Now, Hurricane Victims Can't Afford Them
The industry was struggling to keep up with demand even before this year's natural disasters.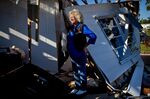 Hurricane victims emerging from ravaged trailer parks are discovering that the U.S. mobile-home market has left them behind. In Florida and Texas, dealerships are swarmed by buyers looking to rebuild their lives after hurricanes Harvey and Irma, but many leave disappointed.
The industry, led by Warren Buffett's Clayton Homes Inc., is peddling such pricey interior-designer touches as breakfast bars and his-and-her bathroom sinks. These extras, plus manufacturers' increased costs for labor and materials, have pushed average prices for new double-wides up more than 20 percent in five years, putting them out of reach for many of the newly homeless. 
Last month, Judy Goff, a 73-year-old hardware store clerk whose double-wide in Naples, Fla., was blown to bits, pulled into a LeeCorp Homes Inc. sales lot and wandered through models with kitchen islands and vaulted ceilings. In the salesman's office, she got the total price, including a carport, taxes, and removal of her destroyed trailer: $140,000. "I don't have that kind of money," said Goff as she stood amid the wreckage of her old home, whose walls and ceiling were stripped away, leaving her leather furniture and a lifetime of possessions to bake in the sun. "That was all I had."

About 22 million Americans live in "manufactured homes," a classification that dates back to 1976, when federal law set standards for what used to be called mobile homes. Sales of new units are growing 15 percent annually as the base of buyers expands from rural areas to suburbs and retirement enclaves. Tile backsplashes and kitchen pantries fatten profits and attract buyers who couldn't afford similar extravagances in conventional houses. The industry, which makes 80 percent of new homes that sell for less than $150,000, was struggling to keep up with demand even before the hurricanes. Manufacturers that closed plants after the housing crash say they're having difficulty adding capacity because of a shortage of skilled labor. Dealerships such as LeeCorp, among the biggest in Southwest Florida, have backlogs as long as six months. 
"I get that higher-end countertops and kitchen islands are where the better margins are, but that's also going to put homes out of reach for a lot of buyers," says Doug Ryan, director of affordable homeownership at the Washington nonprofit Prosperity Now. "The storm is revealing a whole lot of problems in the low-cost housing market."

Irma and Harvey damaged almost 1.8 million homes, causing uninsured flood losses of as much as $57 billion, according to CoreLogic Inc., a real estate data firm. At homeless shelters in the Naples area, the waiting list for beds has doubled, especially for single mothers and their children, many of whom are living in tents in the woods or in cars, says Vann Ellison, chief executive officer of St. Matthew's House, a nonprofit organization. "When their properties are damaged in a place like this, it's next to impossible to bounce back," Ellison says. Many have had to walk away from damaged mobile homes they can't repair or replace, he says.
Phil Lee, the 74-year-old founder of LeeCorp, has been riding a wave of retiring baby boomers who want affordable luxury. Driving a reporter in his black BMW SUV through Bayside Estates in Fort Myers Beach, where many of the fanciest homes he sells are installed, Lee points out units with pitched roofs that look almost indistinguishable from conventional homes, facing canals with boats tied outside. Their owners, former dentists, doctors, executives, and others, spent upwards of $150,000 to buy aging units just to clear the way for something more luxurious. On a palm-lined street flanked by ranks of 1970s-era trailers, Lee sees profit. "There's no end to replacing these homes," he says. "You get a hurricane in there and it really accelerates things."

Terms such as "mobile home" or "trailer" are now verboten in an industry striving to break free of its downscale origins. Buffett's Clayton Homes, which produces almost half of all new manufactured housing in the U.S. and competes with such companies as Cavco Industries Inc. and Champion Home Builders Inc., still builds lower-priced units, but there's barely a sign of them on its website, which is mostly devoted to high-price models. The 2,000-square-foot Bordeaux features a separate tub and shower, a computer station, and a mud room, with prices starting at $121,000 and ranging as high as $238,000, not including delivery and installation costs. Clayton declined to comment. 
While the cost of manufactured homes has surged, pay for the bottom fifth of earners is stagnating. Even after a modest pickup over the past two years, those households have seen their income fall by 9 percent since 2000, to $12,943 in 2016, based on inflation-adjusted Census Bureau data.

Financing and insuring units can be expensive, especially for decades-old trailers that are depreciating and set up on rented land, and for borrowers with poor credit. Last year, 64 percent were purchased with high-rate loans, compared with just 7.2 percent for traditional single-family homes, according to the Housing Assistance Council, a Washington nonprofit. "Consumers are not offered as much choice as in the conventional market," says Lance George, the council's research director. "This is a captive audience."
At the LeeCorp dealership, which is located between Naples and Fort Myers, sales have surged 40 percent since Irma. Josh Hentges, a 36-year-old salesman with bags under his eyes and a couple days of stubble, says he's frequently finishing paperwork in the office late into the night. The company doesn't offer its own financing, but customers find loans from area banks. "Before the storm, one out of five people walking in were serious buyers," says Hentges. "Now, it's four out of five—people walking in have to have a house."

The single-wides at LeeCorp start in the $60,000-plus range. The most expensive double-wides, some with custom bathrooms and walk-in closets, sell for more than $250,000. The half-dozen models on the lot are staged to be alluring, with plush couches, true-crime novels, and beach house knicknacks. The showpiece is "the Islander." Built by Florida-based Jacobsen Homes, it has quartz countertops in the kitchen, a  glass and tile shower with a bench, custom cabinetry with slow-close doors, and a deck.
Goff—who just wants to replace the wrecked 1,200-square-foot trailer that she bought 17 years ago for $46,000, including the cost of land—says she feels boxed in. Her mobile-home community won't allow single-wide homes or older used models as replacements. And every home must have a carport. She's willing to give up such upgrades as the higher-end countertops, but that probably won't be enough. Between her Social Security check and income from her job at Ace Hardware Corp., she earns only about $23,000 a year. "I just want a home that's equal to what I had," she says. "My home was a beauty."