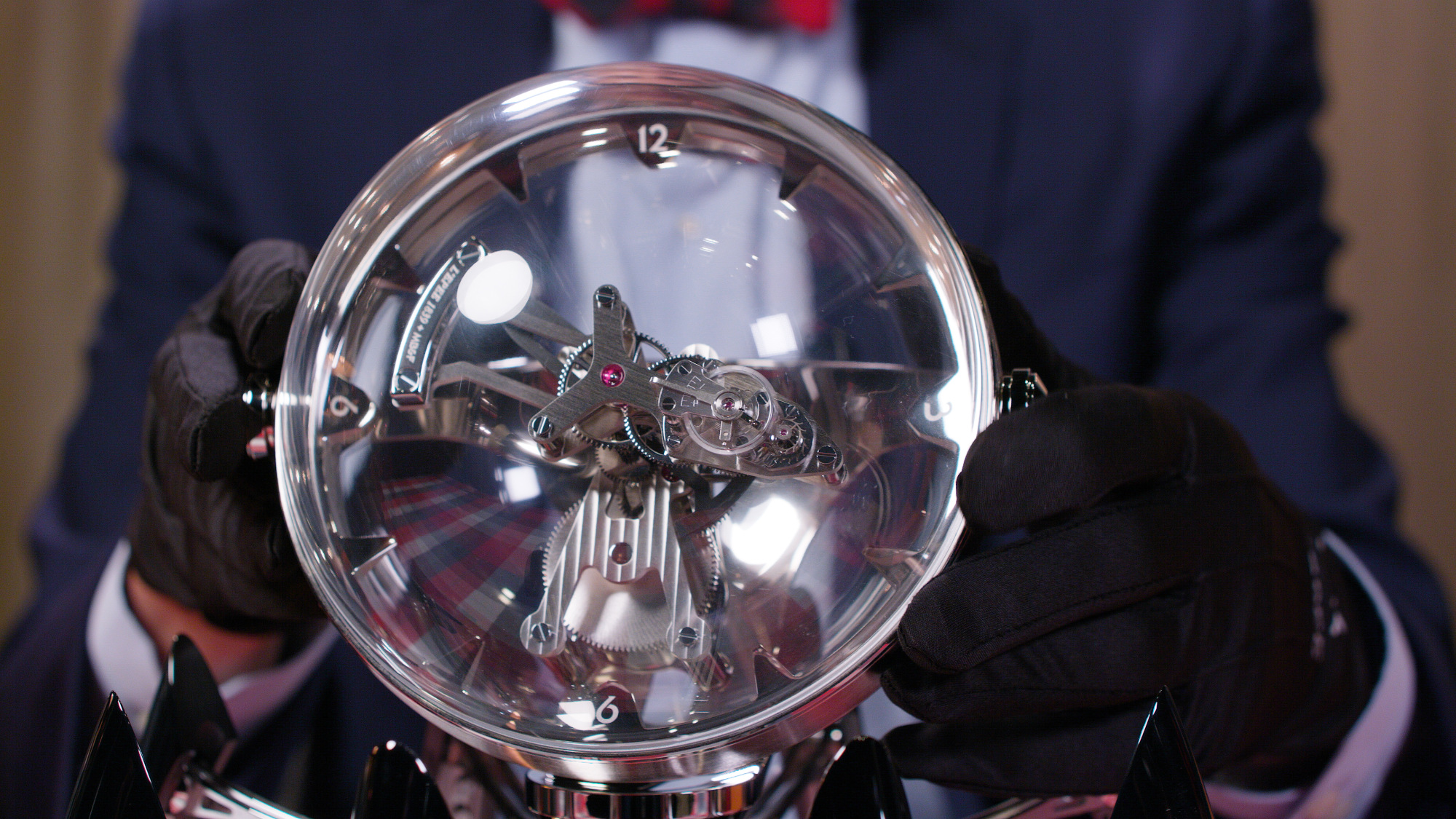 The 2017 Pursuits Gift Guide
Three dozen ideas to get you geared up for the holidays.
"The most potent gifts are things you would miss yourself," says Philip Hewat-Jaboor, chairman of the Masterpiece London art fair. "To choose something that is, in a way, a loss to you—that is the real gift of giving." It's the sort of advice that echoes what you may have heard: Look for something with a good back story, a keepsake that can be personalized, or a memento that means more if accompanied with a handwritten note. In other words, yes, the thought really does count. Whether the object of your gift-giving affection is a world traveler or a curl-up-on-the-couch homebody, a workout warrior or a sophisticated foodie, here are 36 ideas to get started.
Travel & Adventure
ODS-1 Classic in-ear headphones
For a frequent flier, a pair of packable in-ear headphones is essential. Taking inspiration from the novels of Jules Verne, Paris-based Aëdle wraps its ear hooks in hand-stitched Venetian leather; the brushed aluminum buds feature a custom 10mm driver for deep, natural-sounding lows.
$360; aedle.net
Erno Laszlo hydra-therapy skin vitality treatment
The "famous pink mask" is a set of four moisture treatments for those whose faces need cooling and plumping after an overnight flight—or just a long day on the road.
$80; ernolaszlo.com
Delvaux Le Mutin saddle bag
An updated take on the label's classic Chasseresse silhouette, this carry-on from Delvaux's latest collection is made from soft calfskin in rouge de pourpre—a magenta-meets-purple hue—and has a sporty twill-tape strap that wears lightly.
$3,900; barneys.com
Travel map pin board
Start a new family tradition with a pinnable board from Conquest Maps, a small operation out of Columbus, Ohio. Using 12 colors of pins, mark out your worldwide or American adventures on one of three elegant designs.
From $99; conquestmaps.com
Shearling eye mask
One could wear this Fendi eye mask at home, but where's the fun in that? Made from Italian silk, it's decorated with mink fur to resemble the camouflage of butterfly wings and is guaranteed to make an impression at 30,000 feet.
$590; fendi.com
Stow tech and travel case
At 8-by-11 inches, this organizer from London-based leather goods company Stow is large enough to hold an iPad, and it comes with a plug adaptor usable in more than 150 countries.
$575; ahalife.com

Food & Drinks
 Salter Fine Cutlery knives
Artisan Gregg Salter makes every one of these blades in his shop on the Big Island of Hawaii, pairing traditional Japanese blacksmithing techniques with beautifully curved handles made of native Koa wood. They're the preferred knives of the chefs at the Grill, which opened in May at the former Four Seasons inside New York's Seagram Building.
$1,035 for two-piece set; salterfinecutlery.com
Last Drop 1971 blended Scotch whisky
Any drinker would appreciate receiving one of the mere 1,352 bottles ever made of this whisky blend. It's the latest from Last Drop, a London-based outfit that sources, buys, and distributes casks of aged liquors from shuttered distilleries. In his 2017 Whisky Bible, Jim Murray gave the release a 97-point score and named it Scotch Blend of the Year.
$3,999; lastdropdistillers.com

Glenmorangie Pride 1974
Even fewer drinkers will get to enjoy the Glenmorangie Pride 1974—a scant 503 bottles of the $9,050 single malt exist. The spirit inside the crystal decanter (by Philippe Starck protégé Laurence Brabant) has notes of salted-caramel toffee, chocolate truffles, rum raisin ice cream, and aged balsamic vinegar.
$9,050; inquire via email at privateclient@moethennessy.com
 Wim frozen yogurt maker
Froyo fanatics, take note: A Google alum has invented a one-touch, single-serve, Keurig-like device that's perfect for home chefs or those who don't cook at all. (Milk not included.)
$299; wimyogurt.com
Toast toaster
In December the Museum of Modern Art design store will begin carrying this stainless-steel beauty. Designed in 1968 by Italian architect Gae Aulenti, it remains the cheekiest way to burn your bread.
$198; pre-order from store.moma.org
 Dimes peppermill
Feel like more fun in the kitchen? This multicolored pepper grinder, by Sabrina de Sousa, co-founder of Manhattan's healthy snack haven Dimes, adds just the right amount of spice to the table.
$120; dimesnyc.com
 Canon wine tilt
Your guests won't be able to miss that special bottle in this 3D-printed porcelain wine "tilt," available in a numbered edition from Brad Ascalon, a New York-based designer who's also created furniture for French powerhouse Ligne Roset.
$410; othr.com
 2009 La Romanée Domaine du Comte Liger-Belair
This spicy grand cru red Burgundy, from a plot directly behind the legendary Romanée-Conti vineyard, has rich cherry and rose-petal flavors with an overlay of smoky minerality. This stylish, sensual vintage has ultrasmooth tannins and the house's hallmark silky texture.
$3,600; nywines.com

Sport & Exercise
Vaporfly 4% running shoes
These are the sneakers Nike designed to break the two-hour marathon barrier. They feature a carbon-infused nylon plate with a 10mm offset to minimize Achilles tendon strain and a 31mm stack height that adds impact protection for long distances.
$250; nike.com
Hero6 Black camera
The newest iteration of the beloved minicamera has its most advanced stabilization technology yet, and can shoot video footage in 4K and 1080p. But most exciting are its new QuikStories—slick, automatically generated videos edited from footage sent to your phone.
$499; shop.gopro.com
EL 42 binoculars
Known more for its hand-cut crystal glasses, Swarovski also makes the most high-end binoculars on the market. These birdwatching favorites have an ergonomic wraparound grip and 4.9mm exit pupils to produce bright images in low light.
$2,832; swarovskioptik.com
Top loader bag
This waxed canvas duffel from Tracksmith looks simple, but the Boston-based independent running brand has reinforced the edges with leather corners and added a separate compartment for your shoes.
$168; tracksmith.com
Cannondale CAAD12 105 bicycle
Aluminum bikes don't get the love that carbon fiber ones do, which is a shame. With an ultralight frame weighing just 2.5 pounds, this 11-speed bike is perfect for everyday city riding.
$1,599; sidsbikes.com
Scorpion bike stand
For racers, a portable, lightweight bike stand comes in handy for cleaning, maintenance, and race-day storage. Make sure the bike has a hollow spindle crank—that's where it attaches.
$60; feedbacksports.com
Vyper 2.0 fitness roller
Turbocharge recovery times with this three-speed vibrating foam roller. Tested by top athletes, it's made by Hyperice, a company partly owned by NBA All-Star Blake Griffin, Olympic gold medalist Lindsey Vonn, and former NFL MVP Adrian Peterson, among others.
$200; hyperice.com
The Elder Statesmen x NBA scarves
The much-hyped Los Angeles-based fashion brand collaborates with the NBA on cashmere (yes, cashmere) scarves for fans of all 30 teams—even the Knicks.
$725; barneys.com

Style & Grooming
 G-Timeless watch
This psychedelic 36mm timepiece displays lunar phases on a rotating rainbow disc that spins behind the dial.
$1,460; gucci.com
Simon Miller bonsai bag
The Los Angeles designer's "bonsai" take on the bucket bag, with its acrylic handles, has become the preferred choice of fashion folk. There's enough room inside for a phone, keys, wallet, and cosmetics.
$590; net-a-porter.com

Apoteker Tepe Holy Mountain perfume
New Orleans-based perfumer Holladay Penick Saltz, who started Apoteker Tepe in 2014, uses natural ingredients to evoke the fragrance of a winter hearth: Seven different resins, plus a rare extract of Lapsang Souchong tea, create an earthy warmth.
$110; poketo.com
Mark Cross vintage duffel
This jewel of a bag, made by one of America's oldest luxury leather brands, is made from Italian calfskin leather in a natural brown. But the blue demands appreciation.
$2,995; markcross.com
Concrete eau de parfum
Fresh off her retrospective at New York's Metropolitan Museum of Art, Comme des Garçons designer Rei Kawakubo expands her line of perfumes with Concrete, a sandalwood homage to the city that comes in a bottle made from its namesake material.
$150; doverstreetmarket.com
Bubble cluster ring
The new collection from Brooklyn jeweler Caitlin Mociun features a batch of Instagram-ready rings, including this "bubble cluster" of pearl, peach moonstone, and white diamond.
$1,910; mociun.com
Saturated-color sweaters
If you must buy a sweater, stay on trend with a bold color, whether in Acne's coral pink, Theory's conservative navy, or Raf Simons's honeycomb marvel in marigold from his 205W39NYC collection for Calvin Klein.
From top: Acne Studios, $650, and Theory, $285; barneys.com. CK, $775; calvinklein.us

Home & Office
Baggen connected speakers
Stockholm-based Urbanears' multiroom speakers are a powerful addition to the category. Users can stream from built-in Spotify Connect, AirPlay, or Chromecast; connect via Bluetooth; or use the classic auxiliary cord. They come in colors such as goldfish orange, indigo, and "dirty pink."
$499; urbanears.com
Tom Dixon cog pen collection
For these sleek writing instruments, British designer Tom Dixon set aside his typical metallic finishes, choosing a high-impact blue.
$135; tomdixon.net
El Catire domino set with racks
A domino set this handsome, with jumbo, tournament-size two-tone tiles and spinners, deserves to be displayed—and frequently played.
$180; comingsoonnewyork.com
Octopod clock
The latest collaboration between Swiss avant garde watchmakers MB&F and clockmaking artisans L'Epée 1839, the Octopod is inspired by the submarine hulls in the James Cameron film The Abyss. (Some may see a resemblance to Toy Story villain Babyface.) Its jointed legs can be unlocked and set in a range of positions, while the globular head rotates in every direction for optimal visibility. Rather than a traditional minute hand, the gears and springs inside the clever floating mechanism tell the time.
$36,000; mbandf.com
Gitterwerk vase by Josef Hoffmann
Got architecture buffs on your shopping list? They likely love Hoffmann, the legend of the Wiener Werkstatte design collective, who created this latticework enameled steel vase in 1905.
$380; shop.neuegalerie.org