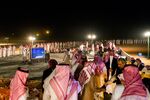 I Dined With Alwaleed in the Desert Days Before His Arrest
Watching soccer, talking politics, with the billionaire Saudi prince
Ten days before he became the most prominent target in Saudi Arabia's anti-corruption crackdown, I spent an evening in the desert with Prince Alwaleed bin Talal.
We sat in the open air against cushions on enormous rugs laid over the sand, talked mostly about tech stocks and U.S. politics, drank Arabic coffee, watched a soccer match on large-screen televisions set up outside, went for a 50-minute walk under the stars and, at about 11 p.m., had dinner. I served myself lamb, shrimp, rice and salad from an enormous buffet with at least two dozen dishes.
If Alwaleed had any inkling of what was to come, he didn't show it. The billionaire investor, best known for his long-held stakes in Citigroup Inc., Apple Inc. and 21st Century Fox, seemed happy and relaxed. He cheered when Riyadh's Al-Hilal FC won the match.

It was almost midnight when the prince held a Majlis, a traditional Bedouin ceremony in which tribesmen come to pay their respects and ask for charity. A line of men in white robes and red-and-white Arab headdresses stretched into the darkness. One by one they approached, removing their sandals, bowing and handing him pieces of paper. Some recited poetry. The prince scribbled on each cover sheet and put the papers on a stack.
Off to one side, a few camels knelt on the ground. Two hooded falcons were brought out by a handler and set on perches. Beyond the TVs, a digital clock flashed the advancing time and gradually dropping temperature. Behind us was a caravan of mobile homes and trailers with living quarters and office space. When the ceremony was over I thanked the prince for his hospitality, climbed into an SUV and, with one of his drivers at the wheel, sped off down a dirt road to catch my 4:07 a.m. flight out of the kingdom.
Sometime this past weekend, at the same desert camp, Alwaleed was arrested by Saudi forces. His whereabouts now are unknown.
Alwaleed was one of 11 princes taken into custody, along with four ministers and dozens of former ministers and businessmen. A senior official in the Saudi government told Bloomberg that the charges against Alwaleed include money laundering, bribery and extortion. The attorney general said in a statement that the suspects will be tried and will have access to legal counsel.
I've known Alwaleed for almost nine years and interviewed him several times on Bloomberg TV. He was, and remains, an intriguing figure: a Saudi prince who didn't make his billions from oil, spoke out for women's rights, made friends with Rupert Murdoch and Bill Gates. He was equally at ease in traditional Saudi garb and a Savile Row suit.
Alwaleed's positions on social and economic issues appeared to dovetail with the current modernization drive led by 32-year-old Crown Prince Mohammed bin Salman.
Take Saudi Arabia's ban on female drivers. As far back as 2013, Alwaleed was saying on Twitter that it didn't make economic sense. He'd told me the same in private even earlier. Six weeks ago, the Saudi government announced that women will be permitted to drive by next July.

When I interviewed Alwaleed in his Riyadh apartment a year ago, he said Prince Mohammed's plans to reduce Saudi Arabia's dependence on oil revenue, cut the budget deficit and attract more foreign investment were "very much welcome and supported by me personally." 
Alwaleed has always said his fortune, now estimated at $17.8 billion by the Bloomberg Billionaires Index, was self-made. In 1991 he catapulted into the financial limelight by reviving a then-floundering Citibank with almost $600 million of fresh capital. Other notable investments over the years included Motorola Inc., Time Warner Inc. and, more recently, Twitter Inc. and Lyft Inc.
Much of Alwaleed's wealth is in Kingdom Holding Co., the investment company he took public in 2007 and still controls with a 95 percent stake. Those shares have dropped almost 21 percent since his arrest, cutting his wealth by at least $1.3 billion. The rest of his fortune is in a variety of assets, such as jewelry, media companies and real estate.
On my first trip to Saudi Arabia in 2010, Alwaleed gave me a five-day tour of his business interests, properties and lifestyle. We walked through a Hyper Panda supermarket in central Riyadh and stopped by a Herfy fast-food outlet for the Saudi version of a Big Mac. The prince let me explore his palace, with its 400-odd rooms, and we visited his apartment on a high floor of Riyadh's Kingdom Tower, the "resort" overlooking a canyon on the outskirts of the city and his old desert camp.

We ate meals together, played with his grandchildren, went on a bicycle ride and shot pool in his outdoor living room. We even got caught in a sandstorm.
The prince depended on a staff that numbered in the hundreds: chefs, florists, travel coordinators, personal security, pilots and more. He didn't have one private jet; he had several, including a gold-trimmed Boeing 747.
Alwaleed floated above the drudgery of ordinary Saudis in a protective "bubble." I'd heard the term many times before. Only on that visit did I come to learn what it means.
I took time to study the prince's investments and understand his unusual position in the Saudi hierarchy, and he rewarded my curiosity with access. I joined Alwaleed on two trips to England in 2010 for a profile I was reporting, and flew to see him in Riyadh in 2012. He's given me at least five exclusive interviews and we've met several times in New York, at Bloomberg's offices and at the Plaza Hotel, in which he holds a minority stake.
All that time together has given me a window into the billionaire prince's preferences and habits. I know, for example, that he's a vegetarian who prefers low-calorie foods. I know that dinner guests are served dishes from four cuisines: Saudi; Lebanese; "Western," which is to say French and Italian; and "diet." I know he watches financial and international news constantly, even in the car and often with Bloomberg TV, CNBC, Fox Business and CNN on multiple screens at the same time. I know he likes to place photographs of himself in all of his personal spaces and that there's even one inside the fridge in the small kitchen off his palace bedroom. I've seen it.
I found out about Alwaleed's arrest by text while on vacation in a remote part of the Bahamas and, mostly with limited Internet access, have been struggling since then to make sense of the story. Were there any clues along the way that he was in trouble?
The only one I can think of is an incident in February 2015, just weeks after King Salman ascended to the Saudi throne. For years, Alwaleed, a favorite nephew of the late King Abdullah, had been planning an Arabic-language TV channel that would present news from a more open-minded point of view than others in the region. He called the channel Alarab, formed a partnership with Bloomberg LP, the parent company of Bloomberg TV, and based it in Bahrain.

On its first day of operation, Alarab was shut down by order of the Bahraini government and never reopened. Bahrain said Alarab's programming, which that day included an interview with an opposition politician, failed "to take account of efforts aimed at stemming the tide of extremism and terrorism throughout the region and the world." It was a sign that Alwaleed had misread the tolerance for dissent by Bahrain and, more importantly, in Saudi Arabia, its neighbor and economic sponsor.
Like many of the prince's professional and personal contacts, I've kept in touch with him by text and WhatsApp. In the past few days, my efforts to reach him on both have failed. If he and the other detainees are shut up in the Ritz Carlton in Riyadh, as reports indicate, no one is talking. The only communication from Alwaleed's side was a statement from Kingdom Holding saying that the company is continuing its usual commercial operations and has assurances of support from the government.
When I last saw Alwaleed in the desert, he showed me a book he was reading: "Why We Sleep," by the neuroscientist and Berkeley professor Matthew Walker. I told him it was something I too planned to read and we agreed to share notes once I did. Right now, that looks like a conversation we may never have.