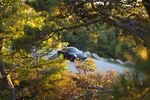 The Perfect Fall Foliage Drive Is Along Maine's Coastal Route 1
A trip up the coast in October, when most of the tourists have left, is a great time to experience the beauty of the season—and discover the real personality of the place.
"Maple trees go first. That's red. Then comes birch, ash, and poplar," my dad explains. "You see the yellows and oranges later. Oak and beech trees go last and hang on to their leaves a long time."
We're driving along a particularly lush stretch of U.S. Route 1 between Portland and Rockland, Maine, where I grew up, and he's reminding me how fall foliage works. I've lived in New York City for almost 15 years, and there the street trees entirely skip this stage of life—one day they're providing welcome shade, and then seemingly the next they're stripped bare, revealing themselves for what they truly are: menacing squirrel labyrinths.

But as a New England kid, the changing of the leaves is seared into my memory. In late September or early October, over a period of weeks, the trees turned into a highlighter pack of neon greens, yellows, oranges, and reds. On breezy afternoons, our yard became a glittering shower of whirling golden leaves. We could run around in it forever, theoretically, but after only a few minutes our parents would holler at us to do something useful for a change. Then we'd spend four straight weeks raking.
This month my father, Rod—a widely loved lawyer who recently retired from his Portland practice to live on a quiet lake upstate—is getting married to a lady he called "Mrs. Wonderful" from their first date. So I've decided to take a couple of days off to bring him on a bachelor road trip up the Maine coast—going Down East, in local-speak—to eat good food, sample beers, and hunt for the most striking foliage we can find. Although summer is the state's busiest tourist season, I've always thought October is the perfect time to go to Maine: Without the August crowds, it's easier to get into the ever-­trendier restaurants and hotels that line the coast, and the crisp weather is mostly gorgeous.
For our adventure, I've borrowed a Porsche 911 Targa 4, a low-slung sports car with a partially retractable top, perfect for zipping along winding, nameless state roads. On my way through Massachusetts to pick him up, I find myself hoping for excuses to weave in and out of cars on Interstate 495 so I can enjoy the throaty pickup and 370 horsepower. "This car makes it very easy to let the needle creep up," Dad notes shortly after I throw him the keys. In true fatherly fashion, he promptly figures out how to engage the cruise control.

Coastal Maine has long depended on visitors "from away" to sustain its cities and small towns. But over the past decade, the area has blossomed on the luxury tourism map. With restaurants like Fore Street, Eventide Oyster Co., and Duckfat, Portland has become a bucket list destination for foodies. Former New York chefs such as Erin French of the Lost Kitchen, in the tiny town of Freedom, and Rebecca Charles of Kennebunk's Pearl are luring diners still farther afield.
The state's craft beer revolution, started by Allagash Brewing Co. in 1995 and joined in recent years by brewers Bissell Brothers, Oxbow, and Urban Farm Fermentory, has helped bring more jobs and tourist dollars. And now several contemporary hotels have followed. In Portland the Press Hotel occupies the former headquarters of the Portland Press Herald newspaper, with 110 hip rooms, a farm-to-table restaurant, and a private rooftop suite with views of the city's historic district and harbor. The century-­old Chebeague Island Inn, a ferry ride across Casco Bay, now offers C.O. Bigelow bath products and other trendy touches along with authentic experiences such as hauling lobster traps.

For our first day on the road, I direct my dad to drive north along the coast to Brunswick, a half-hour past Portland and home to two of the few remaining drive-in restaurants in the state: Fat Boy Drive-In and Cameron's Lobster House, places where you can flick on your headlights, and a carhop will serve you through your window. We pull into Cameron's with the top down but opt to go inside—the better to avoid dripping butter on the buttery leather in our $110,300 borrowed car. We order a pair of lobster BLTs and a cup of creamy seafood chowder, which comes with a griddled biscuit that's ideal for dipping.
As we eat, my dad tells me about the time, decades ago, when he was in a Brunswick dive bar with some friends and a man ran in and hollered, "Anybody want a pig?" A buddy of his ended up buying a piglet from the stranger. Six months later he found himself owning a 400-pound hog named Frankie, whom he kept in a pen lined with posters from my father's recently failed run for local political office. (Reader, they ate Frankie.)

We cruise to enchanting Wiscasset, where the Sheepscot and Back rivers meet and a line of hungry tourists perpetually snakes downhill from a tiny lobster shack called Red's Eats. When the road winds away from the water, the trees on either side close in to form a puffy canyon where ruby-red maples peep out from the dark pines and still-green beeches and oaks. We don't listen to music or the radio; we just share memories and chat about what's happened to all of our friends over the years. (When I was little, all of mine would call him "Uncle Rod," and he'd teach them to fish whether they liked it or not.) The car gets great gas mileage for something so sporty—at 28 mpg on the highway, it needs to refuel only once on our trip, though it takes a couple of tries to find gas with an octane rating high enough for it.

We make a point to visit Waldoboro, a town of postcard charm and size, where my great-uncle used to live. We come across Fawcett's Antique Toy Museum, a rambling, houselike structure with a lawn littered with stenciled signs imploring drivers to stop and visit. We obey.
The proprietor, 77-year-old artist John Fawcett, walks us through his life's work, where each room is filled from floor to ceiling with hundreds of toys and 20th century childhood memorabilia, including dozens of gangly 1920s Mickey Mouse figurines and a rodeo saddle owned by Gene Autry. One room is set up as a child's bedroom fever dream—bed included—with Star Wars figurines still in their packaging lining the walls, vintage comic book covers papering the ceiling, and a black-and-white Western playing on a loop on a cathode-ray television.
As we leave, Fawcett asks where we're from; I tell him I live in Brooklyn. "Brooklyn!" he says. "I must have had 40 people from Brooklyn come up here this summer. I don't know why." I have trouble explaining to him that his place couldn't have been more Brooklyn if it tried.

As we pass through a construction project in beautiful, blink-and-you'll-miss-it Thomaston, a woman in day-glo orange directing traffic rubbernecks our slinky, metallic blue chariot. "Nice Porsche!" she shouts. "A compliment from a flagger," Dad marvels. "That's big."
An amateur pilot, Dad has requested one last stop of the day: the Owls Head Transportation Museum, which houses original and replica historic aircraft. It has a real, early 1900s bi-wing ­ornithopter—it attempted flight by use of flapping wings—and a working, ­painstakingly reproduced 1917 Fokker triplane.

For me, the charm of coastal Maine is its blend of the lovely and the quirky, of the magic show that nature and the residents team up to put on for tourists and the oddities that express the real local personality. Watching seagulls pinwheel endlessly over silent, rocky beaches is made all the more arresting when you know you're also not too far from a genuine ornithopter.
We check into a hotel that showcases the best of the new Maine hospitality: 250 Main in coastal Rockland, a little less than three hours from Portland, where each of the 26 semi-industrial rooms features works by a local artist that are available for sale. The town is a seaside jumble of old brick buildings. A night out there should start with a drink at Archer's on the Pier, which is just far enough out on the water that you can look back at the sunset over town. Then, dinner at one of the local star attractions: the wine- and tapas-focused In Good Company or chef Melissa Kelly's Primo, where the charcuterie is made from pigs raised on the premises. (Pour one out for Frankie.)
We end up at Rock Harbor Pub & Brewery, which serves in-house beers such as the lightly hoppy Twin Screw pale ale and the power-packed Rogue Wave double IPA. (I start with the first, move on to the latter, and finish with a hangover.) Even my dad likes the Twin Screw, and his normal beer order is "Please bring me one of your finest Bud Lights."
It's trivia night when we arrive, but as locals battle over answers, we talk about my dad's year-old retirement and excitement about his upcoming marriage. He's a man who hunts, fishes, actually chops his own wood, skis 50 days out of the year, and works as a selectman in his town of 251 people. There's plenty to do without a job. But even so, he's found he has to focus on not transferring the daily stresses of his former life onto the tasks in front of him. Turns out, when you stop working, you don't become a different person. Your anxiety and worry are held in quiet reserve, ready to be dispensed as handily as they were when you had to go into an office. The trick is to practice knowing when a problem isn't worth it. He'd been fretting over managing all the errands leading up to the wedding, but when I called at the last minute with the offer of an idle road trip, he gamely rearranged plans to make the time. He says you have to know what's important.

The next morning we visit the Farnsworth Art Museum, which is hosting an exhibit honoring the 100th anniversary of Mainer Andrew Wyeth's birth. Neither of us can believe the detail in his watercolors and drawings. It's said he could sketch a perfect, ­weather-worn, wood-sided house in minutes with a pencil. Wyeth's palette is often muted, muddy. It's a dramatically real version of the state I know, but when we emerge from the museum and clamber back in the Porsche, what I see in front of us is striking in a totally different way.

No matter how clearly you think you remember fall foliage, the colors always surprise. At its height, the leaves seem to glow in the dark—even though it's daytime. The red is as gaudy as a witch's apple. The orange is a lingering coal fire. The best are the trees that are caught in mid-change: scarlet at the tips, yellow in the middle, and still a joyous lime green at heart—a breath­taking ombré effect you couldn't dream up if you hadn't seen it.
I pat the dashboard happily and ask my dad, steering along Route 1 once again, what he thinks of the drive. He takes a few seconds. "This is a great car. If I had a lot of money, I would buy it," he says. "It doesn't hurt your ass when you sit in it a long time. That's important."
The Ideal Maine Leaf-Peeping Tour

Hotels
① The Press Hotel, Portland
207 808-8800
Rooms from $170
② Chebeague Island Inn
207 846-5155
Rooms from $325
③ 250 Main, Rockland
207 594-5994
Rooms from $169
Restaurants
④ Red's Eats, Wiscasset
207 882-6128
⑤ Cameron's Lobster House, Brunswick
207 725-2886
⑥ In Good Company, Rockland
207 593-9110
Attractions
⑦ Owls Head Transportation Museum, Rockland
207 594-4418
⑧ Fawcett's Antique Toy Museum, Waldoboro
207 832-7398
⑨ Farnsworth Art Museum, Rockland
207 596-6457