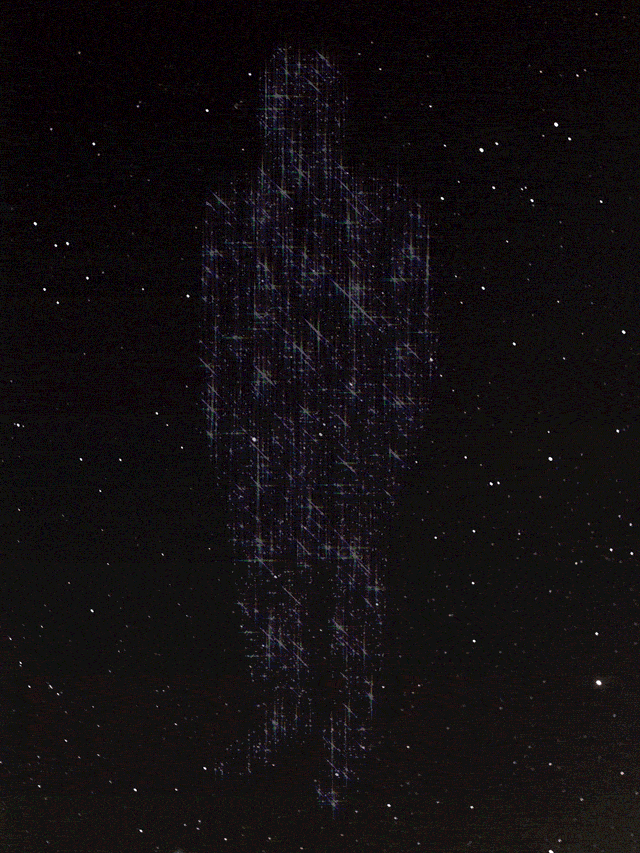 Are Trekkies the Key to CBS's Future?
Star Trek: Discovery goes where no Trek has gone before: streaming. CBS's Les Moonves is betting the show's rabid fans will come along.
For decades, Star Trek has transported fans to the far corners of the universe: from Aldebaran, where the Enterprise crew harvested mud leeches, to the Sigma Draconis system, where they recovered Spock's stolen brain. Now the franchise is voyaging to a perilous sector rife with the most terrifying enemies it's ever faced: streaming video.
This fall, CBS Corp. is rolling out the first new Trek series in more than a decade. Unlike the five series preceding it, Star Trek: Discovery won't be on traditional TV. The pilot aired on the network on Sept. 24, but subsequent episodes can be viewed only on CBS All Access, a streaming app that costs $5.99 a month. Discovery is set in a time of galactic war, and it arrives at a similarly fraught moment in TV. After years of denying the threat from Silicon Valley, media conglomerates are now, with varying levels of urgency, trying to figure out how to survive in the era of Netflix and YouTube.
CBS has a head start on its peers and lots of cash to woo the growing hordes of cord cutters; in 2016 it had $1.6 billion in net earnings on $13.2 billion of revenue. At the moment, the company still makes the bulk of its money from traditional TV. But since it introduced All Access in 2014, CBS has worked to turn the app into a profitable revenue stream, improving the underlying technology, adding to its library of on-demand programming, and dabbling in creating shows targeted to paying subscribers.
With Discovery, CBS is breaking out the photon torpedoes. Production of the 15-episode first season will cost as much as $120 million, making it one of the most expensive series ever created for the internet. If it succeeds, Discovery could help All Access outpace a crowd of similar apps from Disney, Discovery Communications, and Time Warner, among others. If it fails, it could further scare investors already concerned about CBS's inability to attract young audiences.
Leslie Moonves, the chairman and chief executive officer of CBS, is clear about Discovery's importance. "Looking at the future of CBS, streaming and OTT"—over-the-top content, industry jargon for internet-only media—"is a very important part of it," he says. "There's real upside for our company to have All Access be successful. There's a lot riding on Star Trek."
Following the company's 2006 split from Viacom Inc., Moonves took control of the Paramount Television library, a rich storehouse of hits such as I Love Lucy, Happy Days, and Star Trek. He thought Trek, with its updatable plot, multiculturalism, and dedicated fan base, had the most reboot potential. But he could afford to be patient.
At the time, thanks to Survivor, CSI: Crime Scene Investigation, Two and a Half Men, and other prime-time hits, CBS was the most watched network in the U.S. (It still is.) But trouble loomed. Google had acquired YouTube Inc., and Netflix Inc. was rapidly transitioning from a DVD-by-mail website into a streaming service. With the Klingons of Silicon Valley hellbent on controlling the future of TV, major media properties decided to team up to fend off the invaders. In March 2007 the owners of NBC and Fox announced a service that would allow consumers to watch the networks' most popular shows via the internet, legally, for the first time. Eventually, four companies—Disney, Time Warner, Comcast, and Fox—came to own a piece of the service now known as Hulu.
CBS spurned the armistice. Better to go it alone, Moonves thought, than get in bed with competitors. Instead of investing in Hulu LLC, Moonves set out to build a formidable interactive division and embarked on a digital acquisition spree. He bought the music service Last.fm Ltd. for $280 million, video game website Giant Bomb for an undisclosed amount, and the technology news site CNET for $1.8 billion. In 2011, CBS acquired the startup Clicker Media Inc., a TV Guide for the internet. Reports pegged the deal at $50 million to $100 million. Afterward, Moonves tapped Jim Lanzone, Clicker's CEO, to be president (and now CEO) of CBS Interactive.
Lanzone tinkered with CBS's websites, apps, and digital services, which came to mirror the CBS network—popular but decidedly uncool. Lanzone and his top deputy, Marc DeBevoise, began discussing creating a subscription streaming service that would be stocked exclusively with CBS shows. The time felt right: Mobile phones were proliferating, and internet speeds were picking up. While TV networks were starting to suffer declines in viewership, Netflix's value was soaring. Despite initial skepticism from Moonves, Lanzone and DeBevoise kept moving ahead with the underground project (code name: Subway). Eventually, they got the boss on board.
In October 2014, Moonves announced the debut of All Access. It carried a live feed of the broadcast channel in 14 markets and an on-demand selection of old shows. The service had limitations. CBS didn't have the rights to air NFL games and couldn't offer All Access on many internet-connected TV devices. The technology didn't always work. The live feed crashed during the 2016 Grammys.
CBS rolled out gradual improvements. It added NFL games, secured rights to offer the live feed across the country, and amassed a library of more than 9,000 previously aired episodes of series including The Young and the Restless and Madam Secretary. All Access is now available at CBS.com and on phones and just about every other internet-connected streaming device that exists.
At the start of 2017, CBS, following Netflix, Amazon.com, Hulu, and YouTube, began creating original streaming series. The network's first stab at an All Access-only show was The Good Fight, a spinoff of its critically beloved The Good Wife; it's now in production for a second season. Executives say the programming strategy for All Access is to target niches of passionate fans, who are likely to sign up for a specific show—and, they hope, stick around. CBS has since announced that future projects will go beyond broad comedies such as The Big Bang Theory. They include a drama from Ridley Scott and a series produced by Will Ferrell's production company, Funny or Die Inc.
Around the time Moonves green-lighted All Access, he started thinking seriously about what to do with the Trek franchise. He considered creating a new series on CBS or Showtime Networks Inc., the company's premium cable network. Moonves suspected he could sell the streaming rights to Netflix for a nice price. "I could have turned a profit in five minutes," he says. Instead, he decided to play the long game. All Access would get first crack at the Trekkies.

Discovery was shot in Toronto on a 46,000-square-foot soundstage. Visitors to the set of previous Trek series were often surprised by how small the ships were. But the bridge of the Discovery, the well-armored science vessel from which the show takes its name, is big enough to house a small army. The golden captain's chair sits in the center, surrounded by other chairs and side panels with tablets, analog buttons, levers, and joysticks.
The series is part of a new class of TV programs that have more in common with large-scale feature films than most projects on the small screen. Recently, networks have driven spending to record highs in an arms race to sign up more customers. Discovery cost as much as $8 million an episode. According to Variety, Netflix spent an estimated $10 million an episode on The Crown; Home Box Office Inc., about $15 million on Game of Thrones; and Amazon, about $5 million per half-hour of The Tick.
Discovery's producers commandeered five soundstages, including the largest in North America—enough space for the Discovery, a second starship, corridors, a jail, a mess hall, and a teleportation room.
Executive producers Aaron Harberts and Gretchen Berg took command of the series a year ago after co-creator Bryan Fuller stepped down to focus on another project. Writing partners for more than 20 years, Harberts and Berg have collaborated on shows including teen drama Beverly Hills, 90210 and Reign, a historical romance about Mary, Queen of Scots. Shortly after starting on Discovery, they got binders with tips about old episodes to watch and in what order. Trekkie friends dropped by their Los Angeles homes to walk them through classic storylines, suggesting they watch certain scenes as cautionary tales.
Trekkies are notoriously rabid. They saved the original Star Trek (1966-69) from cancellation by writing more than 100,000 letters to NBC, and several years later they persuaded President Gerald Ford to change the name of a space shuttle to the Enterprise. Berg and Harberts, both in their mid-40s, were not part of the cult. A year and a half ago, they had never set foot in a Trek convention, let alone spoken a word of Klingon. The producers have had to balance new storylines with the show's past. They want to satisfy superfans as well as casual viewers who couldn't tell a tricorder from a tribble. "Not having started this process out as Trekkies was a blessing," Harberts says. "It was important the show be appealing to people who love streaming entertainment."
Set 10 years before the original, Discovery differs from its predecessors in major ways. It's the first Trek with a black female lead—Sonequa Martin-Green as First Officer Burnham—which is a big deal for CBS, a company that's been pilloried for a lack of on-camera diversity. And while past series wrapped up storylines at the end of each show, this one weaves them across episodes. "The types of stories we tell and the structure of the season have been the most freeing parts of the streaming universe," Harberts says. "We have permission not to tie everything up with a bow."
To date, All Access has racked up about 2 million customers. The average age of its subscribers is almost 20 years younger than the typical prime-time CBS viewer, whose median age is 61, according to Nielsen Co. Executives say that, with the help of Discovery, All Access can blow past its target of 4 million customers by 2020. Future seasons are likely, Moonves says.
Michael Nathanson, a senior research analyst with MoffettNathanson LLC, says the All Access returns have pleasantly surprised investors. But CBS may have a hard time attracting and holding on to millions of customers if it releases only a few shows annually. Netflix is spending $7 billion this year on programming, almost half of that allotted for originals. In 2017 it will release more than 200 series, movies, and specials to try to minimize the number of viewers who quit after signing up. "What we learned from Netflix is you need to have something fresh every single quarter," Nathanson says. "Maybe every single week."
Although Netflix continues to pull in vast numbers of customers, the service, with a market capitalization of $84 billion, is cash-flow negative. Moonves, who says he's not competing head-to-head with Netflix, expects All Access to make a profit. "The business plan involves it being very profitable," Lanzone says. "If we hit our numbers, that's not going to be the issue. The issue is how big it can get."
CBS is taking a more measured approach to the international marketplace. The company will expand All Access outside the U.S. in 2018, starting in Canada, and has announced plans to sell the service in Australia. But Discovery won't be on those apps: CBS recouped some of its production costs by selling the international rights to Netflix for $6 million an episode. "Star Trek is going on CBS All Access for free," Moonves said at an investor conference last year.
So far, Discovery is off to a strong start. The episode that aired on CBS drew 9.6 million viewers. Afterward, Twitter, Reddit, and Facebook lit up with heated debates about, among other matters, the physical appearance of the Klingons—and to what degree the villains, a sect of Klingon extremists, are stand-ins for Donald Trump supporters.
More important for CBS, the distribution strategy appears to be driving curious viewers to sign up for the app. On the Monday morning following the premiere, CBS announced it had broken its record for the greatest number of All Access sign-ups in a single day. The network says it's gotten more subscribers in the past couple of weeks than during any other stretch, but it declined to share specifics. Although thousands of commenters on Reddit have complained about having to fork over $5.99 for yet another streaming service, "the response has been overwhelmingly positive," Lanzone says, "especially for a show people have historically psychoanalyzed at very deep levels." —With Felix Gillette