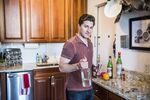 Before the Martini, There Was the Martinez
Gotham Bar and Grill's Jason Hedges takes us through the liquid inventory he keeps at home—and introduces us to his go-to cocktail.
As the bar director at Gotham Bar and Grill, Jason Hedges has the enviable, but daunting job of creating cocktails that are worthy of both the restaurant's Michelin star and the love it receives from locals and tourists alike.  
"I try to create the list just like [chef Alfred Portale] creates the menu," Hedges says. "He puts out really straightforward, quality, kick-ass plates. I try to make a quality drink that's balanced but interesting. My list is approachable, but it exposes people to things they might not discover on their own."
To wit, he describes having stayed up late the night before perfecting a drink that will shortly make a smash debut: the Ryes and Shine, with its revelatory fusion of whiskey, fresh watermelon, and black pepper.

Hedges's gig is also one that requires a mixologist to be, first and last, a classic barman, with an intuitive understanding of how any given customer might want her martini.
"You have to very much read between the lines," Hedges says. "If someone says, 'Give me a Grey Goose martini, dirty,' I'll know they want me to shake the hell out of it, but it wouldn't be what I would normally do. I stir all gin martinis, and as a rule, for vodka martinis, I just shake. Unless the person wants Stoli Elit. That's the paradigm."    

At home, Hedges makes his martinis with a 4-to-1 ratio of gin to vermouth for the sake of "the best balance." He drinks them with his wife, Sonya Barash, who's also his business partner at Bar IQ, a booze consultancy, in their cozy Park Slope apartment.
"I guess it was two years ago that I moved in," Hedges says. Turning to Barash, he adds, "I guess you've had the place for about four years probably."

Upon cohabitation, the couple's first bibulous order of business was to decimate a wine collection that Hedges, who previously worked as Gotham's sommelier, had built up over the years.
"Jason came in with a lot of inventory," Barash says. Hedges describes an extended housewarming party: "We drank a lot of Champagne and wine when I moved in because there was no place to store it."
He retrieves from the fridge a cabernet sauvignon hailed for its dark-fruit complexity and adds, "This is really the only halfway decent bottle that I have in the house right now. It's La Sirena."
First came love, then marriage, then a baby in a baby carriage—but not before Hedges's father built a wall unit to store their collections of books and booze. "We had to either move or figure this out," Hedges says. "We put this up, and that was the story. Pre-nesting construction." Cleverly, the television, mounted on a swing arm, swivels to reveal a fine collection of bitters and a full array of bar tools.
There's no special order to the bottles' arrangement on the open shelves and behind the cabinet doors, but there "are a few special bottles," Hedges says.

Gesturing toward a bottle of Macallan 25-year-old single-malt scotch, which retails for about $1,500, he says, "I got some things that I normally wouldn't have been able to because I sit on the judges' panel for the Ultimate Beverage Challenge with Paul Pacult. I was previously in the back of the house helping to set up blind flights, and at the end, there were all these spirits that were submitted and it's just, 'OK—have at it.'"

He'll take his extra-fancy scotch with a few drops of water, please. But Hedges's preferred preparation of whiskey is an Old-Fashioned cocktail. It's his favorite drink and one he prefers the old-fashioned way, sweetened with a lump of sugar rather than a dribble of syrup. "I like the texture," he says, while grabbing a muddler to pummel one with. "That's what I do at home. At work, when the bar is buzzing, there's no time to do that, so I'll use Demerara syrup."
And, at cocktail hours, what does he typically make for the missus?
"I'm probably making her a Negroni or a Negroni variation," Hedges says, before catching himself. "Oh, but she recently loves the Martinez." This delicious beverage—a precursor to the martini that relies on a sweetened style of gin called Old Tom—is a favorite of serious cocktail enthusiasts.
"It's the new trend!" Jason says. "We were visiting my sister in D.C., and we went to this really great cocktail bar called Barmini. It's a José Andrés bar. She ordered the Martinez—"
"Without knowing, I guess," Sonya cuts in. "And Jason's like, 'I'm impressed.'"
"She liked it," Jason says. "And I've been making them for her ever since."

Martinez Cocktail
1.5 oz. Old Tom gin
1.5 oz. sweet vermouth
0.25 oz. maraschino liqueur
1 to 2 dashes orange bitters
Stir well with ice. Strain into a chilled coupe and serve.