How the Boys Run Trump Inc.: With Other People's Money and Some Dubious Partners
Inside the empire, under new management.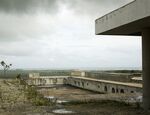 Days after a July visit from "Park Avenue," as he calls them, Dinesh Chawla points to where each of the Trump Organization's top hotel executives sat around his boardroom table, still sounding awed that the Trump team had come to tiny Cleveland, Miss. "When people find out who we are and who we're associated with, the buzz just goes around," Chawla says. A month earlier, in a Trump Tower press conference, Donald Trump Jr. had introduced Dinesh and his brother, Suresh, who own a chain of hotels across the Mississippi Delta, as partners who will turn four of their properties into Trump-managed brands. The deal immediately elevated them from the ranks of small-town hoteliers; Chawla recounts calls from bankers and Manhattan developers, attention from media outlets, and entreaties from local people looking for their own shot with the first family.
A nervous young couple are ushered in as Chawla is talking—a receptionist at one of his hotels and her fiancé, who sell food at festivals out of a trailer. They're pitching a pizza restaurant, to be called Yellow Brick Oven, for the Chawlas' newest hotel. Dinesh switches to the kind of withering, demanding-dad tone familiar from reality television—thanks, of course, to Donald Trump. "Whatever you do, it's going to be revised," Chawla tells the couple. "Now it's going to Park Avenue."
He's heard three or four such pitches a day—for permanent fixtures such as the restaurant and for events including dog shows, fishing competitions, and daiquiri-making lessons. Since the partnership was announced, he's taken the best of them to the Trump Organization (which is actually based on Fifth Avenue). The Chawlas' own plans have been polished, too, with advice from the Trump team. At the new project, here in Cleveland, a landlocked agricultural town of 12,000, he's changing course midconstruction to install a resort-caliber pool, place decorative balconies on the main building, and construct a hill for another building, a faux Southern mansion. The property's 17 acres will have a spa, bars, and a meeting hall styled as a cotton gin.
The Chawlas are paying the entire $20 million cost of the project; the Trump Organization will take a cut of sales once it opens. Chawla says it's well worth it. "These are really good ideas," he says. "It was going to be me and Buddy and Joe Bob." The relationship has been good for the Trumps, too. The chief executive of the hotel unit, Eric Danziger, says he flew to Mississippi in August to meet with more potential partners in the state; they contacted him after reading about the Trumps' plans with the Chawlas.
Trump, of course, pledged "no new deals" on Twitter soon after his election. In January he held a press conference at which, on a table to one side of the podium, he displayed stacks of manila folders apparently meant to represent businesses he would be separating himself from. In practice, he put his businesses into a revocable trust controlled by Donald Jr., Eric, and the Trump Organization's finance chief, Allen Weisselberg. He then watered the original pledge down to something more limited: no U.S. deals without "rigorous vetting" by a Trump-appointed ethics adviser, and no foreign deals with partners the company defines as new. As their first months running the company demonstrate, that gives the brothers all the room they need. While their father governs, and tweets, they are running the business pretty much the way Dad did.

Donald Jr., 39, and Eric, 33, present themselves as hard-working, toned-down versions of their father. A partner who negotiated a Trump hotel deal in Rio de Janeiro and got to know Donald Jr. and his wife, Vanessa, was impressed that they took away doggy bags from meals at fine restaurants and that she shared tips on washing baby clothes. "These are people who do their kids' laundry, so down-to-earth," says the partner, Paulo Figueiredo Filho. Trump's sons have each had more than a decade of experience working under their father, however. They've repeatedly pursued licensing arrangements in which they attach the family name to projects, generating cash without bearing much risk. They have a seemingly ad hoc, opportunistic style that's sometimes led to partnerships with questionable characters, including people barred for securities violations or sued for fraud. And they've walked away, leaving employees, customers, or business partners with the fallout.
At the moment, they're doing business with people they once said in court had blatantly ripped them off. Two weeks after his father was sworn in, Eric flew to the Dominican Republic to view a group of oceanside lots promoted 10 years ago on an Apprentice episode. The Trumps had licensed use of their name to a pair of developers, Ricardo and Fernando Hazoury, for a project called Trump Farallon Estates at Cap Cana. The Hazourys' late father was an endocrinologist who became well-known for his telethons to raise money for diabetes treatments and for opening a teaching hospital in Santo Domingo. In the early 2000s his sons bought a swath of undeveloped land, twice the size of Manhattan, along the eastern Caribbean coast and named it Cap Cana. The Trump estates were to be part of a vast resort. Much of it—golf courses, hotels, condominiums, and a big marina—was built, but where the Trumps promised an exclusive community, little has happened, despite $350 million in sales of lots to people from around the world.
None of that seemed to matter in February, when Eric sat over plates of grouper and beef tenderloin with the people he once called frauds in court and discussed a new plan, according to a person the Hazourys briefed on the visit. It's likely to involve at least three more projects at Cap Cana, says the person, who didn't want to be identified discussing confidential information. "This relationship remains incredibly strong, especially with Eric," the Hazourys said in a blog post that included a photo of Eric smiling with them.
In the U.S., Donald Jr. and Eric are courting their father's staunchest political supporters, taking their luxury brand downmarket with a plan to establish a chain of three-star hotels called American Idea, stocked with American flags, Coca-Cola machines, and other signifiers. They've also introduced a four-star chain, Scion. So far the only announced partner for either brand is the Chawla brothers in Mississippi.
The concepts started percolating before the election, Scion as early as 2015 and American Idea by the spring of 2016, when a trademark was filed for the name. If Trump had lost, it would have been a nifty way to monetize "Make America Great Again." Now, it's a test of whether a hospitality brand can survive a polarizing presidency—or cash in on one. Even if their father weren't president, the brothers would face the challenge of updating a brand that came of age in the '80s. The new chains are an initial stab at that. "The next generation was saying, 'What does it take to be a hotel company, which is different than being a brand?' " Danziger says of his conversations with the siblings.
But when one developer proposed an old brick hotel in St. Louis as a Scion location in November, protesters encircled it; the plan was abandoned. In Dallas, a letter-writing campaign and opposition from City Council members helped kill plans for another. In Toronto, the family's partners paid to remove the Trump name from a hotel. "Mixed" is how Danziger has summed up the hotel business. The company says several of the 14 hotels are having record years while others face challenges; it declined to provide numbers. Beyond the hotel business, the Palm Beach Post reports that 20 charities and other organizations have moved or canceled events at the Mar-a-Lago club in Palm Beach, Fla., since the beginning of the Trump presidency.
In addition to constant scrutiny for conflicts of interest, there's the added pressure, in Donald Jr.'s case, of congressional investigations of possible campaign collusion with Russia. Anyone who's watched his business career recognizes the meet-with-anyone impulse that landed him in those crosshairs.
The Saturday Night Live version of Donald Jr. is a self-confident fraternity bro who patiently hands snacks to Eric, six years younger. In their own narrative, Donald Jr. became Eric's mentor in a childhood defined by their father's workaholism and tabloid-scandal divorce from their mother, Ivana, when they were 12 and 6. "In a way, he raised me," Eric once said of Donald Jr. The elder son attended his father's alma mater, the University of Pennsylvania, but went the way of the prodigal, moving to Aspen to ski and party. He joined the family business in 2001.
Donny, as he's known to old friends, applied himself to some of the biggest Trump projects—construction of a Trump hotel on the Chicago River, conversion of the Hotel Delmonico in Manhattan to a luxury residential property, and commercial leasing of 40 Wall Street and Trump Tower. A former Trump Organization executive says he was effective in public meetings. He was seen to speak for his father and worked harder than one might expect of an heir in his 20s, says the former executive, who declined to be named while discussing internal company affairs. But the success of The Apprentice brought with it a wave of offers from shady partners that the Trumps couldn't resist.

In 2006 there was Trump Mortgage LLC, run by an acquaintance of Donald Jr.'s who was billed as a former "top executive at one of Wall Street's most prestigious investment banks." Money magazine later reported he'd been a registered broker at Morgan Stanley for six days. The business shut within 18 months. In 2010, at the height of desperation in the job market after the Great Recession, Donald Jr. lent the family name to Cambridge Who's Who, a directory of business professionals. Former telemarketers recall dropping Donald Jr.'s name while trying to sell memberships at $1,000 (then $600, $300, and finally $99). The company, run by someone who'd been barred from the securities industry for hiring an impostor to take his exam, later paid $29,500 to resolve an investigation by Oregon officials who accused it of using high-pressure sales tactics to deceive customers. (The company admitted no wrongdoing as part of the settlement.)
By then, Donald Jr. had moved on to another gig promoting a maker of mobile applications whose main asset was a patent it used to sue dozens of much larger companies. In an appearance on Fox Business, Trump's son called the company, MacroSolve Inc., "true innovators" and said "we"—presumably, his family or the Trump Organization—"have money in the company." Filings show he'd actually received $45,000 in cash and stock valued at $750,000 in 2011 for "public relations and marketing promotion services" from the company. The strategy of relying on lawsuits failed, and the company sold the apps unit.
At the time, the future president was pushing to put his name on more buildings around the world, especially in newly rich countries such as Brazil and Russia, which had a slice of the world's ultrawealthy but no Trump towers. In 2012 the Brazilian developer Figueiredo secured a lunch meeting with Don Jr.'s sister Ivanka at Trump International Golf Club in West Palm Beach. A helicopter landed nearby, and Donald Trump himself joined them. Figueiredo told Trump he loved The Art of the Deal. He's a fan of Trump's politics, too. "This was a dream for me," Figueiredo says.
For eight months, Donald Jr. took the lead in negotiating a 400-page, 20-year licensing and management deal to run the hotel Figueiredo was building. "He's a very tough negotiator," Figueiredo says. "Tough but fair." At one point the deal almost collapsed over Donald Jr.'s insistence on a Cadillac Escalade to ferry guests; the car isn't sold in Brazil, and getting one there would have cost $300,000. "It was, like, insane," Figueiredo says.
Donald Jr. eventually accepted another luxury vehicle. But the deal fell apart for other reasons. In October 2016, Brazilian prosecutors revealed a criminal investigation into whether a fund that owns the hotel had bribed two state pension funds in exchange for investments of $41 million. (Figueiredo, who left his post as executive director of the hotel company in late 2015, says he did nothing wrong and hasn't been contacted by prosecutors.) In December the Trump Organization said it would pull out of Rio, citing construction delays and a general "housecleaning" of properties. The company said in a statement that it had performed extensive due diligence on the Rio hotel. "We had no knowledge of any irregularities with respect to the project prior to the announcement of the investigation," the company said.
Eric Trump has a reputation as the most easygoing of Trump's three older children. But he shares the family taste for hard bargaining. One of his first Trump Organization deals, soon after graduation from Georgetown University, was Trump Farallon, the development at Cap Cana. Eric, Ivanka, and the future president were there on May 23, 2007, to court potential buyers during a highly orchestrated sales marathon. Brokers had hyped the event for months via slick videos in Russian, English, and Spanish. Donald Trump himself offered the winning participant of that season's The Apprentice a job overseeing construction of Trump-branded golf courses, hotels, and condos at Cap Cana. "It's going to be amazing," he declared on the show.
The setting for the sales event was impressive enough: big lots on the edge of a cliff with sweeping views of the beaches and the azure Caribbean beyond. Hank Van Joslin, a Houston-based broker who was there, says it was the Trump name that closed the deal for many people. "This was, 'Hey, we have the Trump brand up here,' " he says. "It was the top of the top of the top." William Ganz III, a real estate developer from Baltimore, was one of the believers. He'd seen a Cap Cana booth at a trade show and hit up Van Joslin for a tour. Ganz was convinced he could buy a lot, build a 35,000-square-foot mansion, and sell it to a billionaire. "This was the dream of a lifetime for me," says Ganz, now 40. "It was a one-of-a-kind opportunity, something the richest people in the world would love to have."
He put down a $100,000 deposit to get a place in line to bid that day. The buzz was crazy, with helicopters ferrying potential buyers to the site from the airport at Punta Cana, 9 miles away. The Trumps held court at a pop-up sushi restaurant near the helipad. All but one of the 68 lots sold in four hours. Lot No. 5, 1.6 acres stretching from the road to a rocky precipice with postcard views of the Caribbean, went to Ganz for $2.7 million.
These days, Trump Farallon Estates at Cap Cana would make a good set for a post-apocalyptic film. Signs that once bore the Trump name are punched through with trees and weeds. Ganz's seven-bedroom mansion is frozen midconstruction, swarming with bugs, exotic birds, and rustling critters. Ganz's voice still shakes when he describes the experience. He doesn't blame the Trumps or the Hazourys; he blames the recession. "We had this awesome opportunity but just couldn't finish it," he says. "It's really the only regret I have in life." He has abandoned his investment; other buyers are pursuing the Hazourys in court.

The Hazourys, in a statement, also blame their financial woes on the global meltdown, not any wrongdoing. But multiple investors in Cap Cana's myriad developments, and the Trumps themselves, accused them of deceit and fraud. In a 2012 lawsuit filed in federal court in New York, one of the Trumps' business units, Trump Marks Real Estate LLC, said the Hazourys engaged in a "fraudulent scheme" to avoid paying $14 million in licensing fees. In a signed declaration, Eric wrote that the only question was "whether the Individual Defendants used this scheme to float their personal lifestyles, or whether they funneled Trump Marks' money to other projects that were more profitable to them personally."
The Trumps settled the lawsuit in 2013. This February, the Hazourys showed Eric their Jack Nicklaus-designed golf course and huge marina. Trailed by a Secret Service detail, Eric and the Hazourys dined at the polo grounds. With the suit settled, the Trumps are again in a position to make money. Last year the Trump Organization received $2 million from the Hazourys, presumably for licensing their name. They now have land at Cap Cana. Abandoned and overgrown though it may be, it's valued at $5 million, federal disclosures show.
In 1785, King Louis XVI gave Benjamin Franklin, then ambassador to France, a portrait framed with 408 diamonds. Gifts of this type were so common (John Jay got a horse from the king of Spain) that it led the framers of the U.S. Constitution to bar such foreign emoluments without the consent of Congress. The Trump International Hotel in Washington has become the lightning rod for critics who see violations of this principle every time it hosts a party for the Kuwait Embassy or a council on U.S.-Turkish relations. Trump has promised to donate profits from foreign governments to the U.S. Treasury. But there's another clause of the Constitution known as the domestic emoluments clause. It says the president shall not receive any emolument, other than fixed compensation, from "the United States, or any of them." That will invite more controversy if, say, Mississippi Governor Phil Bryant, a political ally, hosts an event at the Chawlas' new Scion at West End when it opens in early 2018. The Trump Organization did not respond to questions about whether profits from domestic government sources will also be donated to the Treasury.
Donald Jr. and his father met Suresh Chawla at a fundraiser Bryant organized last year for the candidate. The Chawlas had come to the governor's attention because of a letter Suresh wrote to a Mississippi newspaper about a long-ago call Trump made to their father, a convenience store owner, giving him advice on how to get a loan. That inspired their father, they say, as he built his hotel business and passed it on to his sons, who now own 17 hotels in the Delta, among them Hampton Inns, Comfort Inns, and other franchises. "Donald Jr. really liked the story; he doesn't hear a lot of positive things, I guess," Dinesh says. "You know, we were happy to supply it."
During the fundraiser, Suresh also told Trump Sr. about their plans for the Lyric Hotel & Spa, next to the newly opened Grammy Museum, and Trump advised him: "Whatever you do, think grand." Suresh told a Mississippi business publication about this conversation last year, and said it helped convince him and his brother to invest much more than the $8 million they'd initially committed. This March, Trump's team contacted the brothers to talk about American Idea. The Chawlas agreed to convert three of their hotels after the current franchise agreements expire. They also sold the Trumps on letting them finish the Lyric as the first Scion.

At a recent Rotary International meeting at the Cleveland Country Club, lunch is pork chops and the feature presentation is on preventing diabetes. Dinesh sits with a group of business pals, and they hang on his words as he describes the breakthrough pitch meeting at Trump Tower. He was showing slides of the unfinished Lyric, he says, when Donald Jr. walked in, wearing a dark suit, an open-collared shirt, and soft Italian leather shoes. The famous heir asked Chawla this question: "If you were a guest at this property, where would your favorite place be?" Chawla responded, he recounts, with a long speech about sitting on a lakeside pier, legs dangling over the edge, holding a long-necked beer in one hand and throwing a ball for his dog with the other. Trump's son replied that he loved the idea; on vacations he often heads straight from the airport to some remote spot with beautiful scenery where he can shoot a picture and share it on Instagram.
The boxy, three-story shell that will be the first Scion is rising in a field in sight of a dollar store. The lake for the long-necked beers is still a 2-acre retention pond. Walking around the property the day after the Rotary meeting, Chawla shows where Trump's people told him to rip out a wall. He'd planned to have a formal registration desk; instead, greeters will sit guests down on couches and check them in with iPads. The hotel will be the biggest in the city, with 95 rooms. Chawla sees a great opportunity to attract conference business and to market the bars and restaurants at his property, a short walk from the football stadium at Delta State University, as a postgame venue.
The Scion will be one of the few hotels in the area that isn't part of a bland chain operation. The nicest place in the Delta is the 50-room Alluvian Hotel, opened in 2003 by Viking Range LLC in Greenwood, where the maker of pricey ovens is headquartered. It's here that officials from the Mississippi Development Authority gather in July for a conference on entrepreneurship. During a break, as attendees mix in the hotel lobby, Joe Donovan, director of the state agency's Entrepreneur Center, says he's excited about the Trumps' involvement: "That tells you a lot about Mississippi's future," he says. "You have a large, well-funded, sophisticated, New York City group looking to invest a significant amount of money in the Mississippi Delta."
Of course, New York is contributing mostly a famous name. It's the Chawlas whose money is on the line. —With Ezra Fieser and Hui-yong Yu
— With assistance by Ezra Fieser, and Hui-yong Yu