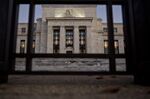 Inside the Fed's July Meeting: The Annotated Minutes
What's needed for a third rate hike in 2017?
Persistently soft inflation has investors doubting that the Federal Reserve will make good on its plan to deliver a third rate hike this year.
The minutes from the central bank's July meeting, released on Wednesday afternoon, may shed some light on how many Fed officials are committed to further rate increases in 2017 — and whether some are waiting on a pickup in price pressures to justify such a course of action.
In the statement from July, when rates were unchanged at a range of 1 to 1.25 percent, the U.S. central bank acknowledged that a drop-off in price pressures wasn't a recent development. Data since that release have only served to affirm this shift in language, with core inflation coming in below expectations for the fifth straight reading in July.
Odds of an interest rate hike in December sit at roughly two-in-five ahead of the minutes.
This communique may also offer some confirmation that an announcement to begin balance sheet normalization will be coming next month. That's the current expectation of economists and market participants, an assessment New York Fed President Bill Dudley said wasn't "unreasonable." The July statement suggested this process could start "relatively soon."
Follow along as we annotate the minutes.