This American Town Was Left to Die, and Suddenly Economists Care
Despite excellent job reports, parts of America have been in recession for years. Until recently, economics ignored inequality.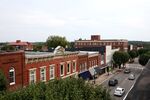 Suppose a bunch of economists were to show up in the Virginia town of South Boston to preach the benefits of free trade. How would local people react? 
In an old, red-brick tobacco warehouse near the Dan River, W.W. "Ted" Bennett Jr. ponders the question. The former state delegate looks over his shoulder, squints a bit, then says with southern understatement: "I think it would be pretty rough."
After decades of hewing to free-market fundamentalism on everything from trade to deregulation, mainstream economists are waking up to the distributional consequences of the policies they've championed. In towns such as South Boston, the profession's newfound empathy is probably too little, too late.
The community of about 8,000 people in Halifax County lost manufacturing jobs, of course, but that's not all. One source of family income after another disappeared. Some of the results are visible at street level: closed car dealerships, empty downtown storefronts. Others aren't: a shrinking workforce (in Halifax County, down by almost one-quarter since the early 1990s) and tax base; missed payments to hospitals and stores.
In effect, a rolling recession that's lasted the better part of two decades.
Both American political parties held power during that time, and both pursued a policy mix—endorsed by cutting-edge economics—that's become known as neoliberalism. Welfare budgets were cut, social programs were scrapped, big finance was given free rein. Above all, the economy was opened up to trade with China and Mexico.

Washington think-tanks pushed trade as a panacea. It would create "prosperity that benefits every citizen," the Heritage Foundation wrote in a memo for policymakers in 2000, amid negotiations to bring China into the World Trade Organization.
The perspective in South Boston is different.
"They threw us to the wolves; we didn't count for anything; they didn't care," says Tom Raab, South Boston's town manager.
No wonder the county swung to Donald Trump. It was a vote by the aggrieved against Washington dogmas and the politicians who parroted them. And people in South Boston are closely watching the chaotic stalemate that's ensued in the capital. If tangible fixes don't arrive, the district could be up for grabs again.
The presidential election "was not about a party," said James Halasz, the county administrator in Halifax, whose office is near a Burlington Industries Inc. plant shuttered by the textile maker in 2002. "It was about: Did we think the government solved the question of what comes next for rural America—small towns and cities, declining communities," he said. "The answer was a resounding no."

In the years after the North American Free Trade Agreement came into effect in 1994, jobs in Halifax County were annihilated. While national unemployment was trending toward a three-decade low, the rate in Halifax County spiked to 13.9 percent. The pattern was repeated a few years later after China's entry into the WTO.
While all this was going on, economics mostly turned a blind eye—to its lasting discredit, according to a couple of Nobel prizewinners.
Economists always understood that trade would create losers, Joseph Stiglitz told the National Association for Business Economics in March. There's even a theorem for it. But, as part of the effort to generate political momentum for trade deals, science gave way to sloganeering. "If you dared to question the belief in free trade, you would lose your union card as an economist," Stiglitz said.

Paul Krugman, who won the Nobel for his work on trade theory, said the best economic models don't predict a win-win outcome from trade deals. "But the public thinks that's what economists say"—and with good reason: "All too often, in the public sphere, that is what they say."
Two hours drive from South Boston, at the University of Virginia in Charlottesville, John McLaren was among the small school of economists worrying that overall gains from trade were smaller than his colleagues suspected—and the local impact much worse. His work showed that when a wave of imports arrives, job losses spread far beyond the directly affected industries.
The problem, McLaren said in an interview, was that it was difficult to get a hearing for such ideas. They were drowned out by "the missionary school."

Since well before Trump's shock election win, the missionaries has been coming under challenge. There are many causes and symptoms; underlying them all is the simple, glaring fact that income distribution in the U.S. continues to get worse.
The global crisis of 2008 exploded the credibility of mainstream economists who didn't see it coming. "Capital in the Twenty-First Century," a 2013 book by France's Thomas Piketty that described the skew between labor income and returns to capital, was an unlikely bestseller. The International Monetary Fund, a citadel of market orthodoxy, published an essay last year co-authored by deputy director Jonathan Ostry and titled "Neoliberalism: Oversold?"
The Federal Reserve has gotten in on the act. Minutes of the June 2016 policy meeting referred to black and Hispanic unemployment rates for the first time. They continue to do so. In the past year, the Philadelphia and Minneapolis Feds have set up institutes to study inequality and social mobility.
In November, the Peterson Institute for International Economics—Washington's most reliable advocate of trade liberalization—co-hosted a conference on inequality and inclusive growth. "Inequality denial is basically in retreat," said Jason Furman, a Peterson senior fellow who was President Barack Obama's chief economist.

South Bostonians might ask: So what?
Some economists may be changing their tune, but much of Washington is still singing the old one. The Republican Party remains in the thrall of fiscal austerity, so the question of how to compensate or retrain workers usually leads to a dead end. Most Democrats stand by the trade deals signed on their watch.
The repair job underway in Halifax County owes little to political ideology, or to economists. It's a patchwork of self-help.
Authorities scraped together money wherever they could find it—state and federal aid, tobacco settlement funds, private donations. Town leaders reached into their own pockets.
Some manufacturers are still around, from sports-car maker TMI AutoTech Inc. to Swiss industrial giant ABB Ltd. Both received incentives after expanding investment and adding jobs, the county industrial development authority said. The companies' long-term plans for the region might hinge on whether the local workforce has the right skills; so South Boston and the county turned two former tobacco warehouses into a higher education center, offering college courses and vocational training, from nursing to welding to IT. Technicians trained there are getting hired at Microsoft Corp.'s data center in a neighboring county.
"There is a huge desire to succeed and establish a better quality of life for people in the region," said Tommy Nelson, executive director of the Southern Virginia Higher Education Foundation.

It might be working. The jobs gap has closed. Halifax County now has 5.1 percent unemployment, only slightly above the nationwide rate of 4.3 percent, though emigration has helped bring the figure down.
According to one version of neoliberalism, the emigrants had the right idea.
In a March 2016 article, the conservative National Review magazine analyzed the problems of "poor white America," from family breakdown to drug abuse. "The truth about these dysfunctional, downscale communities is that they deserve to die," it concluded. The people who live in them "need real change, which means that they need U-Haul."
Nelson's family owned a tobacco warehouse in South Boston, steps away from his office, for three generations. The entrepreneurs of an earlier era—small plot farmers—showed up here with their leaf, which was then put up for sale by chanting auctioneers.
The building has been converted to apartments. A basket that once carried the dried leaves is on display in the large, open lobby, which preserves the original wood floors and beams.
Globalization is sometimes celebrated for the "creative destruction" it brings. South Boston's residents and leaders have had enough destruction. They're trying to transform their community instead—one enterprise, one worker, at a time. Nelson, speaking about his family's tobacco warehouse, could be speaking about the town.
"I remember my mother saying, 'Tommy, whatever you do, don't let them tear it down,"' he said. —With Catarina Saraiva