Even Immigrant Managers Fear Brexit These Days
U.K. businesses are struggling to replace the migrant workers who take on jobs Brits just don't want to do.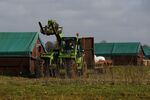 When Gregory Migut landed a job at Traditional Norfolk Poultry last year, it was the latest step in his climb from near-penniless immigrant to middle-class manager, 12 years after he left his native Poland.
He oversees 13 free-range chicken farms roughly two hours northeast of London and a staff of about 25, mostly fellow Poles. He owns a house, where he lives with his wife and two daughters, both born in the U.K.

Instead of feeling like he's made it, he's fretting about Britain's impending departure from the European Union, which throws in doubt his ability to stay in the country. He's one of 3 million EU citizens whose fate will depend on the outcome of negotiations between the U.K. and the EU that are just getting underway. Prime Minister Theresa May has proposed that EU citizens who have lived in the U.K. for five years before an unspecified cutoff date be given permanent residency.  The proposal hasn't been finalized with officials in Brussels.

Migut should qualify, but he says the thoughts racing through his head are the same as for most of the EU migrants who work with him, many of whom have had multiple jobs and moved around: Do I have all my payslips? How much will it cost? "What if I can't prove year three for some reason?" he asked. "It will be stressful for loads of people."
Curbing immigration was a key motivator for many Britons who voted last June to leave the EU. Roughly 1.3 million citizens from east European countries, including 800,000 Poles, are living in the U.K., the result of a surge in arrivals after the visa-free EU expanded in 2004, according to official statistics.
The potential departure of EU migrants means tough times ahead for countless British businesses, including Traditional Norfolk Poultry, one of the companies Bloomberg is tracking through the Brexit process. Set in rolling farmland in East Anglia, the company relies heavily on migrant labor to oversee the farming and processing of more than 5 million turkeys and chickens every year. And it depends on people like Migut to recruit and manage workers who often don't speak much, if any, English.

"It's getting worse and worse. We just can't find people," said Mark Gorton, the company's co-founder. "They're just not there to recruit."
Gorton says he and his staff talk about trying to hire more Brits at their weekly meetings, but they can't even find enough east Europeans to fill vacancies. He tries to move workers off of the minimum wage—7.50 pounds ($9.80) an hour—as soon as he can to retain staff. He's done away with the requirement that all workers speak English as he struggles to find people. His big worry is December, when he kicks into holiday overdrive, relying on seasonal labor to produce enough turkeys for Christmas.
Gorton runs arguably one of the cleanest, most chicken-friendly, high-tech poultry processors in the U.K. What he sells is a far cry from the chlorine-rinsed American chickens that could hit the British market if the U.K. and the U.S. reach a bilateral trade deal post-Brexit. The EU bans poultry imports that are rinsed in chlorine. 
Still, it's stomach-wrenching stuff. Behind his office is a white hangar the size of a football field that workers enter by stepping into multiple sanitation foot pools, guided by instructions in Polish and Lithuanian. On a hot June day, forklifts ferry blue crates full of hundreds of hearty Norfolk free-range chickens, some from farms Migut manages, to Britain's most humane approach to slaughter: being slowly put to sleep.

Three men, all Poles, wearing red hairnets, brown one-piece uniforms and wellies, stand on a platform, hanging the slaughtered chickens from their feet onto mechanized racks that zip down to another room. There, they'll be plucked, gutted and quartered. The cement floor is wet with blood, while chicken feathers are bulldozed into a corner. It's repetitive, manual labor and most Brits just don't want to do it.
Migut counted himself lucky when he arrived at the company after starting out in the U.K. 12 years ago at a pork-packing factory in Thetford, about two hours northeast of London. He says he spent his first years in a "work, sleep, work, sleep" mode, saving money and improving his English. He worked his way up to manager at an nearby egg-packing facility. All of it was an improvement on a string of low-paid jobs he'd had in his native town of Rzeszow in southern Poland.
Dressed in a blue button-down shirt and khakis, with short cropped brown hair, Migut, 39, looks more like an accountant than a farmer. He's worried about the whole application process and what he'll have to show to prove residence. His fellow Polish and Lithuanian workers are even more frantic.
Even if the cutoff date is set for March 29, 2019—the best-case scenario—hundreds of thousands who have arrived more recently than Migut won't qualify. One worker told Migut he will have been in the U.K. for four years and 10 months by that date and fears he'll be forced to go back to Poland. "If he has to leave, he will," Migut said. "I'm worried that there will be an exodus of people in two years."
Migut and his co-workers still have unanswered questions. How much will they have to pay to apply for permanent residency? It currently costs 2,297 pounds for an application for indefinite leave to remain, the U.K.'s permanent residency status, according to Free Movement, a non-profit set up by immigration lawyers to provide advice. That's a price tag that Migut, even with his job as a manager, would struggle to pay for himself, let alone for his family.
Migut also knows of people who lived here for six years but went back to Poland for six months in the middle because they couldn't find a job. He wonders how they'll be judged.

Gorton says he's prepared to help with applications for his employees, but he'd probably have to hire someone to do just that, driving up his costs. He's already been forced to raise prices because the 11 percent drop in the pound against the dollar since Brexit has raised the cost of feed and packaging.
The currency's decline also has many migrant workers looking for jobs elsewhere, in Germany or France, Migut says. The euros they'd earn there buy more Polish zloty to send back home. Around 20 of the company's 250 employees have gone back to eastern Europe. The labor shortage, meanwhile, has forced Gorton to invest in automation and efficiencies. He's in the process of installing a 2 million-pound automated handling system in his 70,000 square-foot factory just to eliminate six to eight jobs. He doesn't expect the labor shortage to end anytime soon.
"People don't appreciate and respect the challenge and upheaval it is for these people. They think, 'They're east European, they're here to earn easy money,'" Gorton said. "They're earning money to send back to their families because there's no money where they are. Put yourself in that position, where you have to leave your home and your children and come to a foreign land just to earn enough money to let your family survive. It's a big thing."