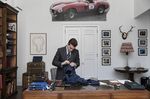 Huntsman Brings Its Savile Row Style to a Stateside Audience
The 200-year-old tailoring institution is the first of its kind to set up a permanent beachhead in the U.S. Will it work?
Zachary Peck steps into a gently burbling cocktail party at the Huntsman tailoring headquarters in New York wearing a button-front shirt and Irish linen trousers. Tall and lean, with narrow shoulders and scrubby blond hair, the Angeleno looks every bit the 25-year-old part-time model that he is—a handsome illustration of nonchalance.

It takes only a moment, though, before a neatly suited Huntsman employee speeds forward to slip a beautifully cut, bright blue single-breasted silk-and-linen blazer over his ­shoulders. Immediately elegant, the young gentleman is recognizable as someone else: the dashing grandson of screen legend Gregory Peck and an inheritor of his impeccable dress sense.
It's wonderful what a bit of suiting can do, or at least that's what Belgian financier Pierre Lagrange is hoping to convince Americans. In 2016 he brought his Savile Row tailoring outfit, Huntsman & Sons Ltd., to the U.S., opening a small appointment-only shop in an apartment building on West 57th Street in Manhattan. Since the 1800s, Huntsman and other bespoke foreign tailors have undertaken yearly tours of the U.S., but in an unprecedented development, Lagrange established a permanent home away from home. "The whole idea was, OK, we've got a lot of American clients who can't come to London as much as they should," says the long-haired hedge funder. "They will come 5 or 10 times more often to us in New York." Think of it from the ­client's point of view: the privacy, the convenience, the savings on Gulfstream jet fuel.
Lagrange has now moved the operation into a larger space in the same building, an area generous enough to accommodate one client in a sitting room while the staff takes the ultra-precise measure of another in the fitting room. Huntsman is calling it a ­pied-à-terre. A further goal of the space, beyond serving exi­sting clients, is to lure new ones from among the finance types who wander the neighborhood. The devotees of Brioni's custom-­tailoring unit are an obvious target; customers of the famous shops on Madison and Fifth—Tom Ford, Dior, Armani, Prada, Ralph Lauren—are, too, though they may require a bit more ­persuasion to upgrade to bespoke.

Huntsman began in 1849, when one Henry Huntsman incorporated a Victorian breeches maker, diversified its offerings, and soon became the favorite equestrian outfitter of Queen Victoria herself. All manner of qualified superlatives have been piled on in the decades since. When discussing the group of traditional tailor shops housed on and near Savile Row in the West End of London, people say Huntsman is arguably the best, ­superior to the esteemed likes of Henry Poole & Co., Anderson & Sheppard, and Dege & Skinner. Clotheshorses know that its riding-­inspired signature style—a one-button coat with slant pockets, side vents, a defined waist, and a strong but supple shoulder line—makes it "undeniably the house with the strongest visual signature," as author Nicholas Foulkes has said. Addicts moan that it's definitely the most expensive, with two-piece suits starting at £5,250 ($6,784), compared with about £4,650 at Anderson & Sheppard, for instance. Under Lagrange, who purchased the house in 2013, it's surely the most dynamic.
During the cocktail hour celebrating the New York opening in late June, the pied-à-terre was decorated with suit ­patterns made for notable clients—cut paper marked with names including Ronald Reagan, Gianni Agnelli, Lucian Freud, and Lauren Hutton. The patterns are always there, but for the occasion, they added one from the early 1990s labeled "Dr. Henry Kissinger" and placed it adjacent to a herringbone jacket made from the outline. "It didn't really fit on the mannequin," Lagrange says. "We had to pin it quite a lot."
But these august names aren't precisely visions of contemporary style. To get a sense of where Huntsman aspires to go, you need to turn to a set of shelves laden with upwards of 10,000 fabric swatches and look among them for framed photos depicting more recent customers, such as the actor and designer Waris Ahluwalia and the banking heir James Rothschild, seen with his wife, Nicky Hilton. You also need to chat with a new guy in town—Ralph Fitzgerald, the cutter-­in-residence. With his personal wardrobe of 20 Huntsman suits, the native Londoner isn't just a craftsman but something of a bespoke spokesmodel. "If I'm seeing new ­customers, I want to showcase what I do," he says, while wearing an old-school worsted-­wool suit with a glen check. "I've taken two orders of a very similar cloth, with very similar styling, today. Just from me wearing it. It's mad," he continues.
"More than half of the new clients since the beginning of the year are between 20 and 35," says Ed Turco, Huntsman's U.S. ­director. He gave the example of two who are friends, both of them Connecticut physicians in their late 20s. "They're wearing John Lobb shoes and Audemars Piguet watches. They're very research-­oriented, and they want value for their money. They've done Armani and looked at Kiton, and then they go on the internet and find us."
As for the young Peck, he's been a natty dresser for years, sometimes borrowing from his grandfather's collection of about 100 Huntsman garments (which includes the tuxedo the actor wore to collect his Oscar for To Kill a Mockingbird). His Huntsman coat is made-to-­measure rather than bespoke—built from a modified standard pattern rather than one made entirely from scratch. "I'm still aspiring to become the good customer I'd like to be," Peck says. But not everyone of his age has such a sartorial genealogy. Where do his friends buy their suits? "I'm from L.A., so …" he says, unsure. His father—Anthony, clad in a mohair Huntsman suit inspired by one made for Rolling Stones drummer Charlie Watts—guesses Gucci. The son tentatively ­suggests Tom Ford. But his friends don't even really wear jackets, if he's being honest.

When talking about suitmaking, we tend to speak casually of the tailor, but the cutter is the man on the floor with the tape measure and the swatches of fabric and the talent for managing the ­client's irregularities of figure and ­particularities of taste. In the second half of the 20th century, Huntsman's reputation was secured by head cutter Colin Hammick, often characterized as the greatest of all time. In its 2008 obituary, the Times of London described him as exemplifying "the traditional British virtues of order, sobriety, and elegance that are conventionally associated with Savile Row tailoring."
"When I started, I used to ask, 'Who's the best cutter in the West End? Who's the best coatmaker?' " Fitzgerald says. "It would always be some git in Huntsman, always, whoever it was I'd ask. It'd always be, 'Colin Hammick is the best cutter ever.' And he was. I've seen his patterns. I go down on my lunch breaks, and I get out his old patterns, and it's like a work of art."
Hammick's 1994 retirement happened to coincide with a general downturn on Savile Row as houses struggled to adapt to modern business realities and postmodern manners. Some consolidated; Huntsman fell into the hands of an investment-­management company. Enter Lagrange, who is punctilious and peacockish in equal measure, with a rakish mane of sand-and-silver hair flowing from a great head for numbers. While you may know him from business news as a co-founder of the hedge fund GLG Partners, he's most familiar to the tabloid press for his divorce from his wife, Catherine. Upon coming out as gay and taking up with a couturier named Roubi L'Roubi, Lagrange paid the mother of his three children a divorce settlement of £160 million. The split was amicable; for instance, on the occasion of their 2010 separation, the Lagranges exchanged Ferraris as a token of respect. It was also fortuitous in that it opened an opportunity for Lagrange to buy Huntsman, a purchase first proposed over a holiday dinner in 2012. "It was Christmas in Ibiza with friends who were shareholders in a private equity group," Lagrange says. "My partner was a tailor, so I bought it for him. It came down to love, but initially it was not love of the business."

L'Roubi's tenure as Huntsman's ­creative director was distinguished ­primarily by its lack of distinction. He earnestly proposed a return to the house's breech-making roots; the couple gave joint interviews too ­embarrassing to summarize. Lagrange concedes he was "an idiot" when he had his first Huntsman suit made after buying the company: "I broke every rule without knowing. If it had been somebody else, they would have tried to discourage me." His breakup with L'Roubi in 2015 opened the way for Campbell Carey, respected for his work elsewhere in the West End, to join Huntsman as co-head cutter and creative director.
While Savile Row cognoscenti analyzed all of that minutiae, the general public paid scant attention, busy as they were associating Huntsman with Kingsman: The Secret Service, a 2015 action movie in which it prominently figures. The plot involves a group of James Bond-like secret agents who operate out of a Huntsman-esque storefront. (The real shop served as a location; star Colin Firth suavely saves the world in Huntsman-inspired togs.) Even before he got into the clothing business, Lagrange knew the writer-­director Matthew Vaughn from producing his films ­Kick-Ass and ­Kick-Ass 2; as it happened, Vaughn was already a client and superfan of the brand.
"It was a coincidence," Lagrange says of the synergy. He remembers telling Vaughn that he'd bought the house and hearing the reply, "I'm gonna send you a script of the next thing I'm working on. It all happens there." Lagrange wasn't one to let such an opportunity slip by; he now sells a bespoke version of a chalk-stripe suit from the movie, which itself was inspired by a Huntsman outfit famously worn by Winston Churchill. The trailer for this fall's sequel, Kingsman: The Golden Circle, depicts Huntsman's London shop being blown to smithereens, and the script has characters speaking of a U.S. safe house. A pied-à-terre, you might call it.
But Lagrange isn't content to wait for that publicity opportunity. Having decided that Huntsman should be Savile Row's most disruptive house, he's commissioned coats lined with reproductions of pieces by artists including Ed Ruscha (for the benefit of charity) and Francis Bacon (for himself, from a painting he owns, with the permission of Bacon's estate). He outfitted a classic Airstream trailer entirely in Huntsman tweeds; it will be available for rent if "you want to live the Huntsman lifestyle for a week"—unless Lagrange himself is occupying it at Burning Man. In June, Huntsman created a succès de scandale at the Royal Ascot race meeting, which has a fiercely regulated dress code, by sending its head of communications, a great-­granddaughter of Lord Mountbatten, out to the track in a gentleman's morning suit by Huntsman and Christian Louboutin heels.

"I could have been a doctor for the amount of time it's taken," Fitzgerald says of his rise to the position of cutter. He turned 23 in December. "I started when I was 16," he explains. "I was doing a vocational course in fashion and clothing, but I really wasn't learning anything. I felt I was learning more on my weekends doing interns' bits and bobs." He apprenticed under Carey at another shop and followed him to Huntsman two years ago, pleased to receive the culture shock of its proper manners and ­mounted-stag's-head mood. "It's much more of a military operation," Fitzgerald says. "You know, 'Yes, sir. Of course, sir.' It's fantastic. I always dreamt of working on Savile Row, and Huntsman was always the one."
"Americans, I've found, it's a ­different customer," Fitzgerald says. "They're more entertaining, and what they want in clothing is very different to what Londoners want in ­clothing. Fitwise, what they're after, it's all about comfort and not being restricted, so finding a balance is really interesting here. Londoners want something to look really sprayed on, but here they still want the best of both worlds. They want it comfortable and fitted, so you have to have areas in the garment that's got excess cloth. So it's trying to find out where to put it."
At the party, Fitzgerald keeps edging toward the palatial workspace of two hulking cutting tables built in London and shipped stateside. He's antsy to get back to it, even after a workday that began with a 7:30 a.m. appointment with an architect—a lapsed client brought back into the fold by U.S. director Turco. Later, the two attended to the first fitting for a Nebraska jewelry shop manager who'd won Huntsman's Christmas Tweed Competition—a design-your-own-plaid contest judged by Lagrange and a panel of colleagues and British social figures.
"It's starting to actually feel like a proper home-from-home," Fitzgerald says. "I'm the luckiest cutter in the world. I got two huge cutting tables. All to myself."