Indivisible Aims for the Ballot
Can the progressive opposition group make the jump from crowding town halls to winning elections?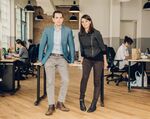 Kimberly Anne Tucker was in bed, TV tuned to MSNBC, when she first heard about something called the Indivisible guide.
It had been a dispiriting few months for the 51-year-old Democrat and retired public school administrator from Virginia Beach. She'd spent the weeks after the presidential election writing long-shot letters to electors, urging them to ditch Donald Trump for Hillary Clinton. "I just felt like I had to do something," she says.
On "The Rachel Maddow Show" that January night was one of the authors of "Indivisible: A Practical Guide for Resisting the Trump Agenda," a 23-page how-to manual for would-be progressive activists that was taking off online. Its lesson: Members of Congress care about reelection above all, so show them what you want—and what you'll do if you don't get it.
Tucker was sold. "Laying in bed with the lights off, I turned on my computer to read the guide," she told Bloomberg. "I just thought, 'This is it. I can do more.'" She created a Facebook group she called Indivisible 757, for her area code. By inauguration, it had 700 members. Today, it has nearly 2,000.
Six months ago, Tucker had no experience in politics. This month, she clinched her own spot on the November ballot, winning the Democratic primary for the right to challenge her four-term Republican incumbent for his 81st District seat in the Virginia House of Delegates. He has run unopposed in three of the last four elections.
Today, nearly 6,000 local groups inspired by the Indivisible guide are registered on its website, including at least two in every congressional district. Galvanized by Republican health-care legislation, their members have flooded lawmakers' town halls and held their own events; now, heading into the Senate's July 4 recess, they plan to keep pressuring their senators to vote no. "It's one of the things that's made me most hopeful in the post-Trump-election era," says digital campaign strategist Laura Olin, who ran online communications for President Obama's re-election campaign. 
Whether Indivisible's adherents can channel their obstructionist anger into electoral victories, as the tea party did seven years ago, is a question they're still trying to answer—particularly after Democrats lost the special election to fill Health and Human Services Secretary Tom Price's former seat in Georgia's 6th Congressional District, in what became the most expensive House race in history.
The group's leaders have claimed the tea party as a model, but today's progressives face electoral obstacles conservatives didn't eight years ago. Democratic voter turnout in midterm elections is historically unreliable. Redistricting in 2010 left many seats safer for Republicans than ever. And it remains to be seen whether progressive causes can garner anywhere near the level of funding that the tea party got from donors like the billionaire Koch brothers. 
Indivisible's philosophy of local, defensive congressional advocacy doesn't have much to say about putting people in Congress; it wasn't intended to. But its leaders in Washington have begun to adapt their tactics to try. Just last month, the Washington-based nonprofit founded by the guide's authors hired its first political director, tasked with putting together an electoral strategy for 2018 and beyond, a mission that will require corralling thousands of independent groups.
The national organization is already using Indivisible groups' experience on the ground in Georgia, where Republican Karen Handel defeated Democrat Jon Ossoff, to inform its nascent electoral strategy. One local group that Washington leadership had looked to as a model for shaping strategy nationwide is embarking on its own guide, based on its experiences.
Indivisible's leaders in Washington declined to discuss their electoral strategy, which is still being developed. In a message to supporters the morning after Ossoff's loss, they were sanguine: "Nobody said this would be easy," they wrote. "But we have one thing on our side: the people are with us."

"The reason why we exist is—it's not even fundamentally to effect legislative change or win progressive election victories," says Ezra Levin, the 31-year-old co-author of the guide whom Tucker had seen speaking on TV. "It is to build local, sustainable groups on the ground, full of local leadership. And so the core of what we're doing is listening to these groups and figuring out what we can do to support them. From that flows everything we want to accomplish. From that flows legislative victories against Trump. From that flows electoral victories."
Indivisible was born the weekend after the presidential election, when Levin and Leah Greenberg, 30, his wife and co-author, invited friends over to drink and discuss what to do. Like many of those friends, they'd spent time working on Capitol Hill, where seven years ago they'd watched the tea party thwart much of the Obama administration's early agenda. Progressives, they felt, must now pull off something similar. A guide from people who understood how government worked, they hoped, would help.
The Indivisible guide went online as a Google Doc on Dec. 14. Within two hours, heavy traffic caused the page to crash. By early February, it had been viewed 11 million times, its authors had incorporated the Indivisible Project as a 501(c)4, and 150 people were working to build and maintain its website, answer questions from the field, and write policy briefs. Today the nonprofit has 25 full-time staffers, including field organizers, a digital team, and its new political director.

Of all the progressive efforts that have sprung up since November, Indivisible's relies least on central organization. Each local group sets its own agenda, has its own organizing structure, and plans its own actions; they're all entirely separate from the Washington-based nonprofit. "Our role here is super-narrow," Levin says of the Washington office. "We can provide strategic advice, we can create tool kits, we can create a menu of options. We can say, 'Here's what Congress is working on.'"
Finding each other, Indivisible's theory goes, is the key. "We say in the guide: We think these communities are already coming together," says Greenberg. "This is a manual for you if you're doing that."
To fund its work, Levin says Indivisible is pursuing small donations but has also gotten large ones; he declined to say who has made them. About half its donations have come through its website, which has taken in $1 million from individuals, according to a spokesman. Most of the group's donors have asked to remain anonymous, but New Media Ventures just announced a $50,000 donation.
That's a far cry from the kind of funding tea party groups got. It's also just one element of the larger picture of how the new opposition groups of the Trump era raise money. A group called Swing Left, created in the wake of Trump's election and focused on coordinating Democratic response in swing districts, said it took in $1 million in just the 48 hours after the House voted on its health care bill.
The leaders of local Indivisible groups tend to have strong political leanings but little organizing experience. Many of them are women. The Indivisible Project doesn't collect demographic data from those who register groups, but Greenberg says that, anecdotally at least, "it's a women-led movement." In this, it resembles the nationwide network of post-inaugural Women's March rallies—many participants' first experience with political protest.

Beverly Tuberville of Lawton, Oklahoma, had been a lifelong Republican before Trump. Now, she's the force behind much of Indivisible's work in her deep red state. "As soon as the website went up to register a group," she says, "I went on and registered Indivisible Oklahoma. It was one of the first groups." There are now more than 50 in Oklahoma—she created most of them—with more than 6,000 members among them.
In January, after Representative Tom Cole, a Republican from Oklahoma, backed a House Republican effort to bring the independent House ethics watchdog under lawmakers' control, Indivisible Oklahoma bought three billboards in his district, including one that read: "Who votes against honesty? Tom Cole against ethics oversight." During the Senate's brief March recess, when the state's two senators didn't hold in-person town halls, the group threw its own, with a panel featuring the state House minority leader and speakers that included a man who'd been treated for brain cancer under the Affordable Care Act. A thousand people attended.
For Elizabeth Juviler and her neighbors in Montclair, New Jersey, the Indivisible guide helped them coordinate and strategize. "It was affirming," she says. "It also provided a network all around the country of all of these groups." The group she founded for her congressional district, NJ 11th for Change, has nearly 6,000 members and has been drawing headlines for months. On its website, the group tallies how long it's been since its 12-term Republican congressman, Representative Rodney Frelinghuysen, who became chair of the House Appropriations Committee in January, hosted an in-person town hall: four years, as of this writing. Every week, group members gather at his district office to protest.
In February, as House Republicans began work on their health care bill, the group staged a series of town halls. A month later, in a rare move for a House leader, Frelinghuysen came out against the bill in its first iteration. (He voted in support of a second.) Last month, WNYC reported that, on a fundraising letter to a board member for a local bank, Frelinghuysen had written a note saying one of the "ringleaders" of NJ 11th for Change was a bank employee. She wound up resigning and said she felt Frelinghuysen had used his office to punish her.
Frelinghuysen's office did not respond to requests for comment, nor did Cole's.

In January, the Democratic Congressional Campaign Committee had put the New Jersey 11th district on its list of 2018 targets. In April, the Cook Political Report changed the seat's rating from "solid Republican" to "likely Republican." Last month, it moved it over to "lean Republican."
Still, the realities of campaigning are stark. In Virginia, Tucker's state House campaign has just $1,848 cash on hand going into the general election, according to campaign finance filings reported by the Virginia Public Access Project. Her opponent, incumbent Barry Knight, has $358,728.
Over one week late last month, local Indivisible groups held protests in Boise, Idaho; Kansas City, Kansas; Chatham, New York; Saint Paul, Minnesota; Memphis, Tennessee; West Columbia, South Carolina; Kansas City, Missouri; Billings, Montana; Denver; Toledo, Ohio; Dayton, Ohio; Venice, Florida; Laguna Beach, California; Lansing, Michigan; and Brenham, Texas. They also held a unity rally in Jackson, Tennessee, and a "resistance pub quiz" in Yolo County in northern California.
In Georgia's 6th Congressional District, they were campaigning, along with many other local progressive groups, for a 30-year-old documentary film producer to fill the House seat Tom Price had vacated when he was named secretary of the Department of Health and Human Services.
There are 13 active Indivisible groups in the district. But the Indivisible Project's founders in Washington had talked to the founders of one, Indivisible Georgia Sixth District, about using it as a model and a test case for how to transition from defensive lobbying to offensive electoral strategizing.
Before they founded Indivisible Georgia Sixth, Amy Nosek and Louise Palmer belonged to a local group called Liberal Moms of Roswell and Cobb—LMRC, pronounced "limerick," for short. "We had a great community, but it was just endless posts all day long of people being so upset," Palmer says. The Indivisible Guide, with its easy-to-follow instructions, changed that. "I was like, 'We've mourned the loss. Now it's time to move and act.'"

The special House election has shaped their Indivisible group. They formed it in January; Ossoff showed up for a meet-and-greet at its first gathering. They tried to sort volunteers into committees, including one focused on minority outreach and another to coordinate with other local progressive groups. Without a sitting member of Congress to lobby, however, any organizing structure was soon overwhelmed by interest in the campaign. Members came to focus on getting out the vote. "We've had volunteers say: 'I'm really doing this just temporarily. As soon as Ossoff is elected, or as soon as Trump is out of office, I'm done,'" Nosek said in April. "I don't think that's a smart idea, because then we're just going to get right back to where we started."
Now, she and Palmer are regrouping. They say their group's members canvassed apartment buildings that the Democratic Congressional Campaign Committee ignored, and that at least some of the people their turnout operation targeted have joined. But some of the tactics and lessons they took—not just neighborhood-based organizing, but also what they've called "guerilla canvassing"—might make veteran campaign operatives nervous.
"We are already working to collate what worked and what did not to translate into a guide for action and to share with the national team," says Palmer. "We are also looking forward to holding our new congresswoman accountable."