At 18, He Strapped a Rocket Engine to His Bike. Now He's Taking on SpaceX
After decades of tinkering, Peter Beck and Rocket Lab are poised to bring low-cost launches to the world.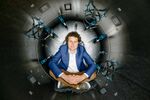 Peter Beck was more productive than most teenagers. He spent much of his youth tinkering in the family's garage workshop in small-town New Zealand, amid welding and milling equipment. At 15 he built an aluminum bike from scratch. At 16 he bought a rusted-out Austin Mini for $300 and refurbished it end-to-end, rebuilding the engine and suspension and fixing all of the body panels. Beck's parents, a museum director and a teacher, encouraged their son—within reason. "Mum would bring dinner down and set it on a bench for me, but it would just get cold," Beck says. "Eventually she would yell out, 'You have to stop angle grinding and get to bed.' "
In 1999, at 18, Beck did something most people would consider very stupid. After checking out books from the library to learn how to make his own fuel, he set up a laboratory in a backyard shed and set to work on a rocket engine. Lacking a hazmat suit, he wrapped himself in plastic bags and put on a welding helmet as he distilled peroxide and other chemicals.
After successfully testing one of his engine designs, he decided it was time for a proper adventure. He strapped the engine to the back of a custom-built bicycle, dressed himself in a red jumpsuit and white helmet, and fired up a trial run in a local parking lot. Leaning forward in a near-prone position, he managed to reach about 90 miles an hour. To slow himself down, he first sat upright, allowing wind resistance to do some of the work lest the brake pads or wheels melt. "Only a few people on the planet have put their legs inside a rocket," Beck says. "It's a very good feeling."
For most people, a successful rocket test conducted with home-brewed fuel might have led to an engineering degree. Beck instead took on a series of apprenticeships and jobs. He worked for an aluminum supplier, cleaning toilets and putting together mills and lathes. He built luxury yachts, becoming expert at analyzing their acoustics to dampen engine and propeller noise. He worked for a local appliance maker, where he learned tool and die casting. Finally, he joined a government-backed R&D lab.

At every stop he would complete his required tasks, then stay late into the night fiddling with his rocket engine designs. Co-workers appreciated his pluck, and now and again an expensive bit of material, like a $2,000 hunk of titanium, would mysteriously appear in his workspace.
In 2006, Beck's wife got a work assignment that brought the couple to the U.S. for a month. He took the opportunity to tour the country's aerospace research institutes and companies, showing up—sometimes unannounced—at places like NASA's Ames Research Center and its Jet Propulsion Laboratory, as well as Boeing Co. and Rocketdyne. He was hoping to find a job but came away depressed. "I expected there to be all these startup people running around with high energy and crazy shit everywhere," he says. "But there was none of that happening." Companies and labs were still making rockets and talking about missions to Mars, but their approaches seemed stale.
Beck's theory, which a new guard in the industry increasingly shared, was that space would open up dramatically only if a much cheaper way of getting things into orbit could be found. The rockets available at the time were massive, designed to carry bus-size satellites. Beck understood that cheap electronics and clever software would make it possible to build fleets of smaller, inexpensive satellites. These machines would soon be manufactured by the hundreds and would need rides to space.
At the time, Elon Musk's Space Exploration Technologies Corp., or SpaceX, had yet to hit its stride. Launches were still run by governments and cost $100 million to $300 million apiece. Official space agencies flew once a month, at most, and their priorities were telecommunication companies and the military. Beck believed humans wouldn't be able to truly experiment in space unless cheap rockets were going up all the time. "It's so hard to get to space," he says. "I knew we had to make it easier and that I was going to build a rocket." And so, Rocket Lab was born.

In 2007, New Zealand's government let Beck take over a floor, rent-free, at the lab where he'd been working. He now had access to high-end equipment, but he needed money to buy other gear. So he called Mr. Rocket—real surname, first name Mark—a wealthy internet entrepreneur and fellow Kiwi whom Beck had heard on the radio talking about his interest in space. Beck arrived at their meeting with a proposal to launch a cheap rocket every week. Rocket was intrigued enough to start making calls. "When I was pitching the idea to my lawyer and accountants, there were some raised eyebrows," he says. "It seemed like an easy way to get rid of a bunch of money. But Peter had engines he could show me, and we shared the same vision."
Beck raised $300,000 from Rocket and some family and friends, then spent two years building a prototype. In November 2009 he and two new hires unveiled the Ātea-1—a nod to the Māori word for space. He arranged to launch the 20-foot-long rocket, which weighed only 130 pounds, from a pad on Great Mercury Island, co-owned by a businessman named Michael Fay. In exchange for the use of the island, Fay was allowed to place some homemade lamb sausage inside the rocket as cargo. "They were wrapped in tinfoil," he says. "I thought it would be nice to have sausages that had been to space."
The mission control center was a garden shed nestled into a hillside, with an old door serving as a computer table. Beck was dressed the part of mad scientist, his mushroom of curly brown hair bobbing above a white lab coat. "In the tradition of great New Zealand explorers," he said before countdown, "New Zealand, we are go for space." He mashed a red ignition button with his thumb and ran out of the shed to see his rocket soar through the sky into space. "You f---ing beauty!" he yelled, jumping up and down.

Since that first triumphant test, Rocket Lab has become a lean, accomplished builder. The company's manufacturing facilities, a few low-slung warehouses in an industrial part of Auckland, have a giant assembly area for its Electron rockets and rooms where software engineers fine-tune its Rutherford engines, which are named after the New Zealand-born physicist Ernest Rutherford. Rocket Lab conducts engine tests a few miles away, in a patch of pasture near the Auckland airport. Things have gone awry on occasion—like the time a wayward igniter caused a bush fire that shut down the airport—but on the whole, the company has progressed much faster than typical aerospace startups. It has raised $148 million to build out its operations and is valued at more than $1 billion.
There's a degree to which all viable rockets are the same: thin, metal tubes packed with as much explosive material as physics will allow. Rocket Lab's primary innovation was to opt for carbon fiber over aluminum, which makes the Electron much lighter than competing models. It's also much smaller—a sleek, black 56-by-4-foot shell with nine Rutherford engines at the base. SpaceX's workhorse, the Falcon 9, is 230 feet tall and 12 feet across, and can take a 50,000-pound payload into low Earth orbit, compared with the Electron's 500-pound limit. Rocket Lab charges just $5 million per flight, though, while SpaceX charges $60 million.
Beck's goal of launching at least once a week is also more ambitious than SpaceX's once a month. His target is made more plausible by an additional innovation: Rutherford engines are among the first to be almost entirely 3D-printed, which means more of their parts are fused together and don't need to be assembled by hand. This lets Rocket Lab build engines practically at the press of a button.
The company will also be able to launch more frequently because it has a private facility—a rarity in the aerospace industry—on the eastern coast of New Zealand's North Island. Launch Complex 1 sits at the pointy edge of the Mahia Peninsula. The setting is stunning: a 26-by-26-foot launch pad, surrounded by the grasslands of the 10,000-acre sheep and cattle farm from which Rocket Lab leases its land. All of this is positioned atop a plateau that gives way to sheer, rocky cliffs that drop to a beach and open up to the turquoise ocean. Decades ago, Europeans and Americans had whaling stations here; during World War II, American troops practiced beach landings nearby.

Today about 13,000 people live in the surrounding area. The local economy, which depends on agriculture, fishing, and tourism, has struggled, and gang activity has become a problem. Rocket Lab's arrival has been marked by both hope and concern. To get permission to launch here, Beck and his team had many biscuits and cups of tea with residents, discussing how rocket launches might affect the fishing business and the placid environs.
The company also had to make peace with the U.S. government. Rocket Lab's headquarters are officially in Huntington Beach, Calif., which allows it to attract U.S. investors and customers more easily. But the federal government has spent the past 40 years denying requests to export rockets—which, after all, are basically missiles—for overseas launches. It took about two years of negotiations to hammer out an agreement, with Beck traveling back and forth for visits to the White House. "There was a guy sitting next to me at the New Zealand embassy after we signed the agreement," Beck says. "He was not happy. He'd spent his entire political career trying to remove a tariff off an apple, and we had just managed to negotiate a bilateral treaty."
It takes about nine hours to reach the Mahia Peninsula by car from Auckland, so most of Rocket Lab's employees fly 45 minutes to the small town of Gisborne ("Gizzy," as Kiwis call it), then drive two hours to the pad. The engineers live in a series of bachs, a type of beach home popular in New Zealand. "It's not bad living if you're not working 80 hours a week," says Shane Fleming, Rocket Lab's vice president of U.S. operations.

The site's remoteness means that once the pad is fully operational the company won't have to worry about delays caused by commercial air and shipping traffic. Rocket Lab has already been licensed to launch more often—once every three days—than any other rocket maker. And because the pad is privately owned, Beck's company, unlike its rivals, doesn't have to wait in line for U.S. government launch sites, which tend to bog down when the military needs them or bureaucratic issues come up. The site comes with an engineering advantage as well: The Mahia Peninsula's latitude and isolation give Rocket Lab's pad the largest possible launch azimuth of any site in the world, allowing the company to direct its rockets toward an unusually wide range of orbits without encountering air traffic.
"Cost is important, but the most important thing here is the frequency," Beck says. "That is what enables the new [satellite] constellations and new ideas and a quantum shift in the industry." Already the company has a two-year backlog of launch orders from a variety of customers, including builders of small satellites and lunar lander makers, who have been eagerly awaiting proof of concept.
On May 25, following a few days of weather delays, the Rocket Lab team woke up at 3 a.m. to prepare the Electron rocket for its first test launch. After shepherding the farm animals to a safe distance, four men went to a hangar and hoisted the machine onto a rail carriage, which they proceeded to push 500 feet to an automated launch erector. Soon the rocket was raised into a vertical position and fueled with a mix of liquid oxygen and high-grade kerosene. Engineers then spent hours running through checks and waiting for optimal weather conditions. Finally, at 4:20 p.m., Beck gave the go-ahead. Three minutes later the Electron was soaring into space.

The rocket didn't reach the desired orbit, but the test was nevertheless a success. It's common for rockets to explode during first launches; in addition to not blowing up, the Electron sent back reams of telemetry data. When Beck, who hadn't eaten in the day and a half leading up to the test, went back to the factory to congratulate his troops, they were already downing beers in celebration.
Beck thinks Rocket Lab has now solved the orbit issue, and he's planning to conduct two more test launches starting in the next six weeks. If those are successful, Rocket Lab will begin flying paying customers. The San Francisco-based startup Planet Labs, which makes shoebox-size satellites, will have devices on Rocket Lab's next two test flights and first three commercial launches. Rocket Lab hopes also to sign up the host of imaging satellite startups seeking to compete with Planet, as well as others who are building tiny orbital research labs and fleets of tiny communication satellites.
These fledgling companies present a major opportunity for Rocket Lab. In a typical year only 100 launches take place, and they prioritize large, traditional satellites. Small satellite makers generally wait for an opening to slot in their machines as excess cargo. This limits how often they can get to space and places them at the mercy of the larger customers. Rocket Lab promises to turn companies like Planet Labs from launch vagabonds into regular, precision fliers. "There's been this mismatch between how quickly we can build satellites and when there's a launch opportunity to put them up," says Mike Safyan, director of launch and regulatory affairs at Planet. "This will be a really big help."

Rocket Lab will have strong competition for this business soon enough. A handful of similar companies, including Vector Space Systems and Richard Branson's Virgin Orbit, have appeared in the U.S.; they, too, hope to conduct a hundred or so launches annually. "We think the market will be on the order of 400 to 500 launches a year," says Jim Cantrell, co-founder and chief executive officer of Vector. "There is room for four or five launch providers."
No one really knows how this new space race will play out, but there are plenty of enthusiastic, idealistic investors who see it as the next chapter in human evolution—one that will ultimately make us a multiplanetary species. "The notion of radical human empowerment is what these companies are driving," says Matt Ocko, co-managing partner at VC firm Data Collective, which has invested in Rocket Lab and Planet Labs. "They enable and foreshadow dramatic step functions in humanity's ability to positively control its own destiny."
That Peter Beck and New Zealand have been at the forefront of it all has been unlikely, to say the least. But Beck's lack of formal training and his home country's remoteness gave him a unique vantage from which to reimagine the rocket business. Shaun O'Donnell, who worked with Beck all those years ago at the government research lab, recalls the day when, as they were heading home from the lab, Beck pulled him aside and said he was leaving to start a rocket company. "It seemed a little nuts," says O'Donnell. He nevertheless became one of Beck's first two employees, and is now Rocket Lab's vice president of New Zealand operations. "Looking back now, it's been a fantastic journey. There was no aerospace industry here, and this is the last thing I would have expected to be doing. It just shows that Peter follows through on everything he says."
Beck is convinced that Rocket Lab is the only company fully prepared for how radical the future may become. "We are not here 'because he's a Kiwi, and he quite likes the place,' " says Beck. "It all comes back to the frequency and creating a new launch environment. That is why we set up Rocket Lab, and if you're not focused on that, you're just building another rocket."