Frank Lloyd Wright Is Not Who You Think He Is
Recent changes at his namesake foundation and school, plus a sage new museum exhibit, put a necessary twist on a legend's legacy.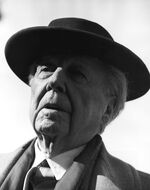 Photographer: Hans Namuth/Getty Images
Ask most people to name an architect, and they'll probably say Frank Lloyd Wright. The 20th century American master is famous not just for his beloved works, such as the audacious, spiraling Guggenheim Museum and the canti­levered Fallingwater, which still attract hordes of tourists, but also for his forceful personality, equal parts William Jennings Bryan and Pablo Picasso.
For many years after his death, at 91, in 1959, the students at Wright's school and the leaders of his foundation tried to stick to a very strict interpretation of his singular vision, revering the long-gone architect as an almost godlike figure. Ironically, these attempts to protect his legacy have damaged it—limiting the ways Wright could be studied and keeping his ideas from expanding and influencing the future.


But a remarkable new exhibition at New York's Museum of Modern Art aims to change all of that. Taking advantage of a broad collection of personal and professional records that was transferred from his foundation jointly to MoMA and the Avery Architectural & Fine Arts Library at Columbia in 2012, the show offers a glorious bounty of Wrightiana. "Frank Lloyd Wright at 150: Unpacking the Archive" consists of almost 400 works, many of them never displayed publicly, chosen to show that Wright's long career, as multidimensional and accomplished as that of almost any architect in history, was richer and more complex than even admiring critics knew.
Organizer Barry Bergdoll, curator of architecture and design at MoMA, along with museum researcher Jennifer Gray, have included many classic Wright projects, such as Fallingwater, Unity Temple, the Imperial Hotel in Tokyo, and the unbuilt mile-high skyscraper he designed in 1956 for Chicago. But the majority of the drawings, objects, models, and photographs that fill the galleries will be new to most visitors. Bergdoll and Gray are showing us surprising sides of the architect, demonstrating that the arrival of the archive in New York makes possible a fresh age in Wright scholarship.

Wright, who was born in Wisconsin, was famously encouraged to become an architect by his mother, who hung pictures of cathedrals in his nursery and gave him wooden Froebel blocks to play with. He first became known for his prairie houses, low-slung structures that stretched out under wide roofs, and throughout his career he made much of the claim that he was ­creating a genuinely American variety of modernist architecture, different from the stark white boxes springing up in Europe.
As the exhibition shows, however, Wright was also interested in ornament, ecosystems, experimental farming, low-cost prefabricated houses, and education for black children in the rural South, among other things. The organizers, true to the exhibition's name, asked various scholars to delve into the archive. Each filled a room at MoMA with objects that shed light on one aspect of Wright they felt was little understood.
He is generally thought of as a discordant mix of political conservative and aesthetic radical. The open, endless landscapes of the Great Plains that inspired the powerful and elegant forms of his prairie houses also led him to a political belief in what might now be called American exceptionalism. Unlike the European modernists, who were motivated by a utopian, socialist impulse, Wright believed radical architectural forms were not intended to overturn the old order but to give it a uniquely American spin, which is why even the most daring Wright houses often contain such traditional symbols as a central hearth.

But as the Davidson Little Farms Unit in the exhibition shows, Wright's relationship to politics could be pragmatic, too. Commissioned during the Depression by Walter Davidson, a friend and client of Wright's from Buffalo, the all-but-­forgotten project was Davidson's attempt to invent a new model for sustainable agriculture at a time when many local farmers were going bankrupt. He asked Wright to design a structure that could combine stables, greenhouses, living quarters, and a produce market. The architect not only obliged, he and Davidson tried hard to interest the Roosevelt administration in supporting the prototype as part of the New Deal.
Although their efforts came to naught, Wright used many of the ideas he'd developed with Davidson in his plans for the vast, decentralized Broadacre City, a later and far better-known project. This was a carefully plotted mix of agriculture, small residences, and the occasional tower, putting elements of city, suburb, and country together into a new pattern designed for the automobile. Never built, it's probably the most ambitious attempt ever made by an architect to turn suburban sprawl into a positive.

Wright loved to rail against the traditional city—the Manhattan skyline "is a great monument to power and greed," he told Mike Wallace in an interview in 1957. "I don't see any ideas in any of it." But that was the public Wright, who took pleasure in playing to the American tendency to see cities as dangerous and corrupt, and the countryside as virtuous and pure. Here, too, the reality was more nuanced, as the MoMA exhibition displays. In 1926, Wright prepared a remarkable plan for several blocks in central Chicago that envisioned multiple towers in a tight pinwheel arrangement, maximizing light and air but retaining a traditional feeling of urban density. And while he managed to get only one small skyscraper built in his long career—the exquisite Price Tower, in Bartlesville, Okla., shown in a large, breathtakingly beautiful model—he foresaw the trend toward mixed-use towers combining residences, offices, and ­shopping, now an urban staple.

After Wright's death, his widow, Olgivanna Lloyd Wright, oversaw the Wright legacy with such rigor that the architects who continued his practice under the name of Taliesin Associated Architects had to get her approval for their increasingly banal versions of the architect's work. By 2012 the school associated with Taliesin was in danger of losing its accreditation, and his archive was decaying, little used, in the bowels of the Frank Lloyd Wright Foundation in Scottsdale, Ariz.

This led to the foundation's decision five years ago to transfer the archive, and that open spirit has spread to the school. A new dean, Aaron Betsky, successfully negotiated independence from the foundation earlier this year, maintaining the school's accreditation and broadening its teachings beyond Wright's own ideas.
The renamed School of Architecture at Taliesin seems poised for a turnaround. It just received the gift of the David and Gladys Wright House in nearby Phoenix, designed by the architect for one of his sons in 1952. Empty and derelict, it was almost demolished by a developer who wanted to replace it with several McMansions. A local businessman, Zach Rawling, bought the house in 2012, restored it, and then turned it over to the school for use as a learning center.
Visiting a Frank Lloyd Wright building can be more appealing than living in one, and many of the private houses the architect designed have suffered over the years. For a long time they had a reputation as being leaky and difficult to maintain, hard to live in and even harder to sell. Still, the Chicago Tribune reported in 2015 that Wright houses in the Chicago area, most of which were designed 100 or more years ago and had often been laggards on the market, were selling faster and at higher prices than in the past. While there may be an uptick in interest, finding buyers prepared to live with the intense architectural presence of a Wright house can still be a challenge. Architect magazine reported this month that of five Wright houses across the country up for sale in the past year, only one had actually sold. This included the George D. Sturges House in Los Angeles, a well-known 1939 home that had been owned by the actor Jack Larson, whose estate tried to sell it at auction but found no takers.

A century and a half after the architect's birth, there seem to be more Wright books, exhibitions, and tours than ever. He would probably have ­relished these signs of his continued life. As Bergdoll notes in the catalog of the exhibition, Wright may have been the first architect to know how to successfully exploit media fame, beginning with his appearance on the cover of Time in 1938 and continuing through several appearances in the 1950s on shows such as What's My Line? He was 89 when he conceived of the Illinois, that mile-high tower, a project "for which he had no client, confirmed site, or sign of interest," Bergdoll writes. At its unveiling, "television cameras were on hand to record for future broadcast the story, which had been planted and building in the press for months," he says. "Wright and architecture had, for many Americans, become ­synonymous." Frank Lloyd Wright at 150: Unpacking the Archive, $25 for adults; New York Museum of Modern Art through Oct. 1