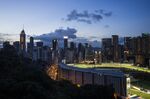 Hong Kong's Gambling Empire Is Losing Horsepower
Before Hong Kong's return to Chinese rule, Communist leader Deng Xiaoping had a reassuring message for those worried about the departure of the British from the capitalist enclave. Don't fret, the architect of the handover said: "Horses will still run, stocks will still sizzle, dancers will still dance."
The dancing has continued, the stock market isn't far off its record high, and the horses indeed still run. Yet 20 years after the handover to China, one of the city's most-venerable institutions, the Hong Kong Jockey Club, which has been called an "ATM for the government" for its huge contributions to the city's tax coffers and charity efforts, is facing trouble.  
Disinterest among many young people and an upcoming bridge link to the glittering casinos of Macau threaten the future of the money-spinning gambling monopoly. Already the amount bet on racing fell 1.7 percent in the latest season for which numbers are available, ending mid-July 2016, from the previous year. While it's still a lot of money — that HK$106.1 billion ($13.6 billion) was almost 30 percent more than the total of the most-common type of betting on thoroughbreds in all of the U.S . —  gambling on horse racing has grown an anemic 1 percent a year on average for two decades.

"The pressure is on them to remain relevant," said David Dodwell, chief executive officer of Strategic Access Ltd., a Hong Kong-based public policy consultancy. "An awful lot of the welfare infrastructure that has been built over the decades in Hong Kong is attributable to it."
Finding new sources of cash from allowing simultaneous betting in places like London and New York, as well as increasing the appeal to younger people at home, are critical to keeping a major funding engine of the Hong Kong government racing ahead. The Jockey Club is also expanding into China, a move that could position it well should betting on horses, halted after the 1949 revolution, someday return.

The Jockey Club accounted for about 7 percent of Hong Kong tax revenue last year — equivalent to a third of the city's education budget and 35 percent of its social welfare spending. It donated HK$3.9 billion to schools, hospitals and other charities, making it the largest donor in Asia and the sixth largest worldwide, according to the World Charity Index. The government is also relying on the club rather than the legislature to fund a controversial museum project.
"It has become a kind of ATM for the government," said Tanya Chan, a Legislative Council member and government critic. "The government knows very well where to go if they want a substantial sum of money."

The Club's voting members and stewards read like a Who's Who List of Hong Kong's richest and most powerful, including billionaires who control virtually all of the city's significant property, retail, entertainment, utilities and infrastructure building, along with other business luminaries: Li Ka-shing, Lee Shau Kee, Henry Cheng, Stanley Ho, Allan Zeman and Canning Fok. 
Major powerhouses of politics are there, too: Former Chief Justice Andrew Li; former Finance Secretary and Chief Secretary Henry Tang; former head of the Hong Kong Monetary Authority, Joseph Yam, who on Thursday was appointed to the city's Executive Council, or cabinet; and former Legislative Council President Rita Fan.
"For a long time, it has been a place where entrepreneurs and officials can mix together and have the same status," said Eddie Chu, another LegCo member and government critic. "The Jockey Club maintains its power not by horse racing but by its network of powerful people gathering together."
With two race tracks, more than 100 off-track betting outlets, soccer-wagering services and a lottery, the club can be generous because generations of Hong Kongers grew up spending their money and time at the track. 

"My friends and I were crazy about horse gambling 20 years ago," said Tony Yu, 40, a construction company manager who used to spend several hundred Hong Kong dollars on tickets and beers at the track, especially on payday. Those days are long past. "Who do you see reading the horse-racing page in the newspaper and going to the Jockey Club to buy tickets? Old-timers!"
The club also faces competition from across the Pearl River Delta, where Macau's casinos "are now aggressively targeting Hong Kong," Jockey Club CEO Winfried Engelbrecht-Bresges wrote in the most recent annual report. With the expected completion later this year of a bridge linking the two cities for the first time, traveling to Sands China Ltd.'s Venetian and Melco Resorts & Entertainment Ltd.'s City of Dreams will be even easier. The bridge "will undoubtedly exacerbate the problem" already facing the club, Engelbrecht-Bresges wrote.
The Jockey Club has found ways to keep the money flowing. One solution has been to expand the number of races per season. Back in the mid-1990s, there were 75 days in a season, with 595 races; now there are 88 in the season, with 807 races. The club also moved into soccer in 2003. Such wagering accounted for HK$86.8 billion in bets in the most recent fiscal year, up 11 percent from the previous year.
While mainland China doesn't yet allow betting on horses, the Jockey Club is establishing a foothold there. It plans to open a new training facility across the border in Guangdong province next year. Twice the size of the Jockey Club's facility in Hong Kong's New Territories, the site will be able to host about 660 horses.
Worldwide, the club has broadened its reach through what's known as commingling, or allowing people overseas to bet on Hong Kong's horses. In the 2013-14 season, the Jockey Club began taking bets from Australia, New Zealand, Singapore and Macau. It has also expanded its reach to South Africa, Ireland, Canada and parts of the U.S., where Hong Kong's Happy Valley races are available via simulcast on Wednesdays at 8 a.m. New York time through TVG Network's online betting site and cable channel, one of several operators in the U.S. with Jockey Club deals.
Last November, the Jockey Club announced an expansion to the U.K. that enables customers of Ladbrokes Coral Group Plc and another betting shop operator to bet on Hong Kong races. The Jockey Club announced a similar agreement last year with Canadian racetrack owner and online betting services provider Woodbine Entertainment Group.

Hong Kong is attractive for global gamblers, according to Ken Kirchner, former executive director of the Pennsylvania Racing Commission and president of consulting firm FalKirk International. Bettors can wager on unusual options such as a triple trio, three consecutive trifectas, and get huge payouts because Hong Kong's gambling pool is large, he said. 
"They're run under strict regulation and authority, so you feel like you're betting into a very honest product," Kirchner said.
Hong Kong offers more data on horses than other venues, including the only consistent publishing of veterinary reports, said Ron Luniewski, president of Xpressbet, a Washington, Pa.-based company that provides online betting.
"That's a big deal. I give them a lot of credit for that," he said. "In a lot of ways, Hong Kong racing is the gold standard globally."
Commingling now accounts for about 6 percent of the Jockey Club's betting income, according to Richard Cheung, head of marketing, and is forecast to top 10 percent by the end of the decade.
"Hong Kong is a very small place," Cheung said. "To seek growth we must go elsewhere."
As it expands globally, the Jockey Club will still have a challenge winning back people like Yu, the construction manager. 
"Now I seldom bet because there are so many other options," he said. "I earn more money than before, so I can afford to invest money in the stock market."

—With assistance from Eben Novy-Williams
(
Updates with Joseph Yam appointment in ninth paragraph.
)