Phil Falcone Bets on a Casino (Where the Locals Can't Gamble)
The fallen hedge funder plots a Vegas-style comeback in remote Vietnam.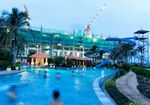 It's 7:55 on a sweltering Tuesday morning in southern Vietnam, and more than 1,000 cleaners, cooks, and card dealers from the Grand Ho Tram Strip casino wait outside the resort's largest ballroom for a staff meeting to start. A bass-heavy electronic beat booms from within. When the doors finally open, drawing a cheer, the ballroom is dark, apart from beams from blue and white spotlights dancing across the ceiling. In the middle of the floor are five figures. Four are tall Vietnamese women, dressed in bright red, ankle-length feathered skirts; bright red, ­rhinestone-studded bikini tops; and bright red, feathered headdresses twice the width of their shoulders. The women form a square and stride forward, hoplite warriors in the world's weirdest phalanx, with the fifth person at their center: Michael Kelly, a middle-aged guy from Philadelphia who'd never even visited Asia before signing on as the casino's executive chairman.
Kelly is dressed a little like a magician, in a boxy three-piece suit with a matching red tie and pocket square. As the employees find seats, he begins with a pep talk. Kelly speaks little Vietnamese, so translations are projected onto a screen behind him. He's eager to praise a faraway benefactor. "When I arrived here almost 18 months ago," Kelly says, "I was told to think big by Mr. Phil Falcone."

Back then, Kelly continues gravely, Ho Tram "was losing money. In fact, Mr. Falcone, our majority shareholder, was writing a check every month just to keep the doors open." But now revenue and occupancy are up, and the resort is expanding. Ho Tram sits a couple hours' drive from Ho Chi Minh City, in a mostly undeveloped stretch of dunes beside the South China Sea. Kelly plays a video, set to an up-tempo instrumental march, with computer-­generated flyovers of what's to come: a vast zone of interconnected hotels, casinos, and shopping malls, fed by a private airport. The video is followed by a live musical interlude by a singer wearing a sequined black minidress and knee-high gladiator sandals. It's not yet 9 a.m.
Sweating despite the fierce air conditioning, Kelly has removed his jacket and will soon unbutton his vest. "I believe in you," he tells his staff. "I believe in the Grand. With the support of Mr. Falcone, we are moving ahead."
How Falcone—fallen hedge fund titan, Securities and Exchange Commission bête noire, thwarted disrupter of the wireless industry—came to be the proprietor of a Vegas-style megacasino on a remote patch of Ba Ria-Vung Tau province is, to put it mildly, a complicated story. A lot of it has to do with the quality that's both made and lost Falcone billions through his career: an iron determination that he's right.
Ho Tram started as a relatively small bet for Falcone. It got bigger and bigger as others decided it was doomed. MGM Resorts International was supposed to operate the property; it walked away. Another major investor wrote the value of its stake down to zero. Undeterred, Falcone cut check after check, bringing total investments in Ho Tram by his all-but-dormant hedge fund, Harbinger Capital Partners, to more than $450 million—a commitment that's diluted everyone else's to insignificance. Falcone now owns Ho Tram, in every sense of the word. And 10 years in, he hasn't gotten back a dime.
If Falcone's stubbornness is vindicated, he'll have pulled off a comeback of stupendous proportions, showing he can again make a killing by seeing something few others did. To be specific, he's envisioning the creation of a Las Vegas or Macau in a youthful nation of 95 million with an economy that's growing at a robust 6 percent a year. There's just one irreducible problem: It's illegal for Vietnamese citizens to gamble.
Falcone's early success fits the meritocratic image Wall Street likes to hold of itself. He grew up in the hard-luck mining town of Chisholm, Minn., with a mother who worked in a shirt factory and a mostly absent father. Recruited to play hockey at Harvard, Falcone was a talented, quick-skating forward. After graduating he played professionally in Sweden before an injury sent him looking for an office job. In 1985 he found one trading high-yield debt at investment bank Kidder, Peabody & Co. in New York—just in time for the junk-bond boom. After rising through the debt-­trading world, he created Harbinger in 2001.
What's left of the hedge fund now operates out of a 30th-floor suite at the corner of 57th Street and Park Avenue in New York. Inside, the décor is a mix of MoMA and Maple Leaf Gardens. The waiting area contains a Damien Hirst painting and sleek Mies van der Rohe–style chairs, in which visitors can peruse books such as Guy Lafleur: Hockey's #1  and 75 Memorable Moments in Minnesota Sports. Conference rooms are named after NHL teams.
One afternoon in April, Falcone enters one of them to discuss his bet in Vietnam. He's 54 but looks younger, with wavy, dark brown hair on the tidier side of what you might expect to see under a hockey helmet. Falcone wears chunky glasses, a dark suit with faint checks and peak lapels, and an open-necked white shirt, which exposes a medallion hanging from a strap. It depicts the Hindu elephant god, Ganesh, and Falcone wears it for good luck—a habit much commented-upon during the more turbulent moments of his career.
Falcone can be disarmingly soft-spoken, his words easing out with the measured cadence of someone considering carefully how he might sound. He betrays no reservations about Ho Tram. "I don't want to compare it to Las Vegas in the '40s and '50s," Falcone says. "But you know what? Somebody put a casino in the desert, and it looked pretty silly at the time."
The investment is now about a decade old. In 2006, Harbinger was a remarkably successful hedge fund—Falcone had increased its assets from an initial $25 million to about $5.5 billion—but both he and the fund were mostly anonymous outside Wall Street. Late that year, Falcone became convinced the housing market was on the verge of collapse and started betting aggressively against subprime mortgages. In 2007, as the rest of the market began to rattle, Harbinger's flagship fund surged 116 percent, a gain that propelled Falcone overnight into a mythologized pantheon of traders who foresaw the financial crisis. He was paid $1.7 billion in 2007, according to Institutional Investor, and he and his wife, Lisa, began to spend in notorious ways, including the $49 million purchase of a mansion once owned by the publisher of Penthouse.

Falcone had to find places to put Harbinger's new capital, too. An unlikely pair of Canadians approached him with an intriguing investment idea: a casino in Vietnam. One of the men, Mike Aymong, had been a telecom executive for most of his career, but he had some experience in gaming as chief executive officer of a company called Starnet Communications International. Starnet had started life as a porn-site operator before moving into online gambling, tapping its video expertise to livestream horse races, for example. Aymong's partner, David Subotic, was a complete greenhorn, a banker in his early 30s who'd quit a comfortable Toronto job and moved to Vietnam after a visit had convinced him there were fortunes to be made. Aymong and Subotic explained their plan to Falcone. They'd identified a scenic chunk of beachfront not far from Ho Chi Minh City and believed they could persuade the communist government to not only grant them a license to build a casino, but also lift a long-standing ban on gambling by Vietnamese citizens, so the casino could cater to locals as well as tourists from across Asia and beyond. Falcone agreed to make an initial investment of $25 million in Asian Coast Development Ltd., the resort's parent company.
Getting started in Vietnam, though, was anything but simple. First, Aymong and Subotic had to get the Vietnamese military to sweep the area around Ho Tram for mines left over from what's known locally as the Resistance War Against America. A more complex challenge: The Vietnamese government wasn't going to approve something it couldn't adequately supervise, and its officials had no casino experience. To bring them up to speed, the government asked Aymong and Subotic to guide about 30 bureaucrats and Communist Party apparatchiks on a two-week tour of resorts around the world. Things didn't always go according to plan. In London, the first stop, "we took everyone for a fancy dinner," Subotic recalls. "It had cost us about $5,000. And halfway through, half of them left to find a place for Vietnamese pho for $2." The group visited the Bahamas and Las Vegas. When it was time to leave the Strip, Subotic arranged a bus through his brother's brother-in-law, an event planner. As the vehicle pulled up, Subotic was horrified, believing the crisp, modern, professional image he'd spent weeks cultivating had been ruined. His not-quite-­relative had gotten a Hooters bus, each side plastered with a buxom waitress spilling out of a skimpy white tank top.
In the end, the bus misunderstanding didn't hold back Ho Tram. In May 2008, Vietnam approved the project. Its backers' vision was highly ambitious: a $4.2 billion, 9,000-room luxury complex. Although the ban on locals gambling remained, investors were assured it would soon be lifted. "We believed," Subotic says, "we had the biggest thing in the world."
Then Falcone's luck turned. Having nailed an early phase of the housing bust, he blew the end of it—when Lehman Brothers collapsed in September 2008, Falcone's main fund plunged along with the rest of the market, and panicked investors demanded back what was left of their money. His reputation for genius was gone. Falcone's next big idea, investing $3 billion to build a high-speed cellular network called LightSquared, was another disaster. He tied up a huge proportion of his capital on a single, high-stakes conviction that depended on the cooperation of the Federal Communications Commission. Powerful opponents, including FedEx Corp., Delta Air Lines Inc., and even the U.S. Air Force, lined up to argue that LightSquared could dangerously disrupt GPS networks. The FCC ultimately agreed, and the wireless company filed for bankruptcy in 2012.
Things got even worse. The SEC came after Falcone a month later, arguing he'd committed fraud when he borrowed $113 million from his firm to pay a tax bill in 2009. The agency said its charges "read like the final exam in a graduate school course in how to operate a hedge fund unlawfully." Falcone agreed to an $18 million fine and a five-year ban from the securities industry. He was allowed to keep running Harbinger to liquidate its holdings but barred from raising new money or creating another fund.

Meanwhile, Ho Tram had serious problems of its own, as wrangling with Vietnamese officials slowed progress. A planned 2010 opening came and went, and hopes that gambling would be legalized for locals came to nothing. In late 2012 local banks providing $175 million for the development froze payments. MGM soon pulled out, and a major backer, the U.S. casino group Pinnacle Entertainment Inc., took a $92 million writedown, recording its investment in the project as worthless.
Asian Coast nonetheless managed to open a first phase, with 541 rooms, in the summer of 2013. It lost money immediately. Barely a year later, Harbinger had to put in an additional $50 million to keep the lights on and brought in a new head of the resort. Falcone traveled to Hanoi in 2015 to personally lobby Vietnam's president on the local gambling ban, among other issues. In an attempt at theatrical flourish, Falcone told President Truong Tan Sang that he had a list in his pocket of what he was willing to do to build out Ho Tram. Pausing for effect, Falcone pulled out  a blank piece of paper and a pen, to hand to the leader. The message: We'll do whatever you need. The president seemed impressed, but nothing changed.
Falcone has since tried to amplify his political influence. In September 2016, Asian Coast added to its board Tony Podesta, the heavyweight Washington lobbyist—whose company happens to be on a $30,000 monthly retainer to represent the Vietnamese government, according to the U.S. Foreign Agents Registration Act database. The board also welcomed Loretta Pickus, formerly a lawyer for Donald Trump's casinos. Asian Coast reannounced her appointment right after Trump's election, saying Pickus "hopes the Grand Ho Tram can continue to serve as a champion of U.S.-Vietnam ties for the incoming Trump administration."
Relations did take a positive turn soon afterward. In December, Prime Minister Nguyen Xuan Phuc spoke with Trump to discuss "strengthening the relationship between the two nations," as the ­president-elect's team put it. Winning a prime place in the list of pre-inauguration calls was a minor coup for Vietnam, which is seeking closer U.S. ties. In casino circles, rumors circulated that Falcone, who flew again to Hanoi to meet with Phuc the next month, had helped engineer the conversation. (Falcone declined to comment about his role, if any, in arranging the call.)
More recently, his ultimate prize—overturning the gambling ban for Vietnamese citizens—has come tantalizingly into sight. "The government has realized they're losing a lot of revenue from people who fly out to gamble" in places such as Cambodia and the Philippines, says Don Lam, the CEO of VinaCapital Group, an investment company in Ho Chi Minh City. Eager to capture that cash flow, Vietnamese regulators early this year announced a three-year pilot of so-called local gaming. There's a significant catch. Industry analysts say as few as two resorts might receive licenses—and that Ho Tram, despite Falcone's efforts, is unlikely to be one of them. At least seven other investor groups are vying to build gambling facilities in Vietnam, some with much closer government ties.
From the skyscrapers of downtown Ho Chi Minh City, the drive to Ho Tram follows first a modern expressway, then a smaller highway, then a long stretch of narrow country roads that wind past tiny shops of thatch and corrugated tin, with black goats pecking at grass off the dirt shoulder. And then, in a blink, the Strip.
"This thing here basically could have been a starship from Vegas lifted up and hauled over," says Gary Martin, the resort's head of development. "Crash! And here it sits."
Sprawling across the beach, Ho Tram's first phase consists of a pale yellow 22-story hotel tower atop the low-rise casino—an awkward collision of hacienda-­style terra-cotta and pseudo-Baroque pediments. As in Vegas, there are no balconies or windows that fully open. In a halfhearted nod to the Bellagio, the hotel abuts an underwhelming fountain, the Lake of Dreams. (English-speaking staff snicker that "Lack of Dreams" is more like it.) During a Sunday-to-Tuesday visit—not a peak time at any hotel—the complex is quiet and lightly ­occupied. The visible guests tend to be middle-class Vietnamese families, in flip-flops and athletic wear, along with younger Vietnamese couples.
Much of what makes Vegas Vegas doesn't translate. One example is the Ho Tram pool. For most of the day it's empty; like many Asians, Vietnamese don't like getting tans. For the same reason, the all-female caddies at the Greg Norman-designed Ho Tram golf club wrap themselves up like mummies, with white face masks and neck-­covering hoods over long-sleeved white shirts, to go along with broad yellow sun hats and yellow tartan trousers.

The casino itself has a passport desk at the door; you need a non-Vietnamese document to get in. The facility is divided into a "mass" section and a series of VIP rooms, where the serious business gets done. The VIP section has thick carpets accented in lucky scarlet and lounges laden with bottles of Johnnie Walker Blue Label. Video cameras are suspended above some tables. These are for proxy games, in which a gambler bets by phone while watching a feed of the action. The practice is banned in Macau and Las Vegas, on the basis that it's impossible for regulators to verify who's on the other end of the line. For those who do make the trip, there's invitation-only "adult karaoke" with "servers in the room that are very sexy young ladies that will attend to your every need," says Kelly, the executive chairman.
Over coffee in the resort's French-themed Grand Café, Kelly does what bosses brought into troubled businesses often do: talk about how terrible things were before they arrived. When he first looked into Ho Tram, "I just [thought], it really is f---ed up," Kelly says. "And that Phil really stuck his feet into a quagmire."
In Kelly's telling, the executive team was spread thinly around the world and had little casino experience. Restaurant menus and service were designed for American tastes; one prominent touch, a glass-walled room to display a premium wine collection, turned out not to impress many people in a country where little wine is consumed. A veteran of casinos in Nevada, New Jersey, Colorado, and Illinois, Kelly says his conditions for saying yes to Falcone's offer were simple: "I'm gonna tell you what needs to be done, and I'm also going to tell you when to go f--- yourself, and I don't care what you say, because I don't need the job."
Falcone agreed, and Kelly started in September 2015. He lives in the hotel. "I'm literally working seven days a week around the clock," Kelly says, adding that the staff has learned to watch out for him roaming corridors late at night, looking for problems to fix. "If I walk out the door tomorrow and get hit by that truck, there's a huge key-man risk."

Kelly says Ho Tram is profitable day to day, strong enough that he and Falcone can begin to evaluate "whether we take on a strategic partner, whether we look to recapitalize the company with maybe an IPO" to finance expansion, "or we look to sell it." The resort's next phase will be pitched at the rapidly growing Vietnamese middle class. Rooms will have more beds to accommodate multi­generational families who want to pack four or more people in, and a lower-end spa could offer massages for about 120,000 Vietnamese dong ($5). Dining will be built along the lines of a food court. Regulatory approvals are trickling in for the airport the resort plans to build, which could accommodate planes as large as a Boeing 777, if airlines can be persuaded to fly them in.
Kelly says he's confident Ho Tram will secure a local gaming license—in gambling terms, he "would take the bet." Even so, he continues, "we don't ever want to put all our eggs or marbles in one basket." If enough infrastructure and amenities are in place to make Ho Tram an appealing destination for golfers and spa-goers, "without locals gaming, I'm still successful," Kelly says. He concedes that whether Falcone can receive "an adequate return on his investment, without local gaming, is a question."
Others are far more pessimistic. For now, at least, getting approval is "highly unlikely," given competition for licenses and that, unlike most other applicants, Ho Tram hasn't formed a partnership with a Vietnamese company, says Shaun McCamley, an Australian who ran the resort before Kelly. The other major revenue source—big-time bettors who come mostly from China—is too volatile to rely upon. "If Ho Tram is not going to get locals," McCamley says, "then it's terminal."
Almost 9,000 miles away, Falcone's world is full of reminders of his fall from the commanding heights of finance. At his New York office, by the reception desk, an infinity symbol takes the place of the "a" in Harbinger's logo, an echo of a more optimistic time. The suite is also home to Falcone's newer, publicly listed investment vehicle, HC2 Holdings Inc., which is acquiring small industrial and technology companies, an activity permitted under the SEC ban.
Falcone says he never doubted the Vietnam project, even when it appeared to be falling apart. "When you take the step back and kind of go through the basics, I just came to the conclusion: I think they're wrong, and I think I'm right," he recalls. "I was probably early. But now, fortunately, we've hung on." Falcone says he's more focused on Ho Tram than ever, determined to avoid the "basic blocking and tackling" mistakes that hobbled the casino in its early days—and trying, above all, to secure the local gaming license.
In hinging on a single, high-stakes government decision, Ho Tram vividly recalls LightSquared but in a much less predictable political environment. Falcone acknowledges the resemblance but disagrees that LightSquared was a failure. Now out of bankruptcy, renamed Ligado Networks, and ­oriented toward machine-to-machine connections, the wireless operator is one of only two Harbinger assets left. (Ho Tram is the other.) Still certain of his strategy, Falcone says that it, too, will eventually come good. Building the network was always the right idea, he says, and he was derailed, in part, because "sometimes you think people are more rational than they are." What happened to the company is "not right. It just isn't. I don't care what country you're in, let alone the United States of America. I'm still trying to figure that out. I don't know if I'll ever get the right answer."
Falcone says he never wants to return to running a hedge fund, even after his ban expires. But the troubles of his former life clearly weigh heavily. "You get people out there that read the headlines and, you know, think you're some bad guy, and it's not even remotely the case," he says. He regrets not standing more firm in the months after the 2008 crash, when his investors clamored for their money back; if he had blocked them, he says, he could have avoided a fire sale of assets that rebounded not long afterward. And on his iPhone, he keeps a screen grab of an old investor document that he says shows he was allowed to take money out of Harbinger to pay his 2009 tax bill—the one that attracted the wrath of the SEC. I begin to ask if he feels slighted by the turns his career has taken, and Falcone answers before I can finish the question: "Yeah. I absolutely do."
Still, he rejects the notion that Vietnam represents a chance at a comeback. "I never went away," Falcone says, gesturing toward tony Park Avenue, 30 floors down. Nonetheless, he allows, "I have, obviously, personal motives to see that thing through." He continues: "For me to hate or be angry, as one person said to me, it's like drinking poison. … I'm not going to sit and dwell on it. I've got to keep moving down the path. And, as they say, success is the best revenge."