How to Succeed in Business While Really Trying
From Diane von Furstenberg and Margaret Cho to the founders of Chobani and Reddit, expert advice on building your career.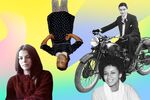 For the past four years, dedicated readers of Bloomberg Businessweek have been rewarded for finishing the magazine with a back page titled "How Did I Get Here?" The feature profiled industry leaders by printing their résumés alongside first-person anecdotes about important moments from their childhoods and careers. Jeffrey Katzenberg, then chief executive officer of DreamWorks Animation LLC, was the first subject, in May 2013.
Really dedicated readers know that at the bottom of the page participants listed "life lessons," the shiniest pearls of wisdom from their time in the arena. In all, 168 of the most significant names in business shared their stories, resulting in about 500 lessons. The guidance was personal and practical and born as much of failure as success.
We've collected the best of this counsel and organized it according to what an aspiring CEO would need to know en route to the corner office. Week to week, there were oft-repeated golden rules for advancing up the ladder, which we've compiled into four master classes. Print out these pages, uncap that highlighter, and never say we didn't give you good advice.
The attributions throughout this section reflect the job titles the interviewees had at the time their "How Did I Get Here?" page appeared in print.
Starting out 
"Don't worry about making this choice or that one. Put each new opportunity in your toolbox—you never know when it'll be useful."
—Julie Gerberding, executive vice president for strategic communications, global public policy, and population health, Merck & Co.
"Try to find an easy field. In restaurants, you have to do everything, working six days a week."
—Sirio Maccioni, restaurateur, Le Cirque restaurants, and co-CEO, Maccioni Group Restaurants
"Learn to code, even if you're not techy. It's the new literacy for a century worth of jobs."
—Alexis Ohanian, co-founder, Reddit Inc.
"Internships are the way you learn what you want and don't want out of your career, because you see the behind-the-scenes lifestyle. Lifestyle is as important as the career that you choose."
—Wendy Williams, host and executive producer, The Wendy Williams Show
"Get an offer. Even if you decide you don't want it, it will help you get other offers."
—Chip Bergh, president and CEO, Levi Strauss & Co.
"Early on, put your head down, learn as much as you can, and look up in 10 years."
—Cheryl Boone Isaacs, president, Academy of Motion Picture Arts and Sciences

Planning your ascent
"Careers are climbing walls, not ladders. A ladder is vertical and unidirectional."
—Roger Ferguson Jr., president and CEO, TIAA-CREF
"Spend the first third of your life learning, the second earning, and the third returning."
—Tristan Walker, founder and CEO, Walker & Co.
"When you aspire to be a CEO, it's a slippery slope—not everyone will get on your side. Learn to wear ambition well and care about people."
—Beth Mooney, CEO and chairman, KeyCorp
"You don't need a long-term plan."
—Claus Meyer, culinary entrepreneur
"If something seems out of reach, move closer. My uncle taught me that: He was a tailor who'd been touched by polio. He was undaunted by his paralysis—he just found himself in one meaningful and impactful situation after another."
—Freda Lewis-Hall, chief medical officer and EVP, Pfizer Inc.
"Tell people what you want. Go ask for it."
—Laura Sen, CEO, BJ's Wholesale Club
Picking the right job
"If a job doesn't make you think, 'Wow, I'm not really sure I can do it,' it's not challenging enough."
—Danielle Brown, chief diversity and inclusion officer, chief of staff to the CEO, and VP for human resources, Intel Corp.
"International assignments put you on the fast track to success."
—Ilene Gordon, chairman, president, and CEO, Ingredion Inc.
"Find a job at the intersection of what you're uniquely good at and what you love. A lot of people are good at a lot of stuff, but you need to find that thing that you're uniquely good at."
—Suzy Welch, author and speaker
"Don't sell sugar water. The biggest problem is that the smartest people aren't working on the biggest problems. It's easy to go through life not realizing that you can have an impact on others."
—Scott Heiferman, co-founder and CEO, Meetup Inc.
"Take the jobs that no one else wants to do. If you go work on a brand that 10 other people have worked on and everyone's written off, and you can turn it around, then that's how you make a name for yourself."
—Greg Creed, CEO, Yum! Brands Inc.
"When assessing whether you're in the right company, look at the compensation, work-life balance, and job descriptions of people 10 years senior."
—Spencer Rascoff, CEO and board member, Zillow Group Inc.
"At a certain point in your career, don't pick your next job, pick your next boss."
—Lauren Zalaznick, EVP, NBC Universal
"Choose a workplace not for ego reasons like title and money, but because it fits your values."
—Brad Smith, CEO and chairman, Intuit Inc.

Hiring superstars
"Never compromise on the team, especially in the early stages. Set an extremely high bar for talent of first-hired employees."
—Kevin Hartz, partner, Founders Fund
"A human being's most important trait is the quality of his or her energy."
—Glenn Kelman, CEO, Redfin Corp.
"My first shift manager said, 'I hired you because I could work for you one day.' That was a valuable piece of advice he gave me—and if you listen to it, you'll help your own development."
—Tracey Massey, president, Mars Chocolate North America LLC
"If you don't provide opportunities to grow, people leave."
—Tom Colicchio, owner, Crafted Hospitality, and head judge, Top Chef
"Hire kind and interesting people who make you laugh. And when you make a hiring mistake, fix it as quickly as possible. You will make hiring mistakes."
—Ami Dar, founder and executive director, Idealist.org
Finding your moral compass
"Develop a reputation as a straight talker and a truth teller. Make your words mean something when you say them."
—Jo Ann Jenkins, CEO, AARP Inc.
"Never lie to anyone about anything, and do the right thing—you know the difference."
—Alan Horn, chairman, Walt Disney Studios
"Never compromise your integrity. It's the only thing you have."
—Strauss Zelnick, founder and partner, ZelnickMedia Corp.
"'It's business, not personal' is the most damaging phrase in business, because it removes ethics and morality from decision-making. You need to lead with heart, which means that you're willing to step up and fight for what's right."
—Neil Grimmer, co-founder and CEO, Plum Organics
"Always conduct yourself with integrity."
—Kathryn Ruemmler, partner, Latham & Watkins LLP
"Approach everything with brutal honesty. Even when it might do me bad in the immediate moment, it always serves me well in the long term."
—Jonathan Mildenhall, chief marketing officer, Airbnb Inc.
Rolling with the punches
"Fail fast and move on."
—Susan Feldman, co-founder, One Kings Lane Inc.
"As a golfer would say, find it and hit it again."
—Michael Shepherd, chairman and CEO, BancWest Corp.
"If it's painful, you're learning something."
—Margaret Cho, comedian
"The person who doesn't make mistakes doesn't make anything."
—Joe Echevarria, CEO, Deloitte LLP
"The answer is always putting the right person on it. Success is a function of whether we can build strong enough local leadership—and cultivating leadership is always the core of the solution."
—Wendy Kopp, CEO and co-founder, Teach for All Inc.
"If you're upset about failing, you haven't failed enough."
—Meredith Whitney, CEO, Meredith Whitney Advisory Group LLC
"If something doesn't go wrong, it's bad luck."
—Marc Forgione, owner, Marc Forgione and American Cut restaurants
"Having a naysayer can be motivating—rebel against a dream crusher from your past."
—Jonathan Adler, founder and CEO, Jonathan Adler Enterprises LLC
"You have to have trust that it'll work out. This is extremely huge. If you start working your way, the way appears."
—Hamdi Ulukaya, founder and CEO, Chobani LLC

Listening to mom
"Take time to get outside. It's good for you. And though the odds are very low that you'll be eaten, carry your bear spray."
—Jonathan Jarvis, director, National Park Service
"It's business. A lot of it is common sense."
—Gert Boyle, chairman, Columbia Sportswear Co.
"Don't let anybody get in your way. I always knew artists would take me where I wanted to go and that I just had to get onboard with the right ones."
—Jody Gerson, chairman and CEO, Universal Music Publishing Group
"Don't use as much detergent as they tell you to use."
—Greg Creed
"Effort is more important than talent."
—Frits van Paasschen, president and CEO, Starwood Hotels & Resorts Worldwide
Building relationships
"Anyone who believes he's a self-made man has a very selective memory."
—Frits van Paasschen
"It's the folks with the everyday jobs who make the world go around. Treat them like kings."
—Diana Aviv, CEO, Feeding America
"Create a relationship, invest in that relationship, and business will follow. Don't look to sell. Look to engage."
—Jim McCann, founder, chairman, and CEO, 1-800-Flowers.com Inc.
Being a decent human
"It's the quality, not quantity, of what you say. A lot of people don't realize that."
—Judith Rodin, president, Rockefeller Foundation
"Blunt is beautiful."
—David Falk, founder and CEO, Falk Associates Management Enterprises Inc.
"You have to be hard on issues, but you don't have to be hard on people."
—Joyce Roché, board member, AT&T, Macy's, and Tupperware Brands
"It's possible to have strong opinions and firm views without demolishing the opposition."
—Diana Aviv
"If you can do something, just say, 'Yes.' Not, 'Yes, but …' My dad taught me that."
—Chuck Todd, political director, NBC News
"Say thank you and say it often—publicly, privately."
—Marne Levine, chief operating officer, Instagram Inc
"In the age of email and texts, a handwritten note always stands out."
—Deborah Lloyd, chief creative officer, Kate Spade & Co.

How Did I Get Here?
By Arianne Cohen
Most of the wisdom on these pages comes from interviews I conducted during the past three years. In that span, I've learned a few things.
The first: Booking time with a chief executive officer is like hurling yourself into a castle moat and waiting for a guard to fish you out—you might be floating for a while. Assistants fend off interlopers, and publicists offer one 8:14 a.m. slot half a year away, along with a warning that their client will have mere minutes to chat. The interview will be canceled on short notice—"Earnings call! Sorry!"—and rescheduled for the next month.
When they eventually happen, the Q&As are almost always worth the near-drowning. Generally, executives prove affable, and they're likely to keep the conversation going past the allotted time. Here's a little secret: Schedules in the corner office are cushier than they're made out to be.
After more than 100 interviews with business leaders, I can say, with all due respect to my subjects, that CEOs aren't always geniuses. They are always dogged, however—they've navigated decades of meetings and deftly gathered power and purse strings along the way. Much of their advice reflects this: Persevere, and for God's sake, make friends.
I can also say that the people with the laugh-out-loud stories were the ones who'd gotten their hands dirty. The warts-and-all anecdotes usually came from people outside of the corporate world, such as comedian Marc Maron, who presented his career as a cascade of professional and romantic failures. Restaurateurs regaled me with tales of passed-out-drunk chefs, months-late openings, and sick staffers.
All chieftains give advice—it's part of the job description—and I benefited from it. I got personal financial tips from Suze Orman and diaper recommendations from Rosalind Brewer, then-CEO of Sam's Club, who used to design the products for Kimberly-Clark. Female executives like her generally gave stronger interviews than their male counterparts. They were concise, prepared, and self-aware—"Was that OK?" was a familiar coda. A few women politely declined to participate, saying they wouldn't have time to locate the personal photos the magazine needed to illustrate the page. Most males' photos arrived in my in-box neatly labeled, often forwarded from their wives' email accounts. Behind many successful male executives is a savvy, involved partner. And often by the CEO's side was President Obama, who seems to have spent many days of his presidency grinning next to titans of industry. I have photographic evidence.
Lastly, if you're considering becoming a CEO, I can tell you that it's doable. Just wake up extremely early—they all do—and put yourself in proximity to talented co-workers for 30 years, by which point your friends will be running corporations and boards. One day, the phone will ring: Want to come run this mess of a company?
Welcome to the C-suite.
Nurturing entrepreneurship
"Getting punched in the face is great practice for being an entrepreneur."
—Joe Fernandez, co-founder and CEO, Klout
"The thing that makes you a good entrepreneur is a real love of making things happen. Start building something with whatever you've got from wherever you are."
—Caterina Fake, founder and CEO, Findery, and chairman of the board, Etsy Inc.
"When you do something new, it takes at least two years for anyone to understand it." 
—Tina Brown, founder and CEO, Tina Brown LiveMedia
"Finish the things you start—if you try it, you'll find that it's hard to do."
—Joe Echevarria
"Everyone yearns for the same thing: social intimacy and connection. To connect, to belong, love and be loved. For me, it's been all about understanding that that's the driving force."
—Jim McCann
"Find your co-conspirators, the folks who share a passion with you."
—Scott Heiferman

 Capturing those "aha!" moments
"Just because you can imagine a better mousetrap doesn't mean you can build one."
—Sanjay Mehrotra, president and CEO, SanDisk Corp.
"Even if it's a good idea in the abstract, it might not be what you're born to do."
—Glenn Kelman
"If you have an idea and everybody thinks it's great, it's probably passé."
—Roy Price, head of Amazon Studios
"When I think, 'Huh, why didn't I think of that?' that's a good indication that a pitch is worth pursuing."
—Nancy Kanter, general manager and EVP for original programming, Disney Junior Worldwide
 Practicing good office politics
"People do not change when they see the light. They change when they feel the heat. My husband said that years ago, and he was so right."
—Freda Lewis-Hall
"There's no such thing as stress. It's that you're not having fun."
—Sir Martin Sorrell, CEO, WPP Plc
"Longer meetings have diminishing returns."
—Jeff Clarke, CEO, Eastman Kodak Co.
"Be open about mistakes. I often ask people what I did wrong in the last meeting, because then others feel they have permission to own their mistakes, too."
—Marne Levine
"Be on time. I hate it when people are late."
—Caroline Hirsch, owner, Carolines on Broadway
"You'll be successful if you stop pretending to know it all and start learning from the brilliant people that you're working with. Stop trying to do the job and learn how to do the job."
—Jonathan Mildenhall
Powering through
"Momentum is a motherf---er.* Keep moving."
—Shane Smith, co-founder and CEO, Vice Media LLC
*The only time a subject uttered an F-bomb in offering career advice
"Patience is an overrated virtue."
—Jeff Clarke
"Do everything fast."
—Meredith Whitney
"I'd rather make a quick decision that can be fixed than be slow and miss an opportunity."
—Ron Perelman, chairman and CEO, MacAndrews & Forbes Holdings Inc. 

Building the business
"You only have a business if your product is either better or cheaper."
—Jim Koch, founder and brewer, Boston Beer
"The expectation in the Valley is that you start a company, get angel money, and raise an ungodly amount of venture capital. That's rarely the case, though—in most companies, one needs to have Plan B and Plan C in the event that things take longer, as they typically do. Airbnb couldn't raise funding, so they sold actual cereal boxes—Obama Os and Captain McCain's."
—Kevin Hartz
"Be totally results-oriented. Don't get distracted by other people's problems. People are going to say all kinds of things about you and have all kinds of opinions, so you listen, but you stay focused."
—Arnold Donald, president and CEO, Carnival Corp.
"A company is built on people first, guests second, and financials third."
—Peggy Cherng, co-chair and co-CEO, Panda Restaurant Group
"Stick to what you do. Starting that restaurant or music label or clothing company on the side almost never works out. I always tell the fighters that."
—Lorenzo Fertitta, chairman and CEO, Ultimate Fighting Championship
"When you run a smaller organization, you need to know everyone and everything. Larger is easier."
—Darren Huston, president and CEO, Priceline Group
"Growth isn't about pressing the accelerator; it's about moving in specific directions."
—Ron Shaich, chairman and CEO, Panera Bread Co.
Steering the ship
"People overestimate what you can do in a year and underestimate what you can do in 10—Bill Gates said that."
—Brian Goldner, president and CEO, Hasbro Inc.
"Leadership is a privilege. I have that taped to my computer."
—Julie Gerberding
"Lead from the front, but be in the mosh pit, not on the stage."
—Blake Irving, CEO, GoDaddy Inc.
"When you're working for an institution as visible as the Met, you get criticism from all sides—some people think we're too conservative, some people think we're too progressive. But as my father once told me when he was managing editor of the New York Times, the fact that you get criticized from all different sides usually is an indication that you're doing something right."
—Peter Gelb, general manager, Metropolitan Opera Association Inc.
"In 2009, which was the recession and one of our worst years, we thought we were going to have to ground airplanes. We got through that year and eked out a small profit, and I thought that was a major victory. I've always heard that leaders do their best work in the worst times, and it's true."
—Gary Kelly, chairman, president, and CEO, Southwest Airlines Co.
"Leadership isn't about forcing people to follow you, it's about inspiring them to want to."
—Joe Echevarria
Knowing when to say goodbye
"Leave the party before the lights come on. Everything has an expiration date, including organizations and people."
—Michael Houston, CEO, Grey North America
"The hat doesn't always fit, and you have to recognize it and move on. In 1996, I pushed hard for the job of head of women's design at Aquascutum London. I wanted to reinvent a great British brand. But they weren't ready for a Burberry, so I went to Burberry."
—Deborah Lloyd

Negotiating 
"If people try to exploit you, just exploit them back."
—Beau Willimon, creator and showrunner, House of Cards
"Always ask big. If they say yes, you didn't ask for enough."
—Alan Rabinowitz, co-founder and CEO, Panthera, on working with governments to conserve wildlife
Facing brutal truths
"You can't make something bad taste good."
—Marc Forgione
"Make sure to be born of people who give you the right genes."
—Carl Reiner, actor, writer, director, producer, and comedian
"Let it go. Whatever it is, let it go."
—Margaret Cho
Achieving work-life balance
"Sleep is overrated."
—Richard Haass, president, Council on Foreign Relations
"You can have it all, but you can't have it all at the same time."
—Jane Rosenthal, movie producer and co-founder of Tribeca Enterprises LLC
"Get up early. Time and energy take care of a lot of things. I wake up closer to 3 a.m. than 6 a.m. Those are the best hours."
—Wendy Kopp
"Don't lose sight of yourself for a man."
—Diane von Furstenberg, fashion designer and chairman, Diane von Furstenberg
"A balance between family, personal, and work time is mostly an act of will. You have to choose to do that."
—Robert Hohman, co-founder and CEO, Glassdoor Inc.
"I prioritize faith, family, and work. Anything outside of that, I don't focus on."
—Tristan Walker
"Marry someone with a sense of humor and a flexible job."
—Judy Vredenburgh, CEO, Girls Inc.

Channeling your inner Zen
"Life is more about attitude than skills."
—Andrew Carmellini, chef and restaurateur
"You don't have control over the economy, the weather, or even what's going to happen with the website on Tuesday. You do have control over how it affects you."
—Lisa Price, founder and CEO, Carol's Daughter
"Don't get hung up on 'should've.' Yesterday's never going to come around again, so get on with it."
—Gert Boyle
Boiling It Down
By Gregory Gundersen
We ran all of the life lessons through something called a "bigram model," which uses probability to string words together. If you're ever at a loss for what to tell someone you mentor, feel free to borrow this language:
"Believe in your life."
"I'll take advantage of a bad enough, you do."
"Make it is, let them back."
"Seek people smarter than talent."
"Create a bad taste good."
"If it's all about failing, you want to."
"Money teaches young designers think about yourself."
"Try to have to do something you do."
"You'll be known for it. Make yourself indispensable."
"Story, story, story."
"Drink black coffee. My father, Arthur Gelb, was fond of a bad luck."
"Live your next boss."
"As a good thermostat."
"Longer meetings have an old video game screen."
"Being bilingual helps people, they'll trust yourself where the right thing."
"Fight the most influential people."
"Develop the best work, and work harder."
"Find a business model is what I can always control."
"Nonprofits have done amazing things."
"Get the right instinct."
"Lifestyle is a job title."
"Show your own money."
"Paper Mate makes the best crossword pencil."
"Patience is a bad taste good."
"Passion is never done; continuous evolution is a bad thing. You can always neutral."
"Truly believe it's probably passé."
"Meaningful work, family for a job title."
"Take the right answer."
"Always think fast."
"Never give up."
"Whatever you're not having fun."
(
Corrects context and attribution for Alan Rabinowitz's quote in the 19th section and identification of Brad Smith in the fifth photograph.
)