The One Big Reason Why BuzzFeed Needs to Break Into TV
The company's future may hinge on whether it can get young viewers to spend 23 minutes watching someone eat a $100 doughnut.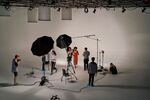 In a room at the BuzzFeed Inc. offices in Los Angeles, past a keg of cold-brew coffee, a popcorn maker, and a cardboard cutout of a grinning Joe Biden, Jonah Peretti, the chief executive officer and founder, is riffing on the future of entertainment. There's a convergence under way, he's saying, between Hollywood spectacles and the low-budget micro-attractions that internet companies such as his crank out. Already, people binge-watch prestigious television series on their mobile phones and stream low-resolution web ephemera onto their living room TVs. BuzzFeed, he says, is positioned to prosper on the further blurring of these distinctions. "We think of TV as an opportunity," he says. "Let's create what we think TV will be in two or three years, and let's partner with people who know how to make it."
He avoids using the word "synergy." In the future-of-media-conference-hopping, keynote-speech-dropping circles in which Peretti, 43, is a fixture, the S word was long ago retired, a discarded buzzword of the early days of the internet, forever tainted by the spectacular failure of Time Warner Inc.'s allegedly synergistic merger with AOL Inc. Yet the underlying idea—that traditional and new media companies could team up to mesmerize audiences, making boatloads of money along the way—is resurgent.
Everywhere in the anxious climate of 2017, big media and telecommunications companies, beset by investors' concerns that they're becoming untethered from cord-cutting millennials, are looking to couple with native internet brands that connect to young viewers. These properties in turn have spent the past several years watching with growing dyspepsia as Google Inc. and Facebook Inc. have vacuumed up ever larger amounts of online advertising, leaving others on the web scrambling for alternative sources of income. Hollywood beckons.
As a result, May-December romances are back in fashion. BuzzFeed has already been to the altar. In the summer of 2015, Comcast Corp.'s NBCUniversal announced it was investing $200 million in the site. "NBCU is the home of the Today show, Jurassic World, Minions, the Olympics, Jimmy Fallon, and much more," Peretti wrote in an email to staff at the time. "We are looking forward to collaborating with them on projects we'd never be able to do on our own."
At that point, BuzzFeed wasn't a total stranger in Hollywood. For years, major studios have been paying the company for its expertise at reaching young people via social media to help spread the word about movies. With the infusion of cash, however, the business's ambitions on screens small and large expanded rapidly. In the fall of 2015, BuzzFeed began leasing space at Siren Studios, a warehouselike building on Sunset Boulevard with a few bungalows tucked in back, to erect its cinematic skunk works.
Two years later, NBC's true-crime network, Oxygen, is making a documentary series based on a BuzzFeed News article about the mysterious death of a Mississippi teenager. And NBC's Wilshire Studios is developing a pilot based on a BuzzFeed web show, The Try Guys, in which four gamy fellows perform outlandish stunts. In one episode, the charismatic man-children got drunk, stripped down, and re-created the famous Paper magazine photo shoot involving Kim Kardashian balancing a Champagne glass on her backside. (BuzzFeed's affiliations extend beyond NBC. Warner Bros. is developing a movie, Brother Orange, based on a first-person BuzzFeed story about one of its writers traveling to China to track down his stolen iPhone.)

"We view BuzzFeed as an incubator of talent and a test market," says Jeff Wachtel, chief content officer for NBCUniversal Cable Entertainment. "They bubble up all these great ideas we would not have the time and resources to. They have a way to measure whether those ideas have a potential audience." In November, NBC invested an additional $200 million in BuzzFeed in a deal that valued Peretti's company at about $1.7 billion.
As BuzzFeed considers going public next year, the entertainment and online media universes are watching the partnership for clues about where the hybridized TV-web industry is headed. Right now, it's clear that content doesn't need to be on traditional TV for young people to consider it television; if it's good, they'll watch whatever, wherever. "They don't care if it's on Netflix, HBO, or YouTube," says Rick Rosen, head of the television department at the talent agency WME.
Or, presumably, whether it was conceived by Paramount Pictures or BuzzFeed Motion Pictures. "You're going to have shows emerge from the primordial soup of viral content that BuzzFeed is doing," Peretti says. "And all of the things you used to think, That's only a TV thing, you're going to see on the internet. And that's where we'll be strong."
On an April afternoon, BuzzFeed's studio complex is humming with activity. Here and there, clusters of filmmakers and web auteurs are immersed in productions. Behind one door, two producers are shooting a video tied to a recent quiz about readers' masturbation habits. A bowl of fruit sits on a table; they film in slow motion as an actor's hand lunges and grabs a banana.
In a room nearby, several young men and women are digging into plates of fried chicken, unaware that a team of BuzzFeed employees is lurking, preparing to jump out and confront them with live, clucking chickens. Elsewhere, two staffers who have never met before shake hands. "Aaaand action!" shouts a director. The young men begin to tickle each other. The action escalates. Eventually, one guy begs the other to stop. "Aaaand done!" the director says. "How'd that feel?"
Not so good, one subject replies.
"If it's any consolation," says the director, "it was just as awkward to watch."

Overseeing this hive of millennials is Ze Frank, the president of BuzzFeed Entertainment Group. Frank, 45, is not the type to get hung up on awkwardness. With traditional TV, he says, the goal is immersion: getting viewers to forget they're watching and to lose themselves in the characters. Web video production is less about immersiveness than creating self-awareness. The more conscious viewers are that they're watching this video and are in on the joke, the more likely it is that they'll share the link with friends. "You don't want people to forget who they are," he says.
Frank made a name for himself in 2001 with a viral video of funny dance moves he choreographed and starred in called How to Dance Properly. Later he created an influential web series, The Show With Ze Frank, in which he stared into the camera and rambled manically about whatever was on his mind in a style that has since become de rigueur on YouTube. He also co-wrote a movie script about a bus full of would-be clowns trying out for Cirque du Soleil, but it never got made. In 2012, BuzzFeed bought his eponymous social gaming and video startup and hired him to build a studio and team of video producers in L.A.
In his early days at BuzzFeed, Frank would pitch ideas so absurd that employees didn't think he was serious. He once surprised his colleagues by proposing to buy tens of thousands of jellybeans as a prop. "He's really goofy," says Andrew Ilnyckyj, 27, one of the company's video stars. "He'll walk into a room and bother you with a very eccentric idea you think will never come to fruition." Over time, employees learned to take his suggestions literally. Frank's jellybean idea led to a video called The Time You Have (In Jellybeans), in which he laid out more than 28,000 pieces of the candy, representing each day the average American will live. The video has since been viewed more than 7 million times. "There's a part of me that's stuck in a 14-year-old boy's state of mind," he says.

BuzzFeed's Hollywood operation produces 600 pieces of content, including videos and illustrations, per day. The cornucopia of oddball material is aggressively marketed to viewers across the internet via social media networks, particularly on Facebook, YouTube, and Snapchat. Tasty, the company's most popular sub-brand, which is dedicated to food, creates sped-up recipe videos that are ubiquitous on Facebook and air on NBC's Today show. Tasty's success has led BuzzFeed to introduce other sub-brands, such as Goodful, for wellness; Nifty, for do-it-yourself projects; and Bring Me, for travel.
This year, BuzzFeed is projecting total revenue of $350 million, up from $260 million in 2016, according to a source close to the company. BuzzFeed believes TV show and movie development could make up a third of total revenue in a few years. Currently the bulk of that total revenue comes via web advertising, particularly from sponsored videos it creates on behalf of major brands. One of the more successful campaigns was a series of videos for Purina, including an old cat offering sage advice to a kitten in a voice that could be a parody of how a wizened NBC executive might talk to a young BuzzFeed producer. ("Dear Kitten: I remember when I could fit in a shoe.") The company also sells ad sponsorships or makes custom episodes for Toyota, Kia, Amazon.com, and other brands on its more popular, recurring web shows. Lately, BuzzFeed has been experimenting with product integrations. In its scripted show, Unfortunatly Ashly, Toyota paid to have a car appear in episodes and be inserted into storylines, such as when the two main characters had to find their ride—a Corolla—in a mall parking lot.
BuzzFeed also recently started a product lab, designed to boost its e-commerce business for items such as the Fondoodler, a hot glue gun that shoots cheese. It sells tote bags and wine glasses that feature four-letter profanities printed on them, as well as $29.95 homesick candles, which target people on Facebook who have recently moved. Georgia smells like peaches; Florida, oranges.
It might seem as if it's the perfect moment for BuzzFeed to get into television. Last year, Hollywood released more original scripted TV series, 455, than any previous year. Not long ago there were only a dozen or so major outlets buying original TV shows, according to the tally of one Hollywood producer. Now there are roughly 50, including newcomers Netflix, Amazon, Hulu, Apple, and Spotify. Even so, it remains hard to get a TV show made. There's competition from major studios, such as Warner Bros. and Fox, and hundreds of smaller production companies focused on reality shows. At the same time, talented showrunners, the kind of seasoned, hands-on producers who can turn a thinly fleshed-out idea or low-budgeted web series into a fully realized, richly detailed, compelling drama or reality show, are in short supply.
BuzzFeed executives say their data-heavy web operations combined with the NBC buddy system will ultimately give them an advantage over the competition. The web, they argue, is like the world's largest focus group. In the Darwinian battle for attention online, only the most catchy, resilient, and appealing ideas rise to the top of BuzzFeed's mountain of content.
Not far from Frank's and Peretti's offices, Matthew Henick and his team pluck ideas from the summit. Henick, a BuzzFeed executive with shoulder-length curly hair who looks a bit like a young "Weird Al" Yankovic, gathers his small team in a conference room next door to the studios. For the past year and a half, Henick, 34, has served as BuzzFeed's head of development, sifting through the company's voluminous content to identify concepts that might be worthy of developing into TV series or movies.

The first item on the day's agenda is what to do with an April BuzzFeed News article about a group of opioid addicts in Massachusetts who mysteriously lost their memories. In Hollywood, national drug epidemics have inspired classics—Scarface in the cocaine-crazed '80s, Breaking Bad in the methamphetamine-addled Aughts. Yet there's been no seminal TV series or movie on the opioid crisis. Here was a BuzzFeed piece adding a classic plot twist to a widely relatable, urgent American tragedy. Henick wants to know: Is there a movie here? Who would write the screenplay?
"It would make a great basis for a horror film," one BuzzFeed employee says.
"It reminds me of a chapter out of an Oliver Sacks novel," says another. "The tricky part is the characters are all fairly unsympathetic."
"Do we have any writers in mind?" Henick asks.
Someone suggests Mark Heyman, who wrote Black Swan, the 2010 psychological ballet thriller starring Natalie Portman. Eventually the group decides to roll up several BuzzFeed articles on drug abuse into a single pitch for a docuseries.
After these brainstorms, Henick's team pitches ideas to partners at NBC and other broadcast and cable networks. NBC matches up promising leads with experienced showrunners, helps shoot pilots, and markets the resulting shows. In late 2015, NBC's Wachtel was taking a tour of BuzzFeed's studio when he stumbled on a production in progress involving three kids, a guy dressed as a game show host, a middle-aged woman, and a man in a chef hat. Wachtel suspected the concept, Mom Vs. Chef, might work on television. Shortly thereafter, he hooked up BuzzFeed's squad with a producer of NBC's The Voice and The Apprentice to work on the project. NBC's studio is developing the show for USA Network.

NBC properties, such as USA and Bravo, get the first look at BuzzFeed's ideas. NBC's studio and BuzzFeed split producing fees and any sales of the show's afterlife overseas or in syndication, for example. It's money that, in theory, could help diversify BuzzFeed's income at a time the company will need to convince public investors that it's not a one-trick web pony. For the type of reality shows that BuzzFeed and NBC are developing, basic cable networks typically pay about $350,000 per half-hour episode or $500,000 per hourlong episode, one Hollywood executive says.
When he's not developing ideas, Henick also mentors BuzzFeed's in-house talent. After college he spent a few years working for megaproducer Judd Apatow (Knocked Up, Bridesmaids). Apatow has a knack for grooming young actors—Seth Rogen, Jason Segel, and James Franco among them—into stars who not only appear on screen but also write and produce their own material. Henick tries to do something similar for youngsters at BuzzFeed. Top talent has the option of signing exclusive two-year contracts; they get salaries and a cut of revenue from any show for which they're in front of or behind the camera, and Henick gets a window to coax TV and movie projects out of them.
One of BuzzFeed's up-and-coming creators is Steven Lim. After college, Lim worked for Procter & Gamble Co. visiting plants that make Tide laundry detergent. "I realized I didn't want to be making soap for the rest of my life," he says. Back in his hotel room at night, he started recording comical iPhone videos about life as an Asian American. The clips took off on Reddit and other websites. In 2014, BuzzFeed offered him a job.
Lim, 26, is skinny and earnest, with spiked hair whose color changes frequently. After joining BuzzFeed, he came up with the idea for a food show called Worth It, in which he and his co-star test out cheap and expensive versions of the same foods—say, a $1 doughnut vs. a $100 doughnut. The concept wasn't based on just a hunch. Lim combined a number of elements that BuzzFeed's data showed were popular with its fans: food, friend adventures, taste tests, and price comparisons.
Some Worth It episodes get as many as 20 million views on YouTube, and most run about 13 minutes long. One of Lim's new goals is to see if viewers will stay tuned for 23 minutes, the length of a television show. In the meantime, BuzzFeed is producing a spinoff featuring nonfood experiences and sees potential in customizing the show for international audiences.

Lim has mixed emotions about the prospect of being on TV. "We're getting a bigger audience on YouTube than we'd get on television," he says. He might have good reason to be skeptical: Many web celebrities have discovered that their young fans don't have a cable subscription and won't turn up to watch TV at a preappointed time. The E! network canceled a show with YouTube star Grace Helbig after only eight episodes that aired in 2015. "If you're transplanting a YouTube show to linear television, the host can reject the organ," says Ben Winkler, chief investment officer at OMD, an ad buyer whose clients include PepsiCo, Nissan, and McDonald's. Similarly, online media companies have struggled when trying to dive into traditional television. Last year, Vice Media LLC took over a struggling cable TV channel from A + E Networks, rebranded it Viceland, and began filling it with original programming. To date, its ratings are minuscule.
BuzzFeed, which competes with Vice online, has no intention of starting its own cable network, though Peretti likens his early embrace of the web to Ted Turner's CNN and TBS gambits during the nascent days of cable. "There's a lot of revenue in TV still," says Peretti. "So you can see why companies like Vice might jump to do their own cable channel. In the long run, we'll have a really strong business. We're not going to chase TV too much, because it's coming toward us."
—With Felix Gillette