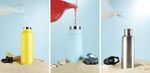 Three Cocktails You Can Make at Home, Then Take to the Beach
Batching is a man's best friend. Freeze these recipes overnight, and you're good to go.
Drinking on the beach is one of life's many joys, but it's not always easy to pull off. In most cases, you're far from the conveniences of civilization, such as running water and refrigeration. Plus, it's easy to make mistakes—have you ever tried to bring bubbly and ended up with lukewarm fizz? 
After years of experience both bartending and beach-drinking, I've started using a technique lifted straight out of the professional's playbook: batching. In my years of working in cocktail bars and restaurants in New York City, we usually prepare for an offsite event, such as a charity dinner, by bringing the non-alcoholic ingredients pre-measured to the location. Like the beach, access to traditional kitchen facilities at these places is often nonexistent.

All you'll need is a 1-liter (roughly 32-ounce) stainless-steel water bottle or larger, and if it's insulated, that's even better. Avoid plastic bottles, which absorb flavors. But your S'well will work just fine, and another favorite, the Seattle-based Miir, has a 42-ounce model in case you want to scale up the recipes.  
Remember to go easy on the alcohol—make the drinks slightly less strong than a "normal" cocktail, and don't skip the water in these recipes. For some people, it can be too easy to drink too much on the hot beach, and the combination of the sun and heat with a lack of access to fresh water can lead to an unpleasant post-beach evening.
Once I'm done mixing, I like to leave mine in the freezer overnight. Just make sure there is enough space in the bottle to accommodate any expansion due to freezing. They should be icy or slushy when you pull them out to pack them in the morning, which means they'll be perfect by the time you get to your favorite spot in the sand. Final pro tip: Wrap the bottles in towels for better insulation. Just make sure the bottles are closed tight. Oh, and always check your local open-container laws before serving. 

Mint-Lime Cooler

This drink is nothing more than a gussied-up spiked limeade. Crisp, refreshing citrus-y drinks like this are always a big hit in the sand. You can also riff and modify as you see fit, switch the spirit to gin or rum, or even replace altogether with green tea if alcohol's not your thing.
Ingredients
10 oz. (1 1/4 cup) vodka
4 oz. (1/2 cup) fresh lime juice
4 oz. (1/2 cup) mint syrup
8 oz. (1 cup) filtered water
To make the mint syrup, combine 1 cup water and 1 cup granulated sugar with 10 to 15 fresh mint leaves in a blender. Blend on high for 2 minutes and strain with a fine-mesh strainer. You can mix the herbs, too, and use basil, rosemary, or different mint varieties. Once that is made, combine all ingredients and pour into a metal water bottle like the HydroFlask above. One big thing to keep in mind is to use freshly squeezed lime juice—using prebottled juice is one of the worst crimes against cocktails you can commit. Place in freezer for at least 5 hours, or overnight. Serve with or without ice. Serves 5 to 6 people.
Strawberry Smash

Strawberries are the defining flavor of summer, and this whiskey sour riff pairs them with a spicy-and-sweet bourbon that's perfect for a hot summer day. When making this, be sure to use the ripest berries possible for the best balance. I recommend skipping the step of straining the berries after blending because it gives the drink gives a great texture, like a classier version of a frozen strawberry daiquiri.
Ingredients
10 oz. (1 1/4 cup) bourbon
4 oz. (1/2 cup) fresh lemon juice
4 oz. (1/2 cup) simple syrup
6-8 ripe strawberries
To make the simple syrup, combine 1 cup sugar and 1 cup water in a saucepan and bring to a boil, then stir until the sugar is dissolved. Remove from heat and allow to cool before using. Then combine strawberries and simple syrup in a blender and blend on high for 1 minute. Strain into a container if you want a smooth texture; skip it if you want a chunkier vibe. Combine all ingredients in a metal water bottle like the durable Avex steel water bottle, which can hold liquids cold for up to 29 hours. Place in freezer for at least 5 hours or overnight. Serve with or without ice. Serves 5 to 6 people.
Inverted Martini

Most people like their Martinis "dry," which is a shame, because good-quality vermouth is a real treat, especially when it's fresh and served properly. My riff on the martini is decidedly "wet"—fitting for the beach—and can satisfy those craving a spirit-forward drink without the high risk of overindulgence, since vermouth has less than half the alcohol of such spirits as gin or vodka. If you choose to include olives, they will gently infuse into your drink while they chill, making it a subtly dirty martini.
Ingredients
16 oz. (2 cups) dry vermouth
8 oz. (1 cup) gin
6 oz. (3/4 cup) filtered water
Optional: 10 dashes orange bitters, or 5 to 6 olives, to make a dirty martini
Combine all ingredients in a container, stir, and pour into a metal water bottle. For a martini, you'll want something that keeps it ice cold, such as the Klean Kanteen, one of my personal favorites. Place in freezer for at least 5 hours or overnight. Serve with or without ice. Serves 5 to 6 people.