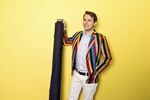 This Startup Is Reinventing a Preppy Cult Classic
Jack Carlson, of Rowing Blazers, is taking the boating-club sport coat back to its roots.
The guy most likely to revive preppy American style was educated at the Buckingham Browne & Nichols School in Cambridge, Mass. (class of 2005); Georgetown University (School of Foreign Service, 2009); and Oxford University (M.Phil. in archaeology, 2011; D.Phil., 2015). His name is Jack Carlson: Dr. Jack L. Carlson, it says on his sturdy stationery cards.
While a student, Carlson excelled as an athlete. He's won the Henley Royal Regatta, among other races, as a coxswain—the member of a crew team who, facing his oarsmen and the finish line, calls the strokes and guides the race.

Eventually, he steered himself into launching a startup. This week, just before turning 30, Carlson announces himself as a clothing designer. His label, Rowing Blazers, makes its public debut with a collection putting the "old sport" back into the sport coat.
"We're bringing the blazer back to its origins," Carlson says, in pitch mode. "The original blazer was kind of like the hoodie of its day," he continues, explaining that the garment, which originated as casual warmup gear, made a shift from pure function to nonchalant fashion in the 1800s.

The Look
The sport coats at Rowing Blazers are inspired by the traditional jackets worn by the members of venerable boat clubs. Although these jackets are the antecedents of the navy blue blazer in your closet, they're vastly more expressive. Think of big crests on breast pockets and bold stripes of team colors. Imagine endless fathoms of grosgrain trim.
In cut and construction, Carlson's blazers update and refine the ready-to-lounge look of a 1930s jacket. In color and pattern, they range from basic black and discreet navy to bold burgundy to proud blue-on-blue stripes. Some have frisky repp trim at the edges. The noisiest model is delirious with multicolored stripes inspired by a vintage croquet wicket; it radiates, as Tom Wolfe might say, the go-to-hell-with-your-opinion air of patchwork madras pants.

They hang lightly, these single-breasted blazers. The outlier is one double-breasted blazer (some call it a reefer coat) evoking the pomp of Prince Charles's inimitable 8x3 regalia: It has eight buttons on its front, three of which actually work while the other five sit and gleam cavalierly.
Even the most muted of these rowing blazers is distinguished by thoughtful sewing and fun decorative touches. Carlson has a good eye for the emblems of privilege: The underside of a lapel will feature a carefully embroidered Latin motto—UBI MEL IBI APES, for instance, which means "where there's honey, there are bees." The bee turns up often in Rowing Blazers iconography, on brass buttons and wool neckties. It's a symbol of industriousness that Carlson connects with two fictional social organizations he admires: P.G. Wodehouse's Drones Club and Wes Anderson's Rushmore Beekeepers.
The jackets run from $550 to $1100, which isn't too bad if you consider that they're made with panache in the USA and intended to be worn often enough to become shabby at the elbows.

The Rowing Crew
Rowing Blazers is already a hit among elite rowers—highly valuable street cred, considering that elite appeal is essential to this endeavor. "For these team orders, we offer a rower fit and an alumni fit, which is a little more generous," Carlson says.
The company is doing custom work for crews including the Leander Club, the oldest of its kind in the world, and a few other organizations with which Carlson is affiliated, such as Oxford Brookes Boat Club, the New York Athletic Club, and the U.S. national team, along with top collegiate and boarding school squads. The women of the University of Texas crew wanted "cowboy jackets that are also rowing blazers," he says. The makers are doing some Western detailing and embroidering lone-star designs on patch pockets.
Carlson recognizes that all of this sounds like a Wes Anderson comedy, and he's OK with that. To the extent that there's a joke here, he's in on it, sincerely passionate about style while keeping a good sense of irony on his shoulders. For instance, the shirting options at Rowing Blazers include an Oxford-cloth button-down ($175) closely modeled on a Brooks Brothers shirt Carlson wore until its seams burst and he restitched them in reverse. He loved the original, and after making 28 attempts to get the curve of the collar just right, he's proud of his reproduction. But still, he concedes, "it's little bit contrived. It's trying a little bit. We're fully aware of that. We're not kidding ourselves."
How It Started

One fateful day in 2004, Carlson and his high school crew team visited the Andover Shop in Cambridge, Mass., to outfit themselves for Henley, the annual English rowing event and social spectacle. His blazer was simple: "It was very conservative," he says. "Navy blue with white trim and a badge on the pocket." Seeing grander and gaudier blazers at Henley made an impression on the adolescent: "I thought they were aggressive." A little alarming, a little intimidating—and therefore quite exciting, he felt. The feeling evolved into a project.

Ten years later he had a Rowing Blazer book in print—a coffee-table tome that preserves lore and presents heroic photos by F.E. Castleberry and others of real rowers, strapping lads and healthy lasses posing around the globe. Stylishly combining voyeurism and anthropology, it was a great document of tribal garb and an instant cult classic.
Some would also call it proof of concept. Promoting and marketing the book led him to menswear world. He found a good manufacturer in Manhattan's Garment District, hung an oar on the wall, and gave it a go.

"A Little More Depth"
But back to that busy bee and the other fine details and esoteric flourishes that decorate the blazers, shirts, ties, badges, and belts. This sort of thing is important to a brand getting into the business of retailing prep fantasies, especially now: In business terms, Ralph Lauren seems unsettled, and J.Crew currently looks like a fire in a charcoal-heather-colored dumpster.
Is it fair to attribute the recent struggles of those brands to a turn against preppy fashion? Or just the vision of it promulgated by those two companies? It's important to give the consumer images and symbols that resonate.
"We very consciously are not doing the two crossed oars," Carlson says. "To me, that's too expected. It's also too Ralph Lauren–esque. We like to do stuff that's a little bit more cryptic and has a little more depth."

He's found some cool old emblems in the course of his research and placed a few of them on $148 neckties. But Carlson is careful not to appropriate a heraldic crest from an extant organization, unlike some hall-of-fame lifestyle marketers we could name. "No offense to anyone at Ralph Lauren, but" it's strange, to say the least, to see the symbol of Brasenose College, Oxford—"my college!"—wrenched out of context and set on a sales floor.
He seems to be off to a smashing start. And if it all goes south, Carlson can always fall back on classical archaeology. "I'm supposed to be working on turning my Ph.D. thesis into a book, something more accessible," he says. "It's about how empire was made visually manifest, comparing the Roman Empire with the contemporary Qin and Han Chinese dynasties." He looks at statues, coinage, architecture, terra-cotta warriors; images, objects, signs of strength, symbols of power. One could argue that, at $500 a jacket, he's made some of that accessible already.