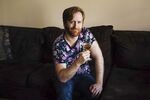 Why This Hangover Cure Is a Staple in One Expert's Home Bar
Nick Bennett, head bartender at Danny Meyer's Porchlight, gives us a tour of his personal liquor stash.
In 2015, Danny Meyer's Union Square Hospitality Group announced the opening of Porchlight, its first stand-alone bar, with a promise to serve up high-class cocktails and down-to-earth vibes. "We have higher aspirations than just being a neighborhood bar," one executive told the New York Times. "But we have to be as welcoming as a neighborhood bar." 
Hiring Nick Bennett as head bartender at the Manhattan spot took the company a long way toward achieving that goal. Though Bennett established his mixological bonafides at venues such as Booker and Dax and Amor Y Amargo, he is still very much the young man who began his career cracking open Budweisers at his uncle's dive back in Sag Harbor, on Long Island. His quick and hearty laugh is a key professional skill.
Bennett lives in Brooklyn, N.Y., with his fiancée, who is also often the first to taste his works in progress. "It's good to get an opinion from someone who would actually be ordering a cocktail," he says when we visit. "We shoot ideas back and forth. I'm, like: 'How's this sound?' She's, like, 'I have no idea,' and I'm, like: 'Here, try some then.'"

"I like keeping my bar stuff centrally and off to the side,"  Bennett says. There is no contradiction in this, because he houses his booze in a deep cabinet in a corner of the kitchen. It's a far cry from the setup he had in an apartment shared with roommates.  " I used to live in this renovated old loft, which has a much better home bar space than the one I do, now. It was an actual physical bar. We used to run a supper club. We would do events for 30 to 40 people, and I would just bar tend."
Now his home bar has been housebroken, and happily so. "I don't need it to be all that much more than this, honestly. I love being a bartender, but I don't want to come home and be reminded immediately, 'Oh, there's a bar there.' I don't want it right in the middle of my life."

Opening the cabinet, we discover three shelves, with the pride of Bennett's collection at eye level: bottles of green and of yellow VEP chartreuse, also known as vieillissement exceptionnellement prolongé, marking a version that is exceptionally long-aged and exceptionally not cheap. "Neither one of them I've paid for," he said. "One was a Christmas gift from my soon-to-be father-in-law, and the other one I got at a closing party for a bar. They were like, 'None of this product is gonna mean anything! Take what you want!' and I was like—" Here, Bennett pantomimes pocketing pilfered goods inside the front of an overcoat. "I use it in cocktails [at home] 'cause I'm never gonna do that anywhere else."
The Top Shelf
Bennett keeps his top-shelf stuff on the  top shelf, as God intended. "Everything up there, I'm, like: Don't touch it unless you're directly allowed."

Take the Barterhouse, for instance: "Every year my brother and I do a gift exchange of whiskeys. One of us buys a whiskey that we keep at the other person's house. I kept that one, and whenever he comes over we'll have a nip. He's got a Redbreast 15 at his apartment."
The Barterhouse, he continues, is a 20-year-old bourbon. "Orphan-barreled. Probably just a marketing campaign, but what they say is that they lost these barrels and since found them, and they're now releasing them. It's super-rich, very tasty, not overly woody." 
Between the autographed Wild Turkey 101 and an original bottling of Tanqueray Malacca gin stands a bottle of soju from North Korea. "I'm not gonna open it," Bennett says. "I'm just gonna leave it up there and stare at it." 
One for the Flight
Tucked away on the top shelf are a stash of Carry On Cocktail Kits and minibottles that await some lowering of seat trays.

"Whenever I go flying, I throw a few in my bag, just to keep the flight a little more interesting," Bennett says. "On Instagram, I've been seeing bartenders doing their cocktails on planes a little bit, and I've seen a few egg-white cocktails happen—like actually shaking up cocktails in their seats. That's the most insane thing I've ever heard of in my entire life. More power to 'em. But I'll make a quick old-fashioned and use it to go to bed."
On the third and lowest level we find the bottles for which Bennett reaches "on the regular." 
"Rum is definitely my go-to. That's always the first thing I look for when I'm out and about," he says. The daiquiris he makes at home are tarter than those he makes at work, and he's got a regular move for modifying classics: "Anything that's made with cognac or with most bourbons, sub in aged rum, and you're set."
Keep your eye on the Green Spot. "It's soooo malted," Bennett says of this Irish whiskey. "That makes it really stand out. They haven't been found in America until relatively recently. The Dead Rabbit guys really started bringing it into the fold." 
The Hangover Treatment
Down on the counter is a supply of Underberg, the German digestif known by the distinctive wrapping of its 20-milliliter bottles.
"I try to get this into my life, whenever I can," Bennett says. "Always keep some in my bag, if I'm out and about. If I don't feel good in the morning, it's the first thing I have. It's great for hangovers—just a quick little something to settle the stomach. It makes a good gift."

How would he describe Underberg to the uninitiated? "It's an aggressive bitterness. It's anise. It's clove. It's cinnamon. Please just try it."
What's in the fridge, Nick? "Aged eggnog."
All you need to make it at home is high-proof bourbon, high-proof rum, cognac, two dozen eggs, sugar, a bit of spice, a pinch of salt, and the ability to plan ahead. "I let it sit for around for a year," Bennett says. "I made this one on 9/25/16. I'll crack it open in November or so." 
"I once did one for two years, and it was awesome. The proteins break down, and these others flavors come out. After about a year, you'll taste banana. After two years, you'll taste dates and dried apricots. But I'm not patient enough for that, anymore." 

"I used to do it outside of the refrigerator. It's safe! It's still safe because the alcohol kills off whatever bacteria might exist in an egg. But I've started just putting it in the refrigerator for [the peace of mind of] everyone else."
A bookshelf adjacent to the kitchen indicates a scholarly bent. Here, in addition to the usual booze manuals, we find two copies of Kingsley Amis' Everyday Drinking, for instance, and a handful of volumes from the Edible Series published by the University of Chicago Press, along with the winter 2012 edition of Lapham's Quarterly ("Intoxication"). Also: a deaccessioned library copy of Kerry Segrave's Tipping: An American Social History of Gratuties.

"We are eventually gonna go to hospitality-included," Bennett says. "I started studying up when I found out Danny Meyer was gonna take it away. This was the first book I found that really broke down tipping in depth. It talks about how un-American it was when it first started out. It was classist, it was racist, it was sexist. It's ridiculous. It really is."
These days, Bennett's home drinking leans toward gold rushes and daiquiris—"mostly because my fiancée is learning how to make cocktails. She's learning how to shake. But when I come home from work at 4 o'clock in the morning, I'm not gonna shake up a cocktail and wake my fiancée up. I keep it relatively simple, like Manhattans, or 50-50 martinis, or old-fashioneds."

The Recipe
In this spirit—and using two spirits extolled above—Bennett mixes up a deluxe version of a classic:
Improved Tipperary Cocktail
1 1/4 oz. Green Spot Irish Whiskey
1 oz. Carpano Antica vermouth
3/4 oz. VEP green Chartreuse
1 dash orange bitters
1 lemon twist
Stir well with good ice. ("I always keep a ton of those big two-inch cubes because they're so much denser.") Strain into a chilled cocktail glass. Twist and discard the bit of lemon peel. "If I were serving this at the bar, I'd add brandied cherries as well."
Serve and admire your work. "It's so delicate and subdued and floral with the VEP. Oh, it's so good! I've got a full shift today, but there's no way I'm not gonna drink this."