Behind the Scenes at WrestleMania 33
WWE brings its blend of moonsaults and John Cena marriage proposals to Orlando.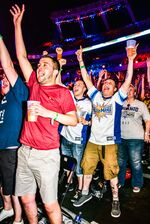 Photographer: Dolly Faibyshev for Bloomberg Businessweek
In the 32 years since World Wrestling Entertainment Inc. staged the first WrestleMania, the company has seen its marquee production evolve from a singular early spring spectacle to one of more than a dozen annual feature events. But Mania remains WWE's lodestar—the night when it pulls out all the stops to draw in new fans and wow casual and hardcore ones alike.

Lest you think that, decades in, WWE has run out of ways to top itself, WrestleMania 33 in Orlando featured the retirement of the Undertaker after 27 years with the company; a tag-team ladder match highlighted by the surprise return of the Hardy Boyz (the Wright brothers of the form, which involves scaling a ladder to secure title belts hanging from a hook, mid-ring); a six-motorbike police escort of Triple H and Stephanie McMahon down a 90-yard ramp to the ring; and staggering aerial feats throughout.
Those tuning in at home could take in the spinebusters and Swanton Bombs for free, part of the growth strategy for the WWE Network, a multiplatform service that began in February 2014. The enterprise was widely viewed as risky—programming isn't cheap, and WWE's chief financial officer estimated that, at $9.99 per month, the network would need between 1.3 million and 1.4 million subscribers to break even. The company predicted it would eventually attract from 2.5 million to 3.8 million worldwide.
After some early struggles, WWE has gradually expanded its free-trial strategy to offer 30 gratis days starting anytime. Last year's WrestleMania was the first to be included—a gamble, given the potential loss of pay-per-view proceeds, but also indicative of how important the network, which returns a greater and more consistent share of revenue to the company, has become. WWE typically announces its subscriber data the day after WrestleMania, and this year the number of paid viewers had increased 14.5 percent from last April, to 1.66 million—a sign that the bet is paying off.