The Celebrity Techsplainer of Beverly Hills
When Chris Rock streams to Facebook Live or the Edge wants in on the farm-to-table space, Abe Burns is their man.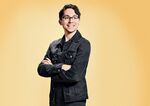 Not long after Abe Burns arrived at New York University in 2003, he started looking for a part-time job. A Miami native, he'd spent his first few months as a freshman doing unpaid internships for independent record labels. The gigs introduced him to far-flung parts of New York (or to Brooklyn, at least), got him into cool concerts, and set him thinking about a career in the industry. He realized that to land a full-time job he'd need a foothold at a bigger company. Some spending money wouldn't hurt, either.
So one winter morning he took the F train from West 4th Street to Sony Corp.'s headquarters in Midtown Manhattan. He made his way to the office of Nina Webb, then the head of Sony Music's college marketing department. Webb didn't typically hire freshmen, but Burns made an impression. "He had such electric energy about him and was so eager to jump in and do the job," she recalls. "I couldn't not hire him. I just couldn't."
Burns bounded out of her office elated. An hour later, Webb got a phone call. It was Burns. He'd gone straight to the newly opened Apple Store in SoHo and changed the home page of every computer to the website of an artist he knew Sony was eager to promote. An employee caught him and asked him to leave. Now Burns wanted to know if he still had the job. "The fact that he did that in the first hour—I felt like we were going to be OK," Webb says.
These days, Burns, 33, uses subtler tactics to turn the masses on to entertainers—and to turn entertainers on to his other passion, technology startups. Slim and baby-faced, with mussed hair and thin-rimmed glasses, he stands out in Beverly Hills, where he's based, like Harry Potter in a sea of Kardashians. The Potter connection goes deeper: In January I ran into him inside the Wizarding World of Harry Potter attraction at Universal Studios Hollywood, which WeWork had taken over for a company party. Burns had brokered a deal between the workspace company and the night's marquee performer, the Chainsmokers. He'd just been on the Forbidden Journey ride five consecutive times and proclaimed it awesome.
Burns is the head of digital for the talent management company Maverick, whose clients include U2 and Amy Schumer. He's also a partner at Sound Ventures, a venture capital company founded by the actor Ashton Kutcher and Guy Oseary, Madonna's manager. In January he spearheaded the announcement of U2's world tour on Instagram Stories and orchestrated a surprise Chris Rock gig at the L.A. club where Rock got his start; Burns streamed the show on Facebook Live, a first for the comedian.
Under Burns's guidance, since 2010 Kutcher and Oseary have been early round (if not seed) investors in Uber Technologies, Airbnb, Spotify, and dozens of tech startups, about 20 of which have gone public or been acquired. Although his talent and technology jobs are separate, Burns sees them as essentially the same. "The idea of discovering someone, whether it's an artist or a company or a founder, putting your support behind it, helping them build a team, and advocating for them, it's a very similar process," he says. In certain circles of Los Angeles, he commands as much respect as any A-list star.
"While no one in this business is always right, he's right more times than he's wrong," Kutcher says. "But the real special piece is that he has no formal training in the investment world, so he has a combination of naiveté and expertise that doesn't lend itself to the trappings of traditional investors who couldn't see a new thing coming even if it hit 'em upside the head."
Burns says he doesn't sleep a lot. In his office, at an unremarkable complex next to the Beverly Hills Police Department headquarters, a framed sign reads "Running on no sleep" and a desk plaque says, "Every day I'm hustlin." We once traded stories about our weekends: While I was on a girls' getaway in Ojai, he was taking a Coursera class on machine learning. "I want to get better at it," he says. "So many Y Combinator companies are involved in it"—he'd just returned from the tech startup incubator's annual conference in San Francisco—"and I want to be able to ask better questions."
Growing up in Miami, the son of two lawyers, Burns spent a lot of time on his skateboard and in his bedroom, blasting punk and alternative rock—Nirvana, Radiohead, Smashing Pumpkins, Black Flag. At 14, while attempting to skateboard through a five-way intersection, he was hit by a car and broke his arm and clavicle. "I couldn't skateboard, and my board got cracked in half," he says. "But I could move my hands enough that I started to get into playing music." He began with his brother's drum set, then picked up the guitar, then joined other neighborhood kids to play power chords and channel some teenage angst. Burns discovered that he could use his laptop to record his band's sessions, which got him thinking: "What else can I do with it? And then you start learning other programs you can build, and it goes from there."
Between high school and college, Burns spent a year playing in bands. On the side, he worked at a local record store. He found that he had a knack for recommendations: "People would come in and say, 'I really like Radiohead,' and I'd say, 'Have you heard of Interpol? Do you like Spiritualized?' " Record label representatives would visit the store to find out why those albums were selling well. He began to realize, before the rise of recommendation algorithms, how individual taste could filter up to the music business as a whole.
It was still "AOL keyword times," as Burns put it, but he was intrigued enough to major in music technology at NYU. He learned about theory and composition, alongside computer languages such as C++, and took on engineering challenges such as building a sequencer. But his part-time job with Sony became his real passion. Between classes he'd haul around a backpack full of promotional materials to distribute to stores and radio stations.
One night in his sophomore year, the sound of some fizzy electronica coming from a friend's dorm room caught his ear. He asked his friend to burn him a CD and brought it to Sony, who brought it to a subsidiary, Columbia Records. Two years later, Columbia signed the band: MGMT, whose 2007 debut sold more than 1 million copies worldwide. Was it frustrating for Burns to wait two years—which might feel like two decades to a precocious college student—for his bosses to greenlight the band he'd helped discover? "Nah," he says. "I'd always bring stuff in. I just figured, one of these will hit at some point."
In 2006, Burns graduated from college, and Sony asked him where he wanted to work. He chose its Epic Records label and started orchestrating digital strategy campaigns for Shakira, Modest Mouse, Tori Amos, and other artists. "I was like, 'Why aren't we doing anything on Facebook?' " Burns recalls. "My bosses said, 'We don't have .edu email addresses. We can't get on it.' " Facebook was only 2 years old at the time, but already digital strategy meant forging relationships with social media platforms, as well as online magazines such as Pitchfork and more specialized outlets such as MOG, a blog network and subscription service that Beats Electronics bought and shut down in 2014. Burns arranged for artists' songs to stream on Myspace the day before their albums went on sale and worked with Apple Inc. to produce song remix contests.
He spent two and a half years with Epic in New York, then moved to the label's L.A. office. Soon after, the show business trade newspaper Variety asked if he'd like to be their director of online marketing. Burns was 24. He'd never read the paper, but he thought it would be a good place to learn about online metrics. "It was the first time I'd heard the term 'referral traffic,' " he says. "Where is this user coming from, what do they want to do here, and where are they going afterward? And how can we better serve that? It's a very different kind of exchange than, 'Hey, I have a new album, check it out, cool, peace out.' "
Burns helped Variety introduce an iPhone app and prodded journalists decades his senior to create Twitter accounts. In 2010 he left for Career Artist Management, to work with acts such as Maroon 5 and Sara Bareilles, but he was simultaneously feeling the pull of Silicon Valley, where tech startup founders were attaining rock star status in their own right. Later that year a friend introduced him to Oseary, who was looking for someone to help bring Madonna, the provocateur of the MTV generation, into the Digital Age. In December 2010, Oseary hired Burns to head Maverick's digital department.
Oseary had also recently started a fund, A-Grade Investments, with Kutcher and billionaire financier Ron Burkle. "He very quickly started digging into a lot of the tech stuff I was doing and showed that he had a knack for it," Oseary says. "He started to play a passive role, then more active, then became a partner."
In 2015, at the South by Southwest interactive festival, Oseary and Kutcher announced the formation of Sound Ventures, a VC fund bolstered by a group of limited partners. Unlike A-Grade, which focused on early stage companies (and which no longer makes new investments), Sound Ventures is stage-agnostic. Asked what kind of companies they're interested in, Burns, who is one of about half a dozen people steering the $100 million-plus fund, name-checks a list of sectors that, as a Zoolander character might say, are so hot right now: "AI, anything with a voice interface, security, health care, fintech, logistics."
Sometimes, his Maverick clients inform Sound Ventures' investments. When the Edge, U2's guitarist, expressed an interest in the farm-to-table space, Burns researched the market and decided Sound Ventures should invest in GrubMarket Inc., a delivery service that brings locally sourced ingredients to homes.
On an average day, Burns wakes up at 6:15 a.m., reads the news online, and starts rolling calls, as he puts it. Around 7 a.m., he gets in his Prius and drives from the house he rents in West Hollywood (with roommates) to his office, either listening to National Public Radio or talking on the phone. He talks with three to five potential investees per day and cycles through more than a dozen phone conversations before leaving Maverick's office in the evening, usually for a job-related dinner. His work calls follow a familiar rhythm: two questions about his interlocutor's general state of being, then a dive into business, with all bases ideally covered in 15 minutes.
In discussions with Sound Ventures' portfolio companies, Burns deftly switches between talk of up-and-coming artists and metrics such as KPIs and CRMs. But navigating the border between wattage and wonkage often requires delicacy. On a recent Monday morning he calls Oscar Salazar, the founding chief technology officer of Uber and a co-founder of Pager, a Sound Ventures-backed company that connects health-care providers with patients. Salazar brings up that UnitedHealthcare recently hired Kevin Hart for an ad campaign. "I know the health-care business is different than entertainment, but I would love to hear from you," Salazar says. "Do you think leveraging a TV personality, celebrity, or influencer is a good idea to educate, raise awareness?"
"It all comes down to authenticity," Burns replies. He gently suggests that an Instagram influencer who's particularly passionate about health care might be better suited to Pager than, say, a comedian whom Forbes estimates made $87.5 million last year.
On another call, Rishi Malhotra, the chief executive officer of Saavn, a music streaming service that's been called India's Spotify, asks if his company could work on a remix with the Weeknd, a Maverick client and one of the world's hottest R&B artists. Burns recently got Britney Spears to do a remix for Saavn, and Malhotra wants to keep the momentum going. The Spears track performed well, but Burns wants to know just how well. "Is it being added to more playlists?" he asks. "Are people engaging with the track more? What was the halo effect of a particular track? We did this remix for Britney, but how did it affect her other tracks?" Ultimately, he brushes off the suggestion of a Weeknd remix, citing the artist's upcoming tour. "Let me go to each of the managers and see what's coming down the release schedule," he says.
Later, Burns tells me, "People may get excited about things, but I like to back everything up with numbers and analytics."
As even the most popular musicians know, not every track is going to go gold. Burns approved A-Grade's 2011 investment in Grubwithus Inc., which sought to connect strangers over meals at new restaurants. The concept failed to catch on (breaking bread with internet randos isn't universally appealing), so the company pivoted to become GOAT, a marketplace for secondhand sneakers. Burns also oversaw the 2015 debut of Madonna's music video Living for Love on Snapchat, the first such move by a mainstream artist, but one not everyone saw as forward-thinking. The tech blog Engadget wrote, "Madonna is thirsty." (Translation: She's desperate.)
"There was a risk there … when you do it as a larger artist, everyone writes about it," Burns says. "At the time, on Snapchat, the average user was a lot younger than what the perception of the Madonna fan would be. But we're pushing into new audiences. We're trying to go to new places. We're not doing the most comfortable thing."
There are other challenges, too: In an image-obsessed town, being the resident computer geek comes with certain expectations. "The question I get asked the most is, 'What's new in the tech world?' " Burns says. "I'm like, 'That is a heavy question.' It's hard to answer. It's like me asking, 'What's new in the music world?' There are a lot of things happening today." He shakes his head. "I get that question a lot. I do."
Burns still noodles around with his instruments and goes to concerts about five nights a week, sometimes for acts he manages, but often just as a fan. Photos of bright lights and big stages flood his Instagram feed, alongside an occasional isn't-L.A.-great sunset. Given the caliber of the stars he rubs shoulders with, there's a conspicuous lack of humblebraggy selfies. "I've never done that," he says. "The idea's never really popped into my head to do that, actually."
Webb, who's now a senior vice president for marketing for Atlantic Records, doesn't recall Burns getting starstruck even when he was talking up Patti Smith as an NYU freshman. "He never really changes," she says.
That's not to say that he doesn't know his network's cachet. At 6:26 a.m. one day, I receive a text from him: "Good morning! Quick question for you when you are awake." He turns out to have been chatting with Bono, U2's frontman, and wonders if I might want to talk with him as well. I'm no less immune to the allure of celebrity than the startup founders Burns advises—plus, who says no to Bono? The singer is at a board meeting in Morocco, so his testimonial comes via email: "Abe has a music math brain which is perfect for the tech revolution we are in. You ask him a question and you can hear his brain start whirring, but his answer is based on much more than the numbers. His instincts about people and trends are just as important as the data he crunches. I've never seen him fazed either, he loves what he does and it seems it loves him back. We certainly do. And he's the spitting image of Cillian Murphy's baddie doctor Scarecrow in Batman Begins … minus the burlap face."
Given that Burns spent hours in his bedroom alternately strumming his electric guitar and teaching himself how to code, it's hard not to wonder whether he secretly envies the stars whose careers and companies he now fuels. But when I ask him about this, he shrugs in a gee-whiz kind of way, as if the thought had never occurred to him. "I have no envy, that's for sure," he says. "I was always good in bands in more of a supporting role. My favorite Beatle is George Harrison."

(
Corrects examples of Maverick clients in fifth paragraph.
)