Teachers' Pet Macron Wants to Rewrite French Script
Emmanuel Macron rarely speaks about Amiens, where he met his wife — then his high-school drama coach. Now he's focusing anew on his roots.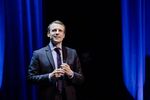 Even in high school, the drive that propelled Emmanuel Macron to his unlikely run for the French presidency was on show.
When his drama teacher in the northern French city of Amiens told the teenage Macron that the play he wanted to stage didn't have enough parts for their class, he suggested they rewrite it together. Every Friday for months, Macron and Brigitte Auziere worked side-by-side on reshaping "The Art of Comedy," by the modern Italian playwright Eduardo De Filippo.
And Macron, at the age of 16, played the leading role.
"Being on stage, center stage, fascinated him," said Renaud Dartevelle, a close friend of Macron at the school, La Providence. "He loved being in the spotlight, and he was interested only in the main parts." The shared labors of pupil and a married teacher 24 years his senior had another outcome: The two began a relationship that raised local eyebrows and led to a wedding in 2007.

Today, the young actor and playwright has the country's biggest role in his sights. This after being at the top of his high-school class, graduating from the prestigious National School of Administration, holding a senior post at Rothschild & Cie, and serving as an adviser to President Francois Hollande and then as economy minister.
In his bid for the presidency, he has held front-runner status for much of the campaign, jostling with far-right candidate Marine Le Pen and benefiting from center-right candidate Francois Fillon's loss of support due to an employment scandal. Since late February, Macron and Le Pen have been expected to survive the first-round vote and face each other in a May 7 runoff that polls show would be won by Macron.

But a late surge by Communist-backed Jean-Luc Melenchon has thrown this Sunday's contest wide open. Although Macron is still ahead, the differences among the four leading candidates are within the margin of error.
While theater played a large part in the formative years of the candidate, now 39, he also excelled in more academic subjects. The young Macron's teachers and schoolmates describe him as an exceptionally gifted and driven adolescent, fascinated by literature, interested in politics — and also reserved.
When he watches today's Macron on TV, his former French and Latin teacher Leonard Ternoy, 75, sees the boy he taught. Ternoy once asked Macron — "a brilliant student" — to give a talk on 19th-century French writer Guy de Maupassant. "Macron spoke without notes for more than an hour, reciting extracts from memory, walking up and down in front of the class — a lot like he does today at his rallies," Ternoy recalled.
"He's always growing, he's on the move, as he puts it himself," Ternoy said. En Marche!, or On The Move!, is the name of his political movement and bears his initials in French.

The son of a neurologist and a pediatrician, Macron was born in Amiens on the River Somme, which was heavily bombed during both world wars. Its economy has been blighted by the closure of a Goodyear Tire & Rubber Co. plant in 2014 and job losses at the Whirlpool Corp. appliance factory due next year. 
While Macron began his political career with the Socialists, his birthplace leans right. The National Front's Le Pen, Macron's closest rival in the race, scored 28.3 percent of the vote in Amiens in 2015 regional elections, trailing the center-right at 71.7 percent.
Macron's bedroom at his house on rue Gaulthier de Rumilly, where he grew up with a younger brother and sister, was dominated by a big bookcase. It was decorated not with posters of rock stars or Che Guevara but with photographs of leading French writers, according to his friend Dartevelle.
The house is in an affluent, southern neighborhood of the city. France's possible next First Lady, Brigitte Auziere, from a chocolate-making family, lived around the corner. A short walk away is their elite Jesuit school, a sprawling complex where religious studies were optional and which boasts a 750-seat amphitheater and a swimming pool.
The young Macron stood out even then for his politics — the only person his friends knew who declared himself on the left. The teenage Macron admired Jacques Attali, a former adviser to President Francois Mitterrand. Years later, Attali became Macron's mentor and helped propel him to the side of another Socialist president, Hollande.
Macron himself, in his book "Revolution," mentioned his Amiens years only briefly. 

"I spent my childhood in books, a bit removed from the world," he wrote. "I lived to a great extent through texts and through words." Recently, though, he's focused anew on his birthplace. He launched his movement there in April last year, then signed some 200 copies of his book in an hour spent at the Martelle bookshop in November.
Macron rarely speaks about his childhood or his home town; when he does, it is usually about the legacy of war. "Nationalism is war," Macron shot at Le Pen in a televised debate earlier this month. "I come from a region that is full of its cemeteries and I don't want to go back to that."
To center-right mayor Brigitte Foure, 61, Macron is opportunistic. "He needs to shake off the Parisian banker, establishment label, so he's only recently rediscovered his roots here," Foure said in an interview in her elegant office in City Hall. "The truth is that he spends more time in Le Touquet." The Macrons have a house in that coastal resort, further north.
Foure backs Republican Fillon and would vote for Macron in the runoff if that's the only way to keep out Le Pen. "I don't think Amiens will vote more for him than any other place," Foure said. "People don't really identify with him."

Partisan comment aside, Macron was distant from his schoolmates as well. "At 15, Macron had the maturity of a 25-year-old," echoed Daniel Leleu, his ex-sports teacher. "He preferred to spend his time talking with the teachers rather than his classmates."
Though Amiens acquaintances of Macron and his wife speak reluctantly of that relationship, Dartevelle was a witness. After Macron adapted the Italian play, Auziere enthused: "'Emmanuel has an incredible talent as a writer,'" Dartevelle said, adding, "Her tone of voice wasn't the normal one of a teacher talking about a pupil." At the cast party in a restaurant on the last night of the Italian play, Dartevelle saw Macron and Auziere exchange what he would only call "a tender gesture."
The Macron campaign declined to comment.
But in this bourgeois, provincial milieu, the relationship was discussed only in private. "Brigitte was a colleague, we didn't really talk about it and she was very discreet," said ex-teacher Ternoy. "We weren't there to feed gossip." 
Macron left Amiens to spend his last year at a prestigious Paris high school. Auziere later also moved to Paris, to teach at another Jesuit school. 
"I think Brigitte left to get away, to escape the gossip," Ternoy said. "Both Macron and Brigitte leaving was the best solution," said mayor Foure, who knows her family well. "It was logical that someone as smart as Macron would go to study in Paris, but the relationship probably accelerated that."
Macron's friend from those days, Dartevelle, still has the poster of the Italian play they performed at the school 24 years ago next month. The poster is signed by several members of the cast — including, as he puts it, "the future president."
Watch Next: Who Are The French Election Candidates?