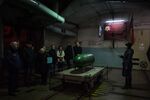 The High Price of Putin's Takeover of Crimea
Three years after annexation, some living on the peninsula say they struggle to get by under Russian rule.
Construction of an 11-mile bridge that will connect Russia's Krasnodar region with the Crimean city of Kerch is in full swing. Scheduled to open next year, the road-rail link will span the Kerch Strait, which flows between the Sea of Azov to the north and the Black Sea to the south. 
The bridge symbolizes the final step in Russia's annexation of the peninsula from Ukraine in a bloodless coup three years ago. Though a major priority for President Vladimir Putin, this tangible connection to Crimea won't necessarily cure its ills, say some residents. For now, they continue to live with the powerful sting of western sanctions, the economic fallout of being cut off from much of the world, and the high cost of living that flows from both.  


In March 2014, Putin's forces quickly engineered the takeover of Crimea. Unlike in eastern Ukraine, where a Russia-backed insurgency in the Donbas region has claimed 10,000 lives, the peninsula enjoys an uneasy peace. A recent visit revealed that, for many locals, it's been hard doing business under international sanctions. Most tourists (other than Russians) stopped arriving when foreign airlines and ships stopped coming, they say. Banks stopped lending. Global retail names left.
Moscow, meanwhile, is investing heavily in the peninsula's infrastructure—repairing roads, modernizing hospitals, building the bridge. But the lack of traffic from the rest of Ukraine is hurting. Industries that relied on it as a primary market, such as fishing, have hit tough times: Ukraine is no longer buying Crimean fish and Russia isn't all that interested, either. The reason is price: The only way for goods to move back and forth is by ferries, which charged close to $1,000 per truck back in 2014, says a wholesale distributor in Kerch who calls herself Lubov. Now subsidized by the Russian government, the ferry charge is down to about $200.
"Fisheries in Kerch have come to a complete stop," Lubov says. "Ukraine was our only market. Russia doesn't want our fish—their fish is exactly the same, except ours cost more."


A few Crimean products, such as wine, saw a temporary renaissance thanks to Russians who went out of their way to buy it. Now the euphoria is gone. "In 2014 we had a booming business, it was very easy to sell in the Russian market," says Marianna Klassova of Satera Winery. "Now it's a struggle." Russian consumers have a wide range of wines to choose from, and Crimean wine is simply too expensive, she explains. Some winemakers are even trying to shed the region's reputation for sweet wines by investing in more desirable, sophisticated varietals.
But the problem isn't just exports. Crucial imports, including gasoline and food, must come from Russia via the same expensive ferry, pushing prices higher.
The Russian government meanwhile says the economic news for Crimea is positive. Tourist visits for most of the peninsula rose 21 percent last year, to 5.6 million people, and the GDP equivalent rose 8.5 percent in real terms in 2015, the government says. It also reported that average incomes and wages have risen dramatically under Russian rule, though officials concede that retail sales were down 7.6 percent last year.
Sergei, a real estate broker in Sevastopol, says property values in Crimea have climbed in the past year as Russian bureaucrats and military officials who came for the invasion began to relocate their families. Indeed, advertisements for luxury living in the seaside resort town of Yalta, famous for its 1945 World War II conference, are directed at wealthy Russians.


Many Crimeans live a double life, accepting Russian laws and bureaucracy while continuing to cross into unoccupied Ukraine to visit family or obtain European or U.S. visas.
While some Ukrainians continue to vacation in Crimea, long a popular summer destination, their numbers have dropped. The tourist economy is the peninsula's main source of income, but what used to be a season that stretched almost six months is now limited to July and August. Tourists from other parts of Ukraine once spent multiple weekends, starting in May and as late as October. But now most are gone. The Russians, meanwhile, are forced to fly or take the packed ferries, generally coming only once a season.

Many Crimeans who would comment say they miss the freedom of being a largely autonomous, self-governing region of Ukraine, with what they characterized as unwritten local rules for doing business. But others interviewed on the street praised Russia's investment in local infrastructure—especially everyday conveniences like reliable wireless access.
The Russian government is also modernizing Crimea's main airport, Simferopol. The plan is to have flights to 54 Russian cities up and running by summer. Yet, because of the invasion and the resulting sanctions, if one wants to travel from Crimea to Ukraine's capital of Kiev, you have to fly to Moscow first, then transfer to a flight to Minsk, in Belarus, and then finally on to Kiev.


Large multinational corporations aren't doing business on the peninsula, so McDonald's Corp., Radisson Hotel, and Mobile Telesystems PJSC (MTC) have shuttered. Still, burgers that look like Big Macs are served as "Big Foods" in the AvtoFood fast-food chain, along with other items that resemble choices on a McDonald's menu, including the "Filet-O-Fish." A Radisson Hotel is now called "Riviera Sunrise," its signage in the same typeface. Although the credit card companies have officially ceased doing business there, Crimeans can still use a Visa or a MasterCard as long as it's issued by a Russian bank.
There are also retailers that look vaguely like Apple stores and Starbucks coffee shops, right down to similar branding. Owners of the Starmaks coffee shop in Alushta say they think sanctions make it unlikely Starbucks Corp. will come after them for copyright infringement. IPhones, Apple computers, and PCs are sold as well—brought in from Russia. A quick search online reveals pages of instructions on how to outsmart sanctions and even register an iTunes account. (Starbucks, McDonald's and Apple didn't respond to email requests for comment.)


Beyond economic considerations, Crimeans say that being under Moscow's control has come at the expense of certain freedoms. 
Earlier this month, Russia said the International Court of Justice has no authority to rule on allegations that it's repressing Crimeans. Issues of sovereignty, territorial integrity, and the right to self-determination are "obviously beyond the court's jurisdiction," Roman Kolodkin, director of the Russian Foreign Ministry's legal department, told the UN body at a hearing in the Hague on Tuesday.
Kolodkin was responding to Ukraine's request for the court to order Russia to "refrain from any further acts of ethnic discrimination'' in Crimea. Authorities in Kiev accuse Russia of "systematically discriminating" against Ukrainians and Tatars in Crimea. Human rights groups have alleged that this includes detaining activists and Tatars in psychiatric hospitals. 

Culturally, Crimea is changing as well. Nothing makes that clearer than a tour of a former top-secret nuclear submarine base that is now a Cold War museum. Walking with a group of Russians along blast-proof corridors, a tour guide describes how America, a Ukrainian ally, is yearning for a war with Russia, and how sanctions are just the first volley.
Opened in the early 2000s by the Ukrainian defense ministry, the decommissioned base in Balaklava, near the southern tip of Crimea, was envisioned as a museum that would emphasize the dangers of nuclear weapons. Now, it serves a different purpose.
"All our tourists are Russians. Lots of them," says a retired Soviet sailor working as a guide. "It's good that we no longer have foreigners. There were too many of them."