Remember When Trump Said He Saved 1,100 Jobs at a Carrier Plant?
Well, globalization doesn't give a damn.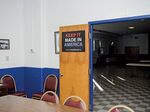 One week before the November election, Gregory Hayes, chairman and chief executive officer of United Technologies Corp., addressed a breakfast audience at the Council on Foreign Relations in New York City. Decrying what he called "political rhetoric" being spouted by a certain presidential candidate, Hayes made an impassioned case for global trade.
"There's a lot of misinformation out there, and in some cases a detachment from reality," he said in his radio-ready baritone. Blaming trade for the loss of U.S. manufacturing jobs is "absolutely wrong," Hayes said, adding, "an isolationist approach will not—I repeat, not—create growth or jobs, nor will it make any country great."
Hayes went on to defend UTC's February 2016 decision to close its Carrier Corp. furnace factory in Indianapolis and ship production to Mexico—a move that had drawn the very public ire of presidential candidate Donald Trump. "This is not a decision that we took lightly," Hayes said. He chuckled at a suggestion that Carrier had become a punching bag for Trump. "The benefits of free trade are obvious to almost everyone," he said. "Once we get past the silly political season, hopefully we can get some adult supervision and readdress it."
A month later, Hayes was sharing a dais with none other than President-elect Trump at that Indianapolis factory. Workers cheered as the two announced that Hayes had agreed to keep the plant open. "You are fantastic, Greg," Trump said. So was the irony.
The humdrum residential furnace would seem an unlikely avatar for the complexities of globalization. Who even gives it a thought until it breaks down? But the furnace has become as worldly a product as an automobile or a semiconductor chip, with assembly, parts production, and jobs shifting to China, South Korea, Thailand, and other nations. That makes the Carrier saga two stories. One is about the Indianapolis factory, which was a doomed pawn in the globalization game long before Trump. The other involves the same plant but is about how it could thrive now, albeit with fewer workers. Not many people outside Indiana are still talking about Carrier, but the future of U.S. manufacturing is showing itself there right now.

Here's the essential thing to understand about this business: Furnaces are all pretty much the same, a heater and a blower inside a box. Or as Kyle Peters, an analyst with market-research firm Freedonia Group Inc., says, "There are not any key industry secrets that make one manufacturer better than another." Competitive edge has less to do with products than with the local retailers and contractors that sell and service them. Web-savvy consumers determine what they want and gravitate toward dealers that prove themselves reliable and able to offer good prices.
Relatively simple technology plus huge incentives to hold down costs frequently equals outsourcing. Carrier, like all its competitors in the $60 billion heating, ventilation, and air-conditioning, or HVAC, industry, has reason to move production to wherever it can be done most cheaply. Whether the company is obliged to do so is another matter.
Even in the furnace business, there's innovation. In 1975, President Gerald Ford signed a law authorizing the Department of Energy to set efficiency standards for household appliances. Back then, most furnaces converted about 70 percent of the energy they used into actual heat, wasting 30 percent. Today's best devices squander barely 2 percent. Instead of clattering on and off, state-of-the-art models run continuously to maintain constant temperatures. Combined with air-conditioning units, they can be integrated into programmable holistic HVAC systems, along with Wi-Fi thermostats, humidifiers, solar panels, and air cleaners. Tom Roberts, president of CFM Distributors Inc., a wholesaler of HVAC equipment in Kansas City, Mo., says he sells more 90 percent-efficient furnaces retailing for as much as $5,000 than 80 percenters at $2,000 to $3,000.
Roberts, who's also president of an HVAC industry group known as Hardi, says improvements have been driven less by mandates than by the urge to innovate. "We don't need artificial incentives," he says. His industry, like so many others, bristles at regulation generally. But rules also can generate demand, especially when coupled with federal tax credits or cash rebates. Freedonia Group said in March 2015 that it expected regulations to continue driving sales "toward high-efficiency models, which generally command a pricing premium."
UTC acquired Carrier in a hostile takeover in 1979. Today, Carrier, which itself acquired the Bryant and Payne brands in 1955, is part of UTC's Climate, Controls & Security division, which last year posted $16.9 billion in sales and $3 billion in operating profit. UTC doesn't break out Carrier's financial performance, but Wayne Dale, a United Steelworkers subdistrict director in Indiana, says the company has repeatedly told the union that the Indianapolis plant is "highly profitable." Hayes, 56, said in a brief phone interview in mid-March that the Indy factory was making money, "but it was one of our least profitable in terms of the actual cost of production vs. what we were seeing at other facilities," particularly in Mexico. Trump's hammering of Carrier was "a little unfair," Hayes said, but as for the initial decision to close the plant, "we did the right thing for the business." He has no regrets.
Hayes, formerly UTC's chief financial officer, became CEO in late 2014, following the abrupt resignation of Louis Chenevert, a big-vision sort of leader whose signature initiative was a $10 billion effort to develop a jet engine called a geared turbofan. He also pushed through UTC's $16.5 billion acquisition of aerospace giant Goodrich Corp. The jet engine has helped UTC's Pratt & Whitney division reestablish itself in the narrowbody jetliner market that General Electric Co. dominates.
But Chenevert's dream for the company was a tad too grand. He failed to foresee slowing growth in China and resisted suggestions that he sell the 90-year-old, low-margin Sikorsky Aircraft helicopter unit. In 2014, UTC predicted annual sales approaching $100 billion by 2020; actual sales haven't come close. As the company's performance waned, the board of directors worried Chenevert might be too focused on the 110-foot yacht he was having built for himself in Taiwan, according to news reports at the time. UTC bid him farewell with an exit package valued at a little less than $200 million.
"We've underperformed—full stop," Hayes told investors in his first call as the new boss. "Whatever we need to do to increase shareholder value, we will do those things, no matter how difficult." As CFO he'd become the Wall Street face of UTC, winning over shareholders and analysts with his plain-spoken style. And he'd been in the middle of the challenges Chenevert left behind. The Otis Elevator Co. unit was slumping because of a slowdown in building in China, buyer of more than half the world's elevators. Sikorsky profits were falling. The jet engine project was piling up costs. UTC's stock price had recently dipped below $100 for the first time in a year. The only thing doing consistently well was Carrier's division. It "became kind of the anchor to keep the [overall] numbers running the right way," says analyst Nicholas Heymann of William Blair & Co.
By mid-2015, Hayes had eliminated an entire layer of management and sold Sikorsky. The stock, which had risen after his hiring, got as low as $87. Investors were impatient with the jet engine, which had been in the works for decades and still wasn't being used on commercial flights. Hayes stood by the engine project while trying other ways to placate investors. In October 2015, UTC said it would buy back as much as $16 billion of its shares over two years.
Two months later, Hayes announced a $1.5 billion cost-cutting plan, one of many the company has been through. Of UTC's 42 million square feet of factory space, 22 million were in "high-cost locations," he said, calling it a "very target-rich environment." He didn't mention Indianapolis, but around that time, UTC's board decided the Carrier plant was expendable.
The HVAC industry has been moving out of the U.S. for more than a decade. One by one, most of Carrier's key rivals—including Lennox International, Ingersoll Rand, Rheem Manufacturing, and Nortek—have either closed U.S. assembly plants and moved production to Mexico or simply built new plants there. Some still have robust U.S. assembly operations, such as Lennox's in Marshalltown, Iowa. And Daikin International Ltd. of Japan just completed a $400 million air-conditioner factory near Houston that will employ 4,000 people. A spokesman says the plant follows Daikin's philosophy of making products "in the country where they are installed."
HVAC imports have grown 63 percent since 2006, with those from China and Mexico almost doubling, according to the U.S. Department of Commerce. Carrier itself has been manufacturing in Mexico since 1969 and today employs more than 5,000 workers making commercial rooftop air conditioners and other products—though not furnaces—in Monterrey.
Parts, too, increasingly come from abroad. In his wholesale store in Kansas City, CFM's Roberts only half-jokes, "I'm sure there's something made in the U.S. here, but I can't tell you what it is." At random, he snatches an Emerson Electric Co. transformer off a shelf. "Made in China," he says. Then a different U.S. company's capacitor: "Made in Taiwan." A thermostat: "Designed in Canada, assembled in Mexico."
He finally finds a capacitor made in the U.S., but it wholesales for $9.81, almost twice the price of a Mexican-made one. In a December investor presentation, Lennox CEO Todd Bluedorn said about 45 percent of his company's parts come from outside the U.S. and Canada. He guessed that Carrier's percentage might be higher. A UTC spokesman declined to comment.
HVAC makers have left the U.S. for the same reason countless other businesses have: cheaper labor. Carrier's unionized workers in Indy are paid, on average, about $23 an hour (though more recent hires earn $17). Their Mexican counterparts earn an hourly rate of $3. Absenteeism and turnover in Indiana are considerably higher than at the company's Monterrey operations, Hayes says. He told the Council on Foreign Relations breakfast that his Mexican rooftop AC plant has "probably one of the best-performing workforces that we have around the globe."
Which isn't to say that Carrier's Indy workers, represented by United Steelworkers Local 1999, aren't productive. They produce 10,000 furnace or fan-coil units a day, or one every seven seconds. According to a 1993 Hartford Courant story, the Indianapolis plant back then produced 500,000 furnaces a year with 1,500 workers. Today it can make four times as many furnaces and fan coils with a slightly smaller workforce—and you don't have to explain the significance of that to the members of Local 1999. Studies show that 50 percent to 90 percent of job losses at American factories are attributable to productivity gains linked to automation. Except for a blip during the 2008 recession, industrial production in the U.S. has been on a fairly steady rise for decades. Even if Trump struck three Carrier deals a day for the rest of his term, he wouldn't recoup even half the 7 million American manufacturing jobs lost since that employment peaked in 1979.
Some of the equipment in Carrier's Indianapolis plant is outdated, which can magnify the relative cost of labor, says Michael Hicks, an economics professor at Ball State University in Muncie, Ind. Although labor might represent only 6 percent of the cost of a jet engine, it can exceed 20 percent of the cost of a furnace. And UTC will follow the numbers. In late 2012 the company opened a factory in South Carolina to manufacture elevators previously made in Mexico. UTC determined it made sense to pay higher wages there, because labor accounted for less than 3 percent of product costs and the plant was close to Otis's big East Coast customer base, meaning shipping would be relatively inexpensive.

The long, low, white-and-blue Carrier factory sprawls between Amazon.com Inc. and Target Corp. distribution depots on Indianapolis's west side. Along South Girls School Road, logos for Carrier, Bryant, Payne, and Day & Night festooned a water tank until they were painted over after Trump started berating Carrier. A UTC spokesman says it was routine maintenance.
Workers chew over their fate at the Local 1999 hall, a brick-and-cinder-block throwback next to a railroad track, 6 miles from the factory. There's an ignored No Smoking sign, a framed photo of Bernie Sanders, and a glass case filled with bowling and basketball trophies dating to the 1970s.
On a frosty Wednesday morning in February 2016, Chuck Jones, president of Local 1999, was into one of his first Marlboro Reds of the day when his flip phone rang. Jones, a ruddy 65-year-old, listened as another union official told him Carrier was about to announce that the plant was closing. "I said, 'You gotta be shitting me,' " Jones recalls. "It blindsided us completely."
Moments later, Chris Nelson, Carrier's president of North America HVAC Systems & Service, told workers gathered at the plant that over the next three years their 1,400 jobs would move to Mexico. "Yeah, f--- you," one yelled. After telling the jeering throng "let's quiet down," Nelson said: "Relocating our operations to Monterrey will allow us to maintain high levels of product quality at competitive prices." In a news release, Nelson also cited cost and pricing pressures linked to regulations.
Some workers left in disgust before Nelson finished. The same day, UTC said it would close a plant in Huntington, Ind., that supplies Carrier with circuit boards. That production is moving to Mexico, costing 700 jobs. Media coverage of the twin announcements was limited outside Indiana.
The next day, a three-and-a-half-minute cell phone video of the raucous Indianapolis scene popped up on YouTube. Breitbart News published the video along with a Trump interview in which he lashed out at Ford Motor Co. for plans to expand in Mexico and at Carrier for its Indiana decision. Trump followed up on Twitter: "I am the only one who can fix this. Very sad. Will not happen under my watch!"
While Trump fumed, UTC was preoccupied. Honeywell International Inc. was making private overtures for a merger with UTC, whose stock was at its lowest level in three years. After Honeywell's interest went public, Hayes appeared on CNBC. When the host suggested Trump might look favorably on the deal, Hayes, a registered Republican, said, "He might get the nomination, but that's it, right?"
Honeywell went away. Trump didn't. For months he blasted Carrier in tweets and at rallies. He railed at other companies, too, but Carrier got special attention. Trump, whose buildings use a few furnaces, vowed never to buy another Carrier product: "Now I buy Trane." He promised to slap a 35 percent tariff on Carrier imports from Mexico. He predicted that after he won the election, Carrier would call him and say, "Mr. President, Carrier has decided to stay in Indiana."
The union offered concessions amounting to a third of the $65 million a year Carrier expected to save by moving. Indiana then-Governor Mike Pence and Democratic Senator Joe Donnelly met separately with Carrier and UTC executives. Pence told RTV6 of Indianapolis that the "rising tide of red tape" in Washington made it impossible for Carrier to keep the plant running.
Donnelly says he asked Carrier executive Nelson and Robert McDonough, who runs UTC's Climate, Controls & Security division, to cite one regulation that figured in the decision. "They couldn't," he says. The executives did confirm that furnaces sent to the U.S. from Mexico would have to comply with the same rules. The company later told the union that regulatory costs didn't figure into expected savings from the move.
"This is about Carrier chasing wages at $3 an hour," Donnelly says. "They put together a $16 billion stock buyback and just went wherever they could to try to pick up a few extra pennies."
NBC Nightly News aired a segment on Carrier two weeks after the election. It quoted TJ Bray, a Carrier veteran who'd voted for Trump. As he sat in Sully's Bar & Grill, kitty-corner from the plant, Bray dared Trump to "do what you said you were going to do. We're going to hold you accountable." The president-elect happened to see the report. Trump would later tell Carrier workers that he didn't think he'd actually promised to save their jobs. But shortly after seeing Bray on TV, he arranged for a call to Hayes.
Until then, except for what he'd said at the Council on Foreign Relations, Hayes had all but ignored Trump's bluster, at least publicly. Plans for closing the Carrier plant were moving ahead. Hayes was in Washington when he heard that Trump was looking for him. He flew back to UTC's headquarters in Farmington, Conn., and took the call in his office. It lasted less than 15 minutes.
Trump asked the CEO to reconsider the Carrier decision. Hayes responded that the plant in Mexico was almost complete and that Carrier was already years behind competitors in shifting furnace making there. As Hayes recalled, "He said, 'Look, it doesn't matter. I ran the kind of campaign that I was going to keep those jobs from moving to Mexico, and I want to do just that.' " Trump didn't mention UTC's billions of dollars in defense contracts, but he didn't have to. "I was born at night, but not last night," Hayes told CNBC late last year. And that was weeks before Trump proposed to boost military spending by $54 billion.
A big Carrier banner adorned a stage inside the Indianapolis factory on Dec. 1. Members of a union that had endorsed Hillary Clinton applauded as Trump, Pence, and Hayes told them about the deal to keep the plant alive. Trump singled out Bray—"great guy, handsome guy"—and boasted of saving more than 1,100 jobs.
The number wasn't quite what it seemed. Included in the total were 300 white-collar jobs that were never scheduled to move. And at the same time, Carrier was sending workers a letter saying fan-coil production would leave for Mexico. The total number of positions saved was closer to 730. Union President Jones told the Washington Post that Trump "lied his ass off," prompting Trump to tweet that Jones was doing "a terrible job."
Carrier struck a deal with the Indiana Economic Development Corp., a public-private agency chaired at the time by Pence. UTC had declined a similar arrangement in 2014 because, in part, it would have required the plant to add workers. According to the current plan, Carrier will receive up to $7 million in state tax credits and training grants over 10 years—about $1,000 per worker per year, a pittance for UTC, which offers to underwrite four years of college education for any employee.
UTC also pledged to spend $16 million on plant upgrades, including automation. That should make the plant more productive, which in turn could lessen the need to seek dirt-cheap wages. But technology tends to shrink payrolls, and that's likely to happen at Carrier. "We will take a lot of those jobs that today require very low skill and … eliminate those jobs through automation," Hayes says. UTC is, in his words, increasingly focused on "middle-skill" jobs, "the guys that assemble jet engines, repair jet engines, build aerospace components." Carrier's most advanced furnaces contain a tiny fraction of the 8,000 parts in Pratt & Whitney's geared turbofan jet engines. The engine's aluminum-titanium fan blades alone take weeks to manufacture. "You can afford to pay people more because of the value-added work," says Hayes. "When you're spending 27 seconds putting three screws into a gas furnace, not a lot of added value in that."
He offers little comfort to the sorts of workers whose jobs he reluctantly preserved. "If you have a low-skilled job, they're not safe no matter where you are," he says. "The forces of globalization are not going to slow down."
That's painfully clear in Indiana. Not far from Carrier, Rexnord LLC is closing a bearings plant and shipping production to Mexico. Trump tweeted about it in December: "This is happening all over our country. No more!" Rexnord's 350 workers are expected to be gone by summer. Elsewhere in the state, auto parts supplier CTS Corp. in Elkhart is sending production to Asia and Mexico, cutting 230 jobs. Welbilt Inc. closed its Sellersburg beverage systems factory in January and sent production to Mexico, eliminating more than 70 jobs. Harman Professional Solutions shifted some operations in Elkhart to Mexico, killing 125 jobs.
Layoffs at UTC's Huntington plant began recently. The facility will be closed by early 2018. The Carrier fan-coil lines and related jobs will be gone by the end of this year. "I wish I could sit here and say the people are going to be all right," Chuck Jones says. "That ain't the f---ing case. A lot of these people's lives are going to be ruined."