Inside Alexei Navalny's Long-Shot Bid to Beat Putin
The activist's tour of Russia looks like a national campaign, complete with harassment of his staff and thousands of supporters in the streets. On the road with the presidential hopeful.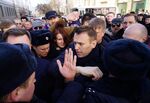 On the day Alexei Navalny arrived in the frozen Siberian city of Tomsk, a local coordinator of his campaign to unseat Russian President Vladimir Putin found herself locked in her own apartment.
The coordinator, Kseniya Fadeyeva, could unbolt the door but couldn't open it. She called friends, who discovered that it had been sealed from the outside with insulation foam. As they had passed through the courtyard, they'd noticed that her car had been smeared with maroon paint, its tires punctured and its exhaust pipe lethally filled with the foam.
Fadeyeva, 25, rang her co-coordinator, 21-year-old Alyona Khlestunova, only to learn that she, too, had been sealed in her home and had found a sharpened metal rod sticking out of a tire on her boyfriend's car.
Navalny, who announced in December that he would challenge Putin in elections next March, is the president's most vocal critic. The vandalism in Tomsk, on Friday, March 17, looked like standard-issue harassment of activists, whoever committed it.
But Navalny's crusade against government corruption grew decidedly more dramatic this past weekend. Protests he organized for Sunday rippled from the Pacific coast, eight time zones from Moscow, across Siberia to the capital and St. Petersburg, with 60,000 demonstrators in 82 cities, the independent Moscow radio station Ekho Moskvy reported. More than 1,000 people were detained in Moscow alone, including Navalny himself, according to OVD-Info, a widely cited monitor of political arrests. (Russian police put the number at 600.) On Monday, a court in Moscow sentenced Navalny to 15 days in jail for non-compliance during the protest.

Navalny's long-shot effort to topple Putin at the ballot box has the trappings of a national campaign, complete with the harassment of his staff and demonstrations by supporters. Last month, Navalny embarked on a regional tour of Russia and, on March 17, of Siberia and Volga, starting in Tomsk and opening campaign offices as he went. On the ground, engaging with Russians from coast to coast, he is loose and provocative. In Tomsk, a science and technology hub known for its striking wood lace architecture and liberal politics, he met with campaign volunteers.
"How many of you have thought of emigrating?" Navalny asked. Nearly half of those present, who almost all looked to be in their early 20s, raised their hands. Navalny looked appalled.
"Hey, Tomsk should have long become the Russian Berkeley, with startups cooked up everywhere and crowds of hipsters strolling around with coffee in paper cups," he said.
His team likes to tap the WhatsApp vernacular in communicating with Russia's millennials. "Our campaign is all about self-organization," campaign chief Leonid Volkov told the group. "It's like a steampunk machine. You find a gear, he brings a little lever, we stitch them together, and hey, it begins to move."
"Am I the only one in the room who doesn't know what steampunk is?" said Navalny, who turns 41 in June.
The regional unrest stands out amid the wave of demonstrations. A generation of opposition leaders has failed to break out of the intellectual bubbles enclosing Moscow and St. Petersburg. Navalny has the chance to do that now, and Sunday's protests suggest a hunger for his defiance of the Kremlin in the sprawling nation's backwaters and regional capitals, as well as in the western cosmopolises.
"I am not happy at all to stay in the liberal intelligentsia niche. This is why I am traveling around regions," Navalny said in an interview on the eve of the Siberian tour. "In fact, I've got much more to say to these people than to my traditional audience in Moscow."
His message: Corruption is "the pillar of the political regime."
Navalny's campaign may seem quixotic, since a criminal conviction prevents him from running for office. At least that's the view of Vyacheslav Volodin, chairman of the State Duma, the lower chamber of Russia's federal legislature. Putin spokesman Dmitry Peskov, who publicly commented on Navalny's bid, agrees he cannot run.
Navalny received a five-year suspended sentence in February for fraud in a retrial after the Supreme Court canceled his previous conviction, which the European Court of Human Rights had pronounced illegal. The decision on his candidacy ultimately hinges on how the Russian Central Electoral Commission and the courts interpret the constitution and election law. In Putin's Russia, both bodies are tightly controlled by the Kremlin.
If he is permitted to run, it may be to increase voter turnout and help legitimate Putin's victory—a victory that is all but certain, given the president's approval rating of 84 percent as of last month, according to the Levada Center, an independent polling and research organization, and his control over national television.
Yet when Navalny was allowed to run for mayor of Moscow in 2013, the Kremlin got an unpleasant surprise. He won more than 27 percent of the vote, nearly making it to the runoff.
No decision has been made, according to several current and former Kremlin officials closely watching Navalny's re-emergence, but they generally agreed his candidacy would be blocked in the end. It would send a dangerous signal to the political and business elite that disloyalty is tolerated, if not rewarded, they said, as well as boost his chances to win the election in 2024. At that point, Putin isn't allowed to run—not under the current constitution, at any rate. He has been in power since 1999.
Peskov called the protests "a provocation and a lie," saying the organizers tricked the participants into joining "an illegal action." The Kremlin "respects the civic position of people, their right to express it, but only when it is done in a format that complies with the law," he said.
"We are concerned that someone will continue to use politically active people to their own ends," Peskov said, without using Navalny's name.

Even if Navalny is barred from running next year, the network of campaign offices he is establishing across the country is a powerful asset in itself. Discontent is already bubbling up across the nation, which is just starting to recover from a recession. Step away from the main streets of Tomsk and you find yourself on pavement that looks like the surface of a glacier, with 10-inch-thick ice, blackened by car exhaust, slowly melting in the blistering spring sun.
That didn't escape the attention of Navalny, who raised the subject with his campaign volunteers on his visit to the city. Stirring up anti-Moscow sentiments, he contrasted the sorry state of Tomsk's streets with the billions of rubles pumped into the Russian capital.
"Do you know what the annual budget of Tomsk is?" he asked the crowd.
"Thirteen billion rubles!" someone shouted back.
"So do you know how much they have recently spent on a section of a ring road in Moscow? Twelve billion," Navalny said, referring to a feverish infrastructure revamp under way in the capital. He told the crowd the authorities weren't capitalizing on the intellectual potential of cities like Tomsk.
About 15 minutes into the meeting, police arrived to announce there had been a bomb alert and the building should be evacuated. The audience booed, and Navalny proceeded with a Q&A session. Finally, a colonel accused him of failing to comply with orders.
"We are evacuating, but very slowly. Captain leaves the ship last," Navalny responded, buying himself another 10 minutes. He eventually asked people to leave, but not before he told the policeman, "In the future Russia, Comrade Colonel, you will be catching criminals instead of doing this crap job."
Navalny will struggle to win even here.
He "is great for the internet crowd and not great for the television crowd," said local political scientist Artyom Dankov, summing up his impression of the Tomsk visit. Navalny is barred from national TV, and only 47 percent of Russians know who he is, most of them viewing him with suspicion, according to the Levada Center. Russian authorities are so careful not to risk boosting his popularity that government spokespeople try to avoid mentioning his name when commenting on him. Opposition politicians joke that he is Russia's Lord Voldemort, an irony considering who else vies for that title in their view.
"Grandmas and television always win in Russia," Dankov said.
The Kremlin has been obsessed with its legitimacy ever since the massive Bolotnaya Square protests in Moscow against the 2011 election results, said political scientist Abbas Gallyamov, who has consulted with regional governments during election campaigns.
"Authoritarian regimes care about legitimacy even more than democratic ones do, because they know that only 3 percent of the population taking part in street protests is usually enough for law-enforcement bodies to switch to their side," Gallyamov said, referring to a threshold cited in some research.
Navalny was the main leader at Bolotnaya, his popularity boosted by protests and groundbreaking investigations into multi-billion-dollar assets allegedly amassed by senior government officials. The protests were derailed by Russia's invasion of Crimea, which galvanized support for Putin and demoralized his opposition, painted as traitors and foreign agents. The Kremlin also pushed through a series of draconian laws restricting public protests and imposing stiff fines and jail terms for those who defied them.
Now, that populist triumph is starting to fade amid Western sanctions and Russia's economic pain, leaving the Kremlin struggling to find a convincing alternative agenda to consolidate its constituency and offering the opposition a window of opportunity, Gallyamov said.
Navalny's views are influenced by a circle of political scientists and journalists who draw inspiration from libertarians in the U.S. In the current campaign, he is shifting to the left, talking of tripling the minimum wage and allocating more funds to health care and education. (He has somewhat toned down his anti-immigrant rhetoric, which long alienated much of his audience among the intelligentsia.) Above all else, Navalny said, Russians passionately react to corruption.
"It may feel like a concert audience asking a singer to perform his greatest hit," he said, "but I know that a politician who knows how to defeat corruption can win elections." He opened his campaign by releasing a 50-minute video purporting to expose billion-dollar assets allegedly collected by Prime Minister Dmitry Medvedev. The video had 12.4 million views on YouTube as of Monday morning in Moscow. The prime minister's office denied the allegations.
On the Kremlin side, the 2018 election campaign will be run by a new team headed by Putin's deputy chief of staff, Sergey Kiriyenko, a former liberal politician and ally of Boris Nemtsov. Like many other liberals, Kiriyenko ultimately lined up behind the new Putin orthodoxy. Nemtsov, a prominent opposition leader, was shot dead outside the Kremlin in 2015.
With three political prisoners released within the past few weeks and Navalny allowed to tour the country and set up a regional network of campaign offices, some commentators have started to talk about a potential post-Crimea thaw. Navalny laughed this idea off in the interview. Many of his staff are under criminal investigation and restricted in their movement around the country, he said as he prepared to launch his tour.
Navalny plays the role of a virus, which keeps the body of the state in check, said Konstantin Belyakov, a member of the Tomsk city council from Putin's ruling United Russia party.
"A useful virus, as long is it stays under control," he said. Otherwise, Navalny could "destabilize the entire system and turn into a tumor of sorts," he said. Before he went into politics, Belyakov developed medical software.
Belyakov said Navalny's base is made up of Russians too young to remember the 1990s. Putin supporters like him paint the decade as one of lawlessness, insecurity, and extreme poverty—all of which did mark the times, though the Kremlin's depiction of them is exaggerated. The crowd at Sunday's Moscow protest was indeed very young, with many high school and college students, a demographic that hasn't been seen in force in the past.
"But I think that his presidential dream will never come true under the current circumstances," Belyakov said. "He'd better channel his energy in the direction of stabilization." Stability and stabilization are Kremlin buzzwords and a pillar of Putin's value system.
"We need to create a propaganda machine that will defeat television," Volkov, Navalany's campaign chief, urged a smaller but more diverse crowd, by age and background, in Kemerovo, the scruffy capital of the Kuzbass mining region, the day after the visit to Tomsk.

The region regularly produces North Korea-style election results. In the last gubernatorial election, the incumbent, Aman Tuleyev, Russia's longest-serving governor and a staunch Putin ally, got 93.5 percent of votes, with a 92 percent turnout.
Again, it appeared to be Navalny's online popularity that drew local supporters. Kirill Yefanov, a student of mine engineering, said he developed an interest in opposition politics when, preparing for school exams, he switched from TV to the internet. He started reading anti-establishment bloggers with names such as Kamikaze D before stumbling upon Navalny's posts and investigations.
"The real change came when my dad went mad because of Ukraine," Yefanov said. "He started saying that all Ukrainians are Nazis and that Americans are intent on destroying Russia. I don't share these views." He has signed up to work as a volunteer for the campaign.
Addressing the audience, Navalny switched to his newly adopted left-wing rhetoric, stressing his intention to raise the minimum wage to 25,000 rubles ($440) a month.
"How many of you are getting less than that?" he asked. At least half of those present raised their hands. He said he was shocked when he learned what miners typically earn in the Kemerovo region. "It's a moral catastrophe, when people who work underground are being paid $300 a month," he said.
Pavel Budnikov, who heads Navalny's Kemerovo office, is a former operative of LDPR, the populist party led by ultra-nationalist politician Vladimir Zhirinovsky, another Putin stalwart, which traditionally has a strong following in the remote working-class regions of Siberia and the Far East. At the time of the Bolotnaya protests in Moscow, Navalny and Volkov worked to create a broad anti-government coalition that would include liberals, nationalists, and left-wingers. Navalny even participated in a far-right event known as the Russian March, drawing criticism from liberal followers and Western observers. A similar revolutionary coalition brought down President Viktor Yanukovych in Ukraine.
Foreign policy was conspicuously absent from Navalny's Siberian speeches, even though it was the subject of the first question he was asked by an audience member on his tour. "Our very first foreign policy task here in Tomsk is to build a new bridge across the river and to remove snow from the streets," he answered. He went on to say that a poor country can't sustain a strong defense, so its main aim should be to improve the economy and raise incomes at home.
"When we have 20 million people living below the poverty line, what kind of greatness can we talk about?" Navalny said in the interview. Still, he said he saw Russia as part of the Western world and called the Kremlin's "third way" and "Eurasianist" ideologies "complete crap."
From Kemerovo, Navalny traveled south to the foothills of the Altai mountains, opening election offices in two smaller cities. In Barnaul, a young man, who pretended that he wanted to shake his hand, instead sprayed Navalny's face with "brilliant green," an antiseptic that's hard to wash off. A green-faced Navalny turned the attack to his account by recording a video in which he compared himself to Shrek and Jim Carrey's character in The Mask. The video, as well as the photographs of his greening, went viral.
Back in Tomsk, local campaign coordinators Fadeyeva and Khlestunova were receiving volunteers at the newly opened office. Both had spent the weekend removing traces of foam from their doors and dealing with their crippled cars.
"Neighbors who were passing by sounded amazed," Fadeyeva said, as they wondered, "Is it really something that could be caused by politics?"
—With assistance from Ilya Arkhipov, Stepan Kravchenko, and Gregory White