Brexit Timeline: From the Referendum to Article 50
Theresa May will trigger Brexit 40 weeks after Britons voted to leave the EU. Here's what you need to know about everything that's happened since.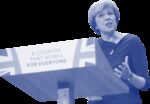 Photographer: Chris Ratcliffe/Bloomberg
Back in June 2016, U.K. voters chose to leave the European Union. Soon afterwards Theresa May became prime minister and began stitching together a plan for the divorce. With the triggering of Article 50 of the Lisbon Treaty, that split is now under way.
Since then, politics in Britain has been busy and unusual. Here's a reminder of the key events between referendum day and the firing of the starting gun.
For all the latest news, follow @Brexit and sign up to our daily Brexit Bulletin newsletter.
June 2016
 
July 2016
 
August 2016
 

September 2016
 
October 2016
 
November 2016
 

December 2016
 
January 2017
 

February 2017
 
March 2017